32
7
Giving Back: The Island Pups Story
$2,200
of $2,000 goal
Raised by
33
people in 6 months
BACKSTORY
:
My name is Lindsey Schwartz and I have been a full-time veterinary student at Ross University and living on the island of Saint Kitts and Nevis for the past 2.5 years. Throughout my time here, I have gotten to know some of the amazing people and island pups and have noticed how many of these animals are in need of basic veterinary care and yearly physical exams.
On the island of Saint Kitts and Nevis, it is very common to see island dogs running around downtown Basseterre and the rest of the island, but what I did not realize is that a lot of these dogs are in fact owned. I came to this realization when I tried to help out a few dogs and ended up finding and speaking to their owners.  A couple of the dogs were in very rough shape and clearly needed to be seen by a veterinarian. However, owners either didn't have a way to take them to the vet or couldn't afford it. I began driving through downtown Basseterre every morning on my way to school, and kept dog food, water and other basic supplies in my car to check on these dogs. Some had really bad bite wounds, upper respiratory infections, and were covered in fleas and ticks. It broke my heart to see the shape that they were in, so the owners gave me permission to take their dogs to the vet and pay for their treatments.
For the past 4 months, I have helped care for and administer medications every morning and afternoon, to a number of island pups in downtown Basseterre. Because I was there every day, more and more owners would ask me to help them with their dogs, but I knew I couldn't afford to pay for every dog. I reached out to a number of different clubs and then had the privilege of planning and organizing a community outreach day with VIDA, other veterinary students, and a local veterinarian. We were able to treat between 10-15 dogs in just a few short hours. It was a great way to educate the community and allowed for these dogs to get the care and preventatives they needed.
Unfortunately, I am leaving in December to go to clinics in order to finish up my veterinary degree, and it crushes me that I will not get to help out in person any longer. I will miss interacting with these incredible people and their loving pups on a daily basis, so I wanted to be able to provide them with some essentials before I go. 
GOAL
:
My goal before I leave on Dec. 16th, 2018, is to try to do something above and beyond for the people who have been so welcoming to me in the community, but also for the dogs that I have grown to love these past 4 months. I would like to provide enough food and preventatives for at least 20 of the island dogs in downtown Basseterre. I would buy each dog/household a 17.5 pound bag of food, and provide enough flea and tick and heartworm preventatives for the next 3 months to each household as well. This would be my way of thanking this community for allowing and trusting me to help care for their pets.  I want to make sure they are taken care of when I leave, and with the holiday season coming up, it would be one less expense they would have to worry about. This would be the highlight of my time here on island if we are able to provide this incredible gift to some of the kindest people and sweetest island pups and would mean the world  to me and the Saint Kitts community. 
If we exceed the goal of raising $2,000.00, I will use the extra funds, to buy each household one more bag of food, and then the rest of the money will be donated to the Basseterre Animal Rescue Center (BARC), which is the new animal shelter being built in Saint Kitts, and to SAFE Saint Kitts (Saving Animals From Emergency), which helps with the treatment and medical costs of animals rescued all over island. 
WHY
: 
This last semester in veterinary school has been one of our toughest yet, but the fact that I have had this opportunity to be a part of the community and have fallen in love with these island pups helped me remember why I wanted to become a veterinarian in the first place. Not only do I want to make sure these dogs and the community are taken care of once I leave, but being able to provide free or cheap veterinary care to animals is something I will continue to do in my clinical year and once I am a certified veterinarian.  
I have always had a soft spot for rescue and shelter medicine, as all three of my dogs that I own were homeless when I found them, and two of them are in fact Saint Kitts island pups. Knowing my time on island is coming to an end shortly, makes me so incredibly sad that I wasn't able to do this for these amazing people and their beloved dogs this entire time. I loved that they would call me "Vet Girl" or "That Ross Girl" and then eventually I became "Lindsey" to them. It was such a rewarding feeling knowing that these people and dogs were counting on me, and I was finally doing something that made a difference.  
I've always dreamt of traveling the world and saving and providing veterinary care to as many street dogs as I can. Although it was just a dream, after doing this for a few months, I now know there is always an impact that can be made no matter where you are. All you have to do is not be afraid to start. Once I finish clinics and complete my DVM, I know I will make trips back to Saint Kitts and try to work with the new BARC shelter, and other clubs to provide free and cheap veterinary care to all of these animals.  
All I ask is for you to open your hearts and help me provide one of the best gifts I could to these wonderful people and island pups. I can't think of a better way to leave my second home and go into this holiday season than giving back to this loving community I will miss dearly. There have been a number of others that have stepped up and helped me throughout this process, and I would love to thank them by being a part of the gift delivery day,  so they can see the impact they also made.
MEET THE "ISLAND PUPS":
"Roughneck" 
This handsome man is owned by a lovely family, but he was suffering from a horrible upper respiratory infection. After taking him to the vet, bloodwork results showed he was positive for Ehrlichia and Anaplasma, and had an upper respiratory infection. He was provided with dewormer, flea and tick preventatives, and has been starting to recover from his respiratory infection. He is sitting outside his house, and I always find him sleeping on these steps each morning protecting his family. 
"Ralph"

Don't let this stoic face fool you, this man is the first island pup I started to care for because he was so friendly and sweet. I saw him a few months ago not putting weight on his front limb, but he was constantly wagging his tail. After taking Ralph to the vet, he was positive for Ehrlichia, Anaplasma, TVT (transmissible venereal tumor- a sexually transmitted form of cancer common on this island), and possible osteomyelitis from his bite wound. He was given dewormer and flea and tick preventatives as well. I frequently find Ralph in his little alley sleeping, or chasing after some of the stray chickens. He also follows me to my car and is notorious for giving me the best hugs and cuddles. 
"Sheeba"
This is Sheeba, and she was found wandering around during the community outreach day. She is also an island pup that is owned, but she recently had 8 puppies. She was extremely malnourished and was found walking around with a container of old food someone had left in the trash. She was very skittish at first, but then was more trusting once we were able to give her food. Because her puppies are demanding so much of her milk and nutrients, she is not eating enough calories to keep the weight on. I have tried to bring food by to her owner as often as I can, but she is definitely one that will benefit from the food we could provide through this fundraiser. We need to make sure that she stays healthy and can continue to produce enough milk for her puppies as well. 
"Simba" and "Peanut" 
(BOTH ARE ADOPTABLE)
Simba is the handsome man on the left and Peanut is the beautiful little lady on the right. Simba came to our community outreach day, and was also positive for Ehrlichia and Anaplasma. He is such a sweet and gentle soul, but unfortunately, a lot of the other dogs pick on him and fight with him. He has a lacerated lower eyelid, and many bite wounds and scratches all over his face. He recently injured his left forelimb in a dog fight, but seems to be recovering well from it. He would make a great addition to any family, and is incredibly docile. 
Peanut is such a such a little firecracker and is one of the happiest street dogs I've met. She is always wagging her tail, and greets everyone she meets with a little kiss. She too is up for adoption, and has also not been spayed. Recently, she was in heat and a lot of the male dogs were being aggressive toward her, so the sooner she could get adopted or spayed the better.  She will brighten your day and make any new home a happier place with her fun-loving personality.
"Miss Lady"  
(ADOPTABLE-ASAP!) or NEED A NEW FOSTER ASAP!!
One of my favorite dogs I have come across on island thus far. She was in such rough shape, that her owner agreed to surrender her to a new home. A classmate of mine is currently fostering her as she was positive for Ehrlichia, Anaplasma, TVT (transmissible venereal tumors- a sexually transmitted form of cancer that is common on this island), and she was extremely malnourished. She is currently receiving chemotherapy treatments and her TVT is starting to clear up. She loves the beach, snuggles, and will love you unconditionally. She would fit into any family with her laid back personality and she is just happy to be in a home. She had a very rough life on the streets, and was also harassed by a number of the male dogs. If she does not find a foster or get adopted within the next few weeks, she will have to go back to a very stressful environment in a kennel where she did not do well. 
COMMUNITY OUTREACH DAY:

We were able to provide complete physical exams, draw blood and administer SNAP tests (used to test for Ehrlichia, Anaplasma, Lyme, and Heartworm), provide flea and tick and heartworm preventatives, tick removal, and also give free food and water to the animals that showed up. This is something I want to continue doing and having others do while I am gone from Saint Kitts as the local community was incredibly receptive and thankful for everything provided.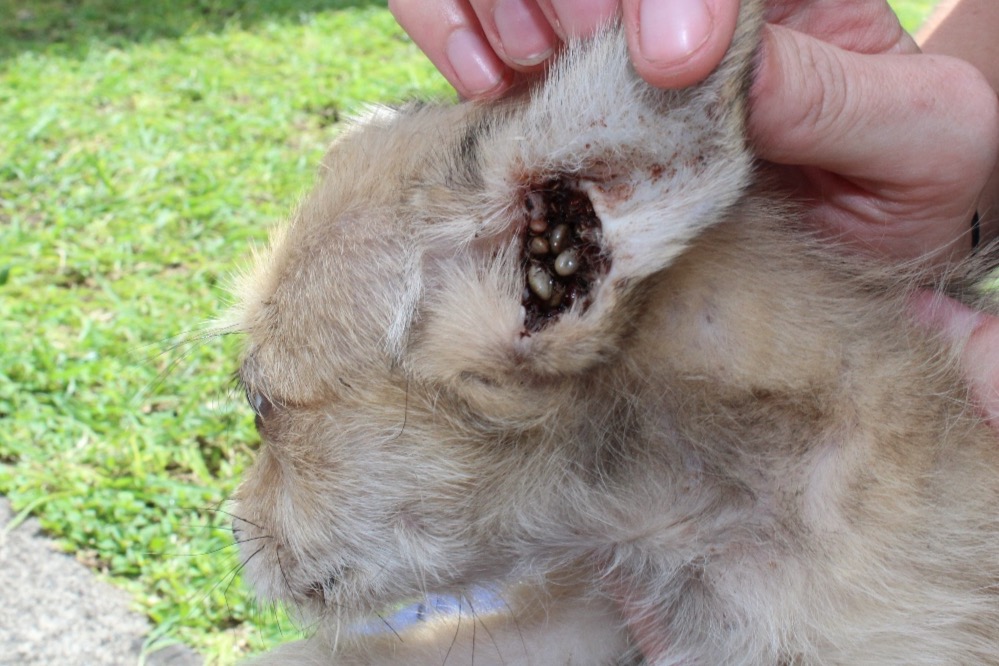 Special thanks to everyone that has helped out thus far, and I hope that we can achieve this goal within the next few weeks. Thanks for taking time to hear my story and I appreciate everyone that has already reached out and wanted to help so far!
+ Read More