Help Bayler Walk Again
$3,725
of $15,000 goal
Raised by
34
people in 11 months
Hi friends, 
We are Adam and Casey Garant, parents of four beautiful children.  

:::::UPDATE:::::

WE HAVE NOW BEEN SELECTED FOR A TRIAL PAIN CLINIC IN IOWA CITY AT THE CHILDRENS HOSPITAL.  THIS CLINIC HAS PSYCHOLOGISTS,  TRAINED AMPS SPECIALISTS, AND A PAIN MANAGEMENT SPECIALIST . WE HAVE AN INITIAL EVALUATION (3 HOURS LONG) ON JULY 30TH IN IA CITY. WE WILL STILL KEEP OUR NOVEMBER APPOINTMENT IN KANSAS CITY BUT, WE WANT TO TRY THIS CLINIC FIRST DUE TO LOCATION AS WELL AS THE EXCELENT TEAM OF DOCTORS AND OUR COMMUNITY SUPPORT WE HAVE LOCALLY. PLEASE CONTINUE TO PRAY FOR GUIDANCE AS WE NAVIGATE THROUGH ALL OF THIS! THANK YOU ALL FOR YOUR FINANCIAL SUPPORT AS WELL AS THE PRAYERS LIFTED UP FOR BOTH BAYLER, AND OUR FAMILY! THERE ARE STILL MANY EXPENSES, BUT WE KNOW THAT THE LORD WILL PROVIDE! LOVE YOU ALL. 

Recently our son Bayler was diagnosed with a very rare condition called AMPS (amplified musculoskeletal pain syndrome) this syndrome causes neuropathic pain unlike that of a healthy functioning brain and body,  and as a result, Bayler has lost the ability to walk. After a lengthy hospitalization stay, Inpatient and outpatient physical and occupational therapy, doctors and therapists have seen very  little progress.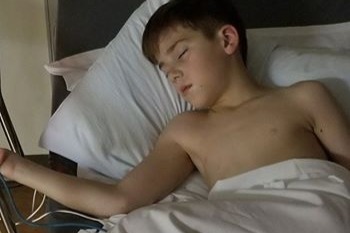 AMPS needs attention from Doctors who specialize in this syndrome. 
Bayler has been seen by many doctors, all of which are in aggreance that specialized care is necessary in order for Bayler to begin progressing and eventually walk,  run and function again, as well as expected for someone with this condition. 

After careful thought and observation by his team of Doctors we have been referred to Mercy hospital in Kansas City. Mercy hospital is one of the best hospitals in the country, specializing in AMPS.  With this referral comes many concerns. 

Kansas City is about 335 miles away from home (about 6 hours) Casey will be going with Bayler, but Adam must continue working. Our main concerns are
▪ childcare costs during the summer while adam is working
▪ possible costs of after school care during the school year
▪ financial burdens from accrued medical expenses as well as those that will come due to insurance only paying a small percentage of extended care. 
▪ general financial cost of living while staying in Kansas City. Casey is not able to stay in the hospital with Bayler for an extended amount of time. There will also be food costs, lodging  costs, fuel consumption, and any additional monies we may need while extended care is in process. 

Unfortunately there is also a psychological aspect of this syndrome that can cause severe depression and anxiety, both of which we are already beginning to see signs of. Bayler will need psychological care AND physical therapy during this time as well as after our stay at Mercy Hospital. 

Bayler is normally a VERY energetic, fun loving, caring and kind young man... and has been so brave throughout this difficult and ongoing process.

In short, we are in a very tight bind and in desperate need of your help financially! We are in aggreance that the power of Christ is miraculous. We truly believe Bayler WILL walk again. We also believe that God uses trained professionals as vessels for His work. 

Any donation will help and we thank you in advance both for  financial needs and for your prayers! 

In His Grip, 
Adam and Casey

+ Read More