New Hope for Steph - and Bernie
$154,100
of $160,000 goal
Raised by
771
people in 41 months
A LIFE INTERRUPTED

This is Steph in Croatia in 1998, at the age of 11.
And this is Steph (with her family) at the Mayo Clinic in 2016, at the age of 30.
The first photo was taken in 1998 when Stephanie was on vacation in Croatia with her little sister, Michelle; Dutch mother, Bernie; and American father, Jim.  It was the last summer she could stand. A few months later, she woke up with a fever, and when it had passed, she found to her horror that she had lost normal use of her legs.
Steph spent the next 18 years in a wheelchair visiting medical specialists in her home country of the Netherlands. Her quest to find answers and secure relief for a growing list of symptoms, including a progressive and severe scoliosis as well as multiple orthopedic deformities, ultimately proved fruitless. As her ability to lead a conventional life declined and her pain grew worse, her doctors could simply not understand what was happening to her.  
In one final attempt to get to the bottom of her illness, Steph and her family decided to visit the world-renowned Mayo Clinic in Rochester, Minnesota. They went there simply for another opinion; what they found was a revived sense of hope.
NEW HOPE
Since November 2014, a multidisciplinary team of specialists at Mayo Clinic has been collecting vast amounts of data on her condition, the likes of which they have never seen before. What they have managed to conclude is that her condition--which presents itself mainly in muscle weakness, spasticity, and dystonia in her legs and spine--is likely caused by a serious metabolic problem. The illness appears to be progressive; the resulting debilitating pain has made it difficult for Steph to even just sit in her wheelchair. For Steph, who dreams of building a career in education or the medical field, this state of affairs effectively means that her life has come to a standstill.  
The data her Mayo team has gathered has presented some answers and possibilities, but many questions and uncertainties still remain. Her doctors are determined to plow through these and concurrently treat her symptoms. In return, they ask from Steph an equal level of commitment. In the words of her main neurologist, "As long as you keep going, so will we … Never give up hope."
Initially, the high cost of tests and treatment threatened to cut short Steph's Mayo journey, but, inspired by her team and newfound sense of hope, and confident that a financial solution would present itself, Steph pressed on. Intrigued by her case, Mayo ultimately decided to forgive a significant portion of Steph's medical costs, which have already extended into the millions of dollars. 
However, the costs associated with
uninsured medical expenses, frequent flights, legal fees, and daily living expenses in Minnesota, amounting to a total of around $6,000 per month
, are jeopardizing the whole enterprise. Simply put, without assistance, the family will be unable to access the world-class level of care that Steph is currently being offered and be forced to abandon their journey. If that happens, Steph faces the prospect of a life confined to bed.
In order to help Steph and the Yarnells meet these financial obligations, a group of friends and colleagues from the American School of The Hague (ASH) have come together to raise funds for the Yarnell family, which has spent the better part of 40 years at ASH as both teachers and students.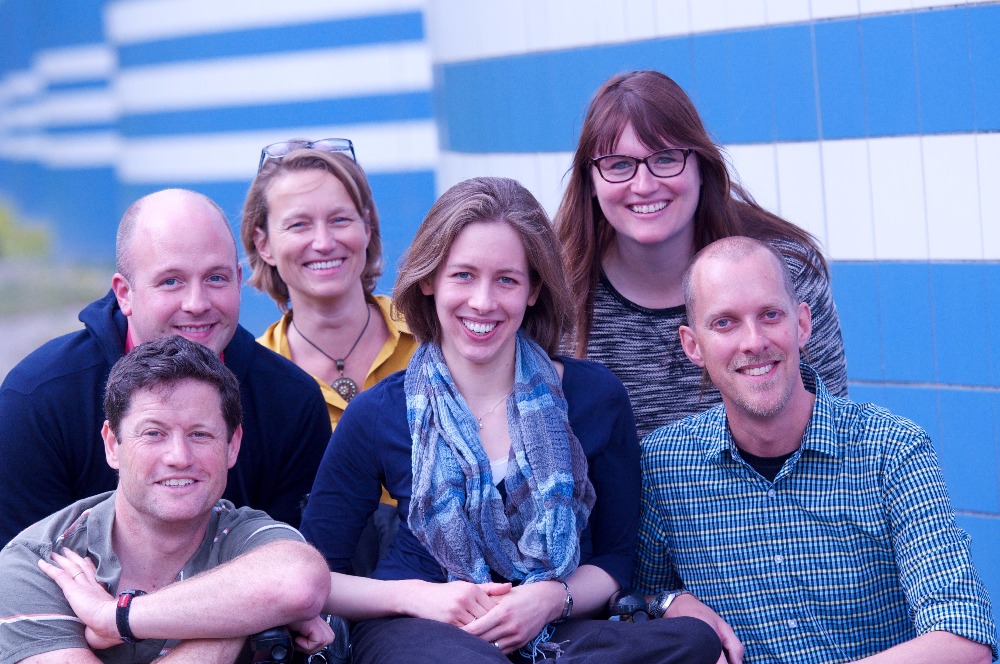 Steph with the Yarnell Family Trust Committee, in 2015.
THE GOAL
Our goal is to cover the family's Mayo-related costs for the next three to four years, the expected length of Steph's surgeries and intense rehabilitation. 
At $5000/month, the family's costs would amount to around $160,000.  
We desperately need your help today.  
RECENT DEVELOPMENTS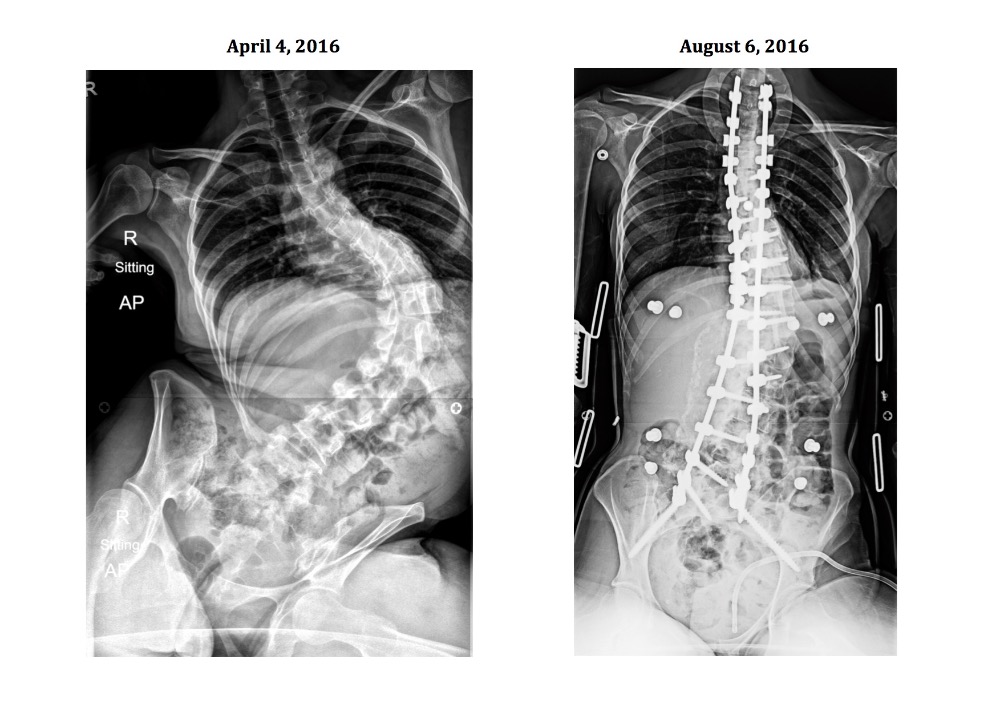 Steph's first major operation took place in late February 2016. Her left leg--already significantly deformed by the disease--was amputated above the knee. This paved the way for the next stage in July 2016: a ten-hour spine surgery, in which her doctors realigned her vertebrae and anchored her spine to metal rods (see above). In a ground-breaking new procedure, Steph's doctors used bone from her amputated leg--which was preserved in the Mayo Clinic Bone Bank--to straighten and strengthen the existing bone in her spine.
The recovery from this invasive procedure is proving to be long and marked with numerous complications. Even now, 2 1/2 years after the spine surgery, Steph is still weak and in need of constant care as she rehabilitates and prepares for more surgeries and treatment. With dad and sister employed in Europe, Steph is so grateful to receive this care - both physical and emotional in form - from her mom Bernie, who has given up her job at the American School of The Hague to be with her daughter.
But in October 2017, that care was threatened to be jeopardised, too, as mom and sole care-giver Bernie was diagnosed with bilateral breast cancer. Since Bernie is a Dutch citizen, she was not eligible for health insurance in the U.S., and returning to The Netherlands and leaving her daughter behind was simply not an option. So Bernie had to undergo a double mastectomy surgery in the U.S. Fortunately, she recovered well from this surgery and is now cancer-free. Still, the cost of this treatment significantly added to the costs that the family is already facing for Steph's treatment.
Despite all these complications, Steph and her family are holding on to their fighting spirit and faith in a positive outcome, inspiring all with whom they come into contact: from Steph's medical team at Mayo to other patients, colleagues, friends, and family. We hope that this family's story will move you, as well. Every contribution, large or small, makes it possible for the whole Yarnell family to continue hoping for a better quality of life and for Steph's doctors to keep working on unraveling the mysteries of her illness.
Steph with mom and primary care-giver Bernie, who is recovering from bilateral breast cancer.
If you are interested in learning more about Steph and the family and seeing recent pictures, click on the "updates" link below, or visit the
website
set up by her friends of the Yarnell Family Trust.
Thank you,
The Yarnell Family Trust
Chris, Dawn, Tim, Sabine, Nic, and Myriam
+ Read More