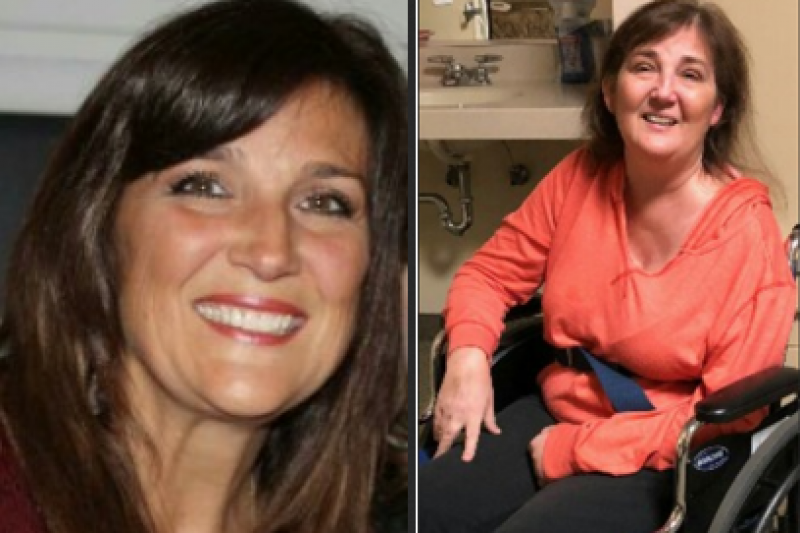 341
9
Terri's Medical Fund
$54,730
of $75,000 goal
Raised by
369
people in 17 months
Hello Family and Friends,

The beautiful woman in this photo is Terri Foyet Deligio. Wife to Andy for 24 yrs. & Mom to Aly, Linsey, & Sammy. 

Seventeen years ago, Terri was diagnosed with a brain tumor.

Because of the tumor, Terri experienced multiple seizures and had to put her career as a teacher on hold. After attempts at chemo and radiation failed, Terri agreed to surgery that reduced the seizures and she was able to resume work, (but only as a substitute teacher). Her family was able to finally catch up with the medical expenses and get back to the normalcy of life.

Recently, they discovered the tumor had come back in a new location. This location was more central, so they opted for Proton Radiation, as surgery was riskier.

After the Proton Radiation treatment was complete, Terri was able to return to substitute teaching. But soon she started to fall in class. These falls forced her again to stop teaching. This was the beginning of a new problem.

While the radiation contained and reduced the tumor, it also appears to have injured part of Terri's brain. It's our understanding that this side effect is called Radiation Necrosis. (commonly called scar tissue)

Radiation Necrosis is relatively rare, but when it does occur, it can have a crippling effect on the body and brain and is difficult to overcome.  The scar tissue damage is on her right temporal lobe, which causes confusion, erratic behavior and the loss of her left side.

Terri is now fighting just to accomplish some of the most ordinary functions of a common day. 

The help that Terri is getting from her family and friends is worth applause, but the amount of Medical care, Therapy and Attention that she needs is overwhelming.

So we created this GO FUND ME page.  Funds will pay for Terri's hospital stays, rehab, medical tests, home care, drugs, etc. Even with insurance, the bills are way beyond her family's ability to pay.  

Any contribution that you can make will be greatly appreciated! With your help, along with all of our prayers, that wonderful person that Terri truly is, will get the care that she needs and some quality of life.

Thank you so very much....Terri's family

(Terri is the daughter of Dan & Ann Foyet and Don & Diane Petramale.  And the sister of Michele (Russ) Meeks, Debbie (Dan) Hochstatter, and Dan (Jen) Foyet. And the step-sister of Donna (Mike) Rigert, Nick (Leslie) Petramale, and Dino (Lisa) Petramale.  Also daughter-in-law to Rose Bickley and Aunt, Cousin, and Friend to many.....
+ Read More