MIT Entrepreneurship Bootcamp
$1,030
of $7,000 goal
Raised by
14
people in 32 months
Hi, my name is Abdelrahman Elbashandy and I am a software engineer based in Berkeley, CA. I am here to raise funds for a brilliant young entrepreneur and my friend Hesham Kadry. Hesham is an undergraduate pursuing a B.Sc in Computer Engineering at the Arab Academy for Science and Technology and an aspiring innovator based in Alexandria, Egypt. Hesham was recently accepted (along with 50 other young enterpreneurs) from a pool of around 55,000 students globally to attend the MITx Global Entepreneurship Bootcamp.

The Bootcamp will be held from the period of August 23rd-31st 2015 at the MIT campus in Cambridge, MA. Hesham has a startup idea that he intends to polish and explore during the Bootcamp called LegoCode. LegoCode is an online project that uses computer algorithms to make the coding and electronics development process much easier for young innovators and entrepreneurs. LegoCode does this by removing the gap of knowing much technical knowledge and accelerating them to execute their creative projects without hassle. This will be an important step towards better programming and coding education for young students worldwide. Hesham recalls, "I wanted to give the young innovators the chance I never got when I was their age".

This is not Hesham's first startup idea!
He has a stellar entrepreneurship history including the following accomplishments all done within the past 4 years:
-He's the Co-Founder and COO of Speeli.com.

-He won 1st Place at Startup Weekend Alexandria 2015.
-He is the recipient of the Innovation Award from 5d Agency.
-He is the co-founder of Fahemny Shamsy, a non-profit campaign that increased solar energy awareness in Egypt during the electricity blackouts period.

Unfortunately, the Bootcamp tuition funds are $6000 (Divided into a 1000$ deposit followed by 5000$ to pay the rest of the tuition) plus a 1000$ to cover the trip and Hesham, being a student, can only afford part of his travel and accommodation for his trip to Cambridge. We need your help to raise the tuition funds and help give Hesham the opportunity of a lifetime by attending this Bootcamp where he will interact with entrepreneurs from around the world, market his startup idea and pitch it to investors to bring it to life as well as receive world-class instruction from some of the biggest names in business.

Acceptance Letter: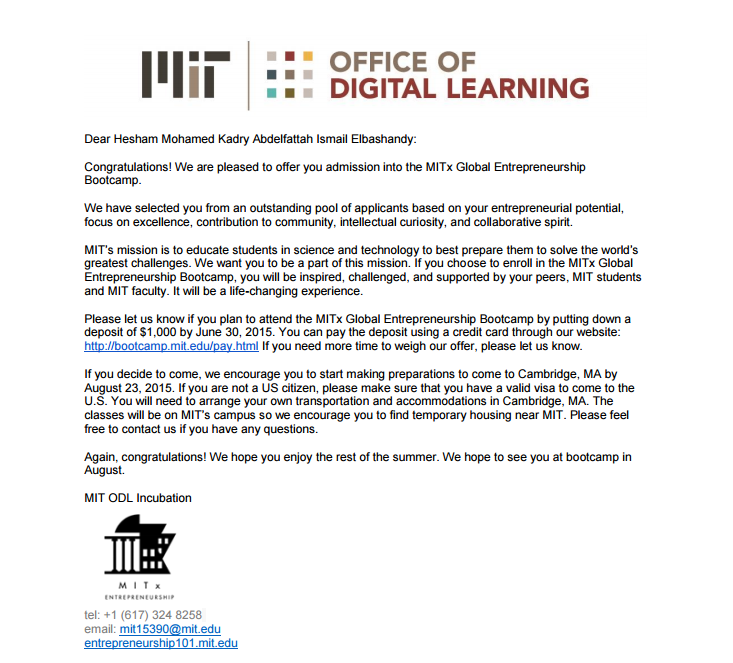 Tuition Invoice: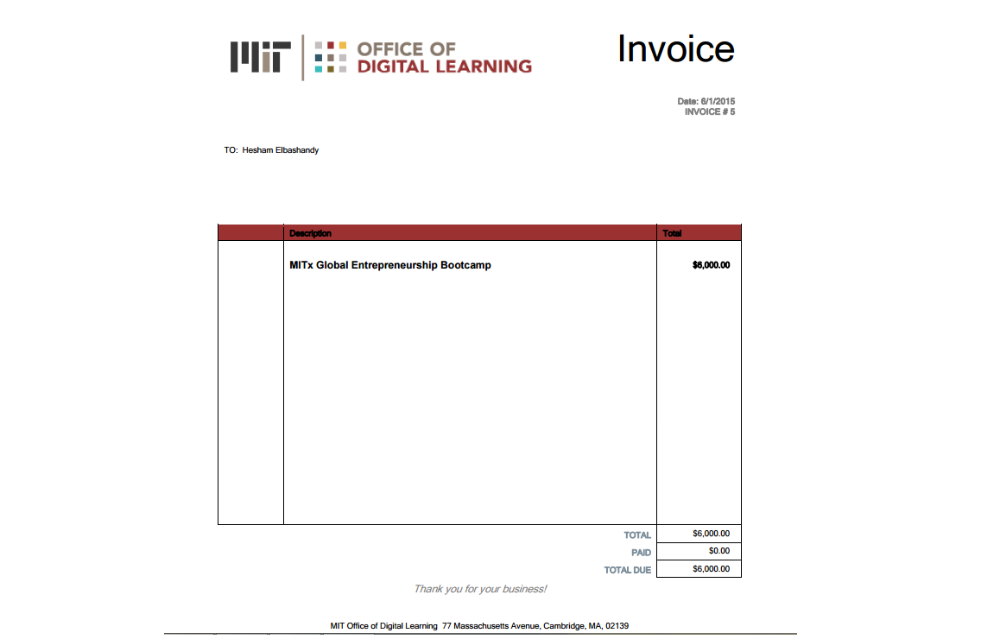 + Read More
Be the first to leave a comment on this campaign.