Make SF Punk Renaissance Happen!
$5,620
of $15,000 goal
Raised by
55
people in 43 months
www.punkrocksewingcircle.com
Join the
Punk Rock Sewing Circle
in commemorating the 40th Anniversary of Punk with
SF Punk Renaissance
(September 20-27, 2015) a weeklong festival of iconic punk events celebrating old school music, art, and culture. We have the venues, artists, films, bands; our DIY spirit is as strong as ever. Our only stumbling block is financial. We've spent 6 months planning, sweated blood, gnashed our teeth, and taken our money out from under the mattresses  but we're still short of money. Contribute towards our $15,000 goal and help put SF punk history on the map with
SF Punk Renaissance 2015.
WHAT IS SF PUNK RENAISSANCE
? From September 20-27, 2015 we're celebrating the 40th Anniversary of Punk with
SF Punk Renaissance
, a weeklong festival of old school style punk events. From London to San Francisco and beyond, punk was a revolution that changed history forever. Despite our strong scene, San Francisco has never received the recognition it deserved in the histories of the era despite being on the cutting edge in all fields. Forty years ago we defied convention, and with our deep DIY ethos changed the world of fashion, art, and music forever. We built a Community. Forty years later, we're still defying convention, still creating, and still making music.
SF Punk Renaissance
will showcase early SF punk photography, film, music, and spoken word. Gallery exhibits feature iconic early punk photo images while film screenings highlight rare footage from our early history, including recently discovered 8 mm films. Panels provide an opportunity for dynamic reflection while the live musical events share the type of music that brought us all together.
SF Punk Renaissance
is a celebration of Punk -the heart of our community, our Past and our Present.

WHY DO WE NEED HELP?
We're a barebones volunteer organization who sticks to our roots. Our events are done DIY style and showcase the best of San Francisco early punk but doing so without compromise comes at a steep price in Gold Rush San Francisco. San Francisco is one of the most expensive cities in the country and everything from venue rentals to food and equipment costs reflect that reality. Ticket sales only meet a small percentage of our costs; if tickets were priced to reflect the costs they would be unaffordable to many members of the punk community.
All funds donated through GFM will help cover overhead-venue, sound, and equipment rentals, stage construction and band stipends. The venues are lined up, the bands confirmed, and the art is being framed. We've done the planning, the work, and taken our money out from under the mattresses but we're still running short of funds. We can't do it without you. Help us make
SF Punk Renaissance 2015
a reality by contributing to our campaign and help us keep our history on the map.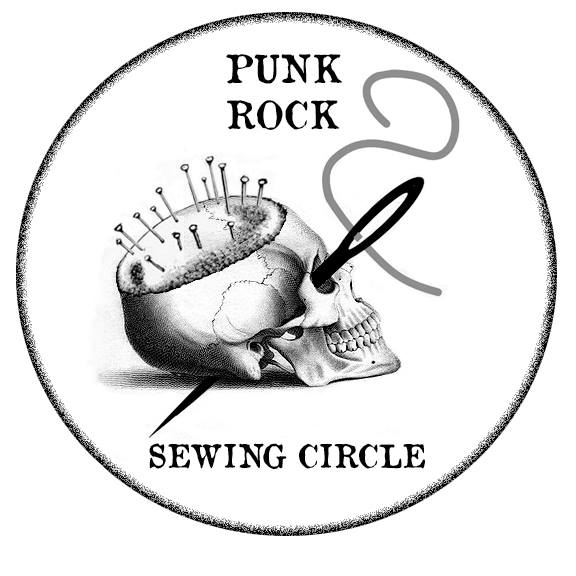 WHO WE ARE: The Punk Rock Sewing Circle
is a volunteer group of artists, musicians, and activists from the early days of San Francisco punk who organize old school punk art and music based events. Our DIY events provide a platform for people, artists, and musicians to connect; as venues close and culture flees San Francisco, we're working to keep our culture ALIVE.
Since September of 2012, we've put on four multi day multi media events;
SF Punk Renaissance
will be our 5th extravaganza. From the
SF Punk Reunion 2012 STFU,
and a
Benefit
, to
SF Punk Homecoming 2013
, and
SF Punk Renaissance Early Warning
; we've provided a showcase for early punk music and art that would otherwise remain unseen and unheard. Iconic photographs that have been stored away for 35 years have been exhibited; films that document the early days of punk have been shown for the first time. Seminal bands have played; some have even reformed to play at our events. Old friends, have reconnected and new friends have emerged from our shared history.
And because punk was the voice of the disaffected and disenfranchised, supporting social justice causes is an fundamental part of the
Punk Rock Sewing Circle's
mission. During 
SF Punk Renaissance Early Warning
, we mobilized community support for an integral and stigmatized need, collecting over 400 boxes of tampons for the homeless women of St. Anthony's Foundation. We'll continue to support health and dignity for homeless women with another
Tampon Drive
in September.
SF Punk Renaissance
will eclipse all our other events by providing a full week of events showcasing original punk photography, art, film, and live music culled from the San Francisco's formidable history. Punk forged our identities; it's at the core of our friendships and the basis for the way we live our lives. Please contribute to the fundraising campaign and help create a celebration of the 40th Anniversary of punk worthy of forty years of punk culture.
Doing it Together. Again!
Check out some of the posters for a taste of past events!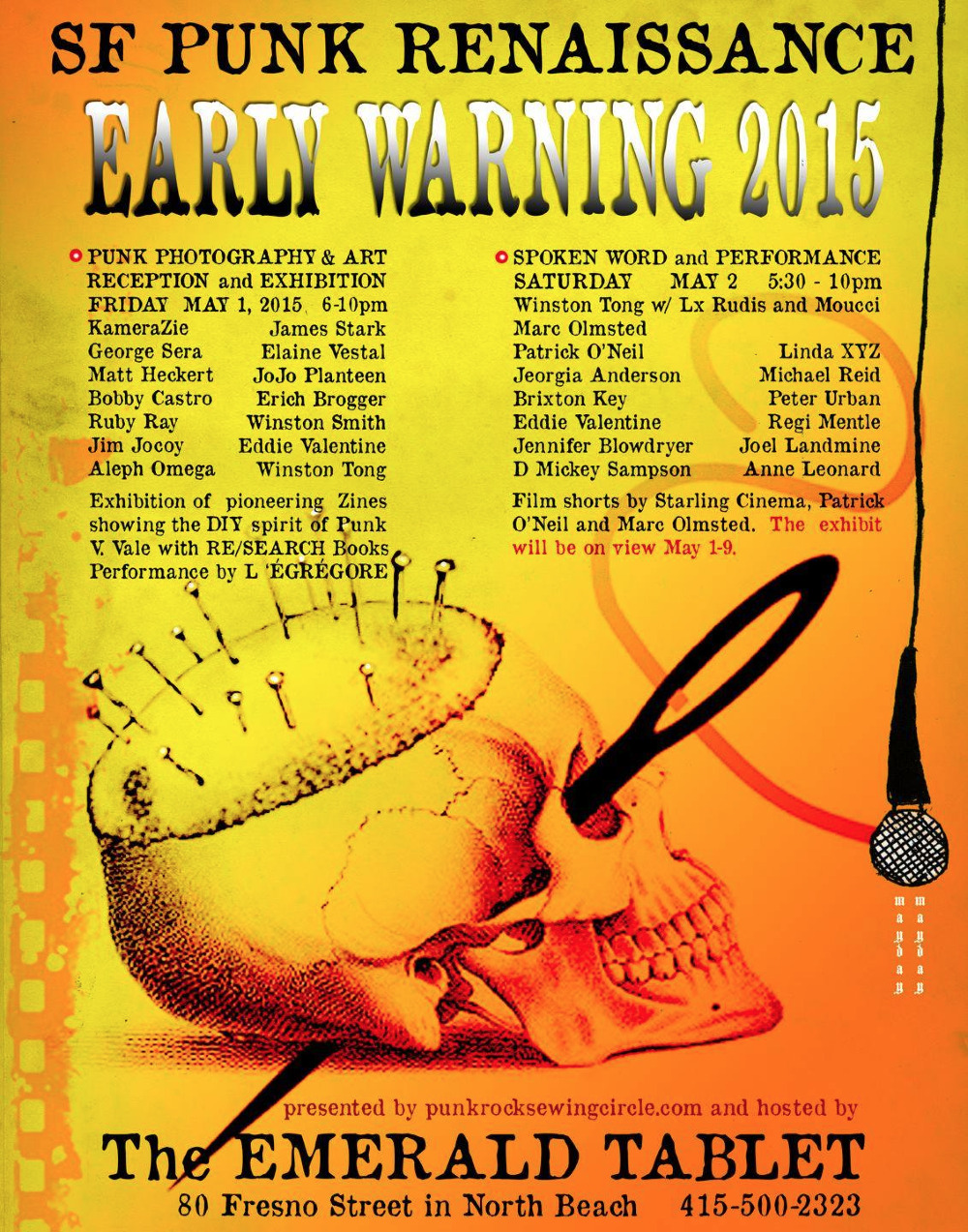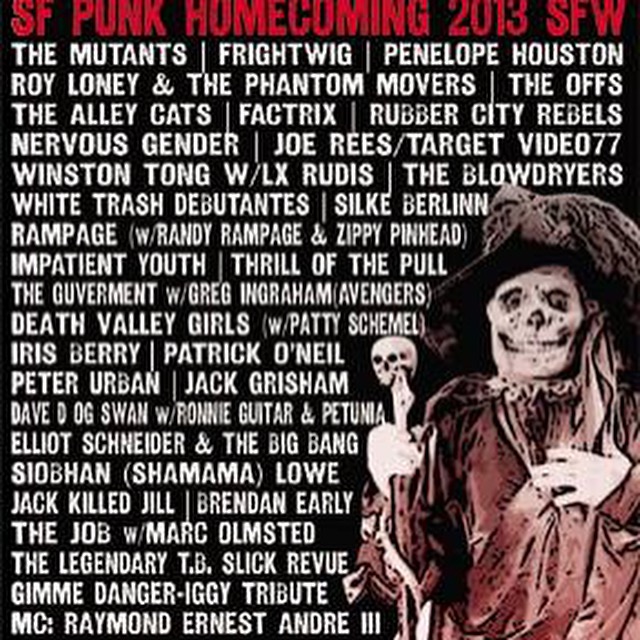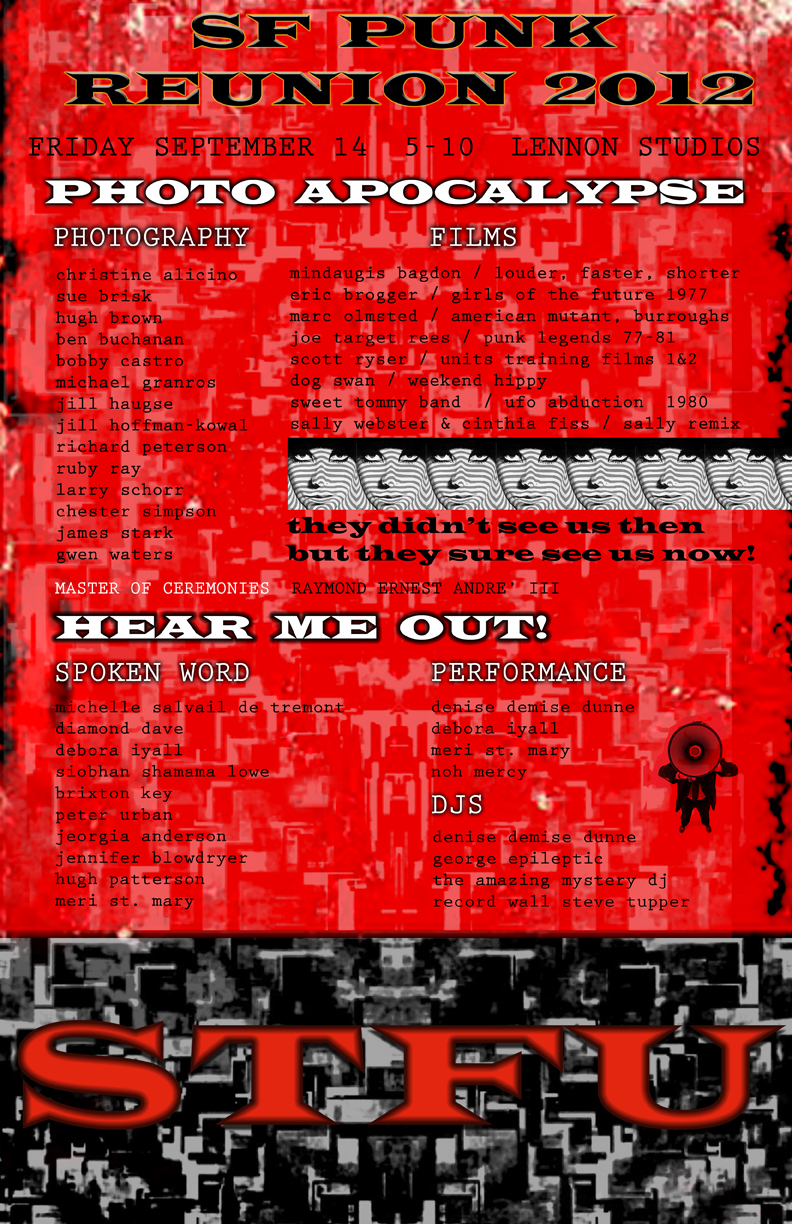 Donations and Incentive
s: Thanks for your support! For everyone who donates, we'll post a thank you on our virtual Wall of Thanks, include your name in the media thanks that will run with the events, and publish your name in our program.

Incentives:
If there's a choice, please e-mail us at
punkrocksewingcircle@gmail.com
to let us know whether you are choosing door #1 or #2
and include your mailing address
If you're local, help us save on postage;  We'll have thank you incentives available at the events for pick up.  
If you're outside of San Francisco, we'll mail out the thank you's  after 7/30/15.
Tote set
=Limited edition tote bag, poster, and button.
Punk Photo Book Set
=All books will be signed and hot off the presses. Includes Punk Photo Book by Bobby Castro, Fresh Fruit for Rotting Vegetables  by Michael Stewart Foley, Gun Needle Spoon a punk memoir by Patrick O'Neal  
1000 donation Ramones print 16x20 by Bobby Castro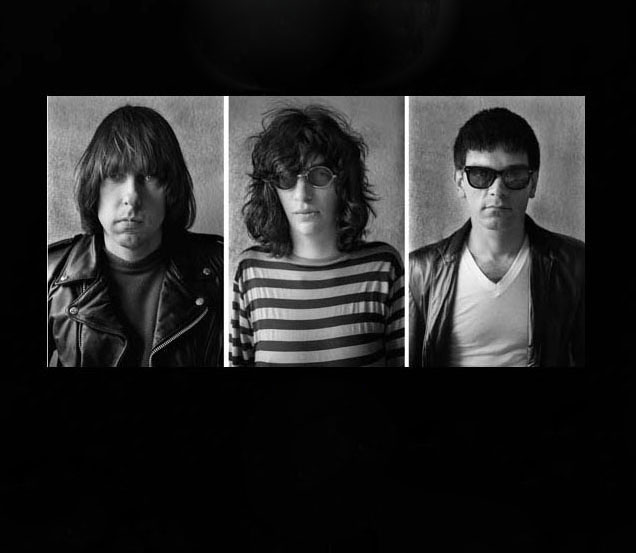 + Read More
Be the first to leave a comment on this campaign.