World Record Journey Across America for Veterans
$2,782
of $21,140 goal
Raised by
43
people in 29 days
Army veteran Eli Smith is on a solo, record breaking, and difficult journey to all 4 corners of America. Eli is walking and cycling over 15,000 miles. Why is he doing this? He is raising awareness for veterans with PTSD and veteran suicide. He started this journey in November 2016. He has now reached three of the four corners and is on his final stretch. This journey will take him almost three years of his life.
He has been through a lot already. Someone tried to kidnap him in Texas. A gang in San Diego tried to kill him. He has been robbed at gunpoint, hit by cars, beer bottles and other thing thrown at him while he has been on the road, lost in the woods, bit by dogs, and has ran into bears. He has slept under bridges, by train tracks, and in the bushes off the side of the road. But there is a reason that he endures all of this.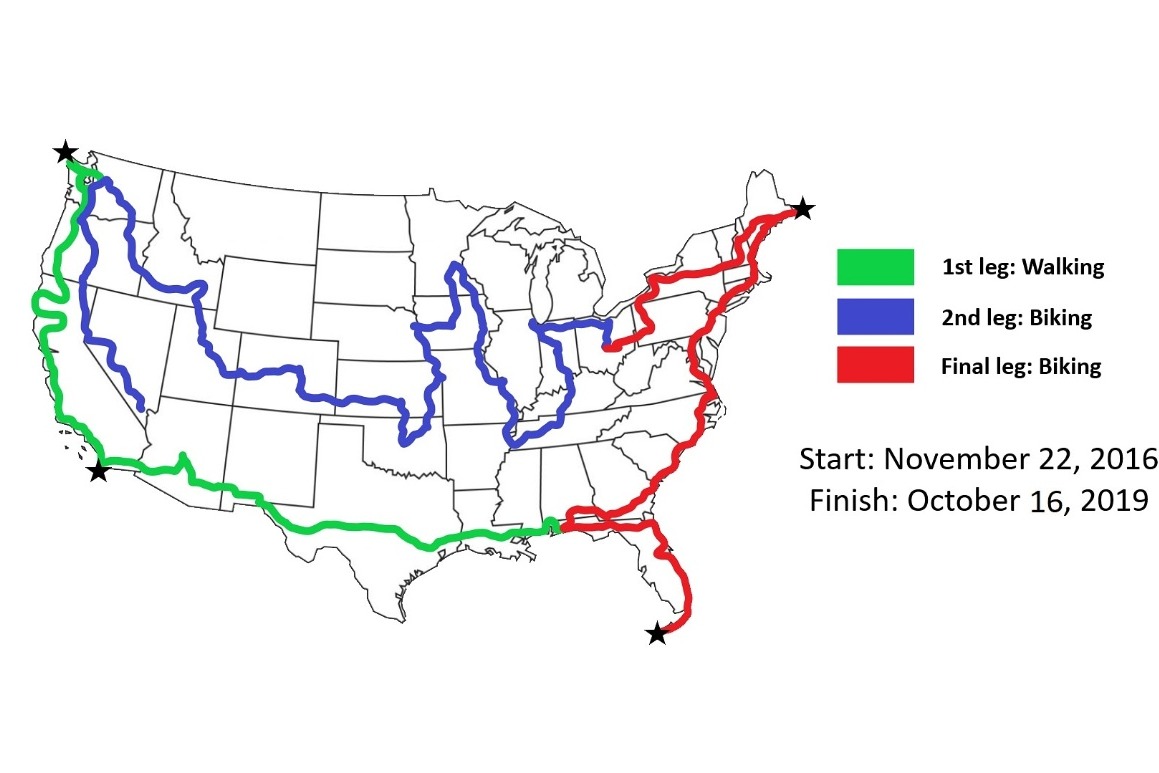 The most recent report on veteran suicide from the V.A. says that we lose an average of 20 veterans to suicide every day. This statistic does not take a day off. To put it into perspective, imagine having no more NFL, NBA, MLB, NHL, and NCAA Football. Can you imagine every player on every team in every conference in those leagues gone in the next year and a half? Well that is how many veterans we will lose in the next year and a half at that rate.  
Eli has lost some of his brothers in arms to suicide and is determined to make a difference. To get out there and literally "walk the walk". He has already walked across America...twice.  All of this without any support vehicle or someone following him. 
Why should you help this journey? Eli has received, so far, nineteen letters and several messages from family members of veterans where they have come across Eli's journey or met him in person and have made the choice to say no to suicide and seek the help they need. We hope that this number of saved veterans will increase by the end of Eli's journey. But we need your help! 
$21,140 represents the veterans we will lose to suicide during his journey from November 22, 2016 until he ends October 16, 2019. Support from you will help us save the lives of the men and women who courageously served our country. Men and women who were willing to lay down their lives so that we could be granted the freedoms that we enjoy today. Please donate $20 in honor of a veteran that you love to continue to help save our veterans.
If everyone donated $20 to honor a veteran in their life, we could make a real difference in the lives of so many vets who really need our help.
To see updates and follow Eli Smith on his record journey, please go to and like the Facebook page at
www.facebook.com/4cornershike
To see past interviews, resources for veterans and their families, and more, please go to
www.4cornershike.org
Please share this campaign on Facebook! 
We hope you will join us in helping our veterans. Thank you and God Bless!
+ Read More