Wonderful World of WAPPY
£580
of £800 goal
Raised by
24
people in 2 months
To mark Writing, Acting & Publishing Project for Youngsters' (WAPPY's) 10th year, we would like to publish an anthology of poetry, prose and artwork for young people by 100 writers, from diverse, ethnic backgrounds, (ages 4 to 24) who have taken part in WAPPY workshops since 2008. Having published our first anthology, 'The Soul of a Child', 2011, (Bogle L'Ouverture Press), and seeing its positive impact on our writers' confidence, self-expression, literacy and performance at school and in WAPPY, we feel strongly that more WAPPY participants should have the chance to have their works published by Krik Krak, who worked in collaboration with Bogle  L'Ouverture Press to publish our first book.

Award-winning author of 'Orange Boy', Patrice Lawrence, is writing the Foreword for our anthology, and is making a special guest appearance at the Book Launch, which WAPPY will host at the University of Brunel, in partnership with its hospitality and catering team, who will lay on a spectacular arrangement of global foods and refreshments.  Various contributors from 2008 to 2018 will perform their works from the anthology for invited guests, including their families, staff, key supporters, collaborators and distinguished guests (such as Eric Huntley and Sally Baffour, WAPPY's patrons, Dr. Rupa Huq. MP. (Central Ealing & Acton), the Mayor and Mayoress of Ealing, Julian Bell,  Leader of the Council, Sebastian Jenner (Producer of Hillingdon's Literary Festival/Brunel University), Filmmaker, Khesumaba Jess, Dr. Rachel Pepper, and author, Ms Esther Ackah), among others. It's an 'Invitation Only' event, however, donors will be invited. 

The anthology itself is unique for its breath and depth, for its child/youth- centred coverage on subjects to do with Love, Death, Peace and War, Belonging and Family, Friendships and Building Bridges, Mythical Creatures and Real Animals, London 12 and Football, Dickens, Christmas, African folklore, and a chapter devoted to 6 international icons 'Who Have Changed Our World', including Jessica Huntley, Bob Dylan, Bob Marley and Benjamin Zephaniah! We have also invited several WAPPY pioneers from 2008 and 2009 to give accounts of how WAPPY has impacted on them in their schooling years ,and where they are at right now as young adults, ages 20 to  24 years old.

Thanks to past sponsorships from Bogle L'Ouverture Press, the Big Lottery, Help A Capital Child, Near Neighbours, the London Metropolitan Archives, Runaway Entertainment, Tamarind Books, Shangwe, Random House Children's Books and many more generous bodies and individuals (too many to name here), we have touched the lives of hundreds of children from diverse, multi-ethnic communities with a range of creativities and also a complexity of needs. 

There is no organisation quite like WAPPY in the UK or probably anywhere else in the world.  Our members come from a mixture of backgrounds, and while many have had or have happy upbringings and/or live `comfortable` lifestyles, some have faced life-threatening or changing illnesses, some have lost parents or siblings because of terminal illness, sudden death or violence,  or there has  been a family breakdown, some are young carers, some struggle to embrace their mixed heritage or have experienced discrimination for appearing 'different', some have been driven away from their countries of origin due to war or domestic violence, some have been experienced sexual exploitation and are 'Looked After' in the care system, some struggle to stay focused or excel at school, some are victims of bullying, some experience hidden or visible disabilities and some have  found themselves displaced through their families being evicted. In fact, they all have incredible stories of inspiration and courageously express their thoughts and feelings on paper directly or indirectly through poetry, prose or pictures or a combination of these.  Do please see the video attached which succinctly embodies the essence of WAPPY over our ten year history.

So 'WWW:Wonderful World of WAPPY' isn't simply a collection of original, ground-breaking poetry, short-stories and artwork by 100 young people.  It also shares first-hand experiences of various veteran members from 2008 and 2009, reflecting on how WAPPY  has impacted on them in different ways, as well as the personal accounts and journeys of various  volunteers and collaborators who have worked with WAPPY.

With all the negative stories we hear in the British media about the rise of youth knife crime which is partly said by social commentators to be a result of austerity measures, and poverty, WAPPY, and its products, the anthology, and process, offer a ray of light in a gloomy world.  Please help us to keep that light burning for hundreds of young people, for our authors and young readers, and their families who will encounter the book. Apart from the cost of the publication which we are applying for from the Arts Council we would need help to fund the Reception & Book Launch.  Our youngsters have work so hard and deserve to be pampered at what we know will be a prestigious event, with the UWL's hospitality team partnering with WAPPY to cater for our guests' diverse cultural and culinary needs. 

I leave you with the endorsements of Dr. Rupa Huq (MP)  and Sebastian Jenner (Producer of Hillingdon's Literary Festival - Brunel University).

As Rupa Huq (MP.) poignantly states, on the Back Cover, 

"Since my election in 2015 I've never failed to be impressed by Grace and the WAPPY crew whose output is diverse from its Bob Dylan day to the launch of the book written by Grace's octogenarian mother – both in Ealing Central Library in the heart of my constituency. I am proud to introduce this wonderful collection of poems, stories and artworks by the young artists of the future. WAPPY is a force for creative good in West London and provides an artistic outlet for young people of all backgrounds. This publication is truly inspiring and demonstrates the bright future that lies ahead of the next generation."

"This wonderful anthology is a tangible product of love and inspiration, and of creative dedication – not just from the brilliant organisers – but from the very many talented voices that it spotlights, all of whom are original, inspiring and rejuvenating. To read these works and to celebrate ten years of success with them is not only to rediscover the creative excitement of youth, but to be filled with hope for the future. I'm sure that in another ten years I'll be desperately hoping these young writers can find the time to headline our festival! "  

Seb Jenner – Producer of Hillingdon Literary Festival Brunel University London
+ Read More
Update 2
12 hours ago
Share
Greetings Again

I would like to add that WAPPY is supporting ARTification's North Acton Winter event, this Saturday, 15 December, 11 am to 3 pm, North Acton Pavilion, Noel Road, W3 OJF.

We will have a stall so our publication, "Wonderful World of WAPPY: 10 Years of Inspirational Writing and Art by Over 100 Young Contributors' will be on sale for £6.99. A discount is available if extra copies are bought. If time and space permits as 'Akuba' I will perform a poem. Thanks again for your support.
+ Read More
Update 1
21 hours ago
Share
Thanks to the Arts Council, all our Go Fund donors, book contributors, and wider collaborators we did it! On 8th December WAPPY launched the publication of 'Wonderful World of WAPPY: 10 Years of Inspirational Writing and Art by Over 100 Contributors, at the University of West London.
Writing, Acting & Publishing Project for Youngsters (WAPPY) has been successful in its Arts Council bid to fund its landmark publication, 'Wonderful World of WAPPY. 10 years of Inspirational Writing and Art by Over 100 Young Contributors', which was launched at the University of West London (Weston Hall) 8th December 2018 in front of a packed audience. Attended by the Mayor of Ealing, Dr. Rupa Huq MP, award-winning author, Patrice Lawrence, patrons, Eric Huntley and Sally Baffour, Sebastian Jenner (Hillingdon Literary Festival Producer at Brunel University) and Shanti Ahilathirunayagam (Ealing Libraries Services Development Officer) amongst other key figures from within Ealing and beyond, up to 50 out of 111 young persons came to receive copies of the anthology which features their literature and artwork. In addition, Judges, Seb and Shanti of the 'Something Wonderful About Our World' poetry contest, announced that Ivy Oppong had won first prize with her inspirational poem, The World Has Hope, in the 13 to 16 category, while Effie Quansah-George came 2nd with 'Wonderful Tings'. Ricari Wilson (age 10) and Nyah Walcott-Quansah (age 8), also won first place prizes, while runners up contestants, T-Khai James-Palmer-Wahome-Kellehey (age 10) and Laith Abed (age 4) also impressed the judges. Waterstones and the Bookseller Prize YA winner of Orangeboy, Patrice Lawrence, who wrote the Foreword in the anthology and was is a guest speaker at the book launch, donated her award-winning book, Orangeboy to Ivy Oppong. Nicole Moore, author of 'Hair Power/Skin Revolution' also donated her book as a prize.
Vanita Nicholls (Ealing Apprenticeship Network Manager) writes: "Thank you again for inviting me to your wonderful celebration and book launch event. I really enjoyed finding out more about WAPPY and the amazing things that you have done over the years. 10 years certainly have gone by in a flash. Well done and thank you for being such an important and significant influencer on a growing community."
Apart from the publication the ACE funding also means WAPPY can run a series of creative writing, performance and arts-focused workshops in partnership with Ealing Libraries, including two pre-publication sessions at Acton Library to produce prize-winning poetry for the book launch and 10 Year anniversary celebration. The organisation will also follow a tour to promote the book as well as explore themes raised in the anthology including the chapter on 'People Who Have Changed the World' (for example, the impact of Jessica Huntley's publishing work and activism with Bogle L'Ouverture co-founder, Eric Huntley on Ealing, the UK and the world) at the W3 Gallery on 8th March for International Women's Day. Members of WAPPY are also expected to do future readings at the Huntley Archives conference (February 2019) and the Youth Symposium/Spring Festival (May 2018), both at the London Metropolitan Archives.
For more on WAPPY please see
www.wappy.org.UK.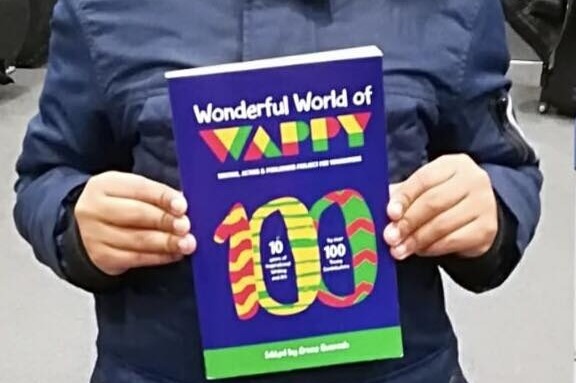 + Read More
Read a Previous Update