Wittenberg 2017 - The 500 Day Fund
$5,477
of $33k goal
Raised by
39
people in 11 months
Thomas Cogdell
for Christ the Reconciler Inc
ELGIN, TX

Thank you for visiting our GoFundMe page!

Who are we?
Wittenberg 2017 is an international group drawn from different traditions in the body of Christ.  This picture from our recent Rome gathering beautifully represents the heart of our intiative!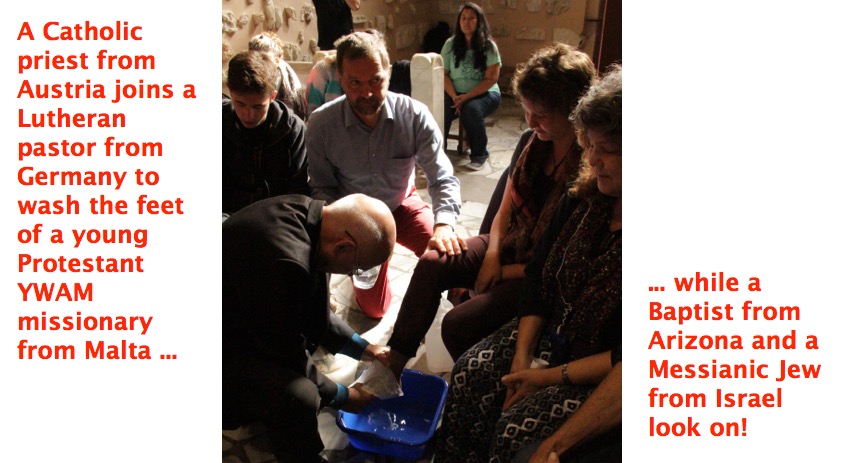 What exactly are we doing?
The 500th anniversary of the Reformation is coming up on October 31, 2017.   We want to ask you, along with all followers of Jesus, this question:  "How do you plan on responding to this incredibly significant anniversary?"

Chances are ... most Christians haven't thought about it yet!   (especially the youth)  Those that have might see it as  reinforcing our divisions.  After all, the Protestant-Catholics split is the biggest division in a world religion, directly affecting over 2 billion people.  

And since this split was preceded by the Great Schism between East and West in 1054, and the early first split between Jewish and Gentile Christians, all followers of Jesus are involved in the divisions of the body of Christ that crystalize in the 500th anniversary in 2017.

We are raising funds to reach as many Christians as we can with a new approach.  Rather than reinforcing hostility between different Christian traditions, we believe that the 500th anniversary of the Reformation is a God-given opportunity to work for reconciliation and unity in our generation.  
How can we back up this bold claim?
Well ... we have seen it with our own eyes, and heard it with our own ears!  We have been preparing for this moment for the last 5+ years, and have gathered in Europe each of the last 4 years.  

We are diverse in our ages, cultures, approaches and traditions.  We have not had any previous working relationship as a group.  Yet God has given us grace for unity in our relationships and in our message.  

One key to this has been our focus on repentance.  We have insisted that repentance must be for the sins of your own tradition in the body of Christ, rather than blaming other traditions for the faults you perceive in them.  Each tradition has enough to repent for on its own!

500 Days of Preparation:  Study, Prayer, Fasting
If you count backwards from October 31, 2017 for 500 days, you reach June 18, 2016.  

Our leadership is committed to devote these 500 days to study, prayer and fasting - one day for each year of division.  The purpose is to join our hearts to the heart of God as we approach the anniversary.

We would like to invite all Christians to join us during all or part of the 500 Days.  We will offer resources and plans of action, so that anyone can participate.  For example:

* One person could take a few minutes out of one day and pray a simple prayer for reconciliation in the body of Christ

* A small group in a church could together read and discuss our Principles.


* A group of Catholics & Protestants in a town could join together for 4 or 7 nights for the course on The History and Nature of Church Divisions.  

These and more resources will be offered for free on our website.

What are we raising funds for?
The funds we raise will be used for the following purposes.

$24K - social media campaign for 9 months*, to spread the message of reconciliation & unity as we approach the 500th anniversary.
* Our stretch goal for the entire campaign is $53K, which would fund all 17 months that cover the 500 days.

$3K - remaining costs for the June 14-18 gathering in Wittenberg, where more than 100 people will come from Europe & America to kick off the 500 Days.  The gathering is in the same building that was the University of Wittenberg in 1517, where Martin Luther was an instructor as he was writing the 95 Theses.

$2.5K - translation of German resources into English, and English into German (most notably the seven-lesson course on the history of church divisions)

$2.5K - online searchable database of 500 quotations about reconciliation & unity, from scripture, as well as books & articles written by Protestants / Catholics / Orthodox / Messianic Jews, plus teachings, songs, movies, etc.

$1K - maintaining and growing the content on the US website


How does the fundraiser work?
The fundraiser will run through June 18, the start date of the 500 days.  The donations will actually go to a non-profit called Christ the Reconciler, Inc., which will ensure that 100% of the funds received are used for the purposes given above.    You can read at the bottom of this page for more details of why it's best to have the funds go through Christ The Reconciler.

What are the thank-you gifts at the various levels of giving?
Below is a more complete description, with pictures, of our special & unique thank-you gifts.

$17 - MP3
Phillip Owens from Austin has adapted for our gatherings a version of Agnus Dei (Lamb of God) written by a friend of his, Kathy Kanewske.  It has become a powerful prayer for us.  We recorded the group in our Trento gathering singing it, and we'll happily send it your way.  You should be able to import it into iTunes or whatever media player you use.

$51 - 3 iTunes songs from Psalm 51
David's classic psalm of personal repentance after his dual sins of adultery and murder has formed the foundation of many songs over the centuries.  We have 3* favorite versions, 1 from each of the last 3 decades, that we'll send you via iTunes.  They are very different styles ... but share David's heart of sorrow and hope in God's mercy.  (We'll also send you the Agnus Dei MP3, of course ...)
* if you like math, 51 = 17 x 3!

$95 - Principles
Our Principles  have become the foundation of our approach to the 500th anniversary.  At the beginning of each meeting, we go around the room and read them line by line, each person in his or her own language.  We'll send you a rigid, laminated copy that you can put in your favorite reading spot, to study, contemplate, and pray from.

(We'll also send you the Agnus Dei MP3, of course ...)


$133 - Autographed Hanna Miley book
Hanna Miley is a living treasure!  She and her husband George are key members of the International Council for Wittenberg 2017.  Hanna has traveled farther down the road of reconciliation than most dare to even imagine ... and she's written a wonderful book about it.  


She will lovingly autograph one of her books for you, and send it your way.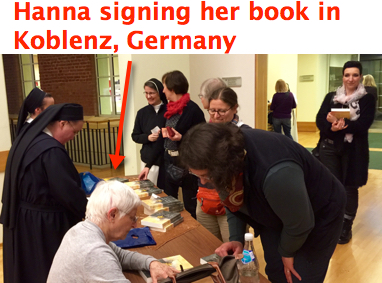 (We'll also send you the Agnus Dei MP3, of course ...)


$216 - T-shirt or coffee mug
Ephesians 2 is a pivotal New Testament passage concerning reconciliation.  The key message is distilled in verse 16, namely that Christ is the Reconciler who can remove hostility between two groups of people.  You can wear this message of hope on a beautiful t-shirt ....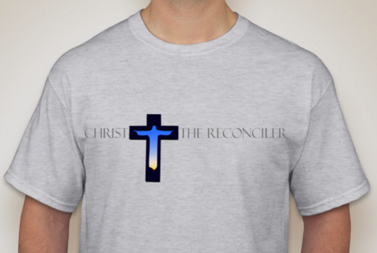 ... or display it boldly with your morning coffee!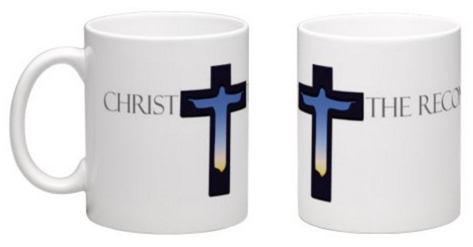 (We'll also send you the Agnus Dei MP3, of course ...)


$500 - Bridge Prayer book
The Bridge Prayer model  has been developed by the Christ the Reconciler community of Protestants & Catholics in Elgin, TX.  This unique book combines some of these powerful prayers from many traditions, with beautiful photographs taken by Thomas Cogdell on his various travels.  Use it for personal prayer, or put it on your coffee table for guests to enjoy.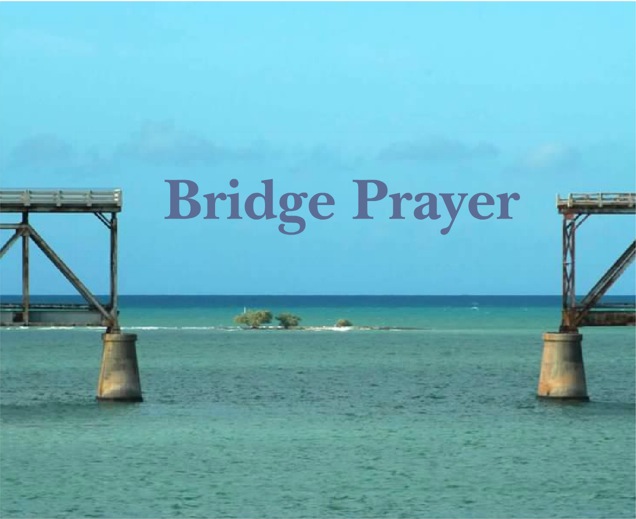 (We'll also send you the Agnus Dei MP3, of course ...)


$1517 - Man of Sorrows, framed
Jim Janknegt has been chosen to be the 2017-2018 Artist-in-Residence at the Henry Luce III Center for the Arts and Religion at the Wesley Theological Seminary in Washington DC.  In 1990 he painted this portrait of Jesus as the Man of Sorrows.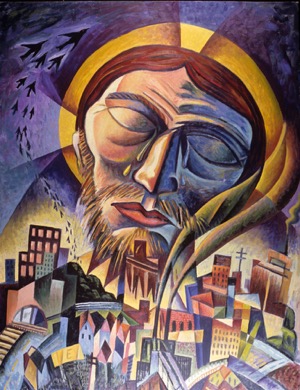 We will print and frame an art-quality 13 x 19 print of this painting, and ship it to you in a protected package.
(We'll also send you the Agnus Dei MP3, of course ...)

$2017 - Make All Things New, framed
Jim also painted this very large panel painting, drawing from Jesus' statement in the book of Revelation:  "Behold, I make all things new!"  This is appropriate for the year of the 500th anniversary - He is making all things new in His church!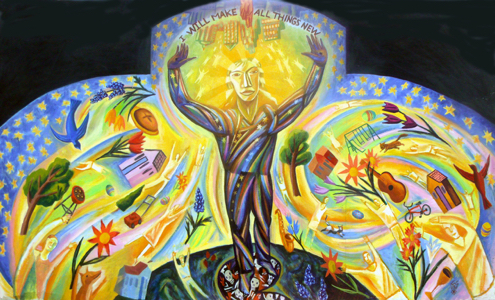 Click here  for an enlarged view of this amazing painting.

We will print this painting on art-quality canvas and mount it on a wooden frame, ready for hanging on your wall!
(We'll also send you the Agnus Dei MP3, of course ...)


Why do funds go to Christ the Reconciler, Inc.?
The founders and leaders of Christ the Reconciler (CTR), Thomas & Amy Cogdell, are also the leaders of the US Team for Wittenberg 2017.  Both are ministries of reconciliation.  So to avoid the overhead of two independent organizations, the already-established organization CTR adopted the new initiative Wittenberg 2017 as one of its projects.  (The funds work the same way in Europe - in Germany & Austria, already established non-profit organizations have adopted Wittenberg 2017 as one of their projects.)

The reason that this is the best way to do it, is to allow Wittenberg 2017 to use all of the funds given for activites directly related to the cause of reconciliation, rather than having to devote some of them to the cost of maintaining a non-profit organization.


Thank you!

Please feel free to contact us through GoFundMe or our website Contact Form, if you have any question or need clarification on anything on this page.

We are excited about what God is doing worldwide in these days, filled with joy to be a part of it, and really happy that you might walk with us in this journey.





 



+ Read More
Be the first to leave a comment on this campaign.