England Castle
£20
of £1.8M goal
Raised by
3
people in 43 months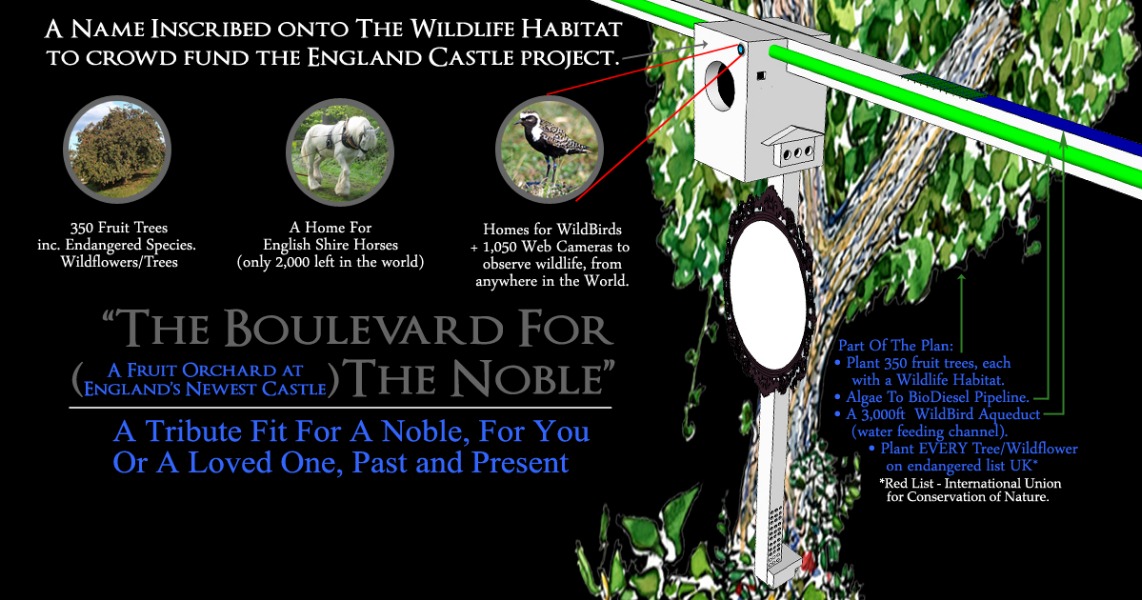 ====================================
Thank you for taking time to read this project.
For detailed information regarding this project please go to
www.EnglandCastle.co.uk
Hello all, My name is Adam Baker, I'm just starting the crowd funding aspect of this project.
The plan is to build a homestead farm, that features a wildlife habitat that has been designed by myself to aid and protect the ever falling numbers of wildlife here in Great Britain.
A travesty is taking place all around us with the sad statistics from wild birds to hedgehogs being driven to almost extinction.  Wildlife need safe and secure living environments, and mostly during cold weather, when water lakes freeze over, the aqueduct will be designed and built to withstand extremes of weather, to provide the valuable lifeline birds and creatures need to survive, with an added design of the farm to provide year round feeding areas for wildlife, without the desire to maximise on profits.
The homestead farm features a design of a castle which has an historic influence, and also a gravity driven aqueduct which I believe would be the longest bird feeding water structure of its kind ever constructed.  Also, the aqueduct has an algae glass tube pipeline, which would lead to a refinery in the farm building that produces B100 grade Bio Diesel.
I have a varied professional background, which includes being an ex- College I.T lecturer, hence am using my skills in technology to develop this project.
I have intention of building this Castle and Farm over the next 7-10yrs. The initial plan is to purchase land in or near Sussex, UK.  However this could be anywhere in England.  I need to add, currently no land has been earmarked.  The farm will be a commercial operation, and not a charity, however the business will have a strong emphasis towards helping those with special needs (the disabled).  Also, inline with Permaculture farming community principles, a share of produce to be donated to food banks. (Goto main web site:
EnglandCastle.co.uk
 to learn more of Permaculture farming).
I anticipate that the total build project would take in the region of 7 years from the sale of the land/planning approval. The planning approval in itself would take around 3 years to gain. The castle would be built significantly from recycled / re-purposed building materials.
The trees will be of rigorous rootstock, that is have a lifespan, I hope, of around 70-100 years. Each tree will have wooden placards secured to the post which the tree is planted alongside  The placards will be engraved with the supporters of this project.  The orchard will be named "The Boulevard For The Noble" to pay tribute to the kind donors who would have helped me.
The information in the photos tries to clarify the concept I have The concept, design, implementation and operation of this project is constantly being updated and subject to change. Hence would greatly appreciate a chance to start something positive.
A little about me:
I'm currently 44 years young :-)  I was born and raised in Birmingham, England and moved to Brighton, Sussex, around 12 years ago.
I consider myself a 'closet nerd' and enjoy 'nerding out' on learning new technologies. I'm a volunteer for a local riding for disabled charity.  I come from a humble background, added with the usual ups and downs of growing up in an inner city environment.
I'll be hopefully adding new info as I progress, But thank you all for your kind time and hope you will consider supporting this project...
Adam  Baker
www.EnglandCastle.co.uk
=======================================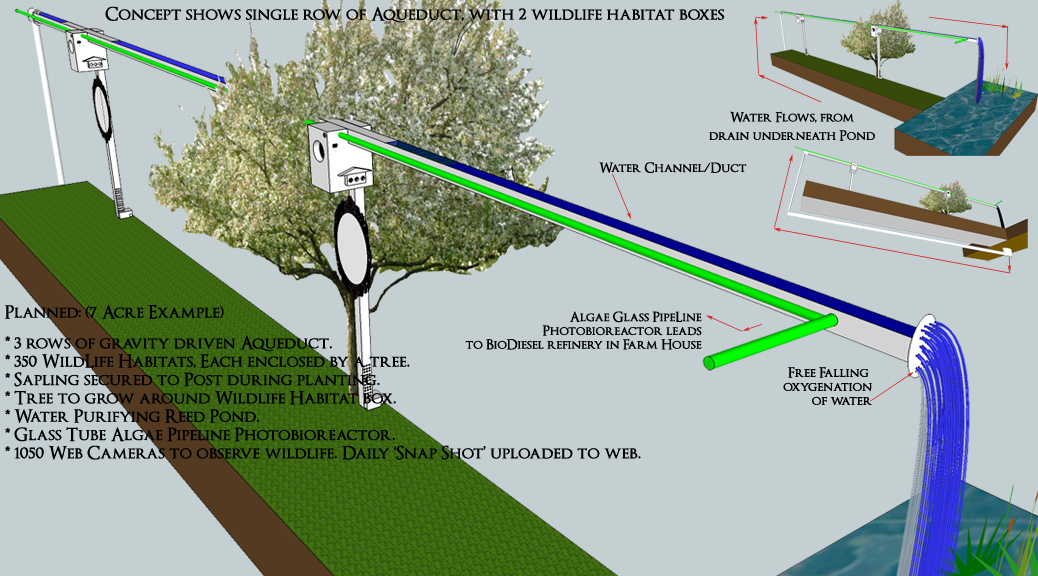 Planned: (7 Acre Homestead Farm)
*Boulevard For The Noble Placard on Each Wildlife Post . (Approx 5,000 names on each post)
* 3 Rows of Gravity Driven Aqueduct. (totalling over 3,000 feet in length)
* 350 WildLife Habitat boxes, each enclosed by a fruit tree.   3 Web cameras built into habitat.  (2 External, 1 internal). Daily 'Snap Shot' of wildlife to be uploaded onto EnglandCastle.co.uk web site.
* Canopy of Tree to grow completely around Wildlife Habitat box.
* Water Purifying Reed Pond.
* Algae Growth pipeline. Photobioreactor using glass tubes - For Production of BioDiesel.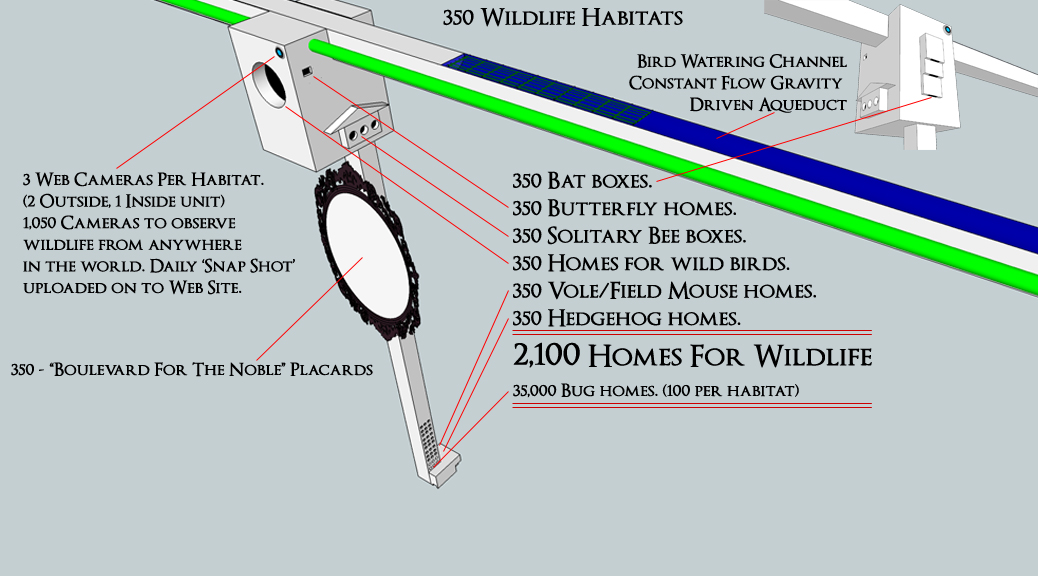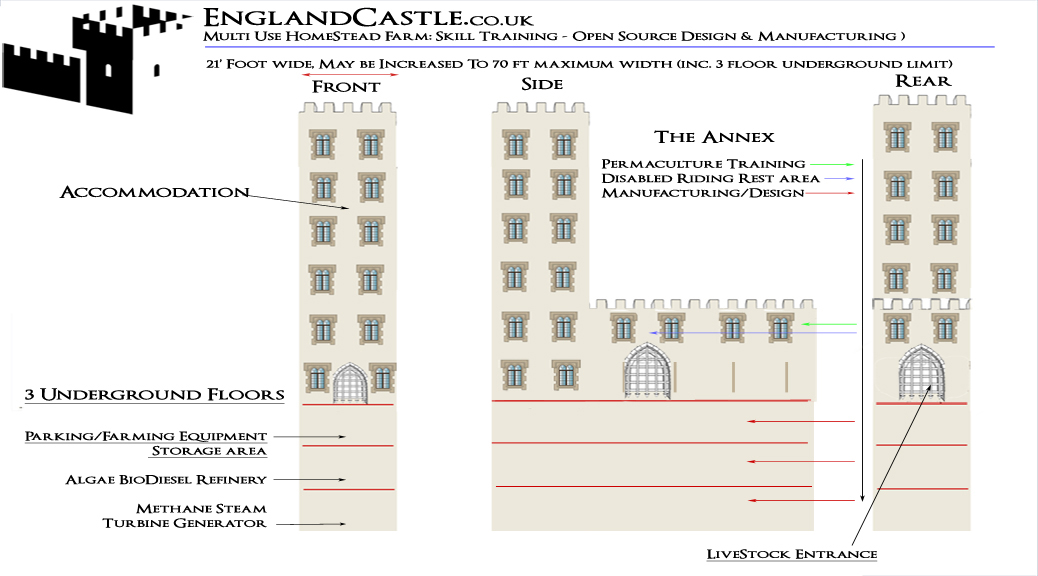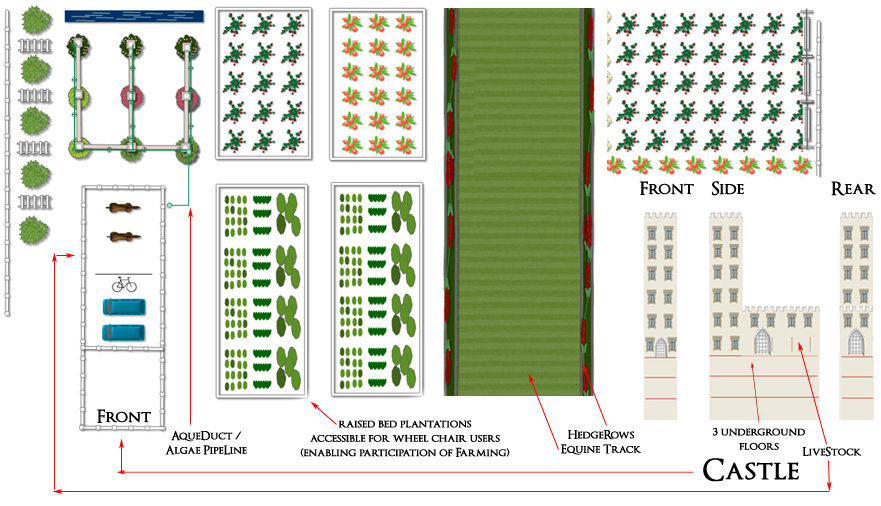 Estimated 7 Acre  Homestead Farm.(Approx: 1,500 feet long / 210 feet wide)
Permaculture Farm features – (Approximate Figures)
Estimated 37,000 purpose designed homes for wildlife.
350 Bird Box's which feature in total:
350 Homes for wild birds.
35,000 Bug homes (100 per bird box)
350 Bat boxes.
350 Vole/Field Mouse homes.
350 Hedgehog homes.
350 Solitary Bee boxes.
350 Butterfly homes.
350 - 400 Fruit Trees in orchard. Will be open to general public.
Gravity driven aqueduct  Constant flow, water feeding channel for wild birds. Possibly, The longest purpose built, bird watering structure ever constructed. Totalling over 3,000 feet in length.
Rainwater collection leading to water harvesting pond.
Algae to Biodiesel growth pipeline, natural reactor technology. 
Wheelchair friendly farm.
Bee Farm
Home for at least 2 Endangered Breed English Shire Horses.  12 Shire horses is prefered. 
Zero use of chemical pesticides/fertilizer. 100% organic produce.
Castle/Farm Building -
Historic design of Castle.
21ft wide building making good use of available space. Including 3 underground floors.
Significant use of recycled/re-purposed building materials for construction.
Intention to start Permaculture Education facility for the local community, with wheel chair friendly access across farm.
Bio Gas digester, Methane from farm/organic waste.
Methane burning Steam Turbine Electric Generator, with a possibility of near 100% off grid operation.  (Zero noise at ground level).
Bio Diesel refinery from Algae, producing B100 grade diesel.
Low carbon footprint operation, greenhouse gas reducing farm.
Equine Track, with emphasis to offer facilities for riders with disabilities.
Inline with Permaculture farming community principles, a share of produce to be donated to food banks.
=================================
Additional Info:
Short Video on Algae to Bio Diesel Process.
1).How Algae Biodiesel Works
2).
Algae fuel - Photobioreactor from glass tubes.
3). What is Permaculture...? (Permanent Agriculture) In a nutshell, Its Self Fertilising, Self Protecting farming method that doesn't destroy the Earth, nor use any chemical products to enhance produce or use chemicals as pesticides. 
Here is an excellent video that explains briefly what many call "the silent revolution" in farming.. Permaculture Farming (click)
+ Read More
Be the first to leave a comment on this campaign.