446
7
When Cancer Strikes Twice
$51,660
of $60,000 goal
Raised by
446
people in 4 months
Silke is fighting for her life against the most aggressive form of brain cancer. Grade IV Glioblastoma. 
A brief history:
Meet the Blaine family.  Doug and Silke, a police officer and a nurse, and 2 kids still in school.  Until last year, the whole family enjoyed a happy Canadian existence.
First, Doug was diagnosed with Leukemia (blood cancer) which took months to diagnose accurately. Further, his treatment plan is still uncertain while he addresses 3 other medical issues that need to be dealt with in the immediate term. With all of this news coming in a short period of time, 2017 was a very rough year on the family.
So the new year's resolution was for Doug and Silke to do a bucket list trip in January in the Caribbean, and then get Doug healthy again in 2018.  The promising news was that the doctors thought the Leukemia was treatable.  2018 would be the turnaround year!
But the bucket list trip had to be cancelled. 
 Silke's Diagnosis:
January 13, 2018 - they were devastated when their lives were turned upside down again. This time it was Silke, after an unexpected seizure which led to Silke's rapid diagnosis of grade IV Glioblastoma.  Brain cancer.
From completely healthy and symptom free to fighting one of the most aggressive tumors the medical experts in Winnipeg have seen.  Within weeks, Silke is fighting to try every treatment option available as fast as possible to try and save her life for as long as possible.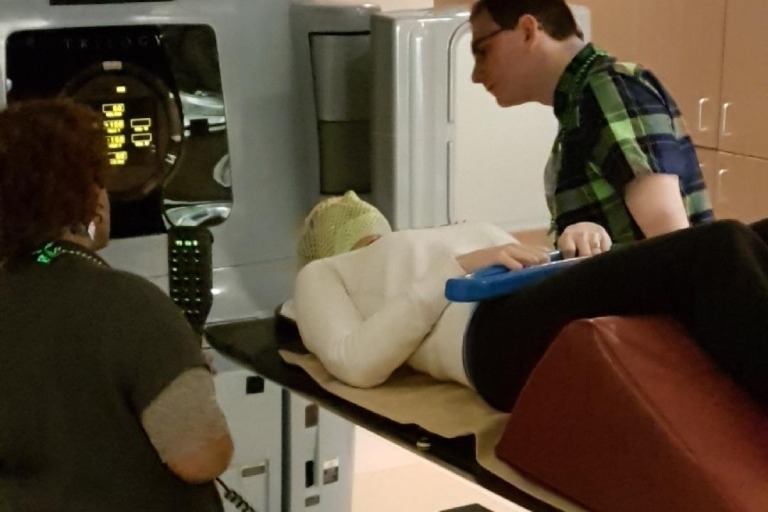 Silke undergoing radiation treatment
Silke is the most beautiful person we know!! She's fun and energetic, full of life....and now in the battle of her life.
In the family meeting when Silke was told of the bad news, she turned to Doug and said, "I thought I was supposed to help you through your cancer!!".  
Treatment Options
Silke and the family have been researching everything from experimental treatment options, immunotherapy, genomic sequencing, frequency beam ray technology, innovative cancer consultants, herbal and plant based treatment options.... we want to put some of these into play, but the expenses are mounting.
We want to help Silke and her family raise the money to try any possible treatment they can find as fast as possible. Anything possible to allow us to spend as much time as we can with this amazing woman.
Every day matters in this fight so we are trying to help her  quickly explore every possible option available. 
We are raising funds for:
- The mounting medical / home care costs: Silke wants to spend as much time at home as possible. This is becoming increasingly difficult. Investments need to be made to make this possible. We want her to be at home if possible.
- Foundation Medicine: we have commissioned a genomic sequencing study from
Foundation Medicine
 in Boston to better assess the actual genetic mutation that caused the tumor and see what clinical trials might be available. This is an expensive study, but gives insight into what specific treatment options might work best for Silke and give her the best chance.
 - Family support: Her sister lives in Regina – she has been amazing  through all of this but has to fly back and forth from Regina. We want to pay for her tickets back and forth so she can be with Silke as much as possible and help the family.
- Loss of income: Silke had a small business that she had built over a number of years and has had to give it up. This is a loss of income to the family. We want to help ease this loss of income during this difficult time.
We know so many people love Silke and Doug and their two children and have asked how they can help, so we created this page to give people an opportunity to help, give their thoughts and prayers to Silke, Doug and the family and to also keep everyone updated on her journey.
Silke also wants to raise awareness as she wants to help against the larger fight  - not just for herself – but for future victims of this horrible cancer.
*The funds from this go fund me fundraiser are being managed by Gord Blaine (Doug's brother) so Doug and Silke can focus on their health and family.
+ Read More
Update 1
3 months ago
Share
We have been overwhelmed by the support from friends, colleagues and family to the Gofundme campaign for Silke and Doug. The caring and supporting prayers and wishes have been a source of light and truly uplifted Silke and the family in this difficult time. The financial support has helped immensely to remove the extra daily struggle of the financial aspect of critical decisions. We wish we could thank each and every one of you personally for your generosity.
Thanks to this tremendous support, Silke and the family have been able to pursue things otherwise out of reach within the Canadian healthcare system:
- Genomic sequencing analysis was done in Cambridge Mass (by Foundation Medicine, Inc ) to help identify unique characteristics of the tumor, and provide suggestions of experimental drugs and clinical trials that could apply to Silke's unique tumor
- Pursuits and dialogue with related best of breed brain treatment centers in the USA (Cleveland Clinic, MD Anderson, Duke University) for consultation on treatment plan options
- Exposure to experimental / academic / alternative drug treatments and clinical trials, and consultative perspectives on what could be considered
(note: a very sincere thank you to our support network in Denver CO - Trevor McCartney and Dr. Fred Ashbury, who have given up a lot of their personal time to help us spearhead and interpret these options)
- In the last week we have moved forward with a new drug treatment plan, as well as a microcirculation vascular therapy device that has given Silke great comfort – designed by the Bemer Group out of Europe.
We have not been able to participate yet in any clinical trials but are still pursuing a few further alternatives.
And perhaps the most comforting element of our efforts – Due to her recent progress from the above efforts, we have been able to set up the Blaine family home as a private hospital room for Silke to be in while we press on to fight this disease.
Family has been able to fly in from Saskatchewan, and local family and friends have been extremely supportive in establishing a private room, staffed around the clock, with all the associated equipment required. Silke is very appreciative of all the caring staff on RR6, while in hospital.
Lastly, our most sincere recognition and appreciation to the staff and doctors in Cancer Care MB, who have been willing to work with the family on the above pursuits in finding Silke the best combination of traditional and non-traditional treatments available, most notably, Dr. Kakumanu and Dr. Pitz. Thank you both very sincerely.
Silke remains steadfast in her efforts to have this disease brought to the forefront. Her ultimate goal is to see more research into GBM and bring awareness to this devastating cancer.
Silke has been hard at work in her efforts, and has attempted to recruit any doctor, nurse, health care aide, friend or volunteer that she meets.
It is her desire to see the Winnipeg Brain Tumour Walk on June 23rd gain momentum in numbers and support. She encourages all to visit the following link to join her team, "Blaine's Brain":
http://www.braintumourevents.ca/site/TR/SpringSprint/General?team_id=6224&pg=team&fr_id=1515
+ Read More