Veterans Healing Journey to Peru
$1,451
of $4,000 goal
Raised by
14
people in 42 months
We (Gray and Victoria) share different aspects of Shamanic Healing Work as we travel throughout the US and Peru . We are so grateful for the transformations that people have experienced in their physical and emotional bodies! Over the years, we have encountered numerous military veterans, many of whom suffer from PTSD, suvivor's guilt and debilitating physical injuries, with few opportunities for effective healing and recovery.
We are reserving two spots on our October 2015 Magical Peru Healing Journey for  these veterans. We will be raising funds to include the travel and journey expenses, including a small amount  to help cover their week off of work.
Your contribution will make a huge difference in the transformation of their lives, as they get to experience the beauty and power of the Sacred Valley and work ceremonially with the Q'ero shamans of the high Andes. As they release and let go of the things that have been hindering them, they will begin to manifest the life and the dreams  they have been wanting and  deserve to have.
We greatly appreciate your assistance, your compassion and willingness to  help.
Blessings,
Gray and Victoria
Below is the story of one courageous veteran and their committment to a different path! We are still seeking one more veteran for this campaign. If you know someone that would be a match fior this program, please contact us.
For more information about us and the Magical Peru Journey please visit our website
www.samanayo.com
THE STORY OF JAMES OVERACKER
My name is James Overacker, but everyone calls me Chase. I am very interested in the Magical Peru trip because I could really use some healing in my life. My past is a very sad one, not that I want pity, but it will give you a better understanding of who I am and what I have been through.
I was raised by my Grandparents. My father was rarely in the picture and when he was it was abusive. I didn't meet my mother until the age of thirty. My grandfather was a raging alcoholic and abused me  emotionally, physically, and sexually.  As soon as I graduated high school, at the age of 17, I joined the Marine Corps  to try to escape  the hell I had been living in my whole life. I wouldn't exactly say that I escaped, however. While in the Marines I participated in Operation Enduring Freedom in Afghanistan and was a part of Operation Iraqi Freedom. I joined the military to become a general's chef but I found myself very far from any kitchen.
I was tasked to an anti-terrorist force protection unit during my tour of duty in Afghanistan.  I was fortunate enough not to have experienced much personal loss but was witness to soldiers dying daily.  After returning  home for a few months, I shipped back out, this time  to Iraq. I was a part of the first wave as we crossed the border on the first night of the invasion.  Again, I was extremely fortunate to have come back alive, but have felt cursed, damaged and haunted in the thirteen years since.
I suffer from PTSD, survivors guilt and from a spinal cord injury that has left me unable to work in the fields in which I have experience and training.  Between the severe chronic pain in my back and my mental health conditions, I feel like I barely survive each day.
I am very tired of just surviving and
want to start living my life again
. I have four wonderful children. I feel I have not been the father to them that I want to be and not the father that they deserve. Loving myself has been a challenge my entire life, making it difficult to fully love my children  to the depth that I wish.
I just want to be the man I want to be, a great father and loving husband and productive member of society. Thank you so much for this opportunity and for the goodness that you give so freely. I hope this Peru trip will help me move to a new level in my life!
Sincerely,
Chase
---------------------------------------------------------------------
THE STORY OF KATHRYNE JONES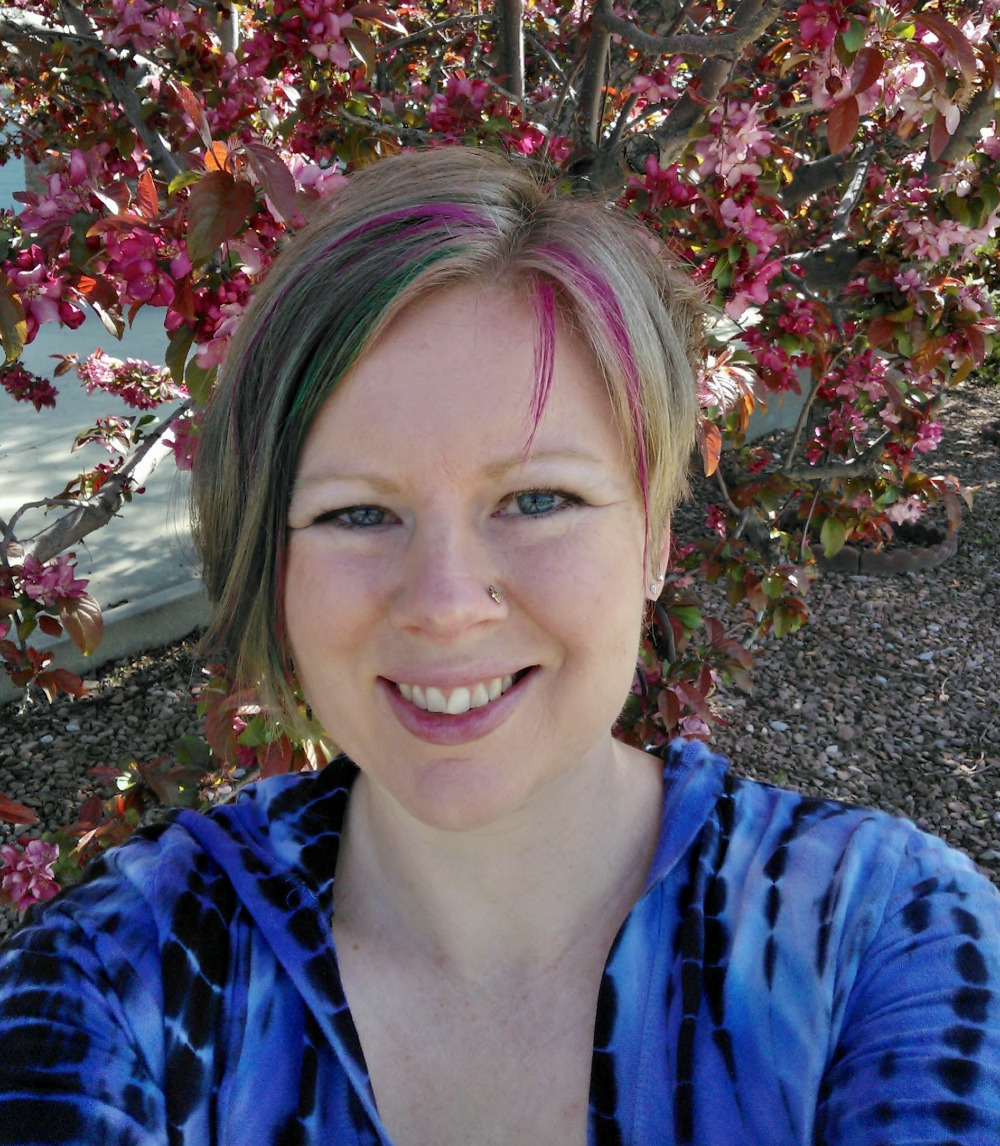 My name is Kathryne. When people learn about my childhood and time in the military, they often ask "How did you survive? What gave you the ability to make it this far in life?" Honestly, I have no good answers to these questions. Only a sense that something greater than myself must be keeping me alive. And for what purpose, I can't say. I have grappled with questions of purpose, identity, and the meaning of life since I was a small child.
My parents did the best they could, but love, generosity, kindness, and compassion were not qualities I was raised with. I suffered abuses from many people, on every level, throughout my childhood to the point where I thought that behavior was normal and believed everyone lived that way. It did not even occur to me that anything was wrong, other than feeling angry and resentful all the time. I was violent and bitter. I joined the Air Force in an attempt to create a better life for myself and my nephew who I started mothering at the age of 15.
I thought i would be a lifer in the Air Force. I joined the Security Forces and spent most of my time as a machine gunner during the Kosovo war. While I met many good people in the military, the conditions were harsh, and I experienced rape, sexual harassment, and a physical assault from various men in the four years I served on active duty. I also became very ill and depressed. The doctors did little to help aside from prescribing pill after pill, including painkillers and heavy tranquilizers. By the time i was 21, I was on 20 medications a day. I was diagnosed with PTSD, major depression, and after separating, chronic fatigue.
When I was discharged, I isolated myself from others, afraid to hurt anyone or to be hurt. I stopped taking all the meds i had been given, and sat in an empty apartment detoxing from the drugs. I was discharged just before 9/11/01. Many of my friends were called to the Mideast. I felt guilty for leaving them, and like a failure for not being able to perform all the duties of my job, being put on a medical profile, and unable to return to support my friends. However, I also learned through my experiences that violence isn't the way. The person on the other end of my M60 wants the same as me. Love, joy, peace, prosperity. Life is precious, and I am reminded of this after the recent death of my sister from cancer and grandmother, from old age.
Since separating from the military, I have not been able to maintain steady employment. Fortunately, I have found yoga and gracious friends who allow me to live with them, but I would like to gain the courage and confidence to help others in a big way, to meet that "special someone" and get married, to feel joyful instead of just ok and scraping by. I would like to have this opportunity to go to Peru to discover new aspects of myself, to heal what stands in my way of living fully, and to help me become the kind of person that contributes lovingly and joyfully to the wellbeing of others. Learning to care for myself has been a long and difficult process with little support or guidance. The more I learn to care for myself, the better I am at helping others. I know Gray and Victoria are doing what they can to cultivate supportive communities, and I want to be part of a community that supports the health and wellness of all beings.
-----------------------------------------------------------------------
MAGICAL PERU JOURNEY
October  2015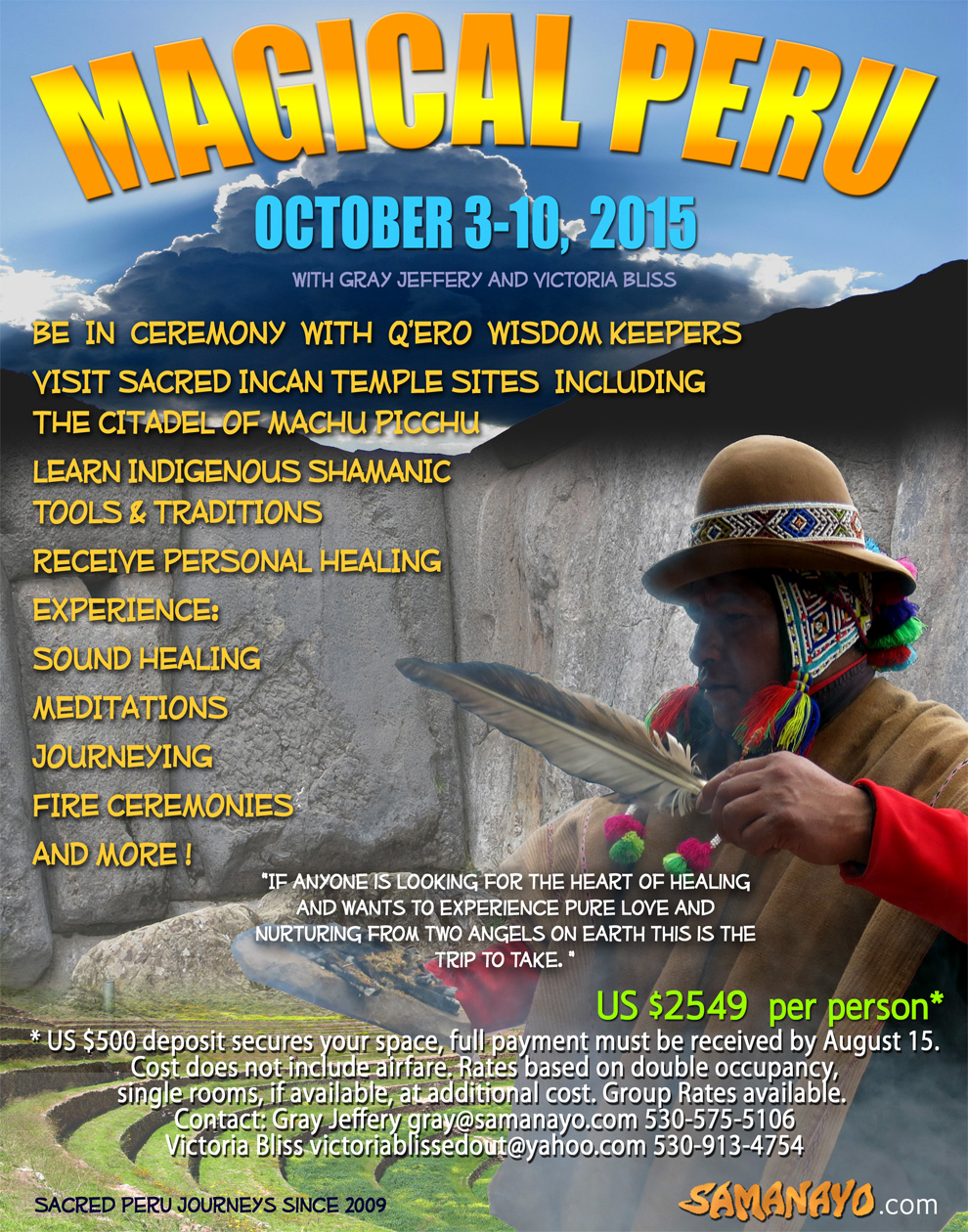 + Read More
Update 1
36 months ago
Share
Hola and Thank you for all of your support!
We were only able to take on of our Veterans Kathryn Jones . She had so many miracles and breakthroughs!
Thank you for helping make this possible. It takes all of us to help each other along this path. We are grateful for your care and compassion and will continue to bring veterans with us on our journeys.
Blessings,
Gray and Victoria

Testimonial Kathryne Jones

To everyone who contributed to my journey,

I offer you my deepest gratitude and appreciation for this amazing gift. For the first time in my life, I was fully able to receive the love and support being offered to me, without the guilt and shame of the inability to provide for myself or contribute as much to others' lives in my current situation. In the past, I would not have allowed myself to receive so much without having anything to offer in return. I realize this has kept me from many opportunities, and that without properly nourishing my own soul and allowing myself to receive fully, I have not been able to truly give to anyone or anything. Because of your generosity, I awakened to a deeper experience of love and acceptance for myself and others.

With the support of everyone involved in this journey, I was able to heal much of the trauma I experienced. The healing work I did with Gray and Victoria allowed me to feel a sense of total relaxation in my body and mind which lasted for days, and that I still experience from time to time, even a month after completing the journey. I have never felt this particular way, even after years of healing work and therapy. I actually experience positive thoughts coming into my mind without having to "work on it" or listen to recordings of affirmations. I have had acne every day since I was nine years old. It has been so severe in the past I required laser treatments and medications. By the end of the journey my skin was completely clear. This may seem inconsequential to some, but it was a huge eye-opener for me. I had given up on the idea that it is possible for me to experience clear skin, and it has affected my self-esteem in the past. These are just a few of the experiences I had on the journey, but I wanted to share, so that you could know some of the impact your gift has had. Things are still unfolding as I integrate all that I have learned while in Peru. Thank you from the bottom of my heart.

Sincerely,
Kathryne Jones

+ Read More
Be the first to leave a comment on this campaign.