SUPPORT THE ART(ist)!
$70
of $4,100 goal
Raised by
3
people in 9 months
Hi Friends,
Thanks you so much for past support, & for checking this out!!  
I've been so grateful for your help & the generosity that has sustained my art practice! Just 10 years ago when I left NYC for Vermont to explore an independent path, I had no idea it would bring so many surprises, and so much fulfillment. Each time I finish an artwork, I'm thankful for the opportunity. I hope that the work brings something inspiring to others— whether now or much later.
The good news is...
I've found a new workspace, a live-work setting in Jersey City that will give me the space and independence to create new work and fully engage in my art practice. I'll be moving towards being an illustrator/artist full-time & focusing on commissions (At the moment, I babysit for multiple NYC families for my living).
What I need to accomplish is fund, furnish my space & move in ASAP, upgrade my technology (including phone with broken screen, audio, & battery etc, approx 5 yrs old) & purchase a computer that can operate photoshop for scanning/editing, then start making the art:). 
I'm thrilled to be making art in Jersey City - it's easy access to Manhattan, calm, quiet- and a lovely waterfront.  There's a great scene for artists here and I look forward to being part of it.
ANY SUPPORT YOU CAN OFFER WOULD BE AMAZING!
The breakdown:
$1500 - towards studio deposit & rent
$600 - towards a replacement smartphone
$2000 - towards a replacement computer (with photoshop)
Total: 4100
PLEASE MAKE CONTRIBUTIONS BY THE END OF NOVEMBER!
Gifts of over $100 will receive a thank-you pack of 3 greeting cards (please send me your choices!), and over $1000 will receive an art print, choice of in-stock landscapes or fashion drawing.
(**note: unfortunately art commissions cannot be offered as the thank-you gifts).   But you can stock up on a few favorite cards for the upcoming holidays!
In case you haven't, please check out the work at
www.jheloise.com
 , music on
bandcamp
 , and art at
instagram
  as j._heloise...  Artist bio at
www.jheloise.com
WHY THIS? WHY NOW?
Since relocating to NYC-area from Vermont in 2016, I've been creating work but not as regularly — and am working hard to fix this! A key piece of this is having a steady workspace available to me, day and night. Another component is having key technology (smartphone, computer), to be able to edit and share my work with the public & with potential clients.  And, of course, the time to commit to working on art exclusively.  The more funding I'm able to secure, the less time I'll need to devote to other forms of work, which frees me up to be painting.. ;)
Any additional amount raised, above and beyond the goal, will go towards ongoing studio operation costs— rent/utilities, art materials, and/or additional technology such as website fees, scanner, software or other related needs. If anyone is interested in sponsoring the studio in an ongoing way (such as rent for the year), please contact me directly.  Anyone interested in sponsoring music production for my next album should also contact me directly :)
I AM SO SO THANKFUL FOR EACH ONE OF YOU!!!  The art sparkles because you've all brought a sparkle to my world.
<3 Jackie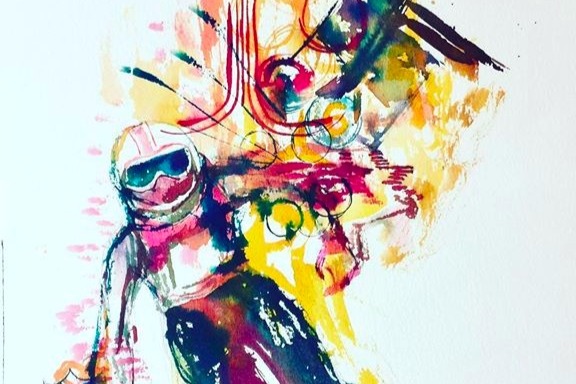 + Read More