Ukuleles for Hospital Music Therapy
$16,778
of $15,000 goal
Raised by
33
people in 34 months
This program serves thousands of kids facing the toughest MEDICAL challenges at leading children's hospitals, including hospice.

When a child is seriously ill, taking up a musical instrument may seem odd. Yet, music taps healing and coping powers.
FLEA ukuleles for Hospital Music Therapy
Since 2008, I established True Joy Acoustics and actively network with board certified music therapists to understand how they tap such powers.
A concept was born: steadily donate these "special little instruments with a big heart" for use DURING and BETWEEN sessions. Empower 24/7 music-making opportunity. Focus donations at top hospitals serving families well beyond their large metro areas, including other countries.
Donations are funded by sponsors and FLEA ukulele sales.
 A heartfelt connection is woven among patients, families, therapists, purchasers, sponsors and community.
Together, we help music therapists create positive and immediate impact. Beyond surgical and medicinal treatments. Beyond words.
This campaign serves the core mission and features 
Ukulele Art
 created by junior high students on a FLEA canvas. I hope their "works of heart" inspire your help to donate more ukuleles. Every dollar helps.
It also honors a child who sparked the idea.
Kenna was from Montana and played one of the first FLEA ukuleles donated to Cincinnati Children's Hospital Medical Center in 2010. When playing became difficult, she and her music therapist painted it with uplifting art and a power phrase around the body.

Catch a glimpse of what this led to:
Details follow, or jump ahead to the GALLERY.
Why do players love their FLEA?
Designed and made with USA quality by The Magic Fluke Company in Massachusetts. Vibrant colors and tone. Easy to play, store, travel.
Concert FLEA's retail for over $200. They offer a sound investment in musicianship. No prior experience or "special talent" required.
Their therapeutic value is proven, too.
They help music therapists uplift spirits. Hospital walls feel less confining. Expression runs deeper than words. Non-musical outcomes improve. Despite stringent cleaning, FLEA ukuleles retain vibrant tone and long service life. Therapists using them with hundreds of patients over the past 7 years praise their special features.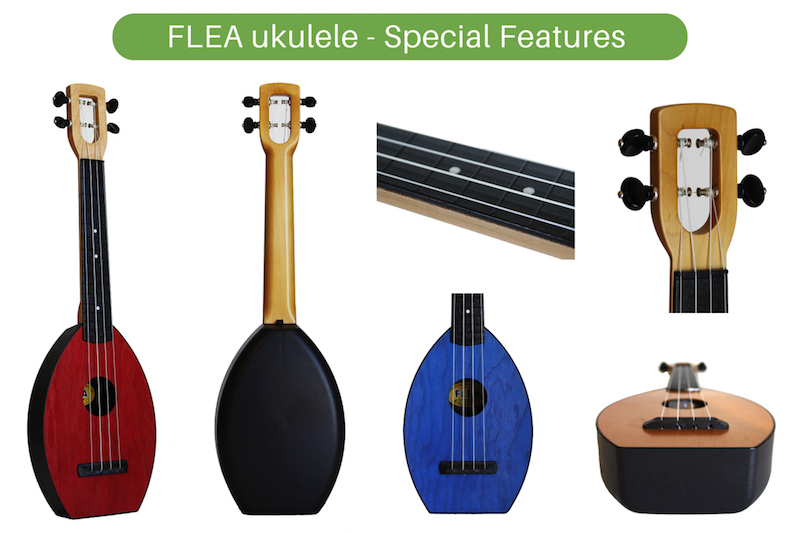 One example is a FLEA's exceptional tuning stability.
Time is spent making live music, not tuning and retuning. 
A concert FLEA's wider neck and fret spacing helps to see and form clear notes.
Hospital therapists often wear gloves while playing instruments.

They have molded fingerboards (no metal fret wire) and inward string posts.
 Aids thorough cleaning and protection in a sensitive setting. Metal fret edges on some ukuleles can be sharp if unpolished or extend beyond wood fingerboards when room humidity changes.
FLEA ukuleles have a flat base and stand upright.
An easy reach to play. Helps therapists manage instruments during busy rounds, plus sanitize them for patient use.
Quality and therapeutic value rule in this setting, just like the medical care.
FLEA ukes are the upstanding choice. And among mental health patients, playing a colorful premium grade ukulele sends a powerful message: I'm worth it.
UKULELE ART GALLERY
FLEA ukuleles surpass being "just a ukulele". Art speaks. View 27 beautiful themes at your own pace by clicking SLIDESHARE GALLERY below:
SLIDESHARE GALLERY
Eligible sponsors receive a professionally printed 54 page booklet of this beautiful art.
Will you help me, plus invite others?

Sales and local sponsors have helped us donate beyond 100 FLEA ukuleles thus far (over $20,000 retail value). Yet there is "wide open space".
More FLEA ukuleles support: instrument loans between sessions; replacing "retired" models after serving hundreds; gifting to families on limited basis; expanding sites.
Together we can amplify FLEA ukulele strums, singing and healing. Let them subdue beeping monitors, scary procedures, symptoms and side effects, the snail pace of being stuck in a hospital room, a sense of life "on hold".
BASE GOAL = $15,000
What will $15,000 deliver? A BIG set of new FLEA ukuleles will go primarily to hospital beneficiaries in Cincinnati and Seattle. They rank "top 5" across the USA. Manufacturer donations of instruments suitable for music therapy are also counted as "gifts in kind" toward the goal.
It also covers instruments painted by students. They are thrilled to have their art inspire and support peers. The ukulele with theme "01" painted by Marialinda will be gifted to Kenna's mom. She loves it. Will stand next to Kenna's ukulele in Montana.
ONGOING GOAL = LOUDER THAN A LION!
Zip past $15,000 to let inspiration ROAR from Kenna (and Katy Perry). Help ongoing patients and families "get through this" with "heads up, hearts strong".
Reaching them continuously depends on you and those you invite. Social media, conversations, fundraising events. Whatever way you choose.
This campaign will remain active perpetually. Ongoing donations spark community projects like Ukulele Art, too. Limited Edition models also become possible, bringing "music therapy inspired" designs to life.
REWARD LEVELSDonors (continental USA only) contributing $25 or more will be entered into a drawing for a FREE concert FLEA ukulele and case. 
Courtesy of The Magic Fluke Company! Winner drawn after campaign reaches base goal.
Donors (any GoFundMe region) contributing $125 or more will be mailed a FREE 54-page Ukulele Art booklet. 
See specific GFM locations and limitations at: 
http://support.gofundme.com/hc/en-us/articles/203604044-Is-my-location-supported-

Booklets ship USPS First Class following confirmed donation and mail address.

FINAL NOTES

Please SHARE the program. 
The direct LINK is: 
https://www.gofundme.com/ukuleleshospitalMT

Please donate now, or later.
 Click "Subscribe to Updates" (bottom of story page) and donate later if that works better for you.
Donating directly to 501(c)3 beneficiary hospitals for potential tax benefit is possible.
Contact me  to arrange. Counts toward the goal, too.


FLEA ukuleles are MADE IN USA
by exceptionally skilled folks making a living doing so. This program honors their innovation and livelihood, too.
Sponsor dollars focus on highest patient care settings and utility.
Most FLEA ukuleles remain in the hospital, each serving many kids. Large ukulele sets help a music therapy team support many individuals and groups. It's all about holistic RESULTS and deploying ukuleles where they count most, not counting giveaways.

It's FREE to view and share this Ukulele Art online.
Printout and usage without permission is strictly prohibited given copyright law.
Learn more
about the instruments and program at
www.truejoyacoustics.com
 and blog site
www.truejoyacoustics.wordpress.com
.
Purchasing a FLEA from True Joy Acoustics also supports donations.
Link to listings from website. See abundant 5-star customer reviews on Amazon.
Thank you for caring and sharing,
Greg, TRUE JOY ACOUSTICS founder
(c)2016-2017 True Joy Acoustics, LLC. All Rights Reserved.
+ Read More