The Dylan Jenks Foundation (ACD)
$33,955
of $33,500 goal
Raised by
246
people in 53 months
Our mission:
To make significant ongoing donations in order to fund ACD research in loving memory of our beautiful son, Dylan Aaron Jenks. We also want to make a substantial donation to the Cardiac Intensive Care Unit (CICU) at Children's National Hospital in Washington DC in order to help fund the Beads of Courage program, as well as other amazing programs available to other parents like us at the CICU (more information below).
Dylan's Story:
Dylan was born on August 25th, 2014 at 9:54 pm. He was born about three weeks premature and had to be brought into this world for fear of possible complications, however, we had no clue how severe. Minutes after birth they wrapped Dylan up, handed him to dad for a quick picture, and then whisked him away directly to the Neonatal Intensive Care Unit (NICU). They thought initially he had a somewhat common treatable condition called Persistent Pulmonary Hypertension of the Newborn (PPHN). The first couple days were incredibly hard for Dylan, during that time he received three different blood transfusions as well as received high levels of oxygen through his ventilator. During the second night while looking at his lungs they made an unfortunate discovery in his heart; they found two holes in his heart one of which was really large. This was Dylan's first official diagnosis of heart disease called Atrioventricular (AV) Canal Defect. At this point we were accepting the fact that our son would need possibly more than one heart surgery. Later that same day we were told that Dylan was in need of a more experienced NICU as well as an additional gas called Nitric Oxide that would be mixed in with the oxygen to help him breath. Within hours the decision was made to transfer him by helicopter to Children's National Hospital in Washington DC. After arrival we started to feel optimistic that we were going to have all we needed to make Dylan better. However, over the next few days we watched in horror as Dylan continued to decline. Over the next four days they were unable to wean the oxygen or nitric oxide and was forced to put him on a machine called Extracorporeal Membrane Oxygenation (ECMO). This machine is the highest level of life support available; the machine does the work for the lungs and the heart and enables the body to rest with hopes it starts to heal. However, this machine does not come without extreme risk of brain/internal bleeding, seizures, and stroke. Needless to say what little sleep we were getting before, was nonexistent at this point. On the fourth day of ECMO the decision was made to take Dylan off the machine because the risks of continuing outweighed the benefits of getting off. Even though Dylan came off ECMO weaker than they would have liked, we all hoped that was all he needed. The next two days were incredibly hard because we continued to watch Dylan decline yet again. During this time the doctors were trying EVERYTHING, they tried different medications, a different ventilator with higher settings, and even tried putting him on his stomach with hopes gravity would naturally help him breath. Unfortunately, to all our dismay they had no choice but to again put him back on ECMO for a second time; this is rarely done. At this point in Dylan's life the doctors still did not know what was wrong with him and were forced to start more invasive testing. The first was a heart catheterization, this procedure put a tiny camera in his groin that was fed up to his heart enabling them to look at his heart in more detail while excluding any additional heart problems. They were also able to inject dye into him in order to see if the blood was flowing through his lungs properly. The good news was that his heart was completely fixable, the bad news was that there was some sort of abnormality with the tiny veins in his lungs. Still at this point they did not know if this abnormality was being caused by a malformation, or a viral/bacterial infection. The second test to be done was a lung biopsy. Dylan was the 6th baby to have a lung biopsy done while on ECMO in the US this year. Because of the fact the blood needs to be thinned in order to work properly in the ECMO machine, it makes any sort of surgery extremely risky, however we had no choice but to proceed. After the procedure everyone was so incredibly happy that Dylan did so well. The next day the nightmare continued when we got the crushing news that the lung biopsy results came back positive for Alveolar Capillary Dysplasia (ACD), an unbelievably rare lung disease with no cure. On September 13th, 2014, only 19 short days after Dylan's life began, some of his family got to hold him for the first and last time, his mom and dad held him for only the third time. Dylan Aaron Jenks died later that day in his father's arms at 5:45 pm. Since then, we have donated Dylan's lung tissue and blood/DNA samples along with blood samples from us to one of the only doctors actively doing research on this horrible disease at Baylor College of Medicine.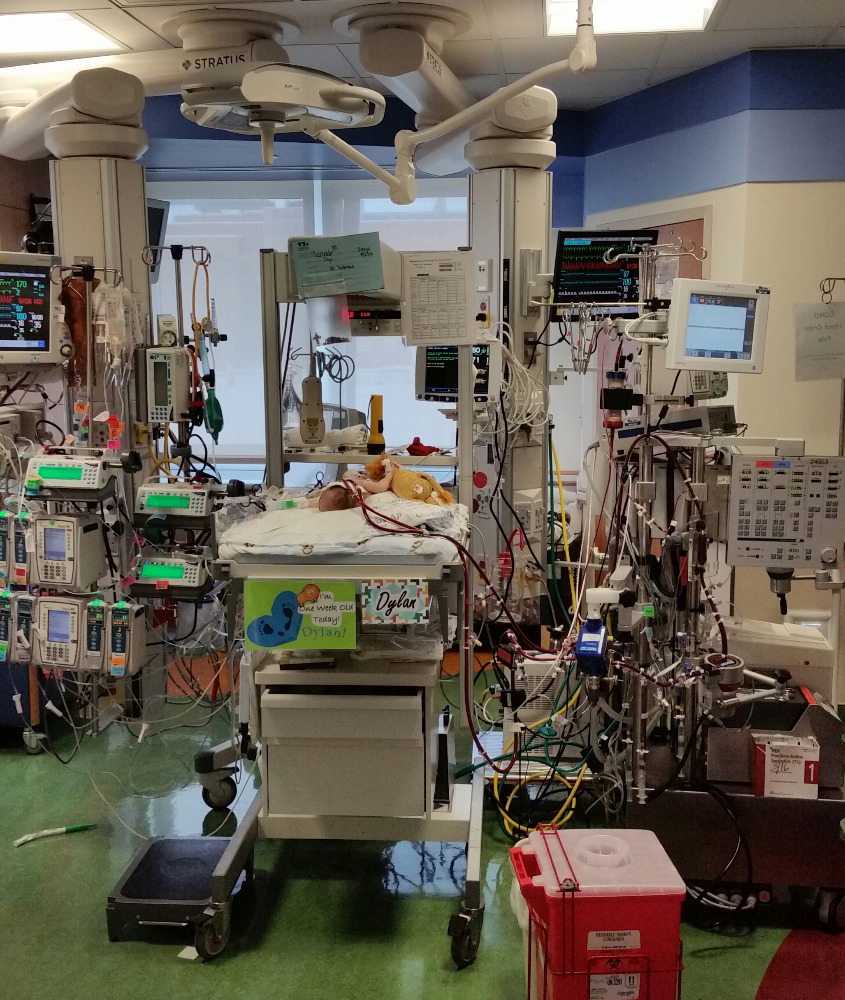 (Above: This is a picture of Dylan on ECMO.  It is the machine with red tubes on the right side of the picture. The tubes are inserted into his neck, it takes blood out of the jugular vein, goes through the artificial heart and lung, and back into his carotid artery.)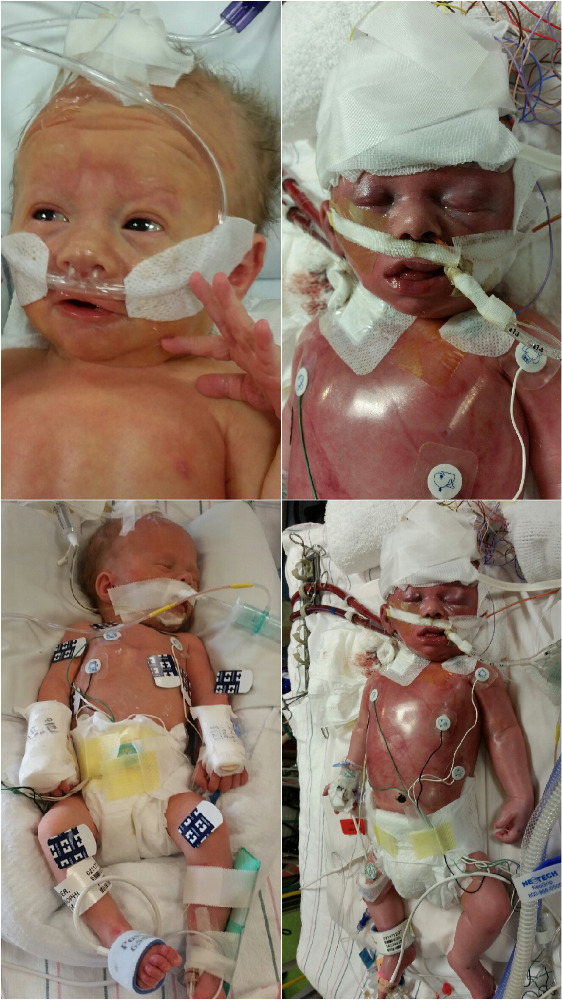 (Above: This is a comparison of Dylan when he first arrived at Children's Hospital -vs- what he looked like when he was put on ECMO the second time. Note: Dylan swelled up because of the amount of fluids and blood products they had to give him.  Even though he was on ECMO till the end, the swelling and redness did go down some, and we are thankful that he did look better and seemed more comfortable before he died. However, he never looked completely like he did before the first round of ECMO.)
ACD is a very rare condition and impossible to diagnose without a biopsy of the lung. Since its discovery in 1947, there are only approximately 200 reported cases worldwide. It is so rare that very little is known about it, especially its cause. There is an Association (ACDA) which consists of a group of parents throughout the world who has had the unfortunate luck we did. Their motto is "Searching for answers...hoping for a cure." For more information about ACD and the ACDA, click
here
.  What we are trying to do here is raise money to help their cause. In the spring of 2002, the ACDA established an ACD Research Account at NORD (National Organization for Rare Disorders), which means that any donation to NORD can be earmarked specifically for ACD research. NORD requires that a research account reach $33,500 before it will initiate the grant process to award research money to the medical community. This is why we set our goal for this amount. We want to be able to single handily (with all of your help of course) produce a grant for research.
Now, some of you may be wondering more about us wanting to donate to the Beads of Courage as well as other programs available to parents via the CICU at Children's National Hospital in Washington DC. During our stay at the CICU we were simply amazed at the understanding, compassion, and multitude of programs available to parents like us. We took part in funded lunches, morning coffee, and even a massage! All free to us! The Beads of Courage program was also free; this program gave Dylan a bead for everything that happened to him (IV start, x-ray, infusion, transfusion, ECMO, etc…) and tells a story of what he went through. The act of stringing the beads was VERY therapeutic for us to do during the various surgeries. It gave us a better understanding, as well as a sense of ownership over the situation. Now this string of beads is all we have left and helps remind us of everything he went through. This is why we want to contribute to these programs at the CICU. It is a way for us to directly help the families right now! It may not be a cure for the various complications other babies are battling, but it is a way to help the parents stay mentally and physically strong for their babies that need them.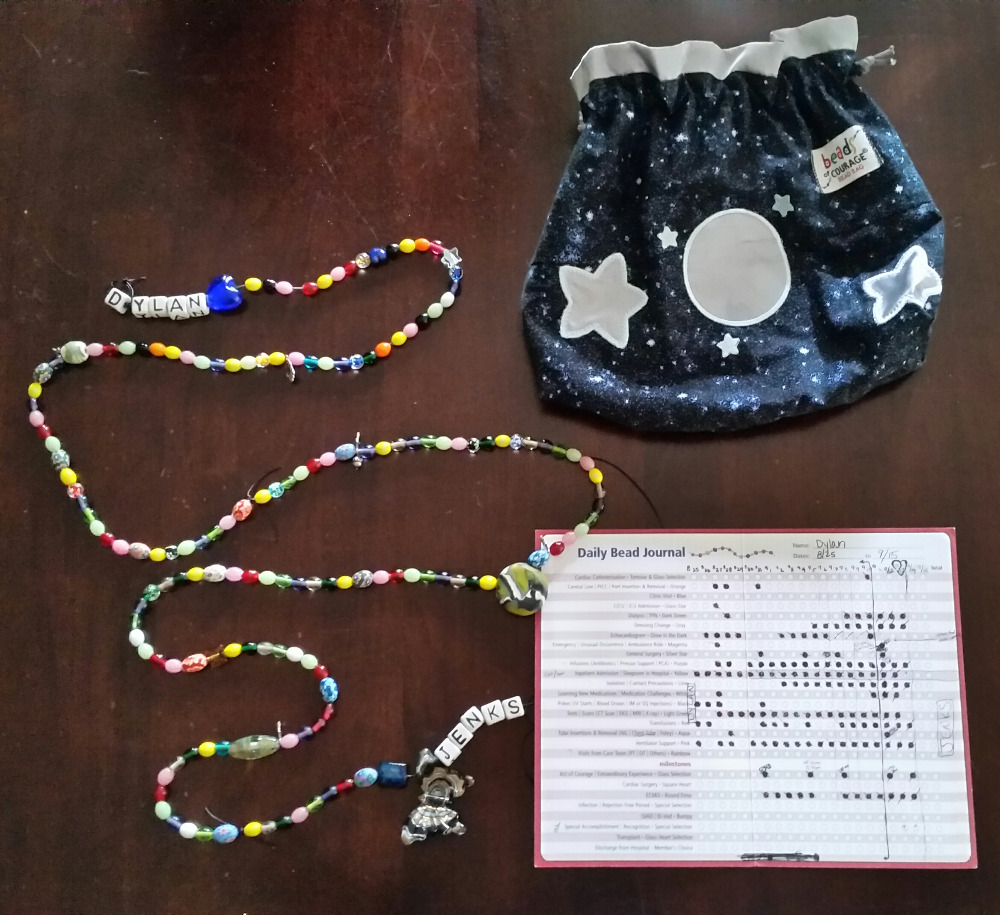 (Dylan's Beads of Courage)
We are now pledging to make a personal donation on the 25th of every month along with any funds collected here to NORD in Dylan's name. We also decided to see if any of you would help us with any amount you wish. Every dollar counts.  If research grants are awarded, and even one baby can be saved based on that research; we would be so gateful. We cannot express the pain and sadness we went through and continue to go through every day after losing our son. Dylan fought so bravely and hard through all he went through; we are so proud of him for that. Now we want to fight hard for him and make him proud for what we are able to do in his memory.
We realize that many of you will donate directly to this page, and that is incredibly generous. However, if any of you would like to make a significant donation and or would like your donation to be tax deductible; you are able to make a tax deductible donation directly to NORD. Please follow this
link
and make sure you select "Alveolar Capillary Dysplasia (ACD)" in the "Step 3 Research Fund" drop down menu. Also, we want to ask if you would be so kind to select "a gift to remember, on step 2" in order for the donation to be made in Dylan's name, as well as for us to be notified that is was made so that we can keep an accurate tally of our goal amount. Here is the information you will need:
Name
- Dylan Aaron Jenks
Please Notify
- Jason and Sophia
Email
-
thedylanjenksfoundation@gmail.com       

Address
- 6609 Netties LN. Unit# 1501 Alexandria, VA 22315.
Note: Donations can also be made by check or money order, and sent directly to the above address.(Also, just so you know, all funds go directly towards our mission.  No money goes to any other person including ourselves, or towards any administrative costs.)
Thank you all for following our journey and loving our son Dylan. He continues to be our hero and we will do whatever we can to honor him every day of our lives. His mommy and daddy misses him. Let's makes his 19 days of life an everlasting legacy of knowledge.
Thank you everyone, with love – Jason, Sophia & baby Dylan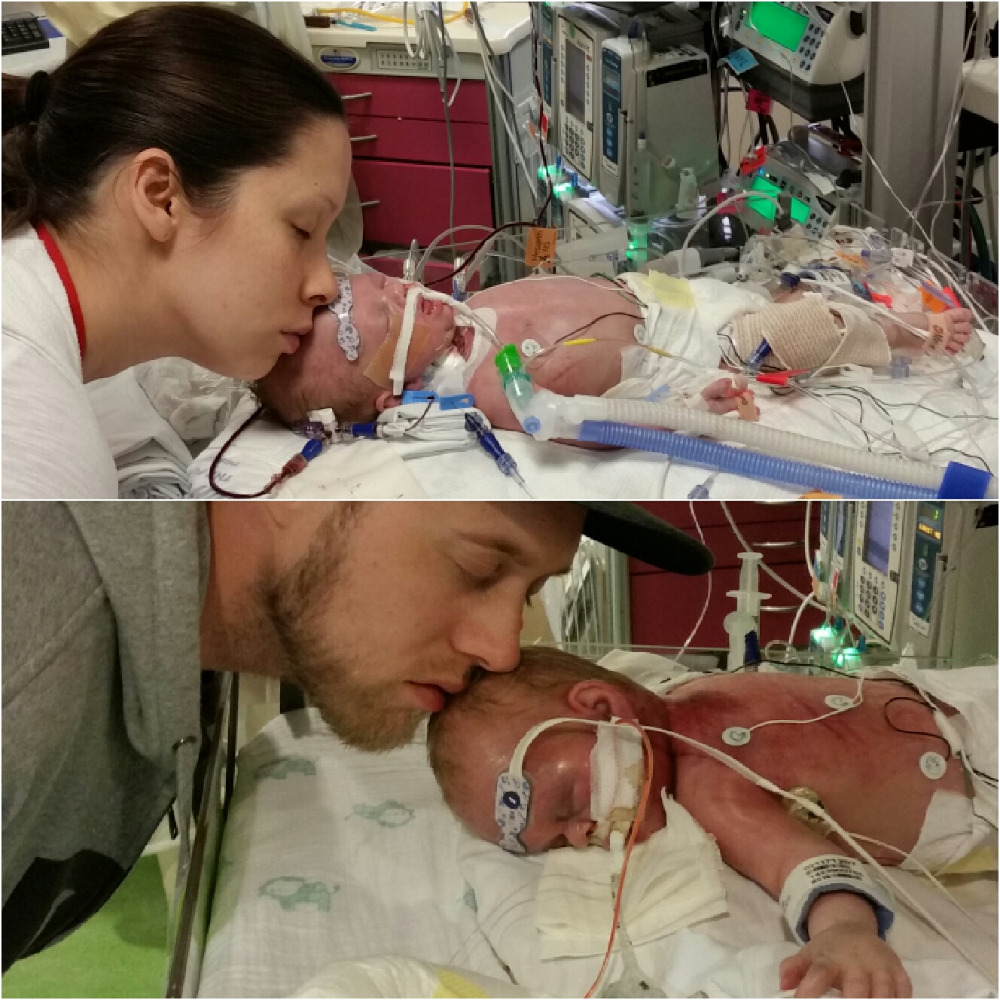 + Read More