Keep the Bike Shop Alive honoring Mike
$600
of $5,000 goal
Raised by
8
people in 36 months
Michael (Washington) Starchild, a bicycle mechanic and owner of The Bike People bike shop in Davis, CA is a true "old world" mechanic. At the age of 72 he had been car free since 1961 devoting his life to riding bicycles and had gracefully surpassed over one million miles on his two wheeled pedal powered mobiles. For over 50+ years Michael had worked in bike shops throughout many states and recently for the last 3 years serving the city of Davis.
Michael Starchild, passed away at the young sprite age of 72 just 1 month ago on May 7 due to a long 1 month intensive battle against interstitial lung disease (aka pulmonary fibrosis). He spent the last 2 weeks of his life in the ICU at Sutter Davis Hospital fighting for his life, but this was one battle that he was not able to conquer. He was diagnosed with interstitial lung disease just 1 month before he passed, primarily caused by decades of welding, metal grinding, and working hard endless hours in his bike shop doing what he does best and possibly due to touring the world in polluted environments that he had to pass through from car exhuast.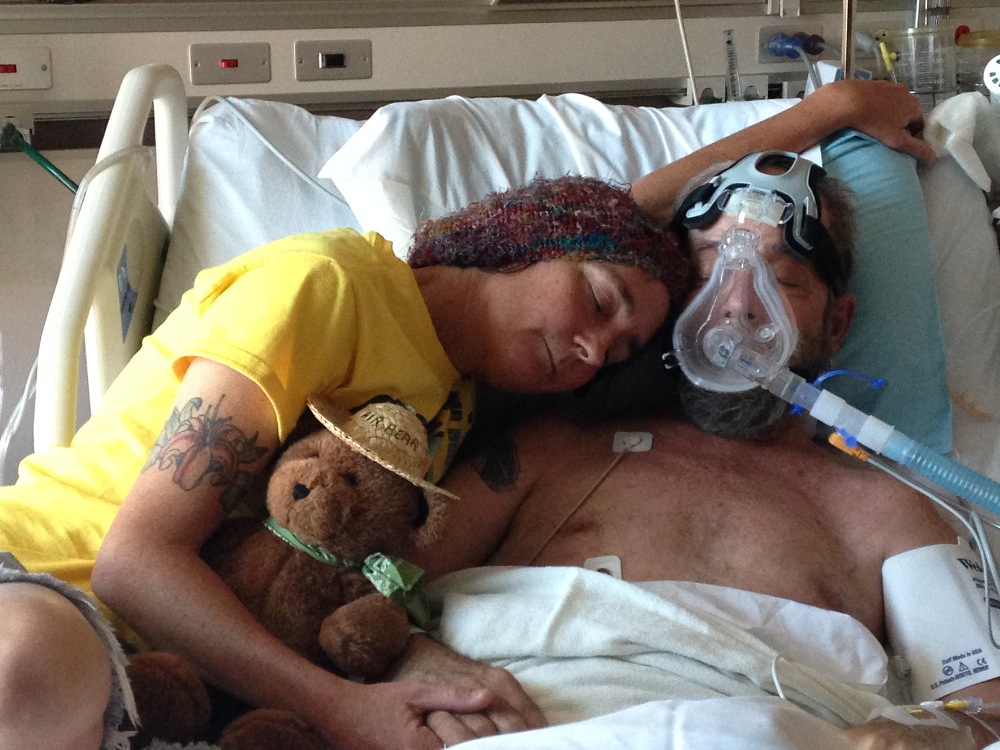 Mike just 2 days in the ICU before he passed away, SDH
Brief history of Mike:  Three years ago, Michael's mission became to keep old rusted out bikes on the roads in Davis and not in the dumpsters. With a humble nature, Michael succeeded by approaching every old rusted out bike he could get his hands on as a new artistic project to turn the "old into new." He has refurbished each bike into a fully functioning, safe riding, and stylish bicycle for anyone to enjoy. The kind of bike work that Michael did is unlike most bike mechanics - he completely dissembles each old rusted bike, thoroughly cleans every part inside and out, and then rebuilds each bike from the ground up into something amazing. Michael has put thousands of once forgotten "dumpster" bikes back on the roads and has served the Davis community and beyond with continued support to maintain the historical pedal powered icon of Davis.
Join us in a celebration of his life this coming Saturday, June 7th from 12-5PM at The Bike People Bike Shop, 423 L st, Suite D, Davis, CA 95616. Bring a dish or drink to share, bring your stories about biking whether you knew Mike or not, and if you play music then bring your instruments as there will be an open mic. If you are unable to come celebrate with us, then the next time you set out for a bicycle ride think of Mike who devoted his life to spreading the joy of seeing the world through the wheels of his pedal powered mobile.
For additional information please call (530) 204-0523.
For more information about Mike and his accomplishments during his days of riding around the world, visit:  
http://bikeroute.com/michaelwashington/
For articles written about Mike by the Davis Enterprise, visit:
http://www.davisenterprise.com/features/the-bike-people-turning-old-into-new/
http://www.davisenterprise.com/local-news/benefit-for-local-bike-legend/
He has served the world riding the wheels of life as living proof of what one man can accomplish on a human powered mobile.  His passion for bicycling and his love for keeping the world on pedal powered mobiles will never be forgotten.  
+ Read More
Be the first to leave a comment on this campaign.