15
6
The AutistiX Are Playing Liverpool
£358
of £3,500 goal
Raised by
15
people in 5 months
Who are The AutistiX?
We are a unique six-piece British rock called The AutistiX band that has been going since 2010. The six of us – Saul, Jack, Graham, Jim, John and Michael have been brought together by lives affected by Autism. We experience many challenges in our lives but also value the unique perspective that it gives us, and the creativity that results. We are very proud of having autism, hence naming ourselves 'The AutistiX'. We have become known for our original song writing and our quirky, joyful performances. We have 2 missions – to be the best musicians possible but also to highlight the talent and ability of musicians with autism and to promote social inclusion for people with disabilities. We are not a disability band, but rather a rock band that includes musicians with autism.
The band recorded our first EP at the renowned Roundhouse EMI Studios in London, in January 2013 called "˜Butterflies and Demons'. The CD included 3 early original songs "I Can't Take It Anymore', "Darkness World' and "The Good and Bad in All of Us'.
Since then we recorded a second EP which was released as a digital Double A Side including 2 new original songs 'Something Better' and 'Just The Same'. This was also the name of our first music video (look it up on youtube, vimeo and our own social media).
We have just released our newest EP with 4 new songs called 'The Meadow Sunshine'. `The songs are called 'Positive', 'Not The Same', 'My Future Life' and ' Heaven'.
We have become friends through our shared passion for music especially our mutual love for The Beatles. We have played well over 100 gigs and now we have been invited to play the legendary and world famous Cavern Club in Liverpool on the evening of March the 26th (as the guest act) and the afternoon of the 27th (with a press, PR and public event), to celebrate World Autism Awareness Week and to benefit The National Autistic Society! We are the first Autistic band to play the venue in its 60 year history, and we will be performing a mixture of Beatles classics and some of our original tracks.
Jon Keats – Director of Events at the Cavern Club says:
"We are delighted to welcome The AutistiX to the Cavern Club and to be supporting World Autism Awareness Week. We know what it means for musicians to play at this iconic venue. They are a great band and we are know they will give a great show." –
The events have free entry with guests encouraged to make a donation to benefit The National Autistic Society, who are supporting this two performance event.
Help us make this a historic moment in Autism Awareness.
Why do we need your help?
The goal of this GoFundMe Campaign is to raise £3500 to help The AutistiX to fulfil our momentous upcoming trip to Liverpool. To help meet the expenses of undertaking this short tour, we are asking fans of the band to help contribute to our costs. In return we are offering rewards such as band pin badges, band T shirts EP CDs signed and name dedicated, EP digital downloads, signed band photos at and digital downloads of the 10 minute EPK Cavern Club The AutistiX performance video, including your name as a contributor in the credits.
This is what the band members have to say about going to Liverpool to perform at the renowned venue Cavern Club where the Beatles started performing:
Jack: 'I would love to play where The Beatles began'
Saul: 'I want to go with The AutistiX to Liverpool for more new gigs. I love The Beatles so I want to play their music at the Cavern Club'
Graham: 'I want to go to Liverpool to find the giant Yellow Submarine'
Jim: 'It's going to be fantastic for our fab six to be somewhere where we can show its influence on us and show how The Beatles have helped us to become the unique band that we are'
John: 'I always wanted to make a cellar full of noise!'
Michael: 'I haven't been to Liverpool for a long time and I need to top up on the Beatles vibes. It's great to play at the Cavern Club during World Autism Awareness week to raise awareness about people with autism'
If you are in Liverpool on the 26th and 27th you can join the band at The Cavern Club on Monday at 8pm and Tuesday at 2pm. If you would like to meet us back stage after our gig, donate to help us and to treat yourself at the same time!
The AutistiX are:
Jack Beaven-Duggan (electric guitar/backing vocals)
Saul Zur-Szpiro (drums and backing vocals)
Graham Spragg (bass guitar and backing vocals)
Jim Connelly (lead singer)
John Duggan, Jack's father, (electric guitar)
Michael, Saul's father, (harmonica)
Social Media links to find out more about The AutistiX and to keep up with our news:
The AutistiX Band website
www.theautistix.com
Facebook
www.facebook.com/theautistix
Twitter @theautistix
The Cavern Club website
www.cavernclub.org
The National Autistic Society website
www.autism.org.uk
As a thank you for helping make this happen, we've come up with a few different ways to show my gratitude which you can browse through.
We will be extremely grateful for each and every donation that we receive, small and large! If you would like to, feel free to donate over the listed amount! If you are unable to monetarily support this campaign, there are many other ways to help support and to be a part of the incredible 'journey' of The AutistiX!, Please help spread the word on social media, through email, in person, even by snail mail! Any form of communication to help get the word out will be greatly appreciated. Spread the word on Facebook or Twitter, repost us on Instagram, or let your friends know via word of mouth. We are so grateful for your support!
Also, if you live in Liverpool or can get there it would be amazing if you could come to our gigs there.
The expenses that the donations will cover include:
- our travel to and from Liverpool
- accommodation in Liverpool
- local transport within Liverpool
- food and drink
Everything raised towards our goal will go towards the final stages of making our trip to Liverpool possible.
Anything beyond that will help us to finance our next planned activities that you can read about on our social media that we update regularly.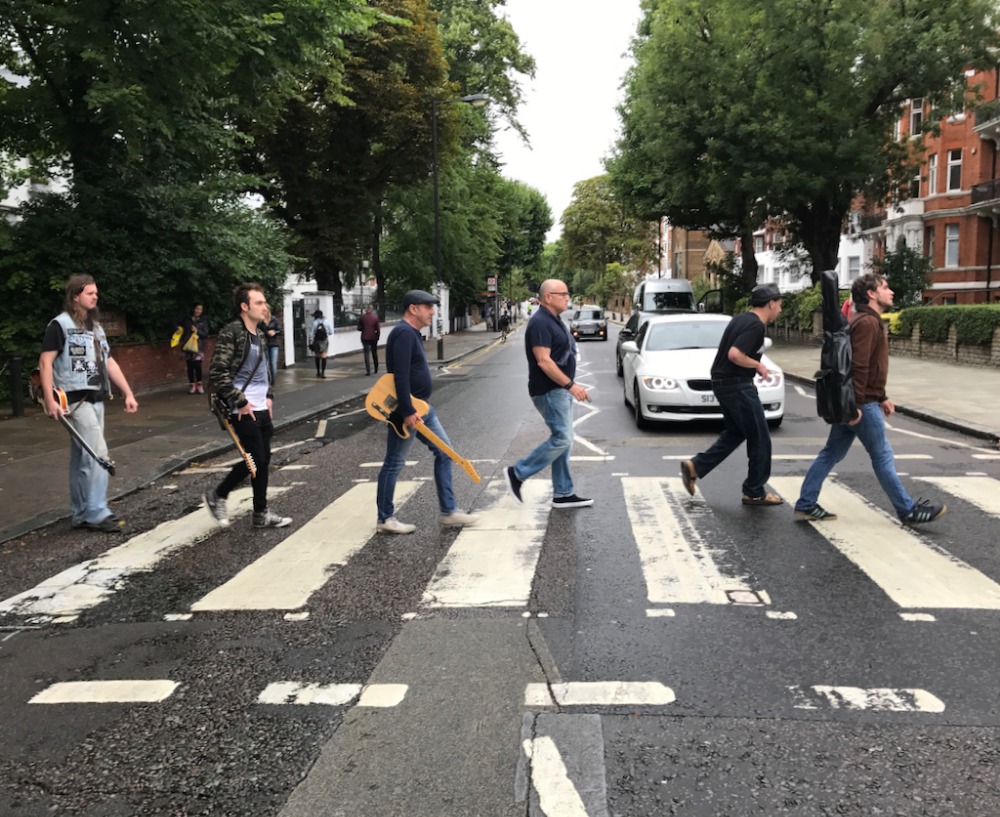 + Read More