TFP FEST 2017 ART + CRAFT FESTIVAL
$50,000
goal
Campaign created
19 months
ago
What is the purpose of this funding campaign?
The purpose of this festival is to bring awareness of the diverse, independent, original artists located here in our city! It is our mission to help these artists generate enough buzz to propel them into their next level of artistic and economic growth. Together, we can accomplish this mission!
We seek to provide Tallahassee and its artist community with a well stocked, pleasant and eventful festival. Our execution of this task will be tremendously enhanced by your support.
(TFPFest2015 Mural Winner Kellie Martin)
(TFPFest2015 Activities for all ages like the community art wall)
(TFPFest2016 Handmade Jewelry by Janelle Jewelry)
Who are we?
We are a two-person sister team who makes custom and handmade art, apparel, and accessories. We started this small company in 2011, and as of 2015 have begun to turn it into a full-time career. We have recently relaunched our website, are on social media, and travel. We are currently seeking new opportunities to network and grow in an ethical and mutually beneficial way. This year we have even more support from an amazing group of festival volunteers that helped with previous festivals!
(TFPFest2015 Team)
(TFPFest2016 Team Member Ms. Nicole)
(TFPFest2016 Awesome Volunteers)
Who is the festival for?
We are primarily focusing on student artists, local artists and entrepreneurs such as growers, crafters, handmakers, musicians, dancers, filmmakers, and performers. Our secondary goal through this festival is to launch a sewing group initiative, help local new artists emerge economically by giving them the tools to create and sustain their own businesses, as well as aid in youth sponsorship programs that give educational and entrepreneurial opportunities to at risk youth.
(TFPFest2015) Student songstress McCall Chapin Photo by Elle Belle Photography)
(TFPFest2015 Pinacolada From PR Photo by Elle Belle Photography)
(TFPFest2016 Activity Booths and Stations)
Who do we expect to participate in the event?
This event is for students, artists, entertainers, growers, handmakers, and crafters. We expect this event to cater to art lovers, foodies, pet lovers, family, and friends. There is something for everyone, activity booths to keep little ones occupied while mom shops. The teens can meet with entrepreneurs their own age while looking for clues in the scavenger hunt. College students can network and chow down on tasty eats. Dad can rock out with the band onstage. Grandparents can walk their favorite pets as they speak with the artists or take in a short film on the lawn.
(TFPFest2016 Family and Friends)
(TFPFest2015 Body Art Showcase Photo by Elle Belle Photography)
(TFPFest2016 Custom Clothing by Hooligans)
Goal and Breakdown
Goal 50k
10k supporting with $5 ea
5K supporting with $10 ea
2k supporting with $25 ea
1k supporting with $50 ea
500 supporting with $100 ea
(TFPFest2016 Human Size Scrabble)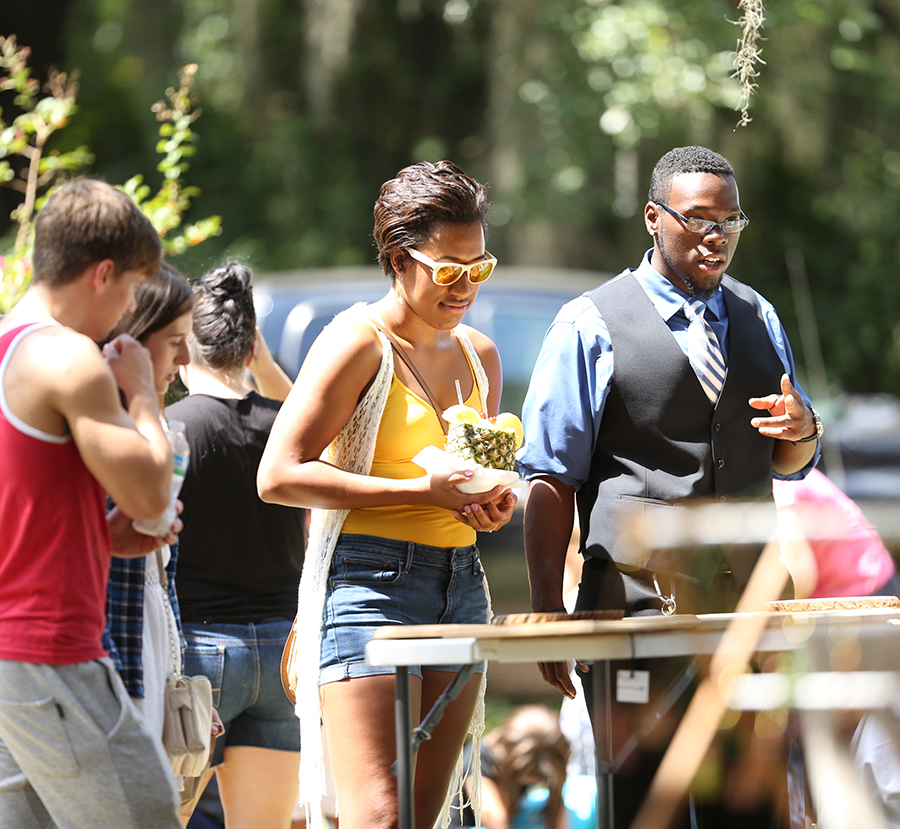 (TFPFest2015 Festival patrons admiring artwork Photo by Elle Belle Photography)
(TFPFest2015 Local student artist working on mural Photo by Elle Belle Photography)
Where is the money going?
Your contributions aid in the facilitation and purchasing of:
+Tents, tables, chairs, and setup equipment for festival patrons
+Stage, sound, lighting and camera equipment
+Sponsoring 20 student artists with booth, table, table cover, signage, tent and chairs
+Contests, giveaways and prizes
+Festival entertainment onstage & on festival grounds
+Paint, chalk, paper, brushes, and art supplies
+Festival staffing and uniforms
+Games, Festival Activities and Decoration (including building materials)
+Directional and activity boards and stations (including building materials)
+Marketing initiatives (signage, goodie bags, posters, printing costs, social media and related advertisements, etc.)
+Restrooms, sanitation and first aid
+Use of festival grounds, storage and facilities
+Cones and traffic control equipment
+Special project that will benefit all artists at the festival and new artists for upcoming years - Will reveal when we reach our goal!
(TFPFest2015 Local artist VnLove Photo by Elle Belle Photography)
(TFPFest2015 Local Singer Rico Marcel Photo by Elle Belle Photography)
(TFPfest2016 Diving into good eats)
Come out and show your support by shopping small and encouraging the artists to continue their work!
For more information please call or text The Fuzzy Pineapple Team at
850-566-5661 
or visit us online at
http:// thefuzzypineapple.com
Enjoy and share the fun using
#TFPFEST
on your favorite social media sites!
(TFPFest2015 Local artist K.I.P. showcasing wood burned artwork Photo by Elle Belle Photography)
(TFPFest2015 Handmade jewelry by Sankofa Wearable Art Studio Photo by Tellis Rodgers)
(TFPFest2016 Pina Colada + Italian Ice)
REWARDS
*Please type your reward letter when making your campaign contribution
For Patrons
A) Support an artist (For contributors who don't want a reward but still want to contribute)
B) $1 Thank you for your support!
C) $5 5 Sticker pack! (4 choices: Ice cream, Donuts, TFP, Mix of All 3)
D) $5 TFP Keychain!
E) $10 TFP notebook!
F) $10 Best friend TFP charm necklaces
G) $10 TFP charm earrings
H) $10 TFP charm bracelet
I) $15 TFP Tank Top
J) $15 TFP Tote bag
K) $15 Pineapple jewelry set
L) $15 TFP Pouch
M) $20 TFP Crop top
N) $20 TFP Plushie
O) $20 TFP T-shirt
P) $25 TFP Sweatshirt
Q) $25 TFP Pillow
R) $25 Quick start artist kit (Combination of art supplies)
S) $30 Combo Pack (Pick 3 A-L Limit one of each)
T) $50 Combo Pack (Pick 5 A-L or Pick 3 A - R Limit one of each)
U) $50 All access Hydration Station Mugs (Free refills on all of the drinks you would like in a TFP souvenir cup and $1 every year thereafter)
V) $50 Custom Portrait (You and Fuzzy having fun at the festival)
W) $75 Combo Pack (Pick 5 A -R or Pick 3 A - V Limit one of each)
X) $100 Surprise combination of (A - V)
Y) $100 Fully sponsor a student artist at the festival!
Z) $100 All access pass to all festival activities and games
For Businesses (Sponsors)
AA) $25 Lovely Pineapple
+ 1/4 Page ad
+ Company name on website
+ Social media announcement
BB) $50 Warm and Fuzzy
+ 1/2 Page ad
+ Company logo on website and link to your website
+ Social media announcement
+ Company name on sponsor board poster
CC) $100 Art You Great
+ 1 page ad
+ Advertisement opportunities in grab bags
+ Company logo on website and link to your website
+ Social media announcement
+ Company name on sponsor board poster
+ Company name on festival signage and activity boards
DD) $300 Sweet Pineapples
+ 1 page ad
+ Advertisement opportunities in grab bags
+ Company logo on website and link to your website
+ Social media announcement
+ Company name on sponsor board poster
+ Logo on festival signage and activity boards
+ 10 x 10 booth at festival
EE) $500 Pineapple Party
+ 1 page ad
+ Advertisement opportunities in grab bags
+ Company logo on website and link to your website
+ Multiple social media announcements
+ Company logo on sponsor board poster
+ Logo on festival signage and activity boards
+ 10 x 20 company booth at festival for this year and next
+ Newsletter and mailing list acknowledgements
+ Stage banner recognition
+ Roadside banner
GG) $1000 Golden Pineapple
+ 2 page ad
+ Advertisement opportunities in grab bags
+ Company logo on website and link to your website
+ Multiple social media announcements
+ Company logo on sponsor board poster
+ Logo on festival signage and activity boards
+ 10 x 40 or 20 x 20 company booth at festival for this year and next
+ Newsletter and mailing list acknowledgements
+ Stage banner recognition
+ Roadside banner
+ Logo on official festival waterbottles
+ Primary selection of festival setup
+ Logo on festival staff shirts
Join the festival here:
https://www.facebook.com/events/1321984684533193
+ Read More
Update 1
12 months ago
Share