Rebuild Lower Tsum after the quake
$3,955
of $200,000 goal
Raised by
32
people in 43 months
Appeal to Rebuild Lower Tsum Valley after the 2015 earthquake
As almost everyone who loves Nepal knows by now, the country is in crisis. The massive April 25th 2015 earthquake has devastated the country. Thousands of lives have been lost, tens of thousands injured and countless thousands are missing as of this writing.
Tsum Valley lies a mere 25-30 kilometres north of the earthquake's epicentre in Laprak, Gorkha. The Tsum Valley, one of the most isolated places in Nepal, is a sacred Himalayan pilgrimage area. The valley is only reachable on foot or by helicopter. Trekking there consists of 5 days of rigorous walking from the nearest bus stop.
The natural beauty and unique cultural characteristics of the Tsum Valley create a distinctive way of life that is matchless throughout Nepal. With mountain views, lush forests and its distance from the more populated trekking routes makes this area very special. The walking trails first opened to outsiders in 2008 offer an experience of unblemished natural and splendor that continue to draw adventuresome travellers. Due to its remoteness this sacred valley still offers unique off the beaten path trekking destinations.
However because of its isolation, Tsum Valley locals have been marginalized and excluded from Government of Nepal attention and assistance. Before the earthquake Tsum Valley was in a boom period of economic development, and now this devastating earthquake has wiped out all progress and infrastructure improvements. Almost 90% of the houses are either cracked, collapsed or in a highly dangerous unstable condition. The actual number of casualties, damage and loss of property are yet to be known. Earthquake victims are living in extremely harsh conditions. They are forced to sleep in the open air in the cold environment of the mountains.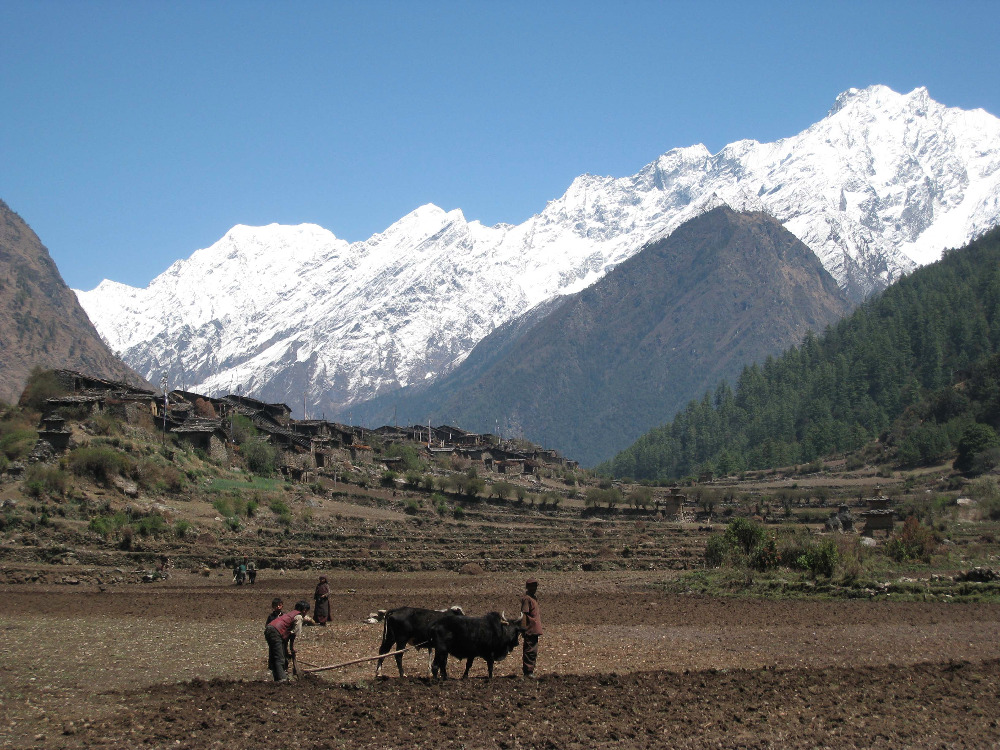 Photo 1)This is what Ripchet village used to be during the good times.
Phtoto 2) This is the remains from the devastating earthquake.
Two monasteries and a school has been collpased as well.
For anyone who has trekked to Tsum and Manslu it would be very heart-warming to local villagers if people from around the world could show solidarity with the people of Tsum in supporting short term emergency assistance and longer term commitment to economic rebuilding efforts in Tsum.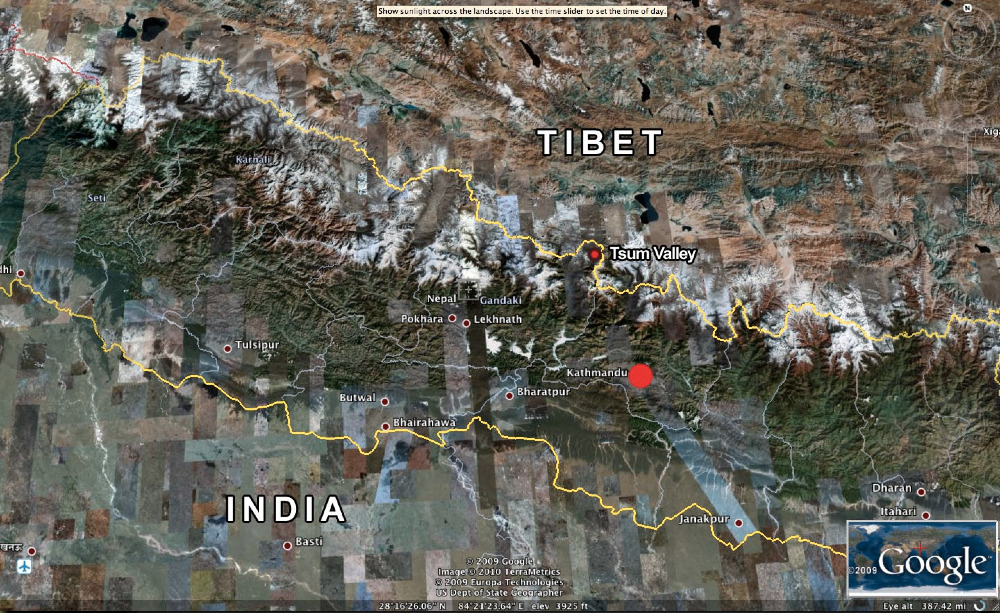 Photo 3) The Tsum Valley, northwest of Kathmandu, is the small red dot.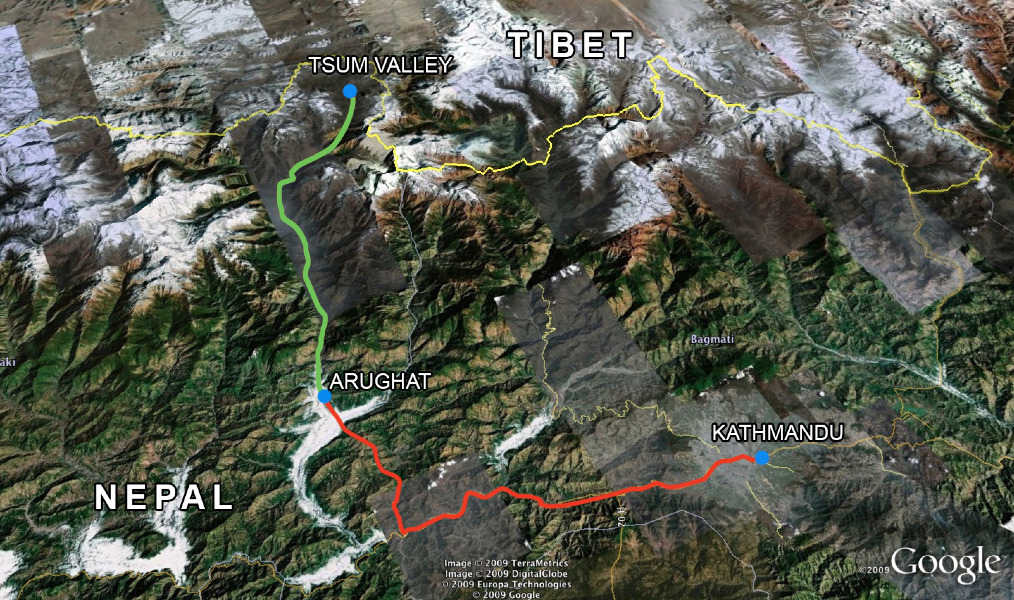 Photo 4) The red line is a motorable road from Kathmandu to Arughat. The green line is the trekking route to the Tsum Valley.
Who are we?
There are many other campaigns working on broader geographic areas. However the Tsum Society Youth Club is a group of local youths from lower Tsum Valley - some of whom still live in the local villages and some in Kathmandu. We have greater local knowledge for facilitating and coordinating relief assistance.  We are the ones with the strongest attachment toward our community. We believe it's our responsibility and duty to help our community in these desperate times. Over all, with us, you are supporting directly to the community, bypassing all the bureaucracies with Gov. and INGOs. 
What do we want to do?
Your support, your contributions and your hopes and dreams for Tsum will help rebuild and repair houses in lower Tsum Valley, especially in Ripchet, where 100% of the houses have been totally destroyed. We are estimating that we could build more than 60 houses at a total cost ranging between $4,000 to $6,000. We have prior experiences in repairing and rebuilding local houses. This is the experience necessary to be able to work effectively and efficiently in Tsum.  
Transparency and Accountability and Responsibility
We are a registered local organization working exclusively for the welfare of Tsum Valley. Through Facebook and other social media and in detailed written reports, we will keep you informed about how much we receive and how much we spend and for what purposes. 
How can you help?Online:
The Global Lives Project is a 501(c)3 non-profit organization in the United States of America. If you prefer to make a tax-deductible donation then please go to
www.globallives.org/donatetsum
Cash:
You can transfer funds using the following bank details      
Name of account holder:
Tsum Society Youth Club
       Account No: 119000205201
       Name and location of bank:
       Rastriya Banijya Bank Ltd.
       Balaju, Kathmandu, Nepal
       SWIFT Code: RBBANPKA
Material suppor
t: Building materials; such has zinc sheets for roofing, cements, etc
Manpower:
You can volunteer to rebuilt and repair houses
Contact:
Rinzin Norbu Lama
Tsum Society Youth Club

tsumyouth.society@gmail.com
GPO Box: 26520
(please mention for earthquake victims)
You can visit our facebook 
page
for updates.
Thank you for help and support.
+ Read More
Be the first to leave a comment on this campaign.