SincerelySyreeta.com Website Makeover
$2,235
of $1,800 goal
Raised by
93
people in 68 months
Empathize. Empower. Evolve. That is what the SincerelySyreeta brand embodies...and the new website will too!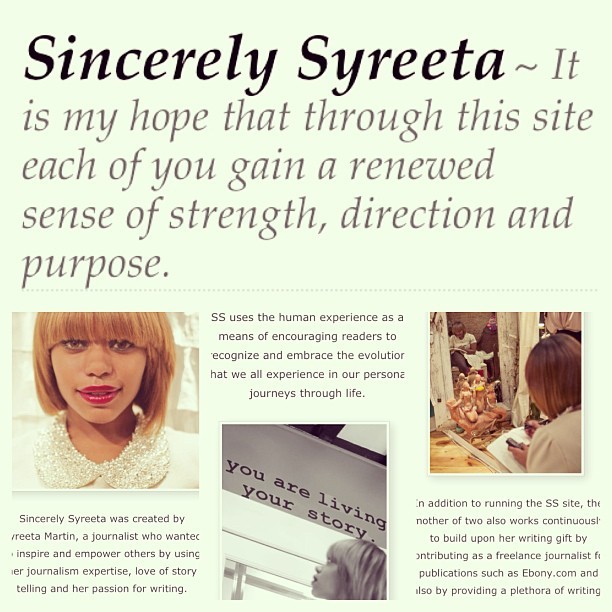 Who Am I:
I am a freelance journalist and creator of
SincerelySyreeta.com
, a blog that was created to inspire and empower people both through my personal journey and that of others.
The SS blog maintains three commitments to its audience: to
empathize
with their unique journeys; to
empower
them as they find theirselves and go after their dreams; and to encourage and support them as they
evolve
in life.
Why this project:
Within 11 months of launching, the
SincerelySyreeta.com
blog grew exponentially and is transitioning into a full lifestyle brand.
With your help,
SincerelySyreeta.com
will evolve from a free Wordpress blog to a premiere Media and Lifestyle website, and full-scale business.
The Risk I'm Taking:
After witnessing the success of the blog; reaching the end of my national service as an AmeriCorps member; and departing from corporate America, I am now dedicating everything within me to pursue
my
dream full time.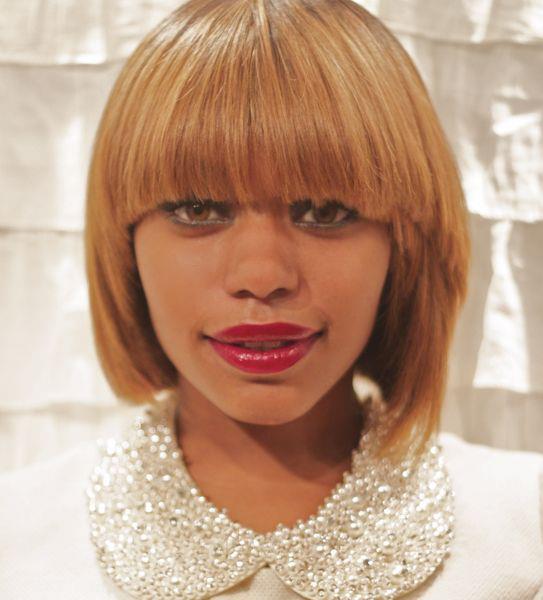 The Difference You Make:
The funds generated from this campaign will cover the cost of the entire revamp of the current website and will help
SincerelySyreeta.com
evolve into a premiere
Media and Lifestyle Brand
.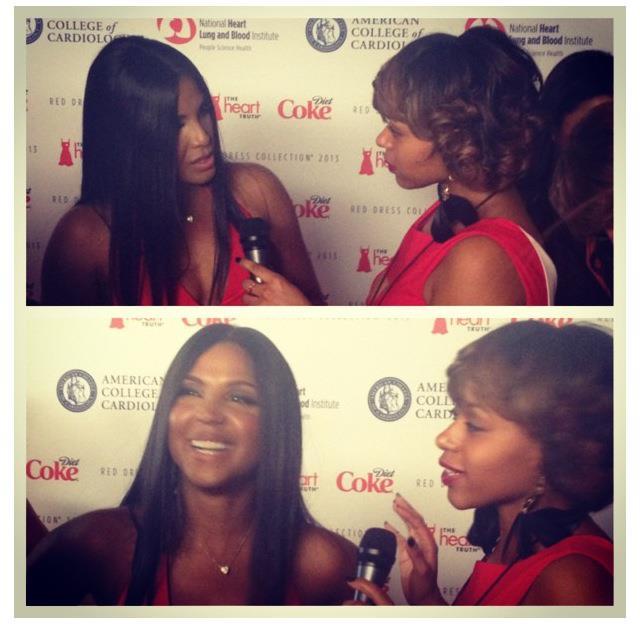 My Work:
Within 11 months I have accomplished...
- Over
100
feature interviews from people located across the U.S.
- Celebrity interviews which include: Russell Simmons, Angela Simmons, Vanessa Simmons, Regina King, Toni Braxton, Doug E. Fresh, Soledad O' Brien, Juvenile, Lisa Leslie, Evette Holyfield, Gwen DeVoe, LeSean McCoy, Dr. Regina Benjamin [U.S. Surgeon General], Selena Watkins [Miss Black USA] and more...
- Covered well over
200
events.
- Provided a diverse clientele, which include artists, entrepreneurs, organizations, small businesses and media outlets, with strategic planning services.
- Held and sponsored over
20
SS branded events including: two speed dating events; profressional networking; a Women in Media seminar; a Temple University suicide awareness play and concert; an Instagram networking blitz; a fashion trunk show with Young Hip Chic; and a concert in Philly's historic LOVE Park with notable Philly artists, Chill Moody.
- Invested in youth via mentoring and motivational speaking engagements at over
30
schools and youth-related events.
- Hosted events in the fashion, entertainment, professional and philantropy industries
- Featured in over a
dozen
media outlets for my work both in media and in the community here in Philadelphia.
The Entire Backstory:
After getting pregnant with my oldest daughter at 16 years-old I was determined to attend college and major in Journalism in order to ensure a better life for us...even when other people said I couldn't do it. I went on to graduate from high school a year early and eventually moved to Philadelphia where I attended Temple University, with my daughter in tow! Over the next six years of my life, I struggled through extreme poverty; multiple jobs at a time; a limited support system; a full time class load; and the birth of my youngest child, all to obtain my degree.
On May 10, 2012, I accomplished the greatest victory of my life: I graduated from Temple University with my Bachelors of Arts.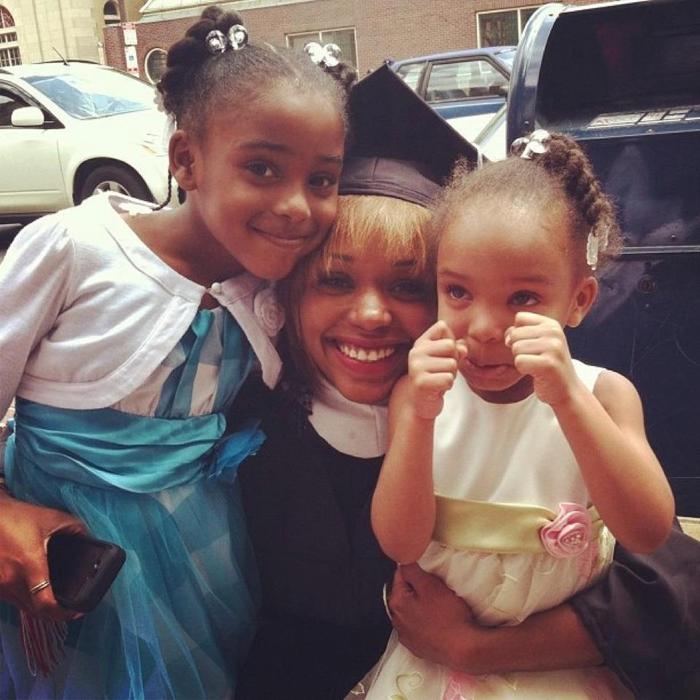 Throughout it all, I never stopped writing and I certainly never stopped encouraging, empowering and supporting others even if at times I struggled to do the same for myself. I was able to survive that time in my life because of others believing in me and because of the fact that I was given a little more strength every time I was able to help someone else, despite my circumstances.
It gave me hope.
I made up my mind to spend the rest of my life serving others by inspiring and empowering them. Hence,
SincerelySyreeta.com
, a website that was created to inspire and empower others both through my personal journey and that of others.
The SS brand stands firm on
three
principles:
Empathize. Empower. Evolve.
I use the human experience as a means of encouraging readers to recognize and embrace the evolution that we all experience in our personal journeys through life. I capture that evolution with raw honesty in each interview, personal story, poem, quote and journalistic piece. Additionally, I provide: entertainment and laughs as I cover [and host] events via "SS on the Scene" and "Special Coverage"; advice via "SS Said..."; community outreach via my strategic consulting services for entrepreneurs, and support for our youth via motivational speaking and mentoring. I also work continuously to build upon my writing gift by contributing as a freelance journalist for publications such as
Ebony.com
,
ConcreteCakes.com
and more.
Within 11 months of launching, the SS brand and audience has grown exponentially. Due to the growing demand of my SS lovelies and prospective business investors, a website revamp is in need. As a single mother of two who dedicated my first year out of college to the AmeriCorp's federal volunteer program, I simply can't afford it.
So, yes, I'm here asking for help with this dream of mine...and I'm hoping that you choose to support me in this.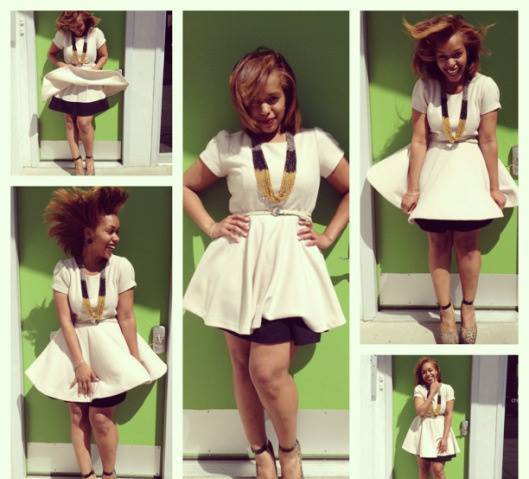 P.s.: The video below is from the #BeWild campaign by VILLA that I had the honor of being a part of. VILLA is a wonderful company that is dedicated to empowering and inspring our communities!
Risks and challenges:
The biggest risk that I'm taking is foregoing the traditional employment route and instead going full-time with SincerelySyreeta.com and the SS brand.
I have two children to take care of so I will have a part-time job to maintain our household. I also have a solid support system, all of whom are aware of my plans and are fully committed to assisting to bringing my dream to fruition. They saw what I was able to accomplish in 11 months working part time on SS and so the only responses that I've received are, "Do It! You can totally do this! I'm right behind you."
There comes a time in life where you decide what you're willing to sacrifice and give your energy to. I've watched my website, my heart and my words touch people...and it removes any fear that could possibly exist.
The only challenge that I face is coming up with the money to get the website revamp done! Everything else such as design concept, site layout, etc. are being completed!
Potential setbacks lie more so in the actual building of the website--technological issues that come with the building of any website. These potential issues will be resolved via the fabulous graphic designer and web builder contracted.
Thank you so much for your time. I'll see you on June 15th!
- Sincerely Syreeta
P.P.S: Please note that the rewards for donations include any previously noted rewards in addition to the items noted at your selected donation level.
+ Read More
Update 2
Posted by Syreeta Martin
65 months ago
Share
THANK YOU ALL FOR AN AMAZING CAMPAIGN!

DREAMS DO COME TRUE AND ANYTHING IS POSSIBLE WITH LOVE. WE NEED MORE OF IT AND THAT IS PRECISELY WHAT THE SS MEDIA & LIFESTYLE BRAND WILL STAY FOREVER ROOTED IN: LOVE!

STAY TUNED...THIS IS JUST THE BEGINNING. FAVORITE SINCERELYSYREETA.COM AND PREPARE TO KEEP COMING BACK. ;-)

I LOVE YOU ALL AND THANK YOU!

GOD BLESS!
+ Read More
Update 1
Posted by Syreeta Martin
65 months ago
Share
OMGoodness, WE DID IT!!!! We made our goal, and then exceeded it!!!!

Thank you all so much for believing in me and my dream--for being a blessing to my life! I pray God blesses you for planting the seed that you have with your donation.

Dreams do come true!

This campaign will run until 9 p.m. tonight. All additional funds will be used for costs associate with business licensing and infrastructural development.

You all changed my life. You all changed my babies lives. Thank you. Thank you for giving my dream a chance--for investing me and what I've been purposed to do. God bless!!!!
+ Read More
Read a Previous Update
Be the first to leave a comment on this campaign.