8
2
Art for Siloam Springs
$370
of $200,000 goal
Raised by
7
people in 6 months
Our destination truly is amazing! Won't you join us on this journey toward art and community? Can you imagine a gallery space, classroom and community theater in downtown Siloam Springs? We can!
This building is an amazingly strong structure despite its age; according to our findings so far we believe it is over 100 years old. It is the perfect size and location for a permanent home that includes a gallery space, classroom and community theater. Our vision is for a comfortable and safe place where people can come together and share their history, their culture and their dreams through the arts.
Within these sturdy old walls we will host fine art galleries,  oratorical programs, classes, music series and of course, live theatre. We are passionate about this project be we will need help. This will be a public space and we  need your assistance in time, treasure and talent to make it happen. To be honest, mostly the treasure. It could be over $1 million dollars by the time it is all said and done. $200,000 is the purchase price and the rest will go to renovation. That may be where we call on time and talent from you!
There is also the opportunity to assist with fundraising and events. If you would like to sign up you may do so on our our website on the
CONTACT US
  form.
The time is right. Art builds and encourages cultural awareness. Has Siloam Springs and the surrounding community ever been more diverse or disconnected? It is time to bring it together with the help of people who understand how art inspires positive growth in a community. If you are someone who loves what art can do for a community, can you join our journey?
We have until April 6, 2019 to raise $200,000 for the purchase of this amazing space. On our way toward that landmark we have the support of a talented board who we believe have the combination of skills to make this happen. You can read about them here:
Our Board
The Board has agreed upon the following mission statement to guide us:
The SSCA exists to educate and encourage cultural awareness through visual/audio performance, theatrical production and educational opportunity in Siloam Springs and surrounding communities. We will accomplish this by curating and presenting exceptional art experiences that inspire and encourage community.
In order to support that mission our goals will be:
• Enhance downtown Siloam Springs by adding unique opportunities to view and participate in the arts through gallery displays, theater productions, presentations and classes.
• Become a creative force and educational resource for our community in order to positively influence the vitality of downtown Siloam Springs.
• Celebrate the intrinsic value of the arts in our community through entertainment.
• Encourage protection and enjoyment of the Ozarks by utilizing the arts to create awareness.
With your help we will purchase the M.E. Gaithers Mill building at 201 N. College in Siloam Springs, Arkansas on the first leg of the journey.
Share this message with your friends on social media or via email. Be sure to tell them why art is important to you and why you donated.
You may donate here on gofundme.com or mail your donation to:
SSCA
PO Box 7316
Siloam Springs, AR 72761
Thank you so much for reading about our journey. We hope you will join us! Be sure to
follow us on facebook
  or
instagram
  to get updated invitations and news!
+ Read More
Update 2
2 months ago
Share
We officially received notice from the IRS that our 501(c)(3) status is approved. Time to start our capital campaign! Does anyone have $200,000 I can use?
+ Read More
Update 1
5 months ago
Share
We had an amazing response from the community during the Christmas parade. As Jan and I walked ahead of the float I was reminded of the need for cultural inclusion in our program. We have an amazingly diverse community and our Center will be a great way to bring them together and share what it is that make their culture unique. I am inspired and hope you will be inspired to share this journey with us.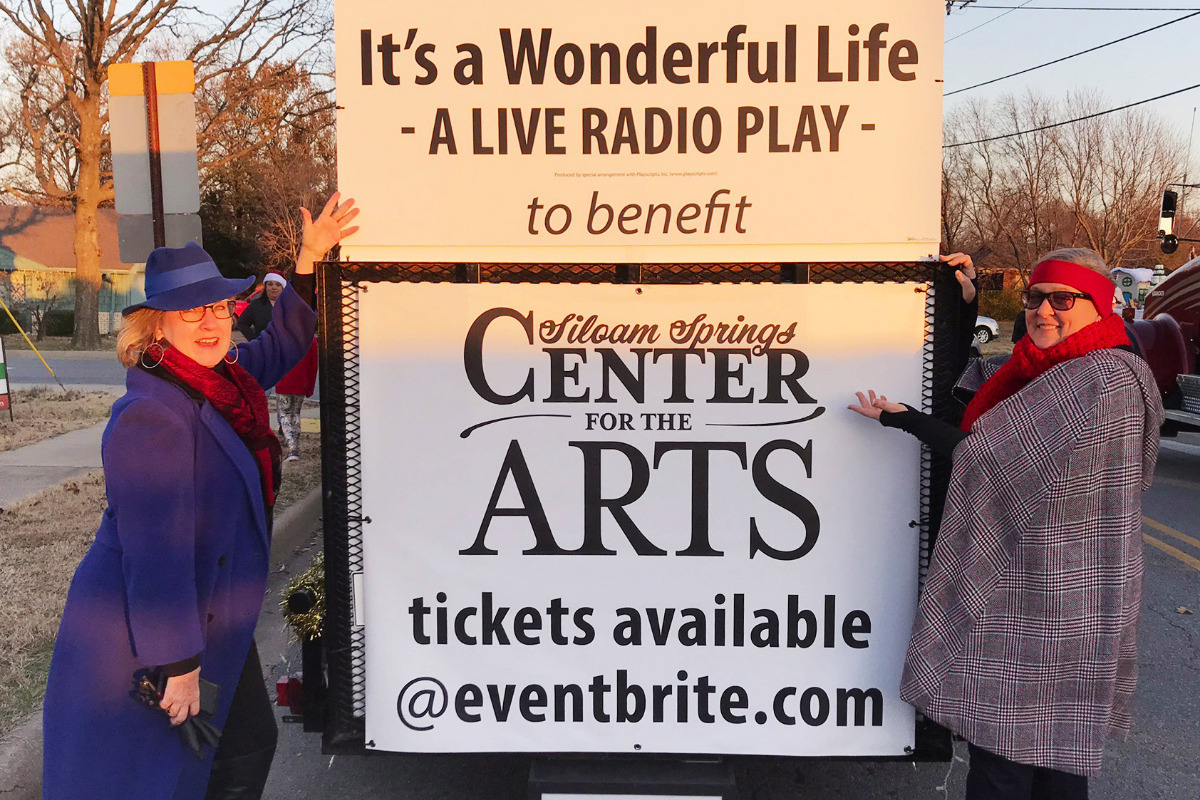 + Read More
Read a Previous Update