Look at me...I walk on the path of hope...
$1,020
of $3,000 goal
Raised by
17
people in 1 month
LOOK AT ME!...I walk on the path of hope, my laughter is the sound of faith that paints my dreams of colors.Dozens of children like me are in need of love, peace, values, and education to make a difference in our community. We are the faces of dreams and illusions that maintain and vibrate even among the adversities such as hunger and poverty in our lives. We are life projects that only need one opportunity to be and to know we are the present that smile and communicate to a diverse world rich on a rainbow of possibilities for our future.


This fundraising campaign is addressed to these children by the
Fundación Academia Neva Lallemand, FANL
, a Non Profit ,Non Governmental Organization. FANL has been registered and functioning since 2011, inspired on the legacy of Neva Lallemand, educator and painting and sculpture artist, in Barranquilla, Colombia.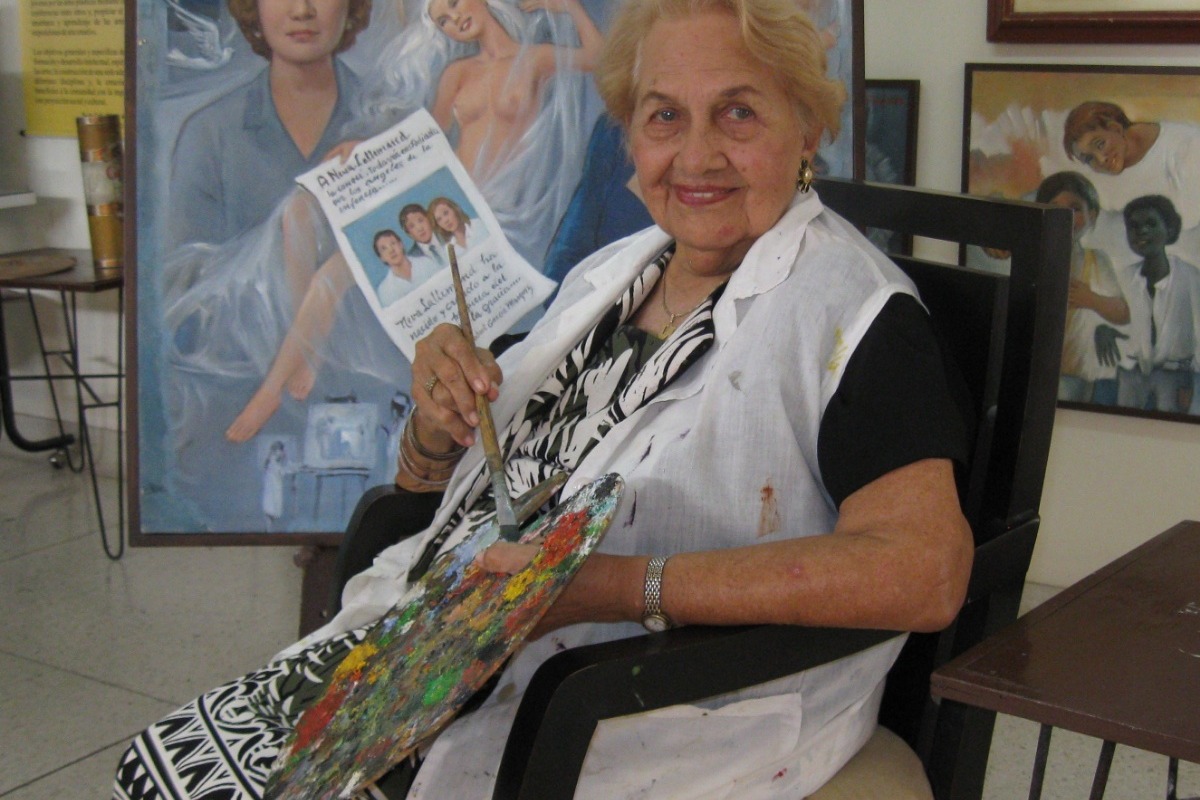 The
Mission
of the
Fundación Academia Neva Lallemand, FANL
,is to educate and develop leadership among children from Los Rosales, a vulnerable, low income,  community in the southwest section of Barranquilla, Colombia, South America. Through the Foundation's current educational program in Values, Art, Sports, Health (and soon Permaculture), the potential of the children to promote  their personal, spiritual, family, social, and environmental values will be awakened, stimulated, and taken advantage. This in turn, will provide hope and opportunity, which will help them to become productive citizens and to be protagonists of a participatory and committed society, contributing to a better, fair, and sustainable Colombia and planet Earth.
The
Vision
behind FANL is recognition as a leading organization in holistic, innovative, community, and high quality education by 2021, stimulating the awakening of talent and leadership in children of vulnerable communities through sustainable projects that will positively impact the environment and economy, thus reducing hunger and poverty, and providing wholeness to the children and their families.
What we do
A group of 20 dedicated and committed volunteers from different backgrounds including many artists, but also psychologists, educators, health workers, soccer coaches, and business managers provide services over the course of four hours to the roughly 100 public school children, ages 7 to 12, both boys and girls, every Saturday from 8 a.m. to 12 p.m.  
They share and facilitate their talents and knowledge in their area of expertise with the children; they model values such as respect, cooperation, commitment, ethics, excellence, innovation, transparency, and responsibility. The volunteers' work is an exemplary demonstration of love and commitment, investing their time for free toward the implementation of the program's curricula, goals, and objectives.
In this program, children fully enrich learning experiences. Participants take part in activities including expression of art such as drawing, painting, art and crafts, music, dance, soccer games, nutrition workshops, field trips, and others.
The
Values
program is offered to all participants through short, interactive activities before they become involved in the other programs.
The
Arts
program include three groups of 15 children each - beginners, intermediate, and advanced - selected according to criteria developed by the volunteers. An additional 15 child group is chosen for the Arts & Crafts  program. A variety of art techniques are presented through hands-on activities. The purpose is to get these children into professional art centers or schools through scholarships.
The
Sports
program is focused in 4 Soccer teams totaling 30 players who learn techniques and discipline for team work and competition, looking to form potential soccer champions for professional athletic clubs.
Health
Education is provided to children - and their families - through interactive workshops for parents and caregivers  in groups of 20 participants each, with the purpose of raising their quality of life, reducing hunger, and improving their health.
A total of 100 children are expected to start and finish the complete program this semester, with all of them completing the program successfully. Achieving this objective will mean that 500 children will have passed through and benefited from our program since 2013.
Please, insure that the children of Los Rosales have an opportunity for quality, life-changing extracurricular learning this semester. We need to raise $3,000 this semester. Every dollar will go towards creating invaluable learning experiences our participants will value and won't forget. Every child should have the opportunity to discover his or her talent and become a leader in what he or she wants to be. Their dreams will become reality.


Your Impact
Any contribution you make will go straight to the program. Your contribution will  cover essential operating  expenses, including transportation, program supplies and equipment , required professional services, and other expenditures as follow:
- Program Supplies and Equipment:  40%
- Transportation:  35%
- Professional Services: 15%
- Office and Cafeteria Services: 7%
- Financial and Legal Services: 3%.
A
donation of US $30
will sponsor one child like Eileen for the whole semester and will benefit her by allowing her to participate in one of the programs such as art class, learning how to use her talents and creativity to make art craft, drawing and painting, interacting with classmates and volunteers, getting good snacks, attending a field trip, getting recognized for her creative talent and work, increasing her self esteem and her potential to be successful in whatever she wants to do.
Eileen, 11 years old, two years in the art program, lives with her parents and her brother.  "Eileen had a sad look and did not smile at all a year before. Now, she asked me " Teacher, do you remember you told me I should be a happy kid? Now, I am happy" and she hugged me. Eileen has changed her attitude, has been very cooperative, and is always smiling" Denis, her Art volunteer teacher said.
Your donation
will sponsor a child like Daniel, 8 years old, 1st grade elementary, for one year in the FANL  Art program, the son of a single mother, his custodian is his grandmother, with whom he and two siblings live, one of them a participant in the FANL Sport Program. Daniel is in language therapy, out of the school, due to language impairment. After a year in FANL, with the help of Mildred, his  volunteer Art teacher, he has begun to overcome his challenge, communicates better with classmates and teachers, participates and collaborates in class. His attendance in the program is excellent with great attitude and motivation.
We need your support NOW!


It is currently the beginning of the school semester in Colombia, so that supplies, equipment, and transportation funding are urgent.

Please make your donation today and let our kids make the most of the new school semester!

Can you contribute $30 today, and sponsor at least one child?

Thanks!


In the name of the children we serve, their families, and our volunteers, thank  you for your support of this cause.
+ Read More
Update 2
1 month ago
Share
Great start of semester! Children and volunteers got together last Saturday, February 9, 2019.
Children were assigned to groups in Art (Beginners, Intermediate, Advanced), Art & Crafts, and Sports and started their first hands-on activities guided by the volunteers in charge. It was fun!
Keep up your donations! Please, DONATE NOW!!
This GoFundMe campaign works only in United States and some European countries. Please, help us sending this link to your contacts in US and/or Europe.
When donating, you will have the option to leave a voluntary tip for GoFundMe which is not mandatory. If you would like to avoid the tip, just select "Other", then enter $0.00.
+ Read More
Update 1
1 month ago
Share
Good news! More than 100 children signed up for the FANL programs last Saturday, February 2, 2019. Their parents were present supporting children and volunteers. The opening ceremony was well appreciated. Keep up your donations!
Please, DONATE NOW!
+ Read More
Read a Previous Update