2
4
Special Needs Teacher Needs Help to Move
$125
of $5,000 goal
Raised by
2
people in 1 month
Who am I?


Hi! I'm Kati. I'm a special needs teacher. I live with and help support my disabled sister. We have three cats: Acheron, Adonis, and King Louie the 2nd. We have a wonderful opportunity to move to Florida.
At a recent job fair, I got an on the spot contract to work in Polk County Florida!
Wait, what?
I know! I was shocked myself. I didn't really expect to get an interview with them, and they offered me a contract right away!
So what's the problem?


Moving from Ohio to Florida isn't cheap. Some initial estimates just for moving our furniture and such have ranged from $1000-$5000 and up! That's not even including the cost for us to drive down, a deposit for an apartment, buying out our CURRENT lease, and deposits for any utility accounts we need to open.
Why not just stay in Ohio then?

We've considered it very carefully and feel moving to Florida woud be better for us. It would mean a fresh start, away from bad memories (an abusive ex,  a break in, manipulative family, etc.) and meddling family. Though we are both nearly 30, our narcissistic mother is still determined to control our lives.  I've also got health problems (bad lungs, asthma, chronic bronchitis) that are exacerbated by the cold weather of Ohio winters.
How can you help?


Donate to our campaign so we can get get the heck outta here! We have some savings, and will get some assistance from my new employer, but it won't cover everything. So far we know we'll need money for:
-shipping our stuff (~$2500 as best I can tell)
-security deposit on an apartment (~$250-$1000 depending on what            apartment we end up at)
-lease buy out ($1700)
-drive down expenses (~$250 for gas and the like)
Any help you can give would be so appreciated! Both my sister and I would never forget your generosity in helping us to start this new, exciting chapter in our lives!
+ Read More
Update 2
24 days ago
Share
So who exactly will you be helping with your donation?

~Update by Krissi (sister)

Kati is a smart, hard-working, resilient young woman with the world ahead of her. She's been through a lot in her life and still manages to come out a brave, selfless soul.

She's known from a very young age (3 years old) that she would be a teacher. Her desire and determination for that has never wavered. Despite setbacks and obstacle, she has kept her head up and worked on steadily towards her goal, at times working full time and going to school full time, while helping support me.

Speaking of, she didn't have to let me move in with her. When it happened, I was still waiting for a determination from disability services, so I was literally an extra mouth to feed. I had no income, but couldn't work, and had a limited ability to take care of the house. But she never hesitated. When it happened, she immediately started looking at 2 bedroom apartments, not someplace just for herself. She's been instrumental in helping me make the progress I HAVE made, and been my number one cheerleader for ten years.

We weren't always close. It wasn't until after high school that we started to get along. Anymore though, we're each others' 'given'. Where she goes, I go and vice versa.

And she never makes me feel like a burden to her. Well, okay, not NEVER. She's a wonderful person, not a saint. :P

Anyways, this is a chance for her to realize a dream and help the children in Florida while broadening her own horizons. Please do what you can to help my sister do this!

~Krissi
+ Read More
Update 1
1 month ago
Share
We got our first donation! Thank you so much.

I thought I'd take a little time to introduce our cats, Adonis, Acheron, and King Louie II.

King Louie (the tabby) is the baby, at about 3 years old. He's my emotional support animal and always cuddles up with me when I'm feeling bad.

Acheron (gray) is the middle boy. He's a little porker coming in at almost 20 lbs! See that white patch on his head? That's from when he tripped my sister and she spilled boiling water on him and herself.

Finally is Adonis (the white beauty). He's 11 and my sister's ESA. He's a people person and has never met a person he didn't like (unless they were kinda dumb and tormented him...). And yes, that is a professional photo, my sister spoils him and babies him.

That's the lot! Any donation will help make the huge transition they will be going through a little smoother, a little easier. Thanks for reading and sharing.

~Kati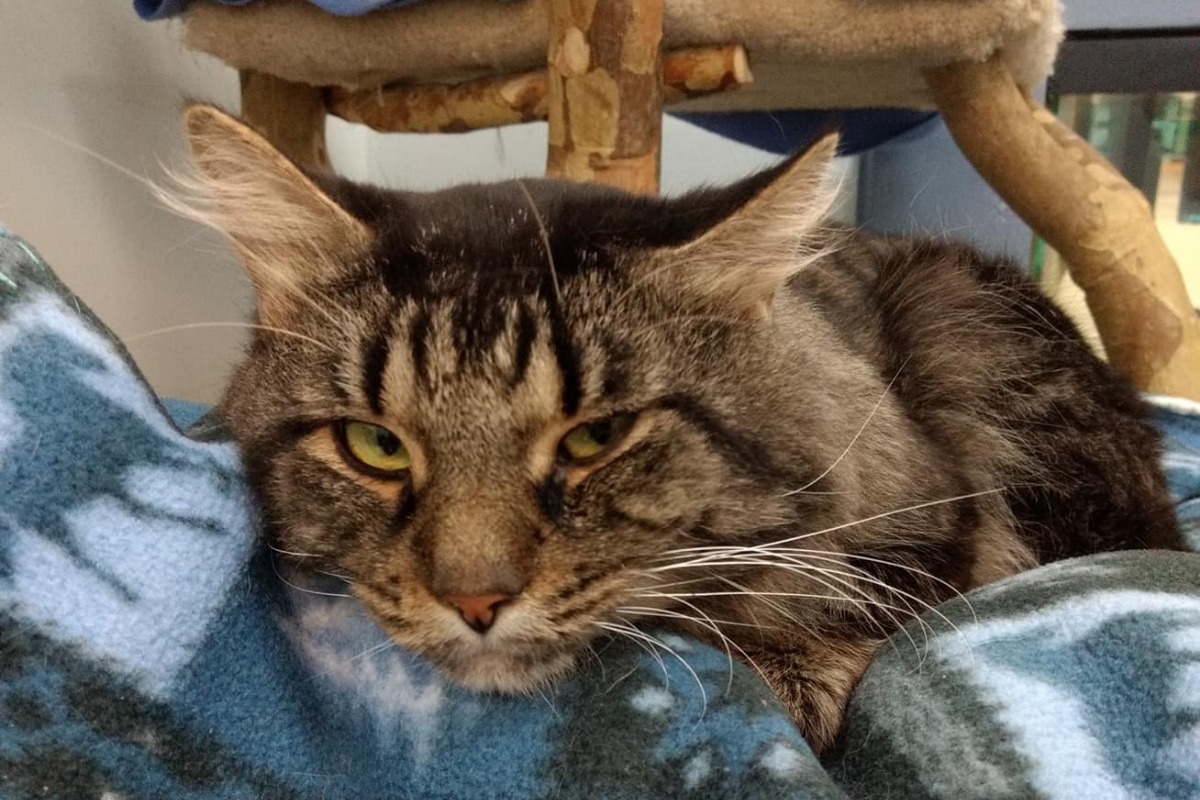 + Read More
Read a Previous Update