SpeakUp4.com
$1,130
of $100,000 goal
Raised by
12
people in 4 months
SpeakUp4.com is a new type of social media platform for American values - a space to develop, share, and monetize ideas, without censorship -
a shareable safe harbor to make your case in the public square.
Whether you want to share your ideas to Facebook or Twitter or optimize with social links and SEO, your messaging remains accessible to the public. 
·      Share videos, images, web content - even whole discussions - to social media.
·     Collect and contextualize links/file types, including uploading video
·      Centralize your identity as a curator of ideas, art, and news with Patreon integration.
·      Keep your ideas private, share them on SpeakUp4.com, or publish them to social media - even monetize by content level!
·      Share a single piece of content or a complete portfolio of ideas.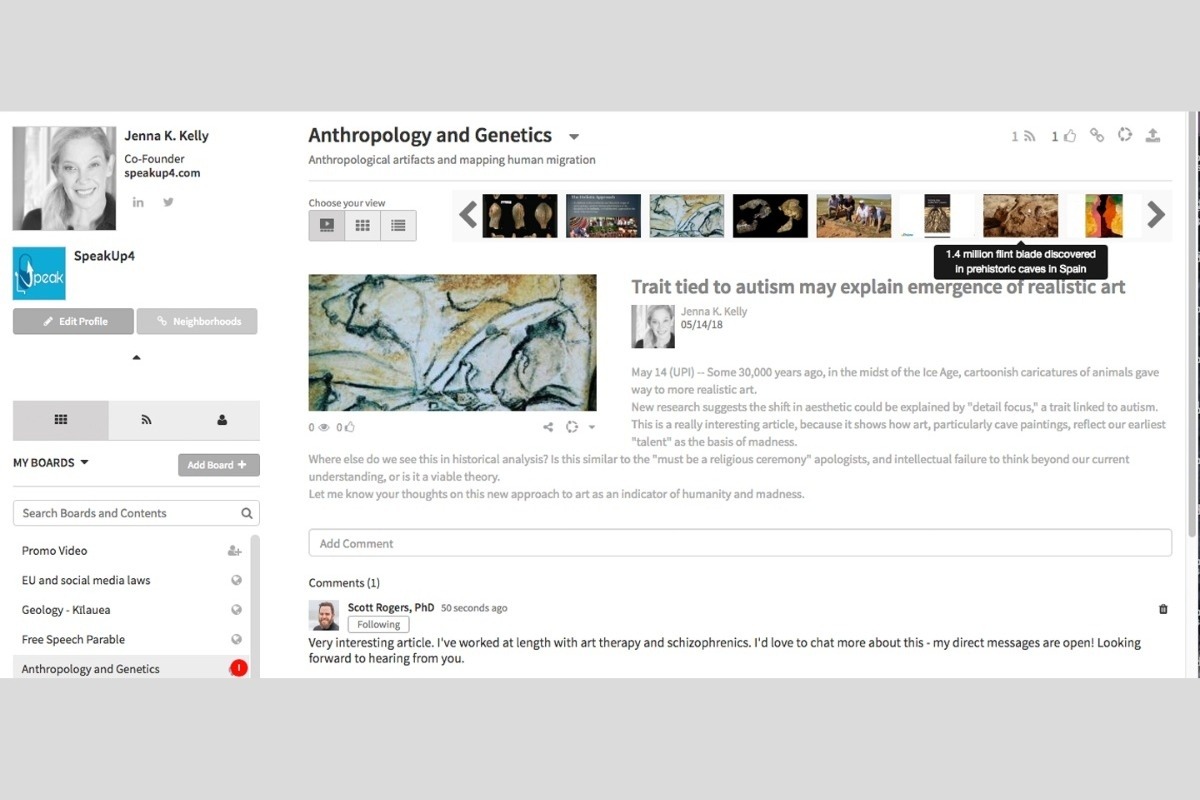 Social media timelines are a blur of fleeting information, hot-take opinions and ad hominem attacks - and censorship is becoming the norm.
SpeakUp4.com helps organizations and people – creative loudmouths, political junkies, mad scientists and free speech refugees - rise above the noise and be persuasive. 
SpeakUp4.com also allows the Free Thinkers among us to continue using social media platforms without violating their TOS. 
SpeakUp4.com is a solution for both American freedoms and Big Social's obligations – a way to accommodate this dysfunctional Thanksgiving dinner we call America, without hurting business interests with government regulation.
The platform is built and launched August 1, 2018 - sign up for a FREE account today!
www.speakup4.com
After bootstrapping close to $200,000 for R&D, and securing our patented technology, we are raising money to fund operations through the end of the year.  The funds we are raising will be allocated as:
·      Storage – we offer both document and video hosting for free.
·      Mobile – although mobile enabled, we would like to complete our app.
·      UX – continue to develop the user-experience based on feedback.
·      R&D – our patent includes a solution to maintaining the free flow of information in regulatory environments. Without going down a tech rabbit hole, this will enable us to maintain US law on a global platform.
All of this will cost us more than $100,000 to complete, but with your help and participation at any amount, we can create value and deploy our business model within six months.
If we can achieve this, we can keep American ideas and conversation open and free.
Freedom of Speech may not be pretty but without it, there would be no:
civil rights, 
women's rights, 
or gay rights. 
Transformative ideas demand free discussion.
Thank you for your support!
-The SU4 Team
+ Read More