Please Help Me Finish Healing Space
$2,080
of $3,600 goal
Raised by
31
people in 30 months

http://www.frankdicristina.com

Beginning the 1st of the year I moved into my new studio at the Center for Performing Arts in Minneapolis. All was exciting, all was wonderful until the aerobics class above me started their class. It was then I realized something needed to be done because I cannot ask others to "hold it down" while I am doing my healing work.

So I have been researching what I need to quiet the noise down from the outside. I found that I needed to install an engineered sound proof ceiling and modify the walls. I found out it will be quite costly but I love this building and this space. So I have talked to the landlord and have the approval to do the modifications (which are not part of the lease agreement).

https://youtu.be/je_sPqsoWsA

So I am asking for help to fund the materials. This unexpected expense has stopped my healing work and I cannot procced without a reasonably quiet place to work. Those of you that know me and know what I do with my singing bowls, gongs and bells know what it is like if the space is not the way it should be.

The money generated will help pay for the materials. I still have much labor to do and will have to possibly hire professionals to help complete this.

The main advantage is you! You get a much more complete healing session without hearing the boom-boom-boom of a dance class above me. 

Please come by when the grand opening is ready. It's going to be amazing!!! I am hoping to start up open healing night again but not untill the construction is done.



Thank you for your help.



So I have added some pictures here from some of the updates:

This is the mounting hardware, the most expensive component and most critcal part of the system. Without this properly installed all this time, reseach and work will be for not.
Next I have to install a double 2"x4" subframe to mount the Wave hangers. This is because the ceiling is concrete and clay tile. So it is not an easy task to install the 2x4's. Lots of drilling and dust!!!

These two diagrams represent the locations that the hangers need to be mounted. This is not the final drawing, we ended up having to add about 1/3 more than is shown to get the weight distribution correct. Lots of research and planning went into this.
The blue lines are for the pipe cutouts. No its not simple, I have to work around the building plumbing also.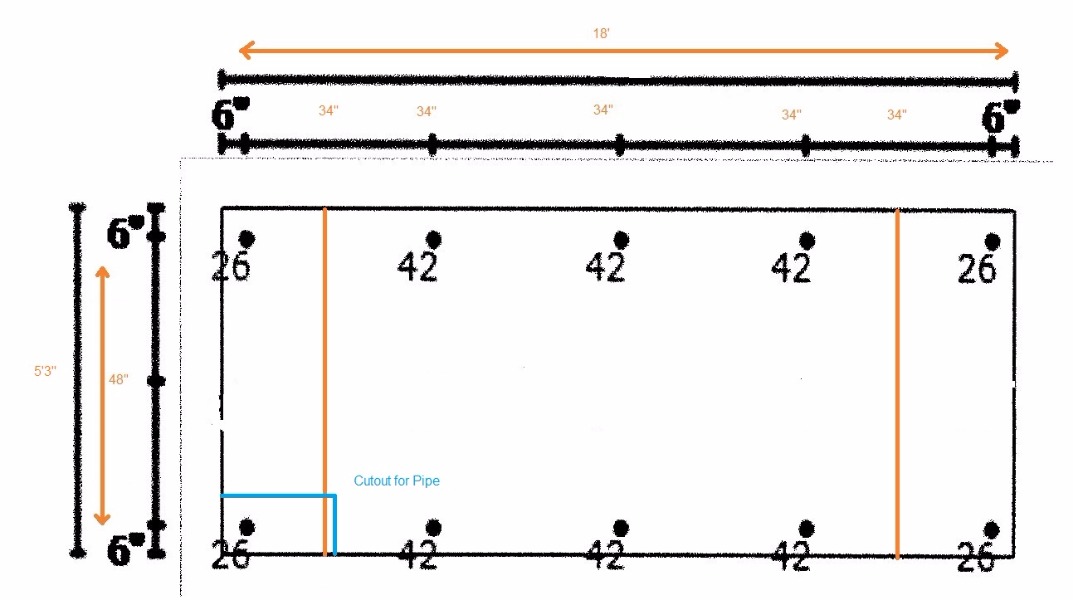 We started  framing in the new ceiling a couple days ago. It was really HARD!. We were drilling into 100 year old concrete and the drill bits were just going toast (dull). We believe that the concrete in 1920 was made from Granite since there were many Granite quarrys in the area 100 years ago. So it took some time and research to find the right bits, screws, sockets and drills to work with this stuff. Needless to say I baffled a few contractors with my questions. But its finally all starting to come together. The smaller of the two ceilings is mostly framed in now.
I have some tweaking to do when I get ready to install the Wave Hangers (mounting brackets). But thats still a couple weeks and more $$$$ away.  


So your help is still greatly needed. So if you can donate $$ GREAT, if not, how about some time or sharing this with someone who can help.
5 years ago, I was only doing healing work at expo's, holistic fairs and on open healers night. But now I have a space I am trying to finish the construction on and I still need your help.
Construction (labor part) is about halfway done. I still need you help to buy the rest of the materials to finish this project and start having clients come through the doors again.
Please dig deep and try to help out. If you can't donate, please pass this along to someone who can help. Its a worthy cause and its really for the community. Those that know me, know my work and what I have been trying to do for many years. I'm so close to realizing this goal of creating the ultimate healing space where you will feel the healing energies even before you step through the doorway.
This will not only be a place of healing but a place for transformation, a place thats safe for you to release the negativity and trauma locked deep within you. A place where we can care and share.




So ceiling is now framed in! YEA!!!
This was an incredibale amount of hard work. Lots and lots of drilling and scewing into 100 year old concrete.

So now I am test fitting in some of the mounting brackets for the rails that the drywall screws into.
Insulation will be installed next or possibly at same time depending how it wants to be fitted in the upper spaces.




Where we are at now >>>
The work is literally bone tiring but satisfying. Even though Rock Wool is much better than fiberglass you still to take precautions to not breathe or get the stuff in your eyes.


I am almost ready to sheetrock. Some more insulation needs to be added in back part of studio as well as Wave brackets and hat channel the drywall gets screwed to. 

I am hoping to sheetrock in about a week or so. I still need your help so if you can donate GREAT!!! If you can't donate $$$$, Then how about some time. I could use some help in about 1 week to haul the sheetrock into the space. I will rent a lift to help install the ceiling, but could use some more help.
Thanks for Helping, thanks for sharing, thanks for following!


+ Read More
Be the first to leave a comment on this campaign.