Special Olympics USA Figure Skating
$1,970
of $10,000 goal
Raised by
20
people in 16 months
In just a few weeks, a team of incredible athletes will travel to Austria to compete at the
Special Olympics World Games 2017
, but they can't get there without our help! Join me & support them today!
Please help me in raising funds to send the
Special Olympics USA Figure Skating 
team to the
Special Olympics World Games in Austria this March.
I hope you'll support their dreams by donating to this campaign and sharing it with your friends and family.
Help spread the word!

About Maria:

As a journalist, E! News Host and Emmy Award Winner, Maria Menounos, holds the distinct honor of having conducted the only interview with the entire Obama family. The interview was touted by ABC News as one of the defining moments leading to Obama's victory. Maria's achievements have thus far set industry milestones. Her groundbreaking conversational style of reporting led her, at the age of 22, to become the youngest person ever to host "Entertainment Tonight." She would go on to do the same for the "Today" show and "Nightly News."  She has held sit down interviews with every US President since George Bush.  She has also traveled the globe, covering everything from the war in Afghanistan to earthquakes in El Salvador to the AIDS crisis in South Africa.  But the milestones don't end there. Maria is the first person in the history of Hollywood to report for network news and star in a wide-release feature film.
As an actress, on the big screen, she starred in the romantic comedy "Kickin It Old Skool" opposite Jamie Kennedy, and played herself in the Ben Stiller comedy "Tropic Thunder." She also appeared in the 20th Century Fox sci-fi/action movie "Fantastic Four." Her small-screen acting endeavors include guest roles on CBS' "Without a Trace," NBC's "Scrubs" and HBO's "Entourage" as well as a recurring role on the CW's "One Tree Hill." While at "Entertainment Tonight," Maria hosted "ET on MTV" and "ET on VH-1," both of which soared to number-one weekend ratings on their respective networks. At NBC, Maria was a correspondent for "Nightly News," "Today," "Access Hollywood," and "Dateline." She was also the longest running international spokesperson and face of Pantene hair care products.
As a filmmaker, Maria has directed and produced several independent films, which have played most of the major film festivals from Tribeca to South-by-Southwest. She attended Boston's Emerson College, where she double-majored in broadcast journalism and film. At Emerson, she became the first freshman in the school's 125-year history to garner the prestigious EVVY award for Best Newscaster. After her junior year, Maria became an international correspondent for Channel One News.
Her coverage of the AIDS virus in South Africa inspired her to dedicate herself to charity work and to create the non-profit, Take Action Hollywood! (TAH!). TAH! is a charity whose mission is to utilize the power of the entertainment industry and the production medium to educate, empower and raise social awareness. As a Diabetes Awareness Ambassador for the Entertainment Industry Foundation, Maria has spoken on Capitol Hill and is working with lobbyists on improving treatment for the disease, worldwide. She is also the Global Ambassador for the Special Olympics and works closely with the LA Children's hospital hosting her annual "Day Of Beauty" event for patients and their families for the last 8 years.
As an digital producer and entrepreneur, Maria, along with partner Keven Undergaro, co-founded AfterBuzz TV, the largest online broadcast network that produces over 300 TV 'after-shows' for favorite TV shows, is comprised of over 250 hosts, features daily celebrity guests and broadcasts weekly to over 20 million people from over 100 countries.  In addition, along with Undergaro, she co-founded Popcorn Talk, a movie discussion network that reaches 2 million.  Per Maria, the collective networks carry a mission to aid and empower aspiring hosts and journalists.  Maria and Keven host various career seminars at their AfterBuzz studios and are deeply involved in shepherding and mentoring hosts.  To that point, AfterBuzz has helped launch the careers of former hosts, Beth Behrs (Two Broke Girls), Kat Bailess (Hit the Floor), Jackie Miranne (Big Morning Buzz), Stephanie Bauer (Access Hollywood), Suri Serano (ESPN), Deidre Behar (Entertainment Tonight), AJ Gibson (Hollywood Today), Eboni K. Williams (CBS), Derrial Christon (BET), Chloe West (Moviefone), Cathy Kelley (Celebified), Matt Lieberman (SourceFed), Roxy Striar (Screen Junkies), Krisily Kennedy (The Movie Chickk), Alex Wehrley (E! News), Lauren LogGasso (SiriusXM), Ashley Daniels (Leading Periscope Host)  and countless others.
In addition to being a champion of talent, Maria is particularly passionate about helping fellow women young and old.  She also loves animals, is avid in pet rescuer and works with several organizations in that regard.
Though her career has been groundbreaking and will no doubt be emulated by many to come, Maria's career remains in relative infancy with much room left to blossom. A girl who did not speak English until the first grade and one who worked as a janitor cleaning Boston nightclubs throughout her adolescence, Maria is proof that you can come from humble beginnings and succeed. She is proof that you can do it all. Most importantly, she is proof that you can remain true to yourself and humble and still care deeply for others.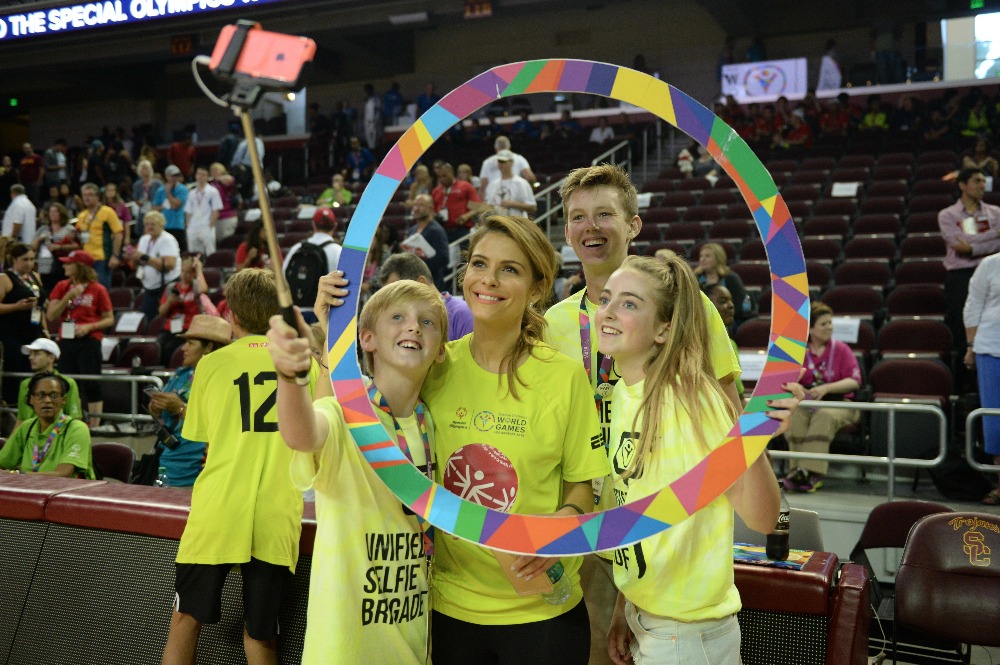 + Read More
Be the first to leave a comment on this campaign.