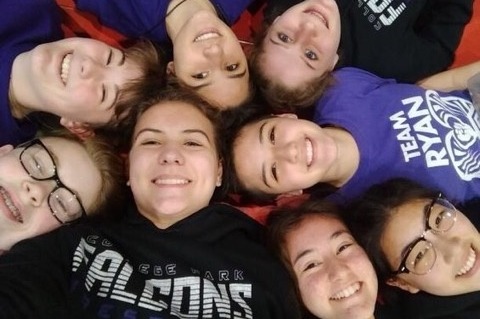 38
4
Singlets for College Park HS Girl's Wrestling Team
$3,175
of $3,000 goal
Raised by
34
people in 2 months
Purpose
: 
Get the College Park High School girl's wrestling team new singlets that are empowering for a Lady Falcon! Please help support the lady wrestlers by getting new singlets! ✨✨✨ 
Donate here or via
www.venmo.com/singlets4ladyfalconsCPHS
! THANK YOU!
Stretch Goals: 
On April 25, 2019, we passed our funding goal! We'll post updates on the design and ordering of our new College Park Girl's Wrestling Team singlets. Meanwhile, this fundraiser will stay open until the start of next season to support our stretch goals!
$3,500
| Sweats for the Ladies!
Sweatpants representing College Park wrestling and matching the graphic design of the new girl's cut singlet will be purchased for the lady Falcon team. Keep them warm before their matches!
$4,000
| Lady Falcon Headgear!
Headgear and hair nets will be purchased for the lady Falcon team. Protect them during their matches! (Then we can give the borrowed headgear back to the boys.)
$4,500
| Get Coach a Jacket
A coach's uniform matching the graphic design of the new girl's cut singlets will be ordered for the girl's team.
$5,000
+ | College Park Girl's Wrestling Fund
Any donations left after purchasing the singlets, sweats, headgear, and coaching uniforms will be used for the girl's wrestling team. Uses may include getting cleaning supplies for the mat room, a throwing dummy, and funding lady wrestlers with financial need for shoes or attending tournaments. 
Background
: 
This 2018-2019 school year at College Park High School, the wrestling team had twelve girls sign up for the season. Ten of them turned out to be freshmen! Unfortunately, the girls had to borrow the boy's singlets used throughout the years, due to the fact that there was not enough funding to get them proper singlets for girls.
Wearing singlets that are practically 20 years old is invalidating and distracting to the girls, coaches, referees, and peers among them. The singlets the girls are wearing now are sizes too big or too small, as well as being stretched and worn throughout years of wrestling. Some of these singlets are torn and are currently failing to hold durability during matches.
Please help us raise funds to purchase new singlets proper for the Lady Falcons. The sport of girl's wrestling is growing. It is time for a change. Let's recognize these ladies for their dedication and hard work. Help show the girl's wrestling community that the lady Falcons are not to mess around with!
This year, the girl's program brought home a state title. Amit Elor won CIF State in the 150 lbs division and was voted the Champion of Champions by her peer champs. We expect more placers and champions from our talented team of freshman Falcons and future lady wrestlers in the years to come!
Please consider donating towards the future of the College Park girl's wrestling program. Any donation towards this program is deeply appreciated! 
Donation Tiers
: 
Thank you!
All donors will receive a thank you email. uwu
$20 or more | Mailed Thank You Card
You will receive a card handmade by a College Park lady wrestler!
$35 or more | Writing Snippet ✍️
You will receive a writing snippet based on your prompt or choice of characters and setting created by a College Park lady wrestler!
- xoxo from Falcons
Haley Joseph
, 
Diana Brix
, and
Amit Elor
<3
$50 or more | One of a Kind Art ‍‍‍‍‍
You will receive a piece of art (digital or traditional) created as per your request by a College Park lady wrestler!
-
Lexi Ketron
does portraits!
-
Brenna Kubiak
does portraits, characters, original characters, and slight scenery in a Western Cartoon-esque style. Check out her
Twitter feed
!
-
Sammie Parton
does portraits, handmade jewelry, and greeting cards!
-
Diana Brix
does small landscapes, cards, and animals!
-
Haley Joseph
does cartoon/comic book characters and small, stylistic designs!
$100 or more | Exclusive Wrestling Clinic
You (or your wrestler) will be invited to an exclusive one-day wrestling clinic this summer with guest clinicians including:
-
Amit Elor
, Lady Falcon, 2019 State Champ and Champion of Champs
-
Ronny Elor
, Alumni Falcon, 2010 State Champ and Fargo Champ
- and more!
Girls and boys of all levels are welcome. The date is to be decided. The clinic will be in the San Francisco Bay Area. If you are from a different area and there are enough donors near you, a clinic may be organized in your area.
Words from the Lady Falcons: 
"I've just completed my fourth year of wrestling here at College Park, and I'll admit that wrestling in a boy's singlet as a freshman didn't seem to matter to me, until I went to girl's tournaments and noticed there are nicer, better fit singlets out there for lady wrestlers. Over the years, I've had plenty of opponents and referees alike letting me know my singlet needs adjusting during matches. I've lost a team point once for my straps falling down. As a senior, now that our program has so many freshman girls, I believe it's relevant to give appropriate singlets for them so they can wrestle in their upcoming seasons comfortably and durably, and not distracted by how loose the bands are or how much of their body is being shown off. Thank you so much for supporting our program!"
-Ysa 
"To me having these falling apart singlets puts the women movement back at college park. And really we should have equal quality as the boys."
- Maddie 
"This was my first year wrestling and I remember being really excited to pick out my singlet from the bin because I had never worn one before. Once I came downstairs though I was worried I had picked the wrong one because one of my teammates had a white falcon on hers. I asked the other girls if they had one and they showed me their singlets, some with falcons peeling off, some with just pieces of the sticker left, most missing theirs entirely. One falcon was falling off so badly that it was easier to just peel it off than try to keep it on. By this point almost all of our singlets were plain purple, looking vaguely like bad halloween costumes, or purple green screen suits, but I figured it was ok and just looked forward to my first tournament. That's where the singlets really started to be a hassle. One of my teammates was reprimanded by a ref because her singlet kept slipping during a match, and another teammate had to have hers tied back to keep it from sliding off her shoulders, even my singlet started to pull down in the front when I was driving and I had to readjust myself so I wouldn't be exposed. We were for the most part all first year wrestlers who had never had a singlet before, so we didn't know what it would be like, and it wasn't until we gained experience we realized how poorly our singlets served us in  matches and served to represent our school. I think quality singlets would be an amazing edition next year as returning wrestlers will get to compete in tournaments proud of their singlet and without worrying if it will cause an accident, and new year wrestlers will never have to worry about that at all."
-Haley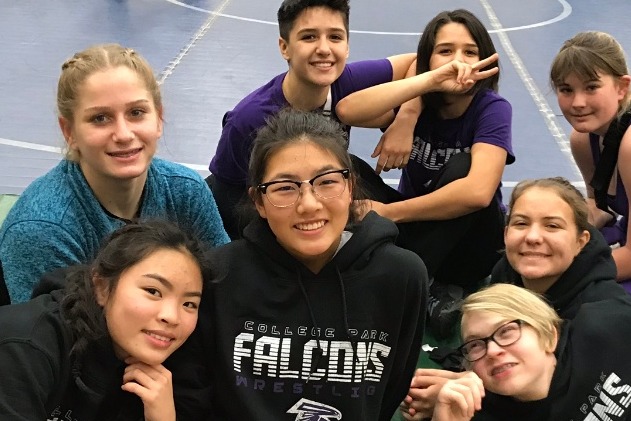 "Wrestling is something I have never thought about. When winter came, I found out we had wrestling as a sport at College Park and I signed up to try it out. There were many times when I just wanted to quit, but with the encouragement of the coaches and my pride, I didn't give up and stayed strong. Now, at the end of the season, wrestling has taught me many things about my body and myself as a person, going beyond my limits and never giving up is something that this winter season's sport has taught me. I'll be looking forward to next year. These singlets are very low cut and distract me during my matches. The referees always tell me to fix it after my first or second round and it's very frustrating knowing that other schools have proper singlets for girls."
-Diana
"I never expected that I would be a wrestler this year.  However, so many girls I knew signed up that I decided to try it out. I was pleasantly surprised to find that there were 12 girls who signed up. However, I  started seriously considering quitting because of how different the sport was from anything I'd ever done before. I didn't feel cut out to wrestle. But every time I even thought about quitting, I would have so much fun at practice, with my teammates, that I knew I couldn't ever quit. Over the season, I got stronger and more confident in myself than I've ever been and had a lot of fun with my team, and girls from other schools! Now, I want to wrestle every season and I already miss my teammates. Next year, we are looking forward to welcoming new lady falcons, possibly expanding our girl's team even more. We will definitely need more ladies' singlets in years to come and I  want to give them the same amazing experience I had. New singlets that fit well would be a great way to show them we care for our lady falcons as well as the boys. Go Falcons!"
- Sammie 
"I had never done any sports before I wrestled. When I joined CP wrestling, I was utterly shocked by how many girls were there. At our peak, we had 12! These girls have worked so hard and have put up with the nasty singlets. Wrestling has taught me many important life and work ethic skills and the new singlets would provide a way to show our pride in our team, not just look like grapes that have been out for too long. Singlets not only show who we are as a team but show who we are as a school. The girls and I have conversations about the guys getting funding and not us. I believe that the girls did most of the funding too, but it all went to the guys for their tournaments and gear. We always say something along the lines of "If we fund only the boys, what does that make College Park look like?" These new singlets will not only show pride but take care of other issues like our singlets FALLING OFF OF US DURING A MATCH. We have lost points in the past due to singlets that don't fit us. We want to have new singlets that don't show our upper body off as much and don't fall down, and if you could help, that would mean the world to us!"
-Brenna
THANK YOU for donating to the College Park High School Girl's Wrestling Program! ! !
Learn more about College Park wrestling at the
Falcon Athletics website
! ! !
+ Read More
Update 2
28 days ago
Share
+ Read More
Update 1
2 months ago
Share
We broke $1,000! A third of the way there!

What better way to celebrate than to wrestle?

This weekend, Lady Falcons took some gold. Congrats ladies!

Maddie Magnus won in The Cowboy Round Up! This was her first ever Freestyle tournament, but that didn't stop her from taking first!

Amit Elor won in the Sem Ladies Open. She took on wrestlers representing Canada, Mongolia, Brasil, and the USA! Keep an eye out for her next week at the NCAA Fan Festival Dual!

Thank you for your support!
+ Read More
Read a Previous Update