Help for Rudy (aka a Home)
$2,587
of $3,500 goal
Raised by
45
people in 23 months
Hello, I'm starting this page to help a local homeless man and his 2 dogs stay safe and dry. He's in need of a full size van. We have a lead on a van in Watsonville, but without the money, they won't hold it for long.
Who is Rudy?
Rudy is 25. He grew up in the foster care system..... Which wasn't a positive experience. He suffers from anxiety and nighttime flashbacks from childhood abuse. In spite of that, he's the kindest, most giving and good hearted person you could meet. He sees the best in people and always tries to help others eventhough he very little himself. His dogs, Red and Papps are his heart and sole. Everything he does is to keep them happy and safe. They are healthy and well fed..... And loved more than I can express. Because of his dogs not having a safe place to stay, Rudy is having a hard time working. He is currently in jeopardy of losing his job at Hometown Buffet because he can't leave his dogs or his belongings alone on the streets. He lived in an RV but the registration was expired by 2 days and the police impounded it. He can't afford to get it back. Now he's sleeping outside every night with just blankets to keep him warm.
Rudy does NOT ask anyone for money. If someone offers him something, he'll accept it, but he'll never panhandle. He's willing to do any odd job, yard work, landscape work, or moving to make money. He just needs a place for his dogs to be safe while he's working. He's not lazy, he's able to work and he wants work, he just needs a break and the opportunity.
The money we will hopefully raise will go directly to buy a van or RV, the registration and insurance. Anything left over will go towards food, maintenance and a mattress for the van.
Rudy is a really sweet guy and if you get the chance to meet him you'll see how laid back and peaceful he is. During the day he stays by the Starbucks on Hillsdale and Ross. (if AT&T and Payless don't run him off) Everyone there at Starbucks really loves him though. If he gets extra money, he buys himself food, then offers to feed anyone else who is hungry.
He really deserves this and I really hope you can help.
(Being homeless isn't a crime, yet he sees the police multiple times a day. Where do people expect the homeless to go? Running them off, pushing them aside out of your view, doesn't fix the problem for them. It just makes you feel better or not feel guilty because you don't see the pain or struggle they're going through. Not every homeless person wants to live on the streets..... A very small fraction do and that's the biggest misconception. Many just need the opportunity to change their situation. But until you've been in that situation, having compassion rather than opinions is the best thing you can offer.)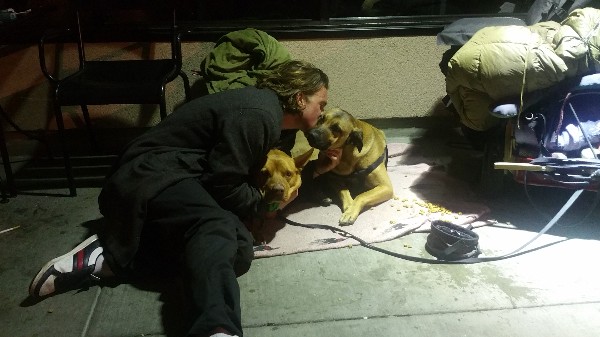 + Read More
Update 2
23 months ago
Share
I want to thank you all for your generous donations thus far! We were able to buy Rudy a van a couple of days ago. But due to the urgency of needing him out of the rain and the amount of money on hand before gofundme released the funds, we had to settle for one that is good for shelter, but it needs mechanical work. We're not exactly sure what's wrong, but something is wrong. In my non educated opinion, I think the transmission is slipping. We are seeking someone who could take a look at it, check for fluid leaks, just give us an idea of what needs to be fixed. We're also seeking help with outfitting the van with solar power. Trying to run everything from the car battery is proving to be a huge problem. Anyone with the knowledge to get that set up, please contact me.
Rudy is still looking for work. His job at Hometown Buffet didn't work out. He didn't have anyone to watch his dogs or anywhere to keep them while he was at work, so his boss let him go. Because of his anxiety, he'd prefer a job behind the scenes. Dish washer, after hours stocking in a grocery store etc. During the day he's able to do yard work and odd jobs. (it would be exceptional if his dogs could be there, hanging out near by)
In the meantime your donations are still greatly needed and very much appreciated. We're looking into getting medical and dental care done. He hasn't seen a doctor in over 5 years.
We also need to get one of the dogs neutered and both need to get current on vaccines and registrations.
We were able to purchase basic care products, new DRY shoes, pillows, sheets and plastic drawers for his clothes.
Please keep sharing this page. You're helping out a truly amazing young man that's just needs the opportunity to get ahead so he can get on his feet.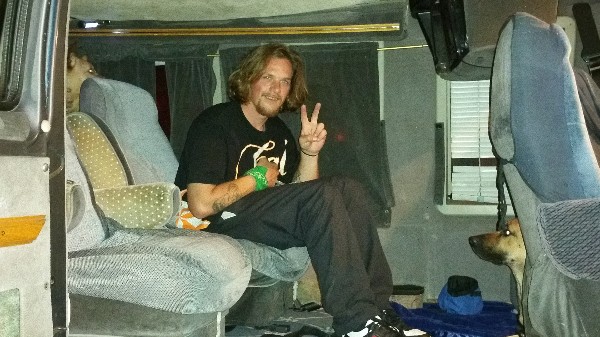 + Read More
Update 1
23 months ago
Share
I can't even express how grateful I am right now! My original post was for $2500, but I lowered it thinking we wouldn't make it. But with the generous donations so far, I feel confident raising our goal to ensure we find the perfect van or RV for Rudy. Please, don't wonder why I raised the goal or may raise it again. Every single dime will be put towards the safest and most reliable vehicle we can find this week.
I can't wait to tell Rudy how much you've all cared for him. He is so humble, I can't wait to see how happy he is!
+ Read More
Read a Previous Update
Be the first to leave a comment on this campaign.