Serving The Homeless Through You!
$2,575
of $8,000 goal
Raised by
14
people in 31 months
Hi, my name is Meredith Peters and I am writing to give you the opportunity to hear my story and who I get to serve daily.
To continue my work with the homeless I need your help!
I serve with Soaring Wings Ministries, a nonprofit in Colorado that serves the homeless. We are doing things like going to the street and meeting the homeless where they are but our main focus right now is an addition to the ranch to welcome a homeless family to live at Soaring Wings Ministries Ranch. I have had the opportunity to serve the homeless in Colorado for a year and a half now and feel called to continue to serve them and meet their needs where they are. I love the opportunities that I have to share my heart for people and my love for God with the homeless.
This spring I got to serve at Homeless Connect, a fair to serve the homeless in Northern Colorado, we served over 150 homeless in one morning and my role was to go up to the little kids and offer them a backpack of school supplies and socks. As much as I loved handing them the bags and seeing their faces light up, I was heart broken for all the homeless children in Northern Colorado and America. (below is a picture of two girls with their backpacks on waiting for a haircut). Please help me continue to be able to serve those in need by supporting my work with Soaring Wings Ministries. 
To get a glimpse about Soaring Wings please watch the video I made about our work, 
https://www.youtube.com/watch?v=zqZserowRoU
I have many roles at Soaring Wings Ministries. I do outreach to the homeless plus website updating, e-mails, contact with other nonprofit organizations, set up and run fundraisers for the building fund, and much more but I raise all my own support and get no money from Soaring Wings Ministries.
I am 100% support raised and to continue my work with the homeless I need your help! 
The money donated will be used to pay my monthly bills so that I can continue to serve the homeless through Soaring Wings Ministries. The need is great with the homeless and I am more than willing and ready to continue serving but I need your support today!
All donations are tax deductible. 
I thank all of you for taking the time to read my gofundme page and please consider donating so that I can continue to serve the homeless and God the rest of the year!
I will close with this devotion that I read the other day, 
"Be strong, all you people of the land," says the Lord, "and work; for I am with you." Haggai 2:4
"I enjoy my job, so usually I am eager to get out of bed and go to work. But one day I became discouraged when I thought about my family's financial security. Was I providing enough? Other people seemed to be doing so much better. I grew fearful as I thought about the future, and those fears sapped my zest for life.
How can we find courage at such times? Certainly not through measuring our achievements or by trying to boost our self-confidence. As God's people, our confidence comes from our relationship with Him. He is with us. We are His people. As we keep these truths in mind, we will find courage to continue working in a way that pleases Him and brings us joy. 
We find courage to stand when we kneel before the Lord."
I pray that God will use my asking to bring hope and comfort to the homeless through my work with Soaring Wings Ministries.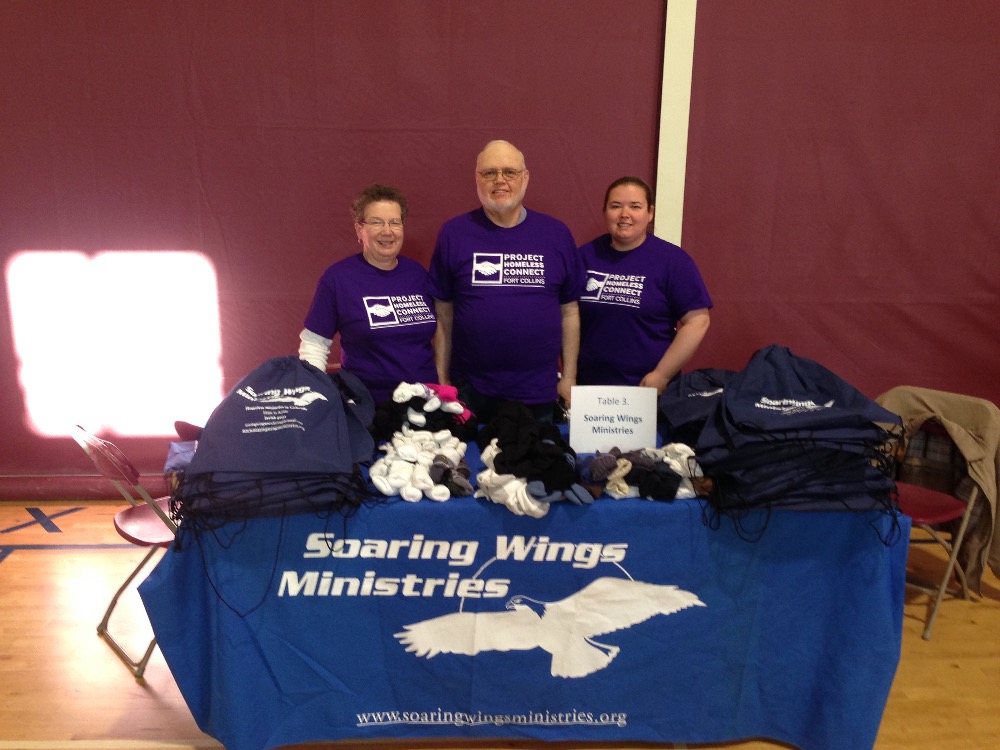 + Read More
Be the first to leave a comment on this campaign.