10
14
SAUVAGEON: A Sci-Fi Novel
$110
of $4,600 goal
Raised by
10
people in 17 months
NOTICE: YOU NEED A GMAIL ACCOUNT TO RECEIVE REWARDS! Please send an e-mail to sauvageonofficial@gmail.com with the name that you used when donating, the date you donated, and the amount, and I will give you access to your reward!

(Be sure to click the Updates tab for more lore!)

"What will it be, Atlas," his father mocked, "the weight of the world, or your own selfish fantasy?"

Laaz looked away reluctantly, shrinking up against the back of his chair. "I just wanna be a hero for the people of my city one day. That doesn't make me 'Atlas'."

"You're not a little child anymore, Laaz. Every action has consequences, and sometimes, you won't be able to save everyone that you want to. The sooner you realize that, the less it will hurt when it becomes your reality... your whole world."



The daily life of Laaz Lithgow, a young, orphaned detective living in the tropical archipelago state of Heliodor, is overrun with predicaments. His newest suite-mate - an emotionally reserved, legally deaf Russian weapons mechanic under the alias "Steele" - is quickly becoming the topic of a whole manner of questions. Just who are they? What are their intentions? Why did they choose to move here, of all places? Are they trustworthy?

Before most of these can be answered, however, more pressing issues arise - an enigmatic organization known only as Sauvageon has been targeting Heliodor's prefect, along with other government officials throughout the state. Jetta Pavoni - the prefect herself - personally contacts Laaz after her wife was nearly murdered by them.
​
At the same time, unrest has grown stronger among the pantheon of ruling deities (called Idols by mortals). Treachery, vengeance killings, and coup d'états are at an all-time high when it comes to them, as they commonly use ordinary people as pawns to carry out their wrathful deeds.

And when it comes to confronting these furious and sly gods, some 'ordinary' people may learn more about themselves than they bargained for.
​
Follow Laaz and his officer partner Zusa as they attempt to uncover just what the hell is even going on in their home city, one police report at a time.

More information on the novel's plot and setting can be found here , while information on the characters can be found here .



I write under the pen name Reverie Benedetto. I am 19, of indiscriminate gender, and my main interests include animals, biology, and pretending I look good in dark red lipstick.

I aim for Sauvageon to be a riveting, emotional, and memorable adventure for readers from all walks of life.

More information about me can be found here .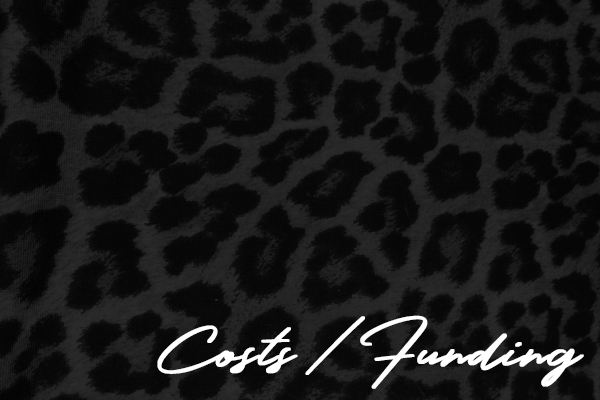 A good novel is not quick, cheap, or easy to write. In order to create a memorable, quality novel, you need many resources such as a great editor and writing software. Here is an estimate of the costs in the form of an easy-to-read pie chart.

Editorial Costs: Easily the most expensive part of this entire project. Even a mediocre editorial job still costs several hundred dollars, and we're not aiming for mediocre - we're aiming for quality. Factoring in word count, a thorough editorial job for Sauvageon will cost around $1,500 to $2,000.

Promotional Material: There's no point in trying to create and sell a novel if no one wants to buy it. Advertisements costs widely vary, but for both a large variety of visually-appealing ads and a well-maintained professional website, costs will range from $600 to $800.

Physical Materials, Merchandise, and Shipping: Merchandise such as prints and t-shirts will eventually be available (eventually) most likely as pre-order rewards. These will be paid for at my expense, and will likely cost around $500 total.

Safety Net: Every project needs a safety net, should one or more aspects of said project suddenly cost an unpredicted amount. A fair safety net is $500.

Cover Art: The phenomenal artist Jenna Barton created Sauvageon's cover, which cost $120!

Not included in the pie chart are GoFundMe's fees, which will amount to nearly $400 + 30 cents per donation. Due to this, I am adding an extra $600 to the fundraiser.

Altogether, these costs amount to approxiamately $4,600 USD. The most important cost to cover will be the editorial fees.

You've probably asked - "Why are you considering self-publishing? Why not publish through a publisher?"
I wish the answer to this question were that simple. Firstly, in order to submit my novel to a publisher, I will need a literary agent. In order to get a literary agent, Sauvageon will need to have a complete manuscript, which I will not have available anytime soon.

Unfortunately, many agents & publishers will not touch novels with too many 'controversial' themes. Sauvageon includes prominent LGBT themes, religion, sex  work/prostitution, racial oppression allegories, discussion of abuse, crime organizations, terrorism, and various other heavy/'controversial' topics and themes throughout the story. It is incredibly difficult to find a publisher who will not force me to neuter these themes in some way, which I refuse to do unless something is found to be tasteless or offensive. In short, I welcome legitimate criticism and suggestions, but I do not welcome suggestions to make my story more "palatable".

I am not writing Sauvageon for money, nor am I writing to follow a trend or make it onto a bestseller list. I am writing this novel because I love to write and I want people to enjoy the stories and characters that I create. That is part of why I'm not scrambling to earn big bucks with a publisher.

As you can likely tell from the previous paragraphs, I am an independent person and do not like to be bossed around and told how to write my story in a "palatable" or tamer fashion, because that's not what I'm aiming for. There are enough neutered dystopian, fantasy, and sci-fi novels out there. Self-publishing is not a sign of failure, it is an opportunity for me to be my own boss and own 100% of the rights to my hard work.

Finally, remember that I am a young author and that this is my very first novel. I have zero connections in the literary or journalism worlds, and it is difficult to find professionals that are willing to work with me because of this. I do not expect to become famous right off of the bat.



Currently, there are 3 reward tiers:

Novel Preview: For a $10 donation, you will receive the first 4 fully-edited chapters of Sauvageon absolutely FREE.  They will be e-mailed to you in .PDF form in September 2018, several months before the full novel is released. This is a great limited-number deal, so act fast!

Novel Preview: For a $15 donation, you will obtain access to half of Sauvageon's unedited chapters to read*. This means you'll get to read some of Sauvageon many months before its estimated release date.

Novel Preview+: For a $20 donation, you will obtain access to ALL of Sauvageon's unedited chapters to read*.  This means you'll get to real the whole of Sauvegon many months before its estimated release date.

*For these rewards: These are single-payer rewards ONLY. You are not allowed to share the documents or the information that they contain, including spoilers.



Please keep track of updates by either looking at the 'Updates' tab on this fundraiser or going to my website . Updates will include progress on the novel and also bits of new, interesting lore.

If you donate to this fundraiser, however, you will automatically receive e-mail notifications for each update I make.

Sauvageon is slated to be released in 2019. Please note that this is a tentative release date, and entire depends on whether I have enough funds or not. Lack of funds and various other life circumstances may result in Sauvageon being released later than expected.

I repeat: Sauvageon has no official release date, only a possible estimate.

Thank you for your support, and I hope to see you when Sauvageon officially releases!



+ Read More