A Stage For The Little Dancers
$3,500
of $3,500 goal
Raised by
48
people in 9 months
Turn Your Donation Into Children's Smiles!
(Read below to see how we thank you for your donation.)
Here at the Salsa With Silvia Dance Studio's our main goal is TO GIVE TO THE COMMUNITY! The Owner and its team work hard to provide the best environment for even the youngest of dancers to learn dance and thrive.
The Salsa With Silvia Dance Studio first started in the basement of the Owner's house.  Because of Silvia's passion for dance and belief that dance makes people happy both physically and mentally, the classes grew fast and the kids program quickly gained a large following in the community.
In this photo: the first Salsa With Silvia Studio was in the basement of the Owner's house.
Within just a few years the Studio needed to expand and move into a larger space. Salsa With Silvia's desire to contribute to the community helped the Owner build a strong application based on which the Studio  received a government grant to create a beautiful space from scratch and turn it into a state-of-the art facility where kids learn how to dance from as little as 6 months old.
In this photo: We built our new studio from scratch and won a grant from the DC Government.
Our studio is a firm believer in the power of giving. We consistently donate to local schools and businesses, we raise money for charity, disaster relief and personal tragedies, we teach and perform for community events, elderly homes and schools. We will continue giving the joy of dance by establishing a scholarship program for performing kids.
In this photo: Now, our youngest dancers and performers get to learn in the best possible environment.
YOUR FUNDING WILL GO TOWARDS PURCHASING A FOLDING RAISED STAGE FOR OUR YOUNGEST PERFORMERS. HERE IS WHY:
While we continue giving to the community, we find ourselves in a dilemma when it comes to our very popular semester recitals. We have a beautiful studio but during recitals it is hard for parents to see their little ones perform because we don't have a raised stage. 
In this photo: Salsa With Silvia kids instructor Mario volunteers to teach and perform at the Cesar Chavez Charter School in DC. We consistently perform and donate for local schools, charity events, disaster relief and other causes.
Parents ask why don't we rent another venue for recitals. After a simple calculation, we determine that if we rent another venue and add the cost of the rental to the recital tickets, families would have to pay a minimum of $50 per recital ticket. BY HAVING OUR OWN STAGE AND KEEPING RECITALS IN OUR BEAUTIFUL VENUE, THE COST PER RECITAL TICKETS WILL STAY BETWEEN $12 - $15.
We need Your help!
We are asking for your donation to help our families fully enjoy their little dancers perform.
HOW A RAISED STAGE IMPROVES THE KIDS EXPERIENCE DURING A PERFORMANCE:
We hope that you will make a small donation to help our little dancers feel important and satisfied with their hard work during the semester. When they dance on a stage, they really enjoy the feeling of dancing like a real super star. It greatly benefits their self-esteem and teaches them how to perform in front of large audiences.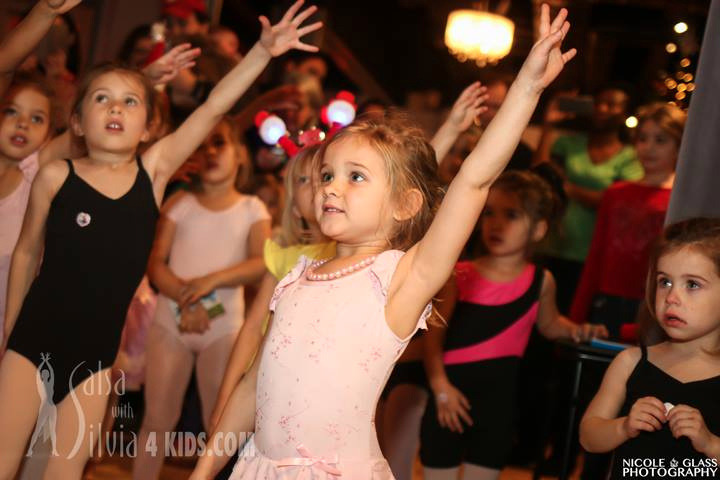 In this photo: Our recital events bring joy to the performing kids and teach them valuable social skills.
BENEFITS FOR OUR PERFORMING KIDS AND THEIR FAMILIES:
- We will raise the level on which the kids perform for a better viewing experience.
- We will continue to keep the ticket cost low by keeping the performances in our space and not renting an expensive venue.
- We will keep recitals at our beautiful fully equipped space where the kids will relax and perform their best in their own home Studio.
HOW DO WE SAY THANK YOU FOR DONATING
Any donation counts! If you can donate $40 or more, you get one of these awards:
- Get 4 adult classes ($60 value)
- Get 10% off your next enrollment for our kids semester classes.
To claim your award, please send us an email to tell us your donated and tell us your award choice. 
OUR GOAL: We are hoping to raise money to get a stage for our upcoming recital on June 10th! In order for us to custom order and receive the stage, we need to have raised funds NO LATER THAN APRIL 30th!
A small donation will go a long way! Turn your donation into children's smiles!!!
THE STAGE THAT WE'LL BE PURCHASING will be from a company called Stage Depot.
Click here
to view the desired stage. It will have hard wood finish for best performance results and maximum safety. It is a portable folding stage that we will store when we don't use.
WATCH THIS VIDEO TO SEE HOW WE APPROACH TEACHING OUR YOUNGEST DANCERS. Please make a donation to help us give them an even bigger joy by giving them a stage to perform on like the real super stars that they are!
We greatly appreciate your help! It means the World to us and to our Families!
+ Read More