Safe water for community in Uganda
$1,740
of $5,000 goal
Raised by
18
people in 12 months
Urgent need:
Access to healthy drinking water for orphanage, school, and the entire community, including four villagesDistrict of Kiboga, Uganda, East Africa
Dear friends,
First of all, I would like to thank each one of you to take some time out of your day to read my message. I hope it will touch and move you as much as it has impacted me to help make some voices heard all the way from Uganda, East Africa.
David Amrein, a dear old friend of mine, who I met when I was still living in Switzerland, told me the inspiring story about a work trip that brought him to Uganda where he met James Lukyamuzi, a young boy at the time, who had been living in an orphanage his entire life. James' parents both were killed by rebels during the Uganda war in 1986 - when he was only two weeks old.
David decided to be James' mentor, provided him with financial support, sent him to school and gave him the gift of an education. Years later, James returned to his village in the remote rural district of Kiboga, Uganda. The orphanage where he grew up no longer existed. James could have looked for a job in the city and allow himself to enjoy a more luxurious life but instead felt compelled to give back and help the many homeless and orphan children who were facing the same struggles he had to endure.
Raphael Gordon from England travelled to Uganda following his vision to assist another orphanage. During his visit there, James heard of him and went to see him. Together they discussed the idea of setting up an organic farm and the funding of a new orphanage in the village, which Raphael named "The Starlight Family". Raphael returned to the UK and raised funds to pay for land, tools and many other things. He impressed on James what good he could do with his life in simple ways for his village, which he soaked up like a sponge, and which shows what some good guidance and direction can achieve.
James with his committee decided to embark on the Starlight Junior School. A Starlight Family Facebook page was created and funds have been raised yearly for various projects.
Starlight Family currently provides free education for 265 children. The orphanage center is just big enough for 10 children at this time. An additional 4 orphans are living with James, his wife Alice and their baby daughter Nakaweesi. All the children in the orphanage are being cared for by caretaker mothers, including James' wife Alice and Janet Auma, an abandoned mother of two small children who found a safe haven with Starlight Family. James is hoping to take care of more orphans in the future, praying for a bigger home or the funds to build another house for the many vulnerable street children that still need shelter. Kiboga district of Uganda itself currently has 45,000 homeless and orphan children with a lack of housing, malnutrition, a non-existent or very poor health and education system, and an unsafe water supply. In Uganda 2.5 million children are orphaned, and a quarter of kids will not live to see their fifteenth birthday. They lack the most basic needs in life, especially the experience of a parents' love. Several orphanage centers and schools have been set up by individuals like James, who, after the war, wanted to help the many homeless and orphans as well as women and young mothers to make a change in their lives and give hope for a better future. A typical orphan home costs $ 40,000.- and houses 50-60 children. We are hoping to someday collect enough funds to build one.
Health seminars are held at the center, including workshops about various healths subjects like contraception, HIV/AIDS, Typhus, Malaria, etc.
The Starlight Family organic farm provides social and economic well being to the people in the community. It teaches youth groups and women the skills necessary for sustainable farming and agriculture. It is their main source of income.
James and his charity organization struggle with an unstable financial income and face challenges to fund all their projects and programs, including the school. It is a constant challenge to pay the salaries and wages for the teachers, caretakers, and famers as well as to meet the government policy to keep the school running. Yet James stays strong and believes that an education is a very important and powerful tool to break the cycle of poverty and that it will unfold opportunities for a better future.
A recent generous donation to Starlight Family provided an 8000 liter metal water tank to collect rain water. However, the entire community relies on a local spring water source which urgently needs renovating as its quality is not safe to drink anymore. Its stagnant water is contaminated with dangerous bacteria and parasites, and gets even worse during the annual drought season. It is the breeding place for mosquitoes and frogs. Last year a 6-year old girl from the Starlight Junior School died of Typhus fever and severe abdominal cramps because she drank water that hadn't been boiled. The lack of medical aid and transport system forced her and her care takers to walk to the closest medical facility which is 10 miles away. Half way there, the little girl passed away. A safe and healthy water well would be beneficial to the orphanage center, the school, the community, as well as to all the people who live in the four surrounding villages. A written request to the government of Uganda was denied with the reason that it has no funds to spare and is furthermore waiting for international aid to build roads and hospitals. James and the Starlight Family have to rely on private donations once more. James is in contact with local water engineers of his home district in Kiboga who would be willing to reconstruct the water well for $ 5,000.- vs. major engineering companies of the capitol which charge up to three times the amount. $ 2,500 as a downpayment would kick start the project with additional installments until completion.
Volunteers are embraced and joyfully welcomed to visit and learn about the community, lend a helping hand to the Starlight Family's teachers and students, the children and caregivers at the orphanage, the organic farm, participate in outreach programs, establish lifelong friendships and make everlasting memories.
I have been in personal correspondence with James and everyone whose name I have mentioned in my message. James is such a delight, so positive and uplifting! He is one of those beautiful and gentle souls who is a light to so many, with a passion to make a change. He is an invisible force to the world whose compassionate humanitarian work has touched and moved me. Let's help James help others! Let's help him expand his circle of friends and supporters so that he can reach out even further and accomplish his visions for the poor and the broken. We are blessed abundantly with so much - while others have so little. The beauty about helping James and the Starlight Family is that you can see where the money is being spent and know that any support directly helps. If you want you can visit and see with your own eyes or connect and talk with the people involved.
More information, photos and videos can be found on the website that the volunteers, long time supporters, and Starlight Family's board of trustees Nirvikalpini Nithya and Piero Capelloni from England set up for James and the Starlight Family. They have personally visited the orphanage charity organization in Kiboga, Uganda and continue to help in whatever ways they can.
http://www.friendsofstarlightfamily.org/about
http://www.friendsofstarlightfamily.org/family-friends
http://www.friendsofstarlightfamily.org/gallery
If you are able, any kind of donation is very much appreciated! Financial support, one time donation or monthly gift (even small amounts make a big difference), school and art supplies, educational and scholastic work books, toys and games, clothing, shoes, mosquito nets, medical aid / first aid kits, dental hygiene products, water filter straws (WATERisLIFE, LifeStraw), baby items, vegetable seeds, a flock of chickens or a cow, a bicycle, solar powered products, your time as a volunteer, your knowledge, talents, ideas, and connections, start your own fundraiser in your community/church/school, sponsor a child or enjoy pen pal friendships among your children and the Starlight children. Although most items are available at a limited variety in Uganda, especially the children get overjoyed when something arrives in the mail from someone who cares.
David is planning a visit to Uganda in June. If friends and family from Switzerland would like to donate items, he is happy to take them with him.
Financial donations can be made through GoFundMe or via Paypal on the Starlight Family website. I will personally transfer all the GoFundMe donations directly to James Lukyamuzi, Director of the Starlight Family Organization in Uganda. Furthermore I am trying to connect and partner up with a licensed international water charity organization. Should funds exceed our goal for the water project, you may rest assured that they will go towards education, a better standard of living or turn another project into reality to help the Starlight Family become self sufficient.
Mailing address:
The Starlight Family
James Lukyamuzi
P.O.Box 89
Kiboga - Uganda
East Africa
Connect  via e-mail:
James Lukyamuzi, Kiboga, Uganda, East Africa
lukyamuzij2006@yahoo.com


David P. Amrein, Switzerland
davidpamrein@gmail.com

Raphael Gordon, United Kingdom
raphaelstarlight9@hotmail.co.uk

Nirvikalpini Nithya and Piero Capelloni, United Kingdom
friendsofstarlightfamilyuk@gmail.com

We rise by lifting others. Please help share this message. Each one of us can make a difference, together we can make a change!
Thank you so much for your support, your kindness and generosity!
With love and best wishes from Portland, Oregon
Theres and Michael Iwanchuk-Germann
with Nicolas, Zoe and Yuri
and all the friends of Starlight Family
Theres.Iwanchuk@comcast.net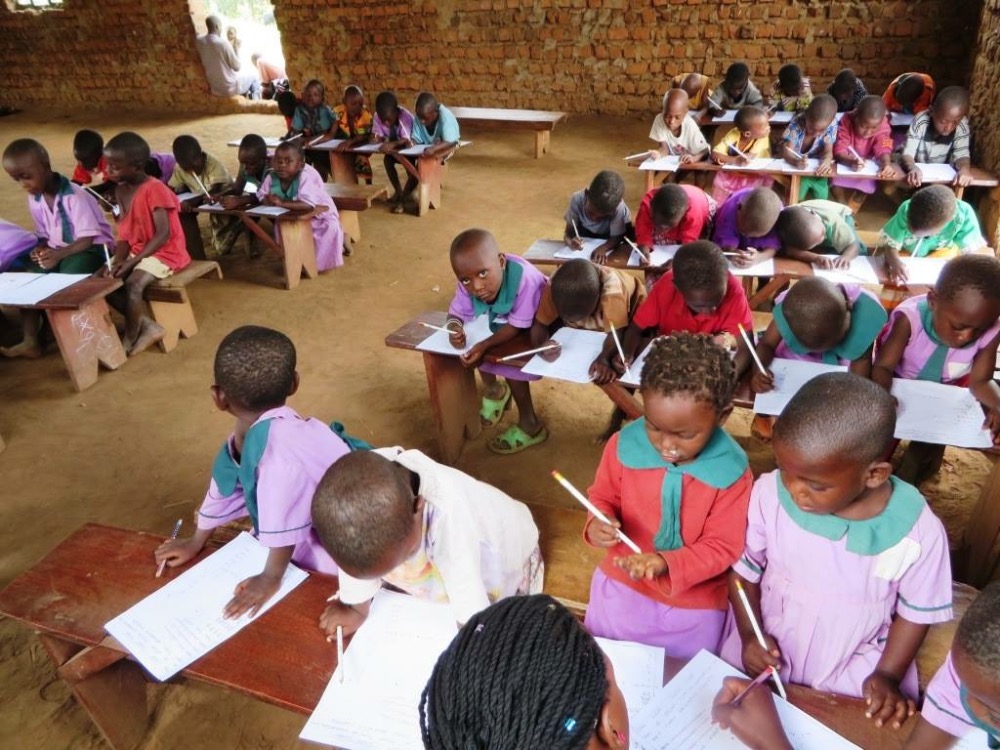 Water Filter Straws:
http://waterislife.com/clean-water/the-straw
http://lifestraw.com
Connect via Facebook:
Starlight Family - Kiboga-Uganda
https://www.facebook.com/StarlightFamilyKibogaUganda/
James Lukyamuzi
https://www.facebook.com/lukyamuzi.james
Theres Iwanchuk
https://www.facebook.com/theres.iwanchukgermann
David P. Amrein
https://www.facebook.com/david.p.amrein
Nirvikalpini Nithya
https://www.facebook.com/nirvikalpini.nithya
Raphael Gordon
https://www.facebook.com/raphael.d.light
Alice Namaganda
https://www.facebook.com/namaganda.alice.37
Janet Auma
https://www.facebook.com/Aumajan
+ Read More
Update 1
11 months ago
Share
Dear family, friends and supporters,
Today is World Water Day and I would like to express my gratitude for all the blessings in our life!
Thank you from the bottom of my heart to everyone who has shown interest in our campaign! Thank you for helping spread awareness and most of all, for your generous donations and support!
Our friends in Uganda are facing another outbreak of water diseases and severe health issues due to contaminated water that affects the community, especially the children.
Their spring water well needs urgent repair and rehabilitation.
We are currently in touch with the U.S. based water organization The Ugandan Water Project and are hoping to work out a plan to partner up with their expertise.
Our campaign has also been published to the Western Union Chain of Betters website and we pray to be one of the lucky winners to win some funds towards our project.
https://www.wu.com/chainofbetters/betters/access-to-safe-drinking-water/
Each one of us can make a difference - together we can make a change.
Every drop counts.
Thank you again for your continued support!
With best wishes,
Theres Iwanchuk
and friends of Starlight Family
Those who refresh others will themselves be refreshed. ~ Proverbs 11:25
+ Read More
Be the first to leave a comment on this campaign.