Recovery for Rudi & his Family
$19,352
of $1 goal
Raised by
259
people in 8 months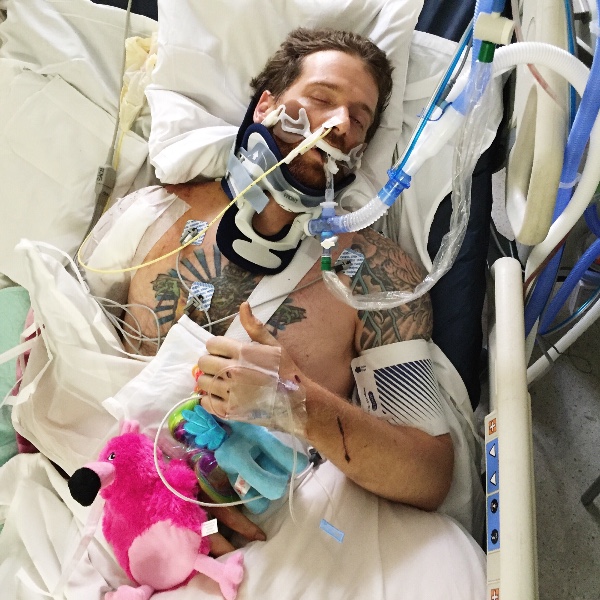 Hello.
I am Nikolaus Jung, Rudi's twin brother. Rudi and I were enjoying our last day of a two week long trip on our vintage BMW Airhead motorcycles on August 10th when everything changed abruptly. We were riding with a family friend for a quick little day ride south of Lake Tahoe, when a deer unexpectedly jumped in front of Rudi's bike; the exact details of the collision and series of events that followed remain a blur. With us by his side, the paramedics arrived and due to the extent of his injuries made the decision to airlift Rudi by helicopter to the nearest Trauma Center Hospital in Reno, NV. Today, he is recovering from the following injuries:
· Grade 2 Liver laceration/tears requiring frequent blood draws to monitor for bleeding
· Severe bruising to the lungs requiring a machine to assist with his breathing and a feeding tube for food
· Collapsed lung requiring a chest tube to drain out fluid
· Compound fracture to right lower leg, needing surgical repair
· Broken right humerus (upper arm) with shoulder injury pinching the nerve that provides sensation to his right finger tips. Surgical repair will hopefully free the nerve and return sensation to his fingers. Possible nerve reconstruction if mobility doesn't return.
· C7 and T11 vertebrae fractures that are non-operable and will require Rudi to wear a neck brace and back brace for several months of healing
· Fractured pelvis
· 4 broken ribs
· Numerous blood transfusions
He was wearing a full face Arai helmet and Aerostich riding suit which not only helped to save his life, but minimized any more injures.
Thankfully, Rudi is now medically stable and remains strong and in good spirits. However, the journey ahead will not be an easy one. We are asking for any assistance. We appreciate your willingness to give. Thank you for being part of Rudi and his family's journey to recovery!
The gifted money will go to Rudi and his family and will help cover costs associated with the accident such as, physical therapy, rehab, travel, as well as living expenses while unable to return to work. I will be managing and taking care of gifted money the has been raised through Gofundme.
Thank you!!!
Nikolaus Jung
+ Read More
I really liked hearing his update. Would like to keep hearing more updates. God Bless Rudi
+ Read More
Rudi.....you look great!....I just noticed this pic of you sitting up and that was 5 days ago! I'll be tuning in for more visual updates, OX, Jenney
+ Read More