Will Russ Jr. needs our help!
$5,780
of $14,000 goal
Raised by
84
people in 45 months
Our Dear friend Will Russ Jr. needs our help, Love and Support!
It is hard to say why bad things happen to good people. If you know Will, you know what a very special man he is. Not only is he incredibly talented. He is also one of the kindest, most grateful and humble people I know.
A few weeks ago,  while Will was in the middle of finding a new place to live along with packing for his European tour.  Will was bitten by a Brown Recluse Spider.  At the time I don't think Will had any idea or knew what was in store for him.  Although he was in excruciating pain, Will kept it moving,  he did all  his shows ,  all the time thinking, he would be off on tour.  Many of us witnessed the unbearable pain Will was in at his show the Friday before he went into surgery,   it was no joke and I think we all feared what was to come.  
A week ago Sunday, Will underwent surgery to remove the flesh eating bacteria and a good portion of his skin had to be removed in order to stop if from spreading. Will is currently in the hospital and his recovery will take some time..
Still in need of finding a new place to live and now without tour funds to do so, Will is now faced with a huge financial challenge,  we fear this is making things hard on him at a time  when we only want him focused on healing,  so he may return to doing what he loves. Entertaining all of us. We do not know how long Will's recovery will take,  we need your help!  Please help if you can.  The money raised will be used to obtain a place to live along with living expenses during the recovery period.  Also please share this with your friends so we can get the word out to as many as possible.
Thank you for the love,
Pamela Banks, & Keri Solorio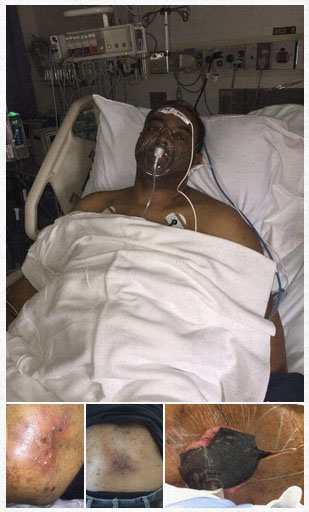 + Read More