31
2
RSA /Chats errants en mauvais état
$1,709
of $2,900 goal
Raised by
33
people in 4 months
*** An English message will follow ***
Au 
Réseau Secours Animal
, nous abritons des centaines de chats par année. Nous les soignons, les stérilisons, les vaccinons, les aimons et travaillons à leur trouver une maison pour la vie.
Le refuge ne pratique aucune euthanasie à l'exception de la présence de conditions médicales incurables et altérant la qualité de vie de l'animal de façon inacceptable.
Notre politique est de soigner tous les problèmes de santé qu'il est possible de traiter sans que la qualité de vie de l'animal ne soit compromise. Conséquemment, nos factures de soins médicaux sont très importantes et le Réseau Secours Animal est un organisme sans but lucratif ne recevant aucune subvention ni aide gouvernementale.
Malgré tout ça, nous avons la volonté d'aider des animaux dans le besoin, même si la note risque d'être élevée
. Dernièrement, nous avons accueilli plusieurs chats mal en point
et nous demandons votre aide pour que l'on puisse les soigner, mais également pour que l'on puisse continuer d'accepter ces pauvres minets qui n'ont aucune chance dans la rue et dans la plupart des centres animaliers. Aidez-nous à aidez les chats errants blessés.
 Voici quelques uns de nos minous et leur histoire.
Vercingétorix

Vercingétorix vivait dehors dans des conditions difficiles. Une famille montréalaise a voulu l'aider et l'ont rescapé avec 4 autres chats. Après les avoir fait stériliser, vermifuger et les avoir sociabilisés de leur mieux, ils ont tenté sans succès de les faire adopter. S'occuper d'autant de chats s'est avéré plus couteux que prévu pour cette famille bien intentionnée. Aussi, quand Vercingétorix est tombé malade, la famille avait épuisé ses ressources financières et s'est donc tournée vers le refuge afin d'obtenir de l'aide.
Vercingétorix a été vu par le vétérinaire, qui lui a trouvé de très grosses pierres à la vessie qui ont nécessité une intervention chirurgicale. Vous pouvez voir les pierres sur la photo.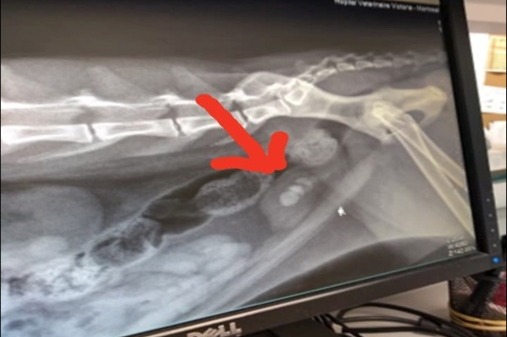 Ensuite, le gentil Vercingétorix est revenu au refuge où il peut bénéficier des bienfaits de notre programme de socialisation et sera, on l'espère, rapidement adopté !
Les coûts vétérinaires pour ce minet se sont élevés, pour l'instant, à 900$. 
 Octave
Octave est un chat noir qui errait depuis plusieurs années dans Hochelaga-Maisonneuve. Depuis un certain temps, il boitait énormément et ses pattes arrières étaient croches comme si elles avaient été cassées. Il n'allait pas survivre l'hiver. Une dame a mis des affiches sur différents groupes pour lui trouver une maison, mais sans succès. Elle nous a donc contacté. Ce fut tout un défi, mais après plusieurs jours, Octave a enfin été trappé!  Finalement, Octave n'a aucune fracture. Il souffre cependant d'une très importante arthrite qui a déformé les articulations de presque toutes ses pattes.
Il est mal en point… Des examens vont être faits pour voir si on peut trouver une cause traitable à cette arthrite. Ce que l'on peut vous promettre, c'est qu'Octave ne connaîtra plus jamais l'errance, ne passera pas l'hiver au froid et est vu par des vétérinaires extraordinaires.                                                                                                                                                                   
Les coûts vétérinaires pour ce minet se sont élevés, pour l'instant, à 1000$. 
Kahleesi
Voici la petite Khaleesi. Elle avait trois mois environ sur cette photo. Elle est arrivée au refuge avec un oeil crevé. Pauvre bébé.
 Nous l'avons amenée à l'Hôpital Vétérinaire Victoria, qui lui a enlevé son oeil. L'opération s'est bien passée et Khaleesi a été adoptée!
Une fin heureuse comme ça, c'est ce qu'on souhaite à tous les minous. Mais pour les aider, nous avons besoin de votre aide!
Les coûts vétérinaires pour Khaleesi se sont élevés  à 1000$. 
Comment faire un don pour venir en aide au refuge?
Si vous faites un don de 500$ et plus, l'une des 24 cages de notre salle d'accueil aura une petite plaque à votre nom ou au nom de la personne (chat?) de votre choix! Vous pouvez faire un don sur cette plateforme.
Si vous désirez
un reçu fiscal, nous vous invitons à faire votre don ici : 
https://www.reseausecoursanimal.org/comment-aider/faire-un-don/
Par chèque:
Réseau Secours Animal 
Casier postal 32203, Station St-André 
Montréal (QC) H2L 4Y5
Merci merci merci!
(Organisme de charité 88486 5767 RR0001).
At the
Animal Rescue Network
, we shelter hundreds of cats every year. We treat them, sterilize them, vaccinate them, care for them and work hard to find them a forever home.
The shelter does not condone euthanasia except in the presence of incurable medical conditions affecting the animal's welfare unacceptably.
Our policy is to treat all health problems that can be treated without compromising the animal's quality of life. As a result, the medical bills get very high and the Animal Rescue Network is a non-profit organization that receives no subsidies or government assistance.
Despite all this, we are committed to help animals in need, no matter the financial cost.
We have recently welcomed several unwell cats and we ask for your help so that we can treat them, but also to ensure that we can continue to accept unfortunate cats who have no chance to survive in the streets nor in most animal centers.
Please help us help injured stray cats.
Here are some of our cats and their stories:
Vercingétorix
Vercingetorix was living outdoors in harsh conditions. A Montreal family wanted to help him and rescued him along with 4 other cats. After having them sterilized, dewormed and socialized to the best of their ability, they tried unsuccessfully to have them adopted. Taking care of so many cats proved more expensive than expected for this well-meaning family. Also, when Vercingetorix became ill, the family had exhausted their financial resources and turned to the shelter for assistance.
Vercingetorix was seen by the veterinarian who found very large stones in his bladder that required surgery. You can see the stones in the picture. 
Then, the sweet Vercingetorix returned to the shelter where he can enjoy the benefits of our socialization program and where he will hopefully be quickly adopted!
The veterinary costs for this kitty have so far amounted to $900.
Octave
Octave is a black cat that had been wandering for several years in Hochelaga-Maisonneuve. He had been limping a lot for a while and his hind legs were crooked as if they had been broken. He wasn't going to survive the winter. A lady put up pictures on different online groups to find him a home, but without any luck. She then contacted us. It was quite a challenge, but after several days, Octave was finally caught!  As it turned out, Octavian had no fractures.
However, he suffers from severe arthritis that has deformed the joints of almost all his legs. He is not in good shape. Exams will be performed to see if we can find a treatable cause for this arthritis. What we can promise you is that Octave will never be homeless again and that he will not spend the winter in the cold again. Also, he is being seen by extraordinary veterinarians.  
The veterinary costs for Octave's treatments have so far amounted to $1000.Kahleesi
This is little Khaleesi. She was about three months old in this picture. She arrived at the shelter with a permanently damaged eye. Poor baby.
We took her to the Victoria Veterinary Hospital, where her eye was removed. The operation went well and Khaleesi was adopted!
A happy ending like that is what we hope for all our cats, but to help them, we need your help!
The veterinary costs for this Kahleesi have so far amounted to $1000.How can you make a donation to help the shelter?

If you make a donation of 500$ or more, one of the 24 cages in our reception area will have a small plaque with your name on it or the name of the person (cat?) of your choice!You can make a donation on this platform.
If you want a
tax receipt, we invite you to make your donation through this link:
https://www.reseausecoursanimal.org/how-to-help/make-a-donation/
By check:
Animal Rescue Network
C.P. 32203, Stn St-André 
Montreal (QC) H2L 4Y5
Thank you thank you thank you!
(Non-profit organization 88486 5767 RR0001).
+ Read More
Update 1
2 months ago
Share
*** En English message will follow***
Bonjour à tous,
Nous avons des nouvelles d'Octave, l'un des chats maganés qui est arrivé au refuge cet automne. Nous avons amassé jusqu'à maintenant 1059$ pour cette campagne, ce qui couvre les frais pour Octave. Si cette vidéo vous touche, partagez cette campagne. C'est important pour le Réseau Secours Animal d'aider plus de chats comme Octave mais nous avons besoin d'un coup de main. Et si jamais vous êtes touché par Octave et que vous aimeriez le parrainer, cliquez ici :
https://www.reseausecoursanimal.org/comment-aider/parrainage/
Merci à tous!
/// Hello everyone,
We have good news to share with you about Octave. This video is in French but you can see that this 15 years-old kitty is doing just fine. When he arrived at the shelter, we thought he was not socialized. He didn't like to be touched and seemed frightened. But Octave was actually in pain... With his medications and treatment, his personality changed and he became this lovely cat. If you are touched by his story, please share this campaign. We raised 1059$ so far which covers the vet fees for Octave but we want to help more cats like him. To do so, we need your help! Also, if you are particularly touched by Octave, it is possible to sponsor him here :
https://www.reseausecoursanimal.org/how-to-help/sponsorship/
Thank you for everything!
+ Read More