5
12
RoboRunners VEX IQ Robotics Team
$370
of $3,500 goal
Raised by
4
people in 12 months
We are the RoboRunners VEX IQ Robotics Team 1313, a competitive VEX IQ robotics team based in Traverse City, Michigan. The RoboRunners are made up of boys and girls in 4th through 8th grade.

Our elementary team is the current Michigan State VEX IQ Teamwork Champions and recipients of the Excellence Award (highest award). We finished 16th in the world at the 2017 VEX World Championships in April.

We are fundraising for our 2017-18 season! 

A little more background on our team:
• In 2015, the RoboRunners began with one elementary team and a dream.

We were the only competitive VEX IQ Robotics team in Northern Michigan for the 2015-16 season.

Our team traveled downstate to compete with veteran VEX IQ Teams, and had a fantastic year.

After a lot of hard work and practice, the team won both Programming Skills and Driver Skills at the 2016 Michigan State VEX IQ Championships and were invited to compete at Worlds. 

We placed ► 18th ◄ IN THE WORLD at the 2016 VEX World Championships -- a Guinness World Record breaking event for the largest robotics tournament ever held. It was awesome and very inspiring!

• In 2016, we added a middle school team because two of our team members were no longer in elementary school. Both the elementary and middle school teams qualified for and competed in the 2017 Michigan State VEX IQ Championships. The elementary team won the top two awards: Teamwork and Excellence. The middle school team also did extremely well... one more point and they would have had the Teamwork win.

Our elementary team once again qualified to compete on the International stage at the 2017 VEX World Championships in April 2017 in Louisville, KY, along with the top 300 VEX IQ robotics teams from around the world.

Results? We did even better than last year and placed ► 16th ◄ IN THE WORLD at the 2017 VEX World Championships!

☼ Amazing!! ☼

The RoboRunners were honored for their accomplishments by the National Cherry Festival this summer, and were asked to be the Grand Marshal of the Junior Royale Parade.

What an amazing experience! 


[RoboRunners Team 1313 - 2017 Cherry Festival Junior Royale Parade Grand Marshal]


[RoboRunners 2017 elementary school team at States]


[RoboRunners 2017 middle school team at States]

Our 2017-18 robotics season has begun and we're hard at work on our robots and strategy for the new VEX IQ game, Ringmaster.

We're on track to have an even better 2017-18 season and would love your support. 

Our season costs add up fast!

The 2017-18 basic team expenses are around $3,500.

This amount covers our team registrations and qualifying event costs, as well as equipment costs (new game elements, replacement batteries, etc.).

The basic team expenses don't include travel, hotels or food for our out-of-town qualifying competitions, or the costs of attending States or Worlds for our six RoboRunner families. We'll cross that fundraising bridge when we get to it!

----------------
How can you help us?

We would appreciate any amount that you're able to contribute to help support our team. 

If you aren't able to contribute right now, that's OK too! We'd love for you to share this fundraising campaign with your Facebook friends or just leave an encouraging comment for the team.
----------------

Here are some of the highlights from our recent season:


[Gino and Lillian excited after a qualifying win]


[Valerie and Gabe can't believe that they balanced!]


[Austin and Lillian - he's concentrating & she's jumping excitedly!]


[RoboRunners teams paired up: Gabe, Valerie, Jack and Gino]


[Whitman working hard on a programming run]


[Valerie and Lillian at VEX Worlds 2017, with Andrea Suarez from BattleBots]


[We made it to VEX Worlds 2017!]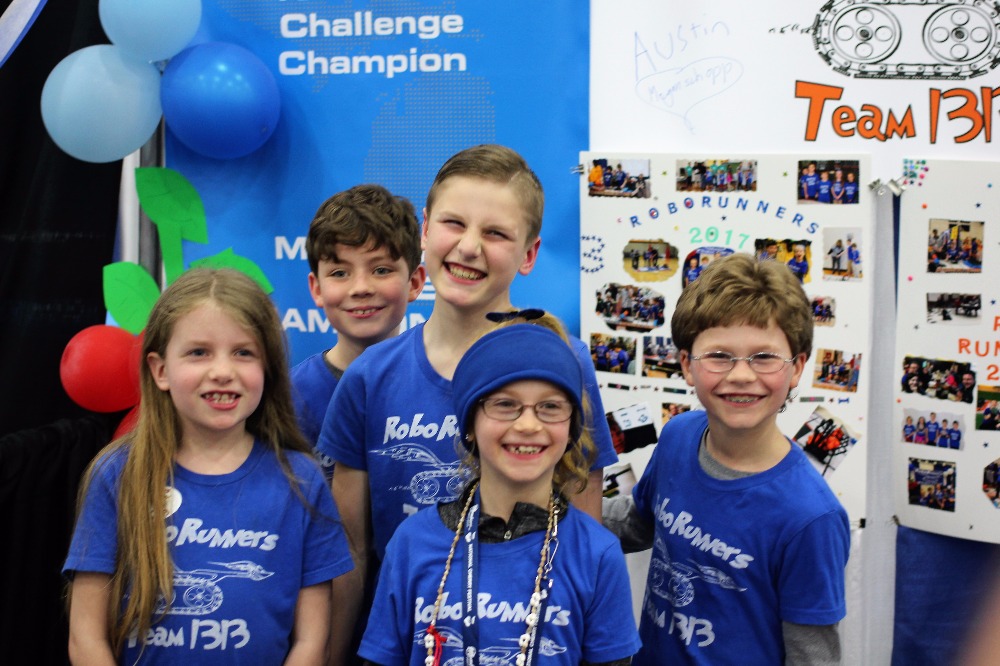 [Elementary team at VEX Worlds 2017]

→ Visit our website

→ Find us on Facebook


Thank you for your consideration,
2017-18 RoboRunners Teams
Elementary: Lillian, Gino, Jack, Megan and Madelyn

Middle School: Austin, Valerie, Gabe and Whitman

----------------
Who am I? This GoFundMe is organized by Bridget Gilligan. I am the mother of two of the RoboRunners team members: Austin and Lillian. My husband John is the team mentor.
+ Read More