Robbie's Story
$

4,550
of $10k goal
Raised by
90
people in 29 months
This is our 5 year old son Robbie. He is the happiest, sweetest & most compassionate kid I have ever known, and loves being a big brother. Anyone who knows him will tell you how thoughtful, creative, and energetic he is.

Some of his favorite things include soccer, computers, video games, picnics, playing at the park, and riding his bike. He also loves hanging out with his little brother, Austin.

About two months ago, Robbie came home from a field trip with a small bump on his right arm. It was no larger than the width of a quarter, and we thought he might have got hurt while playing, or injured in some way. After noticing it didn't bruise, or change color, we took him to the pediatrician and she prescribed some antibiotics to see if it would help. It did not. We were then referred to a pediatric surgeon to see if it could be removed. He ordered an MRI and x-ray of it, and sent us on our way. We completed these procedures and was then referred to yet another surgeon who ordered a biopsy. By this time, the growth was now the size of a golf ball, just poking out of his arm. During the visit for the biopsy, my son developed a severe phobia of needles via an overzealous nurse, which is making current medical treatments difficult. Here he is right after biopsy:




A week later, after the biopsy results came back, they were still unsure exactly what it was. We were then referred to Moffat cancer center in Tampa to meet with yet another surgeon. We went up there expecting Robbie to be admitted and to get treatment started. Unfortunately that wasn't the case. They said they were still waiting for results from a third party they had sent my sons biopsy slides to, and weren't going to do anything about it until they got those back. The entire conversation was one excuse after another why they should delay it. Needless to say we were less than pleased, but thought we had no other choice but to wait.

At this point my son is now having some slight pain and has lost some range of motion in his arm.

We waited several weeks, each week calling several times to see if there had been any update. I was told that they were still waiting on the results. Getting desperate and frustrated I contacted the facility that had performed the biopsy and they received the results back from the third party several days ago.

Needless to say I was furious, and contacted the doctor to find out why he was unaware of this. I obtained the reports and sent them over to him. I also sent him this picture of my sons arm to show him how much it had grown since we last saw him:
(photo removed by gofundme)


The next time we spoke, he said there was nothing he could do and referred us to Miami children's hospital.

By this time, the mass is so large that its causing him severe pain and muscle cramps from the weight of it. Over the counter pain medication doesn't offer much relief.


This was also the same week I lost my job, and health coverage.


My wife and I contacted the hospital, but when trying to verify our insurance, it was already canceled.

Another week or so goes by. Robbie is waking up in pain at all hours of the night. Sometimes in too much pain to go to school the next day. Its gut wrenching to watch your child suffer and not be able to ease their pain.

We were desperate and not sure what to do. Luckily we were able to get him added to my wife's insurance policy at her work, and we have finally got him admitted into Miami Children's hospital which is much farther than we've gotten before. They diagnosed him with Fibro sarcoma.

Its a wonderful hospital, but it is also about 30 miles away from where we live. Traveling to and from there every day, plus parking fees, as well as trying to maintain the household expenses, and care for our second child has taken a deep toll on what little savings we had left.

It is with a humble heart that my family and I ask for your help. Anything at all you can spare would mean the world to us, as we are hanging on by a thread financially. At this point we are focusing all of our time, energy and efforts on getting our son better, and would be forever grateful for any kind of help you are willing to give.

Thank you so much for reading this, and please keep us in your thoughts and prayers.

God bless.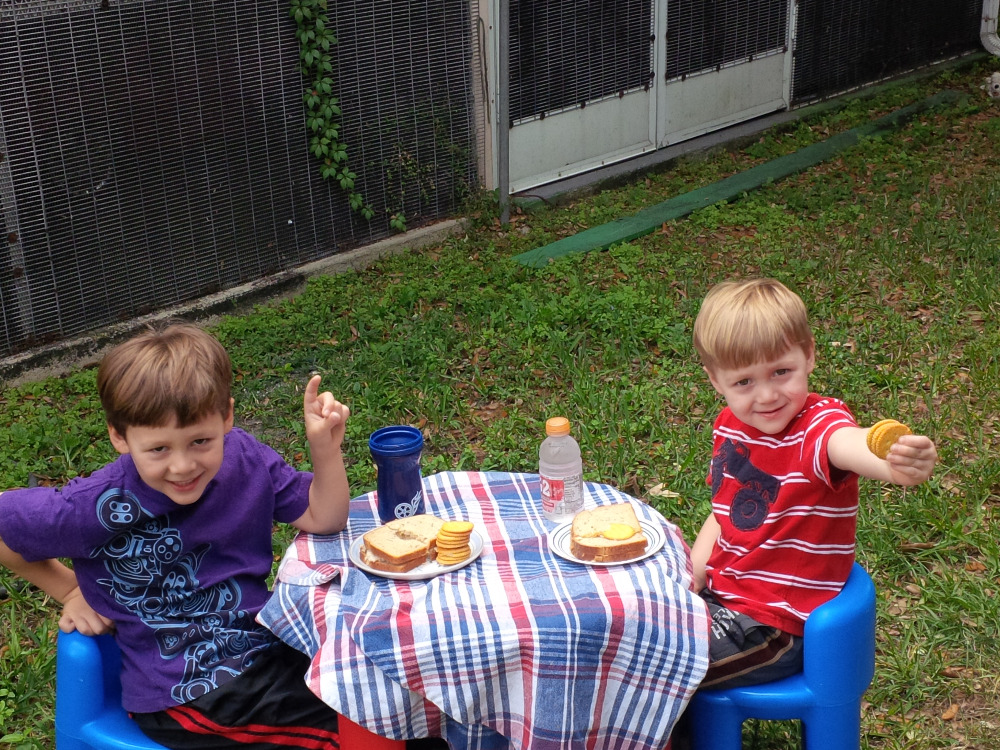 + Read More
Hello everyone,
I know it has been awhile since we've posted an update, but I wanted to let all of you know how Robbie is doing. He has completed 3 more rounds of chemo and seems to have come through them with flying colors. The tumor in his arm has become nearly invisible, and we have scheduled surgery for Aug. to remove what is presumably the last piece of dead tissue inside the arm. His spirits are high and he seems to be making a complete recovery. We are praying they will give him a clean bill of health after the surgery is completed.

I have recently started looking for work again, feeling more comfortable with his progress, but the process is slow.

It is with a humbled heart that I once again ask for your love and support to help us on what is hopefully the last leg of this emotionally grueling journey in hopes we can begin to rebuild our lives again once all of this is finally over.

I want to thank each and every one of you for your compassion, generosity and selflessness. You have each played a huge role in my son's recovery and I cannot possibly thank you enough for what you have done.
Thank you!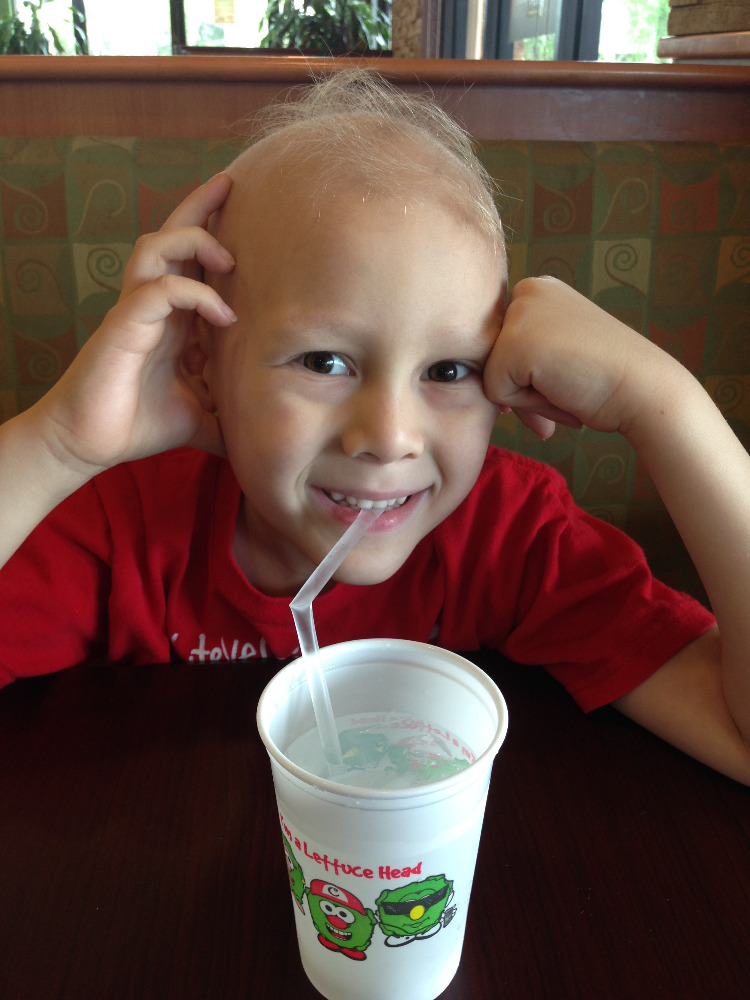 + Read More
THANK YOU! I want to thank each and every one of you who has helped support us during this difficult time. I am absolutely astounded by the outpouring of support, and it has completely restored my faith in humanity. Your donations have allowed us to keep the lights on and survive so we may help our son fight cancer yet another day. It would have been impossible for me to visit my son in the hospital without your support. Words cannot express my deepest gratitude and appreciation for your kindness, love, and generosity.

It has been an extraordinary busy last few weeks for us, but I wanted to get an update out to everyone who has helped us.

Robbie was released from the hospital last Thursday, to come home and get some rest. Because his immune system is suppressed from the first round of chemo, a fever of any kind can be life threating. He was doing great for a couple of days, slowly regaining his appetite, and strength. Much of the pain caused by the mass has subsided, and it does appear there was a small reduction in the size of it. It brought us much hope to see these types of results so soon.

On Saturday night Robbie started to develop a fever and was warm to the touch. We were told anything above 100.4 we would need to call and possibly take him in. We took his temperature every thirty minutes for the next hour and a half, noticing it rise a little more each time. After the third time we decided to take him to the pediatric ER. They were able to bring his fever down and started him on antibiotics treatments, and he seems to be doing better, but still dislikes being stuck in the hospital.
Also it looks like they want to keep him there for the rest of the week at least, which means we'll be traveling back and forth again. My only hope is that they can get him healthy enough to come home again before his next chemo treatment.

So that's where we are today. I will try to keep this page updated as often as possible to let you all know how he is doing. Again, thank you all for your prayers and well wishes, as I know they have really helped all of us a lot.

Thank You & God Bless.

+ Read More
Read a Previous Update
Help spread the word!
 570 total shares