160
104
Keeping Rebekah Alive
$5,493
of $10,000 goal
Raised by
166
people in 20 months
CALLING ALL HEROES...
Rebekah in the Miami Herald:
https://www.miamiherald.com/living/wish-book/article221898290.html
Rebekah in the Star Advisor (Honolulu Newspaper): 
http://www.staradvertiser.com/2018/09/28/hawaii-news/lee-cataluna/lee-cataluna-simple-gift-involves-many-hands
My daughters name is Rebekah and we are going through a hard time.  If you can imagine going through life having to plug your nose and breath through a straw then you will have an idea of what life is like for Rebekah everyday.  Rebekah's lung arteries are constricted and the oxygen can't get through sufficiently.  Life for me, as her mother, feels like standing in the a hallway that is collapsing on all sides and trying to hold the ceiling, walls, floor open with my arms and legs. I am always in a war to open up her arteries and it is no easy thing.  It is the hardest thing in the world to have to watch your own child suffocate and to live in a sea of oxygen that is not accessible to her. 
My daughter has a terrible disease called Pulmonary Arterial Hypertension.  The name does not sound "very serious" but it is actually a devastating disease of suffocation .....which is progressive and for which there is currently no cure!  A picture is worth a thousand words so please look at the picture below to get a better understanding of what the arteries in Rebekah's lungs have succumbed to :
Even though this is a lung disease most patients with this disease end up dying of heart failure.  We have had two heart surgeries (ASD + Potts Shunt)  to preserve Rebekah's heart and buy her time. 
This doesn't resolve the underlying problem of lung disease.  Rebekah's lungs have progressed to the late stages of this disease (there are 5 stages of this disease and she is currently a 4).. Her lung arteries are constricted and she, consequently, has trouble getting oxygen.   Everyday I work diligently and vigorously to preserve Rebekah's lungs through every method that is available to me-- driving down the inflammation in her lung arteries, keeping her blood thin and with plaque,  and extremely potent vasodilators.  Until there is a cure all I can do is treat the symptoms and I do this by hitting back at every angle possible. 
There are several scientist working on a cure.   Generally, it takes 7 years for a drug to get through the phases of testing to be "FDA approved" but in 2018 the "Right to Try" bill gave patients with a terminal illness the "Right to Try" -- drugs that have passed Phase 1 of testing. Phase 1 is the safety phase. So once a drug is proven to be safe then patients with terminal illnesses can have "access." However everything has to be paid for out of pocket. 
Other than that I spend many hundreds of dollars every single month just on supplements that drive the inflammation down in her lungs.  I have to purchase these to keep Rebekah going, whether I have money or not, so I am always several thousand dollar in debt. 
We are extremely lucky to live in 2019.  A decade ago there were no treatments for this disease and patients died within 2 years.  Now we have many treatments and so many people working on new treatments, new innovations and technology, and a permanent cure for this disease.  It is a very hopeful time to be alive for which I am so grateful. 
But at the current time I am still fighting with everything that I have inside me to keep my child alive everyday until a permanent cure is found.  The average life expectancy for this disease ***with the current treatments available*** is  5 years .... and we are now in the 6th year! BH! Every day that my child is still alive is the best day of my life and I am grateful. 
REBEKAH'S HEROES 
Bikur Cholim-- Famous Israeli singer Gad Elbaz visits Rebekah.  What a tzaddik! 
A Bikur Cholim -- Musician Jeremy Gaisin and  Comedian Moshe Kopstick.  They did such a wonderful, wonderful mitzvah for Rebekah that will always be treasured. 
With Kyra Gurney,  a reporter for the Miami Herald
Rabbi Yochanan Klein of the wonderful, wonderful organization "Healing Hearts" has done so much for Rebekah! 
Rebekah and her favorite doctor-- Dr. Allison from the PICU <3 She gave Rebekah CPR and saved her life. 
With sister Anna who has been the most sacrificial sister on the whole entire planet. 
Our wonderful  Jewish Anesthesiologist who sang, "Dreidel, Dreidel, Dreidel" as he was taking her back and proclaimed, "BARUCH HASHEM" when he brought her back. It is terrifying to go under and he gave me great great assurance that he would take extreme measures of care with her life. 
Our wonderful case workers Sherry and Gaile who have done so much to advocate for Rebekah and to get things done for Rebekah. They really know how to cut through the red tape.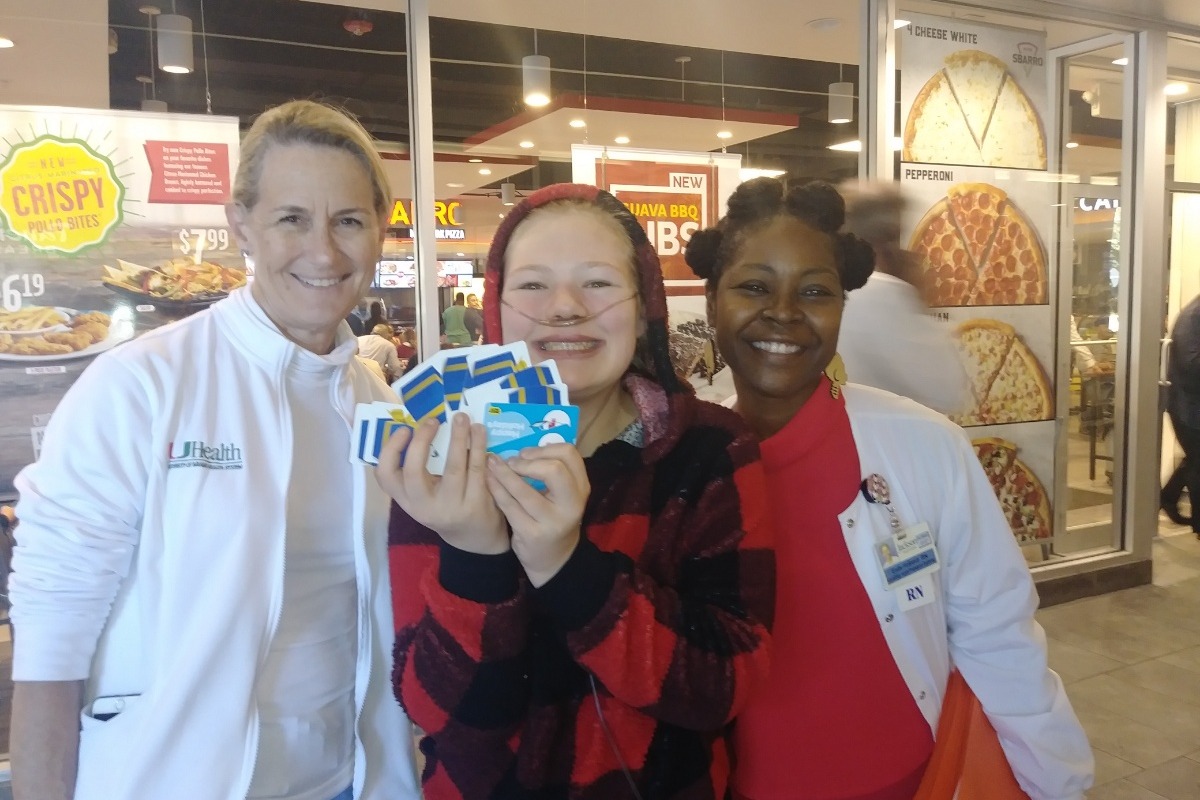 Rabbi Klein brings Rebekah something sweet for Rosh Hashanah. If you notice, they are both wearing candy bracelets. 
Another picture with Gad Elbaz.....  Israel's most famous singer. He is a really really great guy.  Aside from being famous he is just a really good person. 
Rabbi Klein arranged for an Alligator to be brought to the hospital and then we snuck Rebekah out to see it. lol. 
Rebekah had a dream of getting to see a "real alligator" and Rabbi Klein went ALL OUT to make it a reality. He is such a wonderful man and a wonderful rabbi that devotes his whole entire life to taking care of sick children. 
Having Chinese with "Edelstein the Mensche from Atlanta" -- he went ALL OUT to take care of Rebekah while we were in Atlanta. 
The St. Louis Blues Hockey Team came to visit while we were in St. Louis.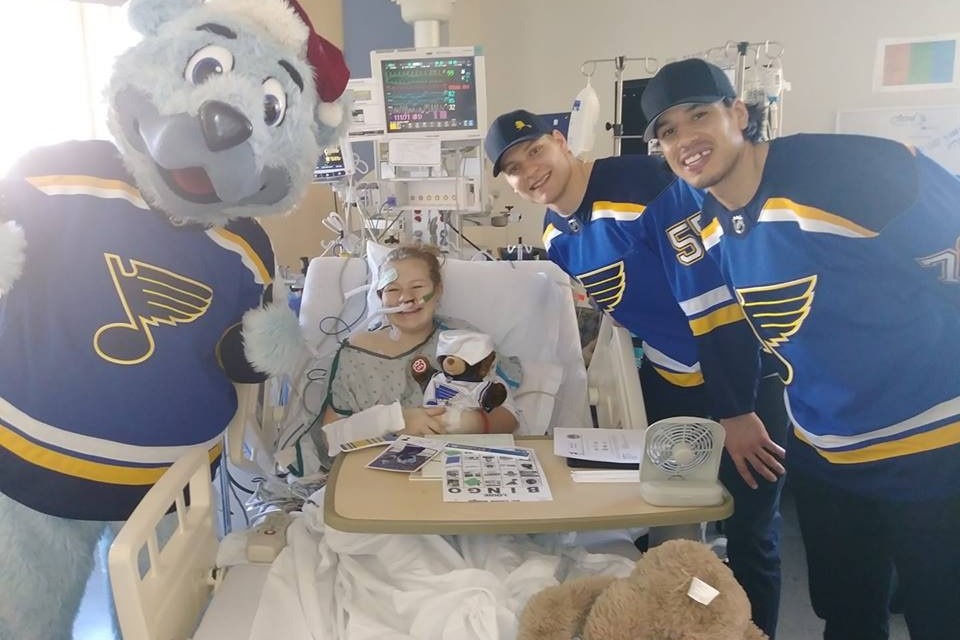 Dr. Grady,  a wonderful doctor who is one of the few doctors performing Pott's Shunts to try to keep these PH kids alive longer. He is a great doctor. 
REBEKAH FIGHTING FOR LIFE
Epinephrine. Rebekah put in the fight of her life to stay alive this night.
Blood Transfusion
Nuclear Testing
Sometimes it is just so hard
Nausea 
When Rebekah is incapable of breathing on her own
Recovering from heart surgery
Many tears
"Bad days" ... when it seems it will never end
Growing up in Hospitals
The BiPAP machine has literally kept Rebekah alive on more than one occassion
knitting 
There were some days when all seemed hopeless but HASHEM saw us through and has given us so many miracles.
Rebekah often spends many weeks on forced oxygen until she can breathe on her own again.
So nice when the nurses come in to do the kids hair.... because other wise they get bed head and a giant mass of tangles. 
EVERYDAY LIFE
Temple Moses 
Rebekah's 17th Birthday-- Every year is a miracle and something to celebrate
The Florida Gators... Rebekah is a fan!
Rebekah made it on to the Front Page of the Miami Herald! 
Hanukkah in St. Louis. We go all out.
Rebekah made 3 dollars recycling boxes! It feels so good to save the planet!
Purim
Down at Holtz Children's Hospital
Rebekah with uncle Ari.... (painted in the backround lol).
Visiting the Holocaust Memorial in Miami Beach
Holocaust Memorial of Miami Beach
SLOTHS 
Rebekah is an Avid Sloth collector.  The sloth is her spirit animal since she also has to do everything very slow due to the fact that she can't breathe and her heart and lungs over work 24/7 without a break. 
If you would like to contribute "anything sloth" to Rebekah's sloth collection it would really make her day.  Her address is the following:
Rebekah Lewis
P.O. Box 415606
Miami Beach, FL 33141
If you would like to contribute to Rebekah's DREAM of owning a real sloth:
https://www.gofundme.com/makeawish-sloth-poodle-fund
  (saving life comes first but this is Rebekah's little dream). 
A new baby for the collection
Rebekah's "support group" that we pack up and drag along to appointments. 
Mr. Sloth accompanying us to Kohn's Kosher Deli.
A hospital bed full of sloths.
Sloth Slippers!
There is her support group again
--SPECIAL THANKS--


Special thanks to Rabbi Dovid Kaplan who has stood with me through all the tremendous turbulence through so many years and always been consistently there to give me hope and to help Rebekah in every way possible and too many ways to even count. He is the best Rabbi in the whole entire world. 
REBEKAH THE HERO
This is a picture of Rebekah when she was a tiny thing wearing my bunkers... before we ever knew she was sick and when life was "just normal."  She is my biggest Hero. I have had to watch her suffer every day for 6 years, lose freedom, lose friends, loser her childhood. I have never seen anyone endure so much or fight so hard to stay alive.  She is a good girl and she never deserved any of it. Infact, I can't think of anyone less deserving all this suffering.  I am blown away and amazed by her everyday.  I think she has gone through everything that a person really go through and everything a person will go through in an entire life time..........   before she has ever even become an adult.  Thank you to everyone who has valued her life and the immense amount of our pouring that has gone into helping her stay alive! Life is such a precious, precious gift. 




ALL FUNDS are deposited into a  Third-Party Special Needs Trust in the care of a third party.  Medical equipment, Medications, Treatments are purchased directly by Third party.  Rebekah/Rebekah's caregiver do not have any direct access to funds. They do no deposit into Rebekah or Rebekah's cargiver's bank account nor do they have any immediate or direct access to funds.  Funds are deposited and handled by a third party to purchase medical equipment, medications, treatments. 

All legal issues are handled by Glantz Law Office. 

GLANTZLAW
7951 SW 6th Street
Plantation, FL 33324

Thank you. 

Rebekah Lewis/ Tzippy Cohen
+ Read More