Rith don Oideachas
€2,030
of €10,000 goal
Raised by
62
people in 42 months
Hi,
Eoin Walsh
 here. I hope to complete a number of fundraising activities in 2016 for two educational charities. One in Ireland and one in Ethiopia. I will complete the Dublin City Marathon and I'll share other activities on the way. My goal is to raise €5,000 for each Charity. Thanks a million for reading and please do read on for more information. If you want to get involved, please do. All activities, help and dontaions are very, very welcome.
Planting the seeds of Democracy and Understanding can only be done through Learning and Education.
www.ldwp.org
www.scoilsailearna.ie
Scoil Sailearna
Tógadh Scoil Sailearna sa mbliain 1854. Bhí sí 34 troighthe ar fhad agus 16 troighthe ar leithead. Dhá sheomra ranga a bhí inti. Bhí buachaillí agus cailíní an cheantair ag freastal ar an scoil. Bhí na hábhair á múineadh trí Bhéarla! Bhí Pádraig Ó Donnchadha mar phríomhoide go dtí 1869 nuair a ceapadh Tomás Mac an Ultaigh mar chomharba air. Bhí Cáit Ní Choisdealbha ina cúntóir agus sé an Canónach Ó Liatháin, a bhí mar shagart paróiste ag an am.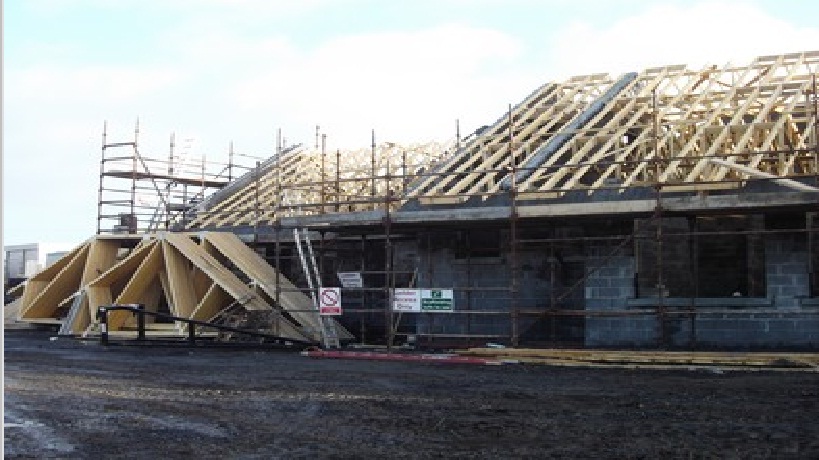 Sa mbliain 1884 cuireadh dhá sheomra bhreise leis an scoil. Thóg sé seo ceithre bliana agus chosain an obair £459. Fuarathas £306 ó Rialtas Shasana ag an am.
Bhí an sagart paróiste an tAthair Hosty mar bhainisteoir ar an scoil. Ba í Mary Donohue nó Máire Mhicil Hughie mar a thugtaí uirthi a ceapadh mar phríomhoide i scoil na gcailíní agus sí Miss Maxwell a bhí mar chúntóir aici. Blianta ina dhiaidh sin phós Mary Donohue an Máistir Ó Maicín a bhí mar phríomhoide ar scoil na mbuachaillí.
Sa lá atá inniu atá tá rudaí athraithe go mór. Cés moite don Bhéarla múintear na hábhair ar fad trí Ghaeilge anois! Tógadh foirgneamh nua sna seachtóidí.
Tá príomhoide riaracháin, seachtar múinteoirí ranga, beirt mhúinteoirí acmhainní, múinteoir páirt-aimseartha agus triúr cúntóirí riachtanaisí speisialta ar an bhfoireann theagaisc. Tá ocht seomra ranga, dhá oifig, seomra foirne, halla mór spóirt agus clós imeartha le pinniúir liathróide láimhe sa scoil. Tá forbairt mhór beartaithe le seomraí breise carr-chlós agus páirc imeartha ar chúl na scoile.
Lasallian Developing World Projects
Good Better Best,
Never Give Up Until,
The Good Becomes Better,
And The Better Is Best.
Inscribed on a mud-hut school wall in Allemghane, Bale Region, Ethiopia 2004.
Planting the seeds of Democracy and Understanding can only be done through Learning and Education.
De La Salle Brother Kevin McEvoy, Brother Thomas Walsh and Brother Mike Finnerty have encouraged many people to take up the challenge of travelling and working in underdeveloped Countries. I am lucky enough to have met Brother Tom and become involved in the work of the Lasallian Developing World Projects.
The concept of the 'Africa Projects' began back in the early eighties. Brother Kevin McEvoy leading the charge. Each year a different group of energetic and enthusiastic volunteers has come together to make a difference to a community of people for whom a little counts for a lot. Initially, Groups comprised mainly young people, however, over the years a cross selection of different age groups have worked well. To date groups have spent six weeks of their summer in Ethiopia, Kenya, Togo, Nigeria and India.
The Projects mainly focus on Teaching. Numerous Teachers, and people from all areas of life, take their summer holidays and spend time helping schools in Ethiopia and North Kenya. The children we have worked with are never bored of listening. Their exposure to the English language is invaluable. Anyone who can hold a conversation is a valuable asset on the Projects. The schools we have been fortunate enough to work in and help build have all been funded by the Lasallian Developing World Projects. This small charity organisation is a recognised NGO and is completely managed and run by Volunteers.
I have seen how the Brothers work, first hand. Dealings with local authorities, Tribal Leaders, government officials and local people is a sight to behold. No matter who meets them, no matter what their language they know they are engaged with people how have their best interest at heart. I worked on two school building sites in Ethiopia. One in Bucha, a very remote region and the second in Herero, close to the town of Adaba. Brother Tom worked along with the Volunteers. He rose at 6am and stopped once for lunch each day, returning to the Volunteers compound late in the afternoon. His drive on a building site is unreal. Always positive, always willing to give every ounce of energy. We worked through rain and sun and our only goal was to complete the school building.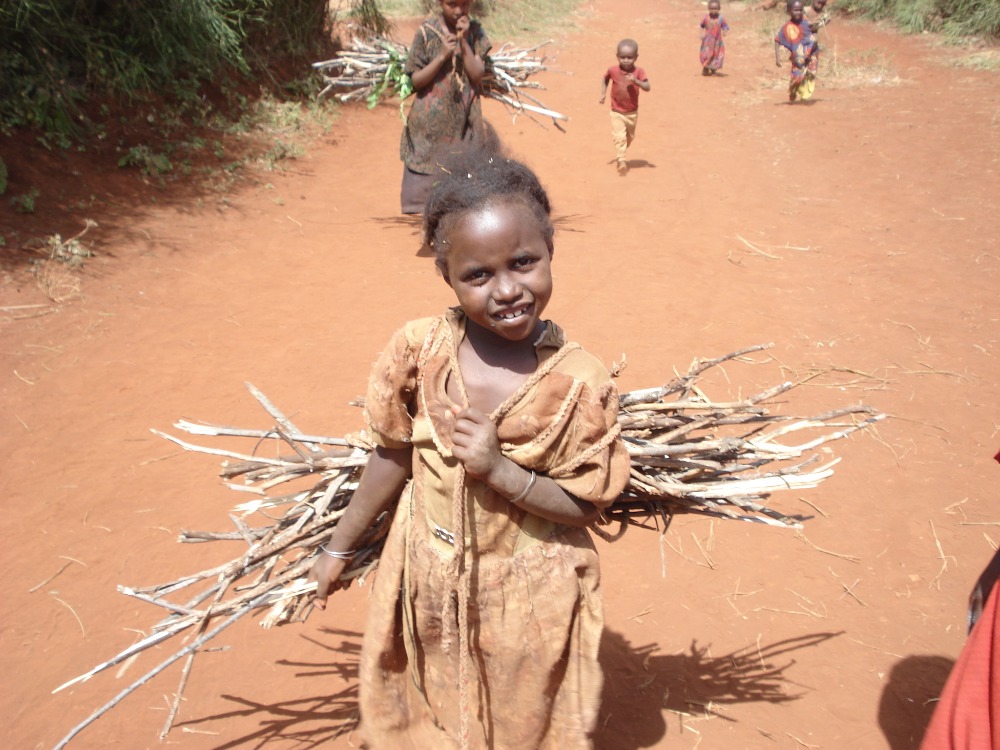 I worked with Kevin McEvoy in Kenya over two Projects. There are not enough hours in the day for Kevin. His school, in Dirib Gombo, Marsabit,  is a model for any environment. The Brothers ensure that Local people and communities come together and form strong committees and alliances. In this way, any completed projects can continues long after the Brothers have left. The people must manage themselves, otherwise, the time, effort and money invested, is wasted.
Many requests come to Tom from Tribal Leaders in the Bale Region of Ethiopia. One such request came from Allemghane. A village 30km from Robe. I travelled with Tom to survey the area for a possible School Building Project the following year. Tom was visibly taken back from what we met, as we all were. The Allemghane School comprised a number of Mud Huts and loosely corrugated shacks. This was all the local community could put together; it was enough to prove they dearly wanted an education for their children. The Mud Huts were classes up to 150 children per room. In the winter it was freezing and God knows how warm the Huts would become in the Sun. Planks were saddled across pieces of wood for benches with nowhere to rest a pen or paper.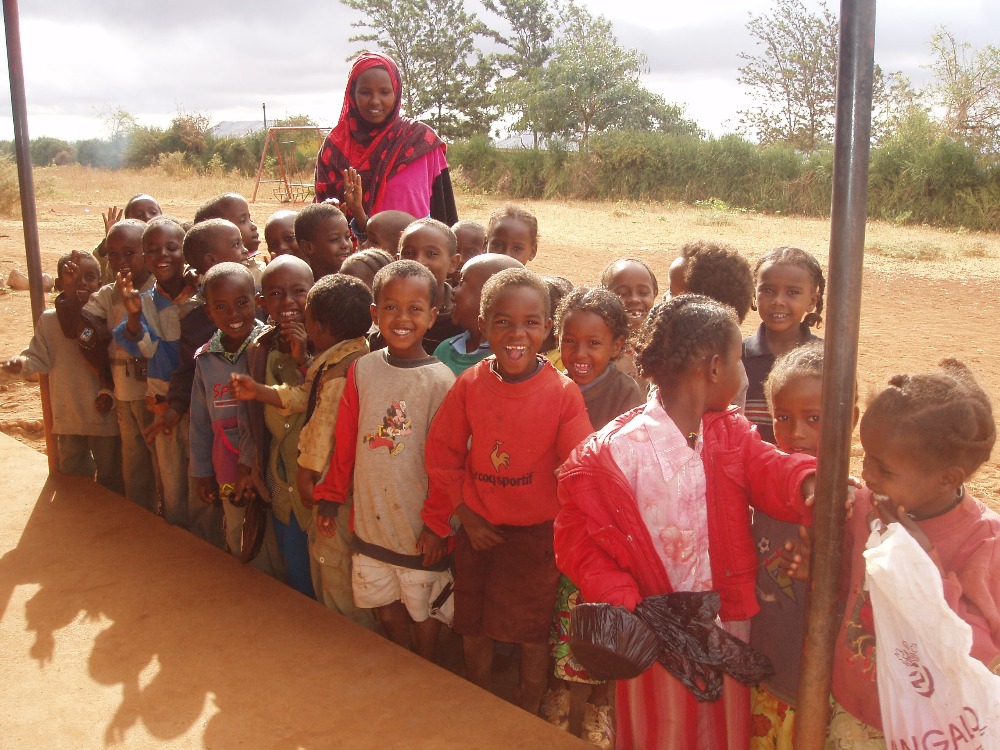 The Blackboards were falling off the walls. In 2005 Tom started the Allemhgane School Building Project, funded by the Irish Government and private donations from Volunteers, their friends and family. One structure of 8 classrooms is fully complete. The work completed is dramatic. Desks, books and blackboards all supplied under the Projects umbrella.
While the Brothers ensure the Building Projects continue, they always have Teaching programmes running in conjunction. For 4 – 5 weeks Volunteers take classes. Local Teachers also sit in. The older students get involved in conversations ranging from HIV/AIDS to Economics and World Political matters. It is an open book on Education. Proof that Education is priceless. Providing Teachers and Building Schools is the main stay of our work in Africa.
Nursing and Teaching in Orphanages is also a primary feature of the Tom's work in Africa. The Orphanage in Goba, Bale Region, Ethiopia is an example. The structures and classrooms were all built via the Lasallian Developing World Projects. The Orphanages also receive teaching through the Projects.
Aside from Teaching the Groups deliver much needed medication, educational books, first aid, HIV test kits and crutches. Getting people off the ground and on their feet was a feature in 2005 / 2006. We delivered over 600 sets of crutches to Orphanages from Addis to Robe in Ethiopia.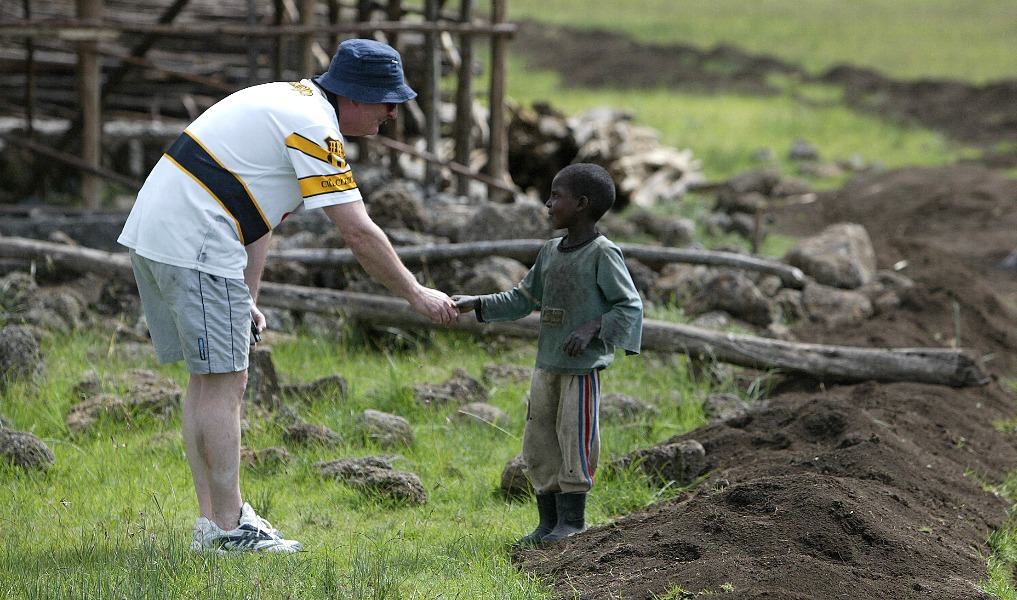 The work carried out by the Brothers and a small group of Volunteers is unreal and all in spare-time. Selecting the Teams for Africa, arranging Transport, Security, Accommodation and all the other aspects of taking groups to Africa. But the Lasallian Developing World Projects manage and, thank God, everything has gone well.
Thanks to those all who continue to give individual support encouragement and goodwill.
Lasallian Developing World Projects is a small charitable organisation situated in the De La Salle College, Newtown, Waterford. The Charity is co-ordinated by Brother Thomas Walsh and Brothe Mike Finnerty. As a small NGO, the overheads are minimal and all donations are directly pushed to where people are most needy. We concentrate all our efforts and resources on small regional areas to gain the optimum impact and a lasting positive impression. We push to make a difference to a community of people for whom a little counts for a lot.
If you are willing, have an open mind and sense of adventure do not hesitate to contact us and get involved. The experience will be humbling and fulfilling. I remain humbled and honoured to be a part of the Projects. 
Planting the seeds of Democracy and Understanding can only be done through Learning and Education.
Eoin Walsh.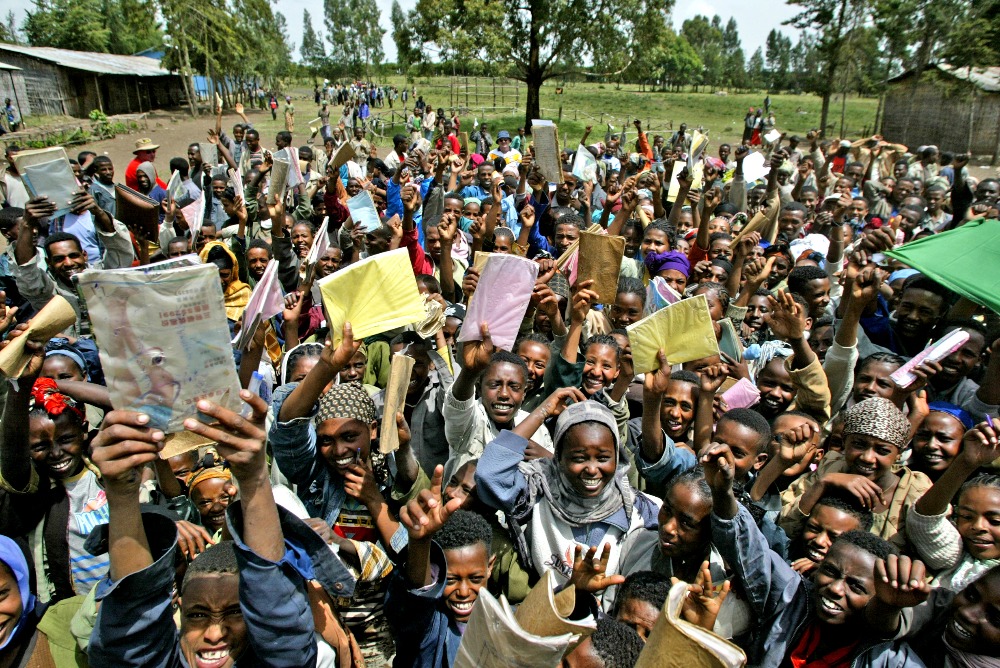 + Read More
Be the first to leave a comment on this campaign.