It's Rick Scott's Hunt TV Ads
$1,815
of $100,000 goal
Raised by
23
people in 30 months

"It's Rick Scott's Hunt" is a multi-media bear advocate group running television ads across the state of Florida. We launched our first ad on May 25, 2016 in Orlando, Florida. Ads started on Bright House Cable Networks channels CNN, MSNBC, FOX News and News 13.
We plan to expand to local broadcast and cable stations in Tampa/ St. Petersburg, Miami, Jacksonville and Tallahassee. 

75%  of Floridians oppose the black bear slaughter set to happen again this October 2016. The only one who has the power to stop the hunt is the one who is responsible for the hunt in the first place- Govenor Rick Scott.  Scott appointed land developers, a cattle rancher, laywer,  and an oil lobbyist to protect Florida's wildlife--all hunters.  It's the foxes guarding the henhouse. Scott has not opposed their decision--because he supports it. FWC is not backing down to do the hunt. If you don't pressure Scott to stop the hunt, hundreds of peaceful black bears will die painful deaths at the hands of trophy hunters.

Tell Rick Scott "Stop Killing Our Bears". Call him at 850-488-7146.

Time is running out. The vote to kill the bears is likely June 24, 2016.
+ Read More
Thank you to all who donated your hard earned money to It's Rick Scott's Hunt advertising campaign. Because of your donations, we were able to launch our digital ads campaigns in Tampa-St.Pete and Tallahassee today. Ads run through the end of next week. We put thousands of dollars into this strategic campaign.

Click-to-Call ads (seen below) make it one click to call Governor Scott on mobile devices. Our TV ad plays as a pre-roll commercial on thousands of websites. Our digital banners will show up on targeted websites. All ads focus on strategic demographic audiences.

We have 655,000 impressions paid for and more on the way before the commission vote! Tell Rick Scott to stop the 2016 Florida black bear hunt!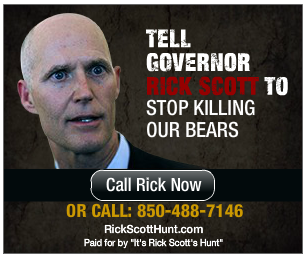 + Read More