Reclamation Sci-Fi Web Series
$505
of $6,000 goal
Raised by
17
people in 14 months
"Reclamation" is an award-winning 18 minute-long pilot for an epic sci-fi series set in 2151 about a determined young woman venturing out into the solar system to find her family that was torn apart by the global corporation that runs everything.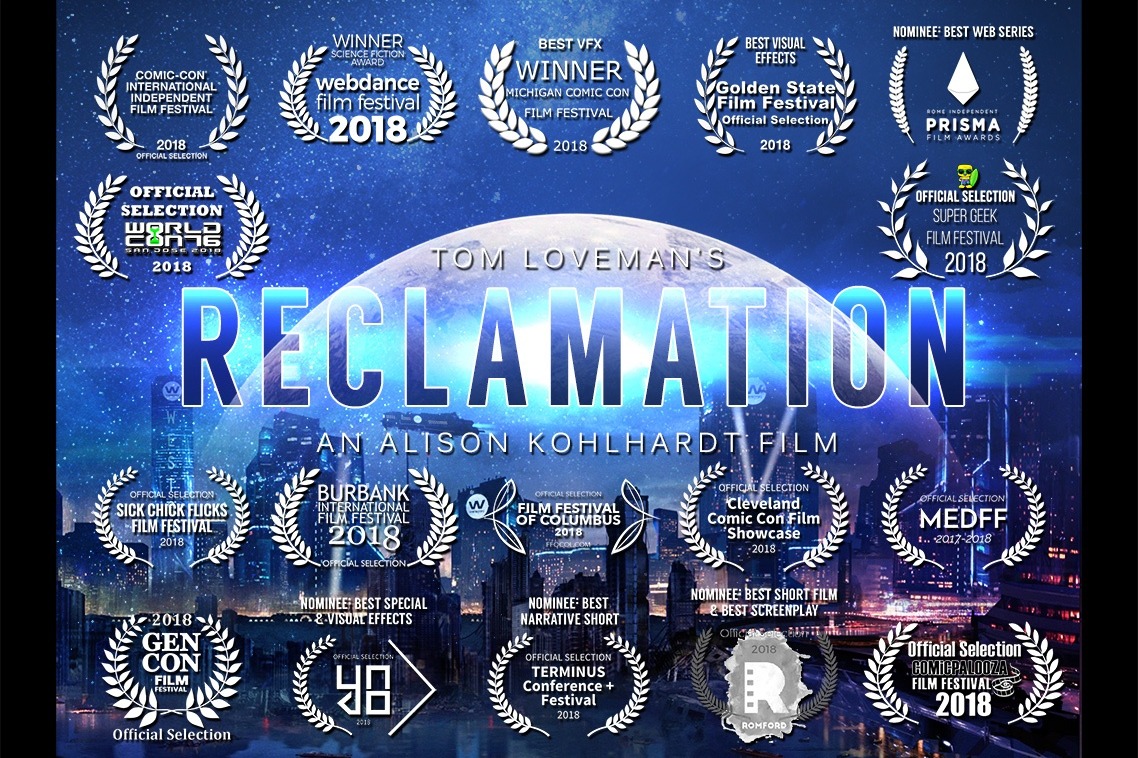 It is the culmination of two years and hundreds of hours of work by an exceptionally talented team of producers, actors, crew and artists...and it is FINISHED! (FYI - If you didn't watch the video above, it contains the trailer for the film.)



"Reclamaiton" has already won awards (SCIENCE FICTION AWARD) and two BEST VFX awards as well as nominations for BEST SHORT FILM, BEST WEB SERIES, and BEST SCREENPLAY, and is an Official Selection of 25 film festivals (as of 8/21/18) including:

• Comicpalooza (Houston)
• San Francisco Comic Con
• TERMINUS Film Festival (Atlanta)
• Super Geek Film Festival (Fort Lauderdale)
• Atlanta Comic Con 
• Super Geek Film Festival (Raleigh)
• Gen Con (Indianapolis)
• Golden State Film Festival - WON BEST VFX!
• Michigan Comic Con - WON BEST VFX!
• WorldCon76 (San Jose,)
• Burbank International Film Festival (Burbank, CA, 9/5-9/9)
• UNDO Divergent Film Festival (Boston, MA, 9/8)
• Sick Chick Flicks Film Festival (Cary, NC, 9/29)
• Cleveland Comic Con Film Showcase (Cleveland, OH 10/6)


You can see the full list of festivals and awards on the Reclamation website with links to each festival. 



With the film completed, we are raising distribution funds to get "Reclamation" in front of distributors, sales agents, and investors at film festivals, film markets and comic cons. 

OUR STRATEGY

1. Build audience
2. Secure distribution (i.e. revenue)
3. Continue production

This film is just the first of five episodes writer Tom Loveman has written for an ongoing digital series. By attending film festivals and promoting "Reclamation" we can build an audience, which is appealing to digital and TV networks who are looking for content to acquire.

Distribution comes in several forms; SVOD (Streaming Video on Demand like Amazon Prime, Google Play and iTunes), VOD (independent  digital channels online and on devices like Roku and AppleTV), short film distribution (in DVD/Blu-Ray compilations and international sales) and others.

WHAT WE WILL USE THE MONEY FOR

1. Submission fees to approximately 150 film festivals and comic cons (We always try to get discounted fees or fee waivers and enter fests with track records of drawing industry people we want to target.)
2. Blu-Ray burner and materials to produce discs to send to festivals and press
3. DCP (Digital Cinema Package) creation for festivals that use digital projectors found in most movie theaters
4. Marketing and PR materials
5. Shipping/postage
6. Film market attendance 

Whether you donate $1 or $1,000,000, every dollar is greatly appreciated and helpful in achieving our goals.

PERKS

We're keeping this simple. Choose one of these two options, or you can enter any amount you like to contribute and we will automatically including you in the perks for which you qualify.

SHOW ME: If you donate $10 or more, you get a link to watch the full 18-minute pilot episode of "Reclamation." 

SHOW ME MORE! If you donate $25 or more, you will also receive the scripts for episodes 1-5 to read about Cassie's journey and where it will take her.

In addition, all donors will receive:
• our deepest thanks and recognition on our social media and website ( www.reclamation2151.com)
• regular updates and announcements (awards, festival updates, nominations, etc.)
• backer only video updates and live streams from festivals and comic cons
• Surprise bonus freebies to be announced!

Thanks for your support!
+ Read More