Save This TB Mare from Slaughter
$1,800
of $2,100 goal
Raised by
31
people in 51 months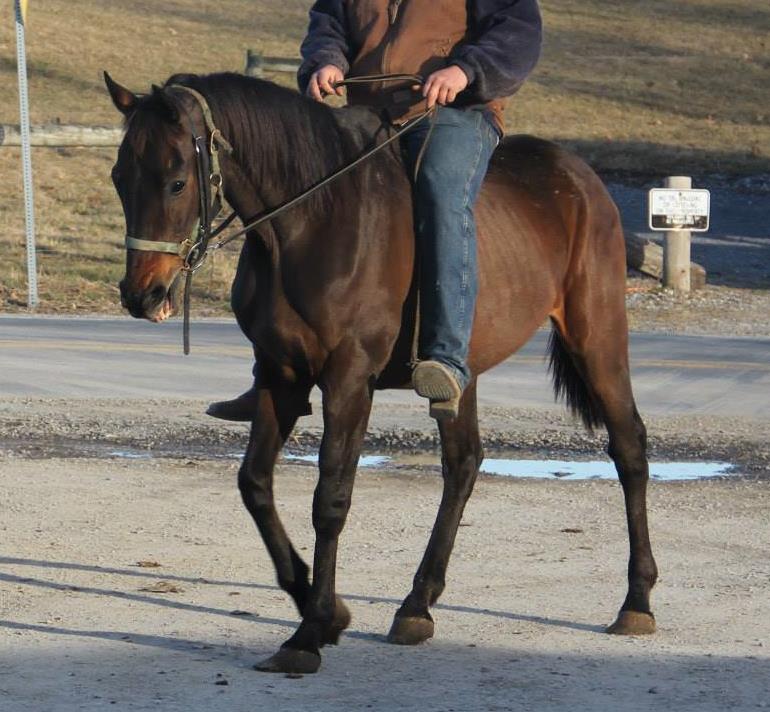 This is a Thoroughbred mare sitting in a kill pen in Pennsylvania. She may have two days AT MOST to live. If we do not save her, she is going to be slaughtered for human consumption overseas.  Yes, it really does happen.  The photo shows the auction sticker on her back.
If I can provide more photos later in this campaign, I will. She's a lovely mare that has been neglected. When she outlived her usefulness for someone, they sent her to an auction. She went without identification or a story. They didn't care. They just didn't want her any more. With no history, no one purchased her to be a pet or a riding horse and without our help - yours and mine - she is doomed. She'll be dead in a few days.  
Bright Futures Farm equine charity is willing to take her with no history. We will get her the care she needs immediately and have her vetted and evaluated for riding once she's had time to recover from the neglect she has experienced recently. If she can be ridden, she will be reschooled and we will place her in a new, loving  home of her own. If she cannot, she will be adopted out as a companion or may stay at Bright Futures the remainder of her life.  We have other seniors here that have been with us many years. 
We want her to have a long and fruitful life. She had a  job in the past. She raced, and she most likely was a broodmare at some point - perhaps recently from what we have been told.  She did what she was told to do for humans, and now a human has discarded her.  She deserved better and we can give her that with your help. Time truly is of the essence as horses in kill pens don't stay long. The dealer/kill buyer doesn't want to spend money feeding the horses he has, so he ships them to slaughter in either Canada or Mexico as soon as he has a full load - which for this dealer will be sometime before the end of this week.
This girl was a lovely mare at one time - she can be a lovely mare again with care, food and TLC.
Our goal is $3000. It will cost $750 to buy her. That is a non negotiable price. She will need to be transported to a quarrantine facility and remain there 30 days to make sure she has no illnesses. We estimate the cost of transport to QT to be around $300 and the cost to stay at QT for 30 days to be around $400. She will then need to be transported to Bright Futures Farm in Cochranton, PA. We estimate that cost to be around $400 and the cost to vet her will be another $400.  We are asking for $3000 in donations so that we have a cushion in case our estimates are off.  Any excess money will be used toward her care and/or training.  
Bright Futures Farm is a 501(c)(3) equine charity that specializes in assisting Thoroughbreds. If you haven't heard of us before, the oldest living son of Secretariat is in retirement here. We are accredited by the Thoroughbred Aftercare Alliance and are Verified by the Global Federation of Animal Sanctuaries. What does that mean?  It means that we are knowledgeable, run a clean facility, provide excellent care to the horses here and are transparent - the funds we get are used for the animals. We have been established for 15 years and have helped countless Thoroughbreds and other breeds in the past.  We can help this mare as well.  We just need a little bit of help with the initial expenses.
Can you help us save this mare from certain death?  Please donate today.  All donations are tax deductible.  
Thank you.
Beverlee Dee
Bright Futures Farm
238 Old Franklin Pike
Cochranton, PA 16314
+ Read More
Be the first to leave a comment on this campaign.