Justice for Evita
$

31,295
of $50k goal
Raised by
290
people in 20 months
On Friday the 20th March our beloved Evita Sarmonikas passed away in hospital in Mexicali, Mexico. She was only 29 and in the prime of her life. She has left behind her sister and her mother who are desperate to go to Mexico to bring her home to Australia. 
Evita was a vibrant, loving individual who will be sadly missed and leaves a big hole in our family.
We are seeking financial donations that we need for our long journey ahead. Every little bit will help. 
The funds will be used for travel expenses, accomodation in Mexico and any professional and legal advice that we may need in order to bring Evita home. 
Evita as we knew her on earth would be devastated at the amount of attention she is receiving at the moment, as she was extremely private and worked very hard to never be a burden on anybody. But the way she passed away deserves to known,  people need to know and Evita deserves justice. 
Latest media release below:
Evita
Published: 23 July 2015
---
Sister fights on after Mexican cosmetic surgery tragedy
Queensland woman Andrea Sarmonikas is fighting an epic legal battle following the death of her younger sister. And she's fighting it in the Mexican border town of Mexicali.

"I want to receive justice," Andrea says. "I'm not moving from here until we get to the end of this. No way, no way am I leaving."

29-year-old Evita Sarmonikas died in March after trouble during a cosmetic surgery procedure to enlarge her buttocks.

The initial autopsy by Mexican authorities claimed that Evita died of natural causes during the operation. 

"We were initially told that Evita passed away from a heart attack," Andrea recalls. "Then the second answer was that she had a pulmonary embolism."

But Andrea wasn't convinced.

"Eva was a healthy young woman," she says, "so I just had an intuition something wasn't right."

The family ordered their own private autopsy, which revealed that, far from dying of natural complications, Evita was stabbed five times in the lung area during the surgery.

The procedure, known as a Brazilian Butt Lift, involves injecting fat into the buttocks which has been removed from elsewhere in the body using a thin metal tube called a cannula.

"That cannula is no different from a knife," explains Australian surgeon Dr Ashley Granot. "If you put it in the wrong place, if you push it in the wrong direction, you will have the potential of killing the patient."

Alleging malpractice and suspecting a cover-up, Andrea has put her life on hold and moved to Mexico, where her case against plastic surgeon Dr Victor Ramírez is making headlines.

The case hinges on the distinction between 'plastic' and 'cosmetic' surgeons in Mexico, and their training and accreditation in a country where medical tourism is a boom industry.

"Just because he's a plastic surgeon does not make him inherently capable of conducting cosmetic surgeries," Andrea says.

"I can confidently say that this doctor did not have the training for the cosmetic procedure that he conducted on my sister. I am not afraid to say that anymore."

Dr Ramírez is also believed to be involved in the deaths of other young women, and has been stripped of some of his accreditation. But Andrea is determined to ensure he's barred from conducting surgery altogether.

"If he's guilty, and anyone else who participated is guilty, they're all out there free and practicing, and that means women's lives are at risk."

And she's vowed not to leave Mexico until the way Eva died is officially recognised, and the industry begins to reform.

"If she had had access to the information that we now know, my sister would not have chosen this doctor, and she would be alive now," she adds.

"It's just such a tragedy… What a tragic way to go, and so preventable."

If you'd like more information or to contribute to Andrea's campaign, please visitevitaa.com or Evita's memorial Facebook page. 
+ Read More
Update 1
Posted by Andrea Sarmonikas
16 months ago
Thank you everyone for all the funds raised thus far!!
I have to say we where overwhelmed by the amount of support and love we received from friends and strangers!!!

Up until now we have managed to:

Fly mum and Andrea to Mexico and back home together with Evita in her beautiful Mexican coffin.

We held a beautiful and memorable farewell service where we finally laid her to rest after her long journey in the same cementary her late father, Andy Sarmonikas, lay.

We flew Andrea to Sydney to collect Evita's documents and private things from Evita's home previous home.

We managed to fly her Andrea back to Mexico to continue with the legal case.

A second and private autopsy was achieved after many told the family that would be impossible.

Legal representation accessed.

Andrea flew to the capital, Mexico DF, to personally update the Australian Embassy on the case.

We managed to launch an awareness campaign around the unregulated nature of the cosmetic industry.

Accommodation, food and transport provided for a total of almost four months in Mexico.

In addition, the family have received many blessings; so many of the costs of things and services have been reduced due to other type of donations, gifted services and attentions to the family without any money asked.

We can not demonstrate the amount of gratitude we feel and we acknowledge that a simple thank you could never be enough. But we still humbly thank you from the bottom of our hearts.

Finally, the case continues and is moving slow due to the nature of this industry and the limitations we can't yet discuss.
So the family dedicates much of their own I've attention to using the media attention they receive to raise awareness and place pressure on Mexican authorities to move faster and do the right thing.

We do however have full confidence in the Mexican authorities to bring justice and prevent this from occurring again. This is was the chief of department in Mexicali has also confirmed.

Andrea is in Mexico full time and her mother will need to fly over once the case hits the courts.

Please continue to help us support the Sarmonikas girls so things move in their favour with out any more difficulties or limitations than what they are already experiencing.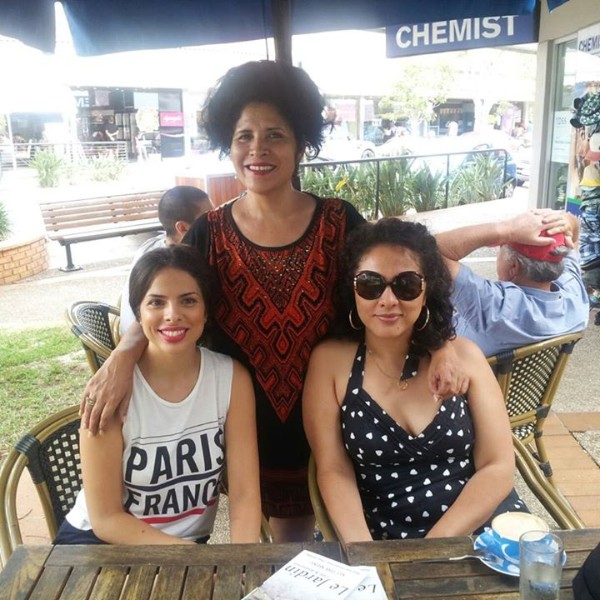 + Read More
Help spread the word!
 1.9K total shares