Ohio's Grab for CBD is UNACCEPTABLE
$250
of $3,000 goal
Raised by
3
people in 2 months
                                                                             Protect YOUR RIGHT to CBD

Our Grand Opening of our Chardon store in 2014 with councilmen and representatives of Geauga County
Premium Hemp Co. has created this GoFundMe to join a class-action suit to
protect Ohioans
access to hemp-derived CBD outside of the medical marijuana system. 
On September 11th, 2018, our Chardon store was physically handed a
cease and desist
letter (see below) from Geauga County
to remove all CBD-Hemp products
from our store. We were blindsided and stunned!  We were given just 30 days to do so. What would we say to our loyal hemp customers who so appreciate these products for their painful conditions?
As a small business with seven employees, we have to remove all CBD-Hemp products from our shelves or receive a
felony
for trafficking marijuana! Really? This is devastating for the growth and expansion of our popular brick and mortar and furthermore, all the residents of our town and our state.
(Before)
(After)
Over the past few years of selling CBD, we have observed a remarkable kind of growth; growing our business, growing close to each other and to our community.  Against all odds, this resilient, yet simple plant has become the shining star of the Premium name.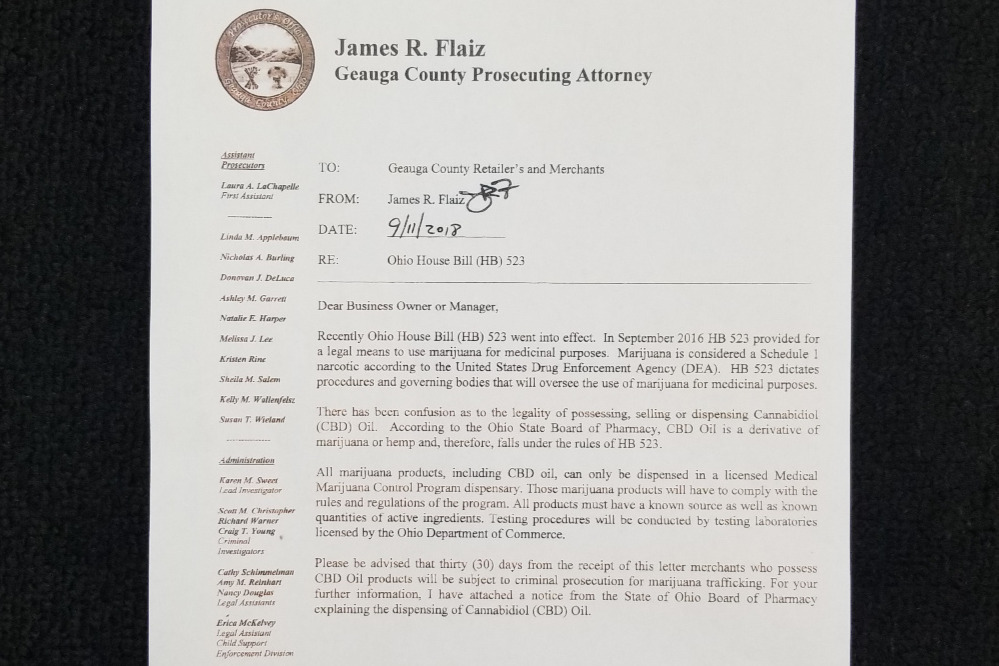 IMPORTANT POINTS YOU NEED TO KNOW!
·        The Ohio Board of Pharmacy released a statement recently claiming
CBD products are illegal to sell, buy and possess
in the state of Ohio outside of the Medical Marijuana program, as "defined" by the Marijuana laws of Ohio. 
·        Hemp-derived CBD is
LEGAL
on a federal level.       
·        Ohio has
failed
to make the distinction between CBD from industrial hemp and CBD from marijuana.    
·        The Ohio State Board of Pharmacy issued their
Guidance
last month that states CBD oil can ONLY be sold in a state-licensed marijuana dispensary.
·        All products containing CBD, including CBD derived from hemp, will have to comply with the rules of the state's medical marijuana program.
·        All products containing CBD must undergo testing in an
Ohio state-licensed
lab only.
·        Unless you meet one of the 21 conditions to obtain a medical marijuana card, you will have
NO ACCESS TO CBD IN OHIO!
·        The State of Ohio is in
violation
of the 2014 Farm Bill
·        CBD derived from hemp does not produce a psychoactive high and is
not addictive
.
·        Hemp-based CBD has become a leading
alternative
to prescription medications without
UNNECESSARY
side effects.
 To sum it up, The Ohio Board of Pharmacy is over-reaching on a massive, unprecedented, and unwelcomed scale!
                                                                                            WHAT CAN YOU DO?
Please join us in our battle by donating to our cause to keep CBD
legal and available
in the state of Ohio. Support our pursuit of a class action lawsuit against the Ohio Board of Pharmacy.  Many people need our help to defend their access to CBD, a safer and healthier alternative to prescription drugs.  
If you help support Premium Hemp Co., we will
FIGHT
to keep CBD out of medical marijuana dispensaries and make it
available to you
as a personal choice! 
Your donation will help CBD consumers and retailers throughout the state of Ohio.  Not to mention, it will also save thousands of jobs in this amazing industry!
Even if you do not live in the Buckeye State, please share this with friends, colleagues, customers and social media contacts in Ohio.
Sincerely, Kathy & Mark
Co-owners of Premium Hemp Co
(The top picture is of our Grand Opening of our Chardon store in 2014 with councilmen and representatives of Geauga County)
+ Read More