8
7
Project CHAB 2019
$615
of $4,000 goal
Raised by
9
people in 2 months
CHAB is a school in Siem Reap that was started by Mr. Bona Kim and is registered in the Interior Ministry of Cambodia. My parents stumbled across Bona and his school while they were in Siem Reap and have been sending school supplies and clothing every 6 months for quite a while.  Bona has sent photos and and uploaded them onto his website showing the children happy with the contents of their packages. The packages do arrive, and we see photos of the kids wearing the clothes that, just a few weeks back, had been sitting in a box in Los Angeles, California.
CHAB was getting funding from a nearby tourist hotel that shared some of their profits, but the hotel was sold off, so funding slowly dwindled, and now is completely gone. Bona is afraid that the school might have to close. As of now, the teachers who pick kids up from remote villages and bring them to the school have been using their own money for gas. But they can't do that forever.
The kids are mostly from small villages and otherwise won't get any schooling. The problem, in that part of the world, is that kids are often sold if they don't have skills for a proper job. CHAB gets the kids to school and teaches them math, English, hygiene and more. It keeps children off the streets, away from child labor and prostitution. They also learn to take care of themselves and of others.
I went to visit CHAB in July 2016. Everything you see here is true. There is a school, there are tons of students and they need to build skills for their future and stay safe! I hope to visit again in 2018. So far, many friends of ours have been great supporters. Two of them, Jackie (L) and Molly (R), went to visit CHAB School.
Another friend, Sarah, raised money with her daughter Elaia through Elaia's school in New York. Everyone in Elaia's grade participated!
We reached around $4,000 for 2016 and 2017. (2018 wasn't so good....) Now we are getting ready for 2019 and I would like to give them the same amount as we did last year. The school is still open and the kids are still there. I hope everyone will repeat their donation from last year!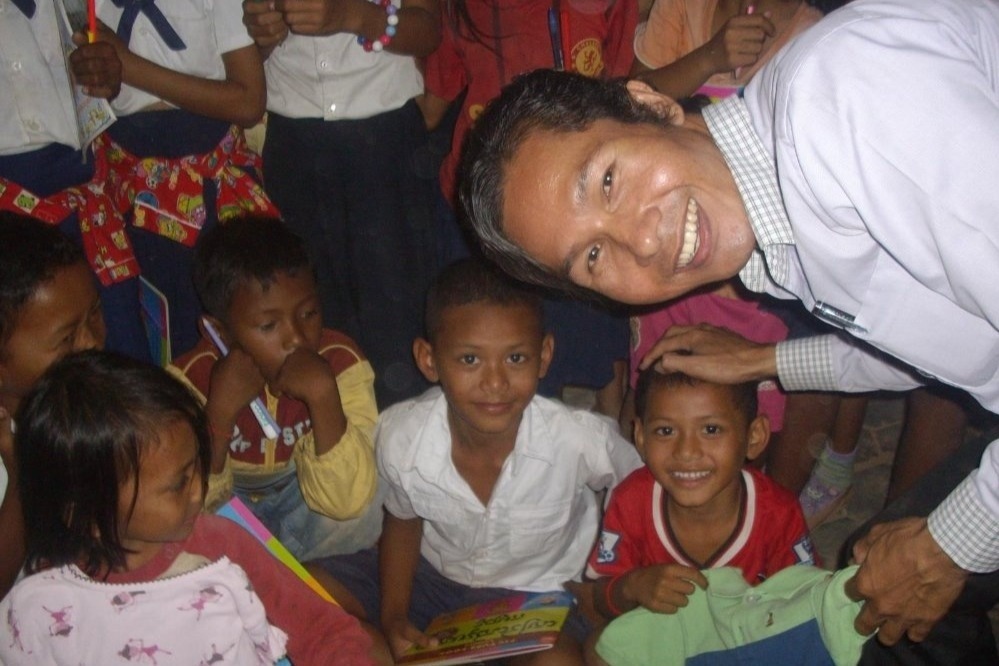 Here is a photo of Bona. Please look at his website for all the details about CHAB School. There is more information about how the money is allocated, who he is, what the children do at school, volunteer opportunities and tons more:
www.humanitycambodia.org
We can do this!
I will be more than happy to keep everyone updated on whether or not we are reaching our goal!
Most importantly, THANK YOU!
+ Read More
Update 2
28 days ago
Share
Hello! I joined some Facebook travel groups and starting suggesting Eco-Village Tours. Please read thus review from a new customer!

"Thanks to Genevieve Fenster's post, today I had the most incredible experiencewith Eco-Tours in Siem Reap. The owner, Bona Kim, runs an NGO called Cambodia Humanity Activity without Borders (CHAB). People in the villages outside Siem Reap live very differently than the city people. They often don't realize the value of sending their kids to school to escape the cycle of poverty. Girls in Cambodian villages are particularly vulnerable. CHAB works in these villages to establish schools and then convince the parents to let their kids go to school. They've already established two schools! Bona rides in the tuk-tuk with you (there's a tuk-tuk driver, not him) and takes you to the villages to see how they live, to see how they get reeds and weave baskets for money, and to see the kids in school. He goes to several other off the beaten path sites, too. The whole time he is sharing the long, troubling history of the country he clearly loves and is determined to improve. His tour was absolutely fascinating! There was no asking for money or trying to sell us anything! Go on this tour and it will change you. You can also check it out on Trip Advisor. I have no association whatsoever with Eco-Tours or CHAB, I'm just trying to spread the word about a really great experience!"

I'm so proud!

+ Read More
Update 1
1 month ago
Share
Hi guys and welcome to 2019. I have opened up a page for 2019 if you would like to continue to help the kids in Siem Reap out. Bona has asked many NGOs in Cambodia for help, also local hotels and companies, but so far he hasn't had luck with a permanent sponsor. We have opened Eco-Village Tours on TripAdvisor and so far we have had one client that found us online (since we JUST started, we are at the bottom of the list - many pages deep in the website lol) and the woman who came with her family had a great time! There are some photos of them on Instagram @eco_village_tours_CHAB. Her three kids got to cut reeds (hello machete...!) and go help a local woman weave them into baskets, they saw some historical sites and some villages that other tour companies certainly do not go to. Apart from that, I have three friends who also went on Bona's tours and left great reviews for us. Thank you to my wonderful friends for doing that!! The best thing that I saw was one friend celebrating a birthday with the kids at the school, with a cake and some bubbles or shaving cream or something funny going on. My hope was for the tour company to explode and lots of money to come in from tours, but of course it's not that easy, I have to figure out a way for people to actually get the word out on different websites and see that it exists. If anyone has any special knowledge about this kind of publicity, please let me know! Apart from that, I transferred the last of our funds over to Bona, so here is the receipt. Thank you so much for reading and I hope you have a wonderful 2019, lots of hugs from CHAB School.
+ Read More
Read a Previous Update