25
13
Villarreal miracle IVF baby fund
$1,905
of $35,000 goal
Raised by
24
people in 17 days
Thank you in advance for taking the time to read our story!!!  We struggled with this idea for a long time thinking that it would appear selfish and embarrassing to ask for help, but it has become a lot and we need to reach out.  

Burt and I met July 10, 2004, when he "saved my life" from the giant palmetto bug (FL cockroach) that had crawled up the front of my shirt.  We started dating, but the relationship was a short lived as I am 5 years older than him and I had a 9 year old daughter at the time.  We went on with our separate lives, not knowing that destiny had big plans for us in the future.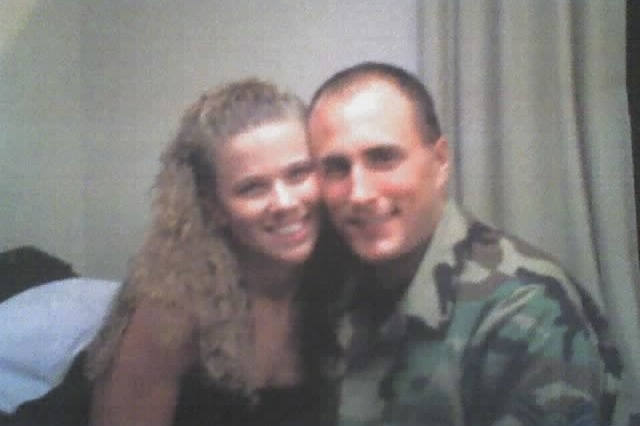 Picture July 12, 2004 (Burt & DeAnna)

Statistics show 22 veterans, be it active, retired or separated will commit suicide everyday and my brother was one of those statistics on August 31, 2007 due to suffering from PTSD.  I was already in school working on my Masters in Social Work, but it  was then that I decided what my next step would be.


Picture (DeAnna at brother's gravesite at Quantico National Cemetary)

Fast forward to June 28, 2008 when I commissioned into the Air Force to be a Licensed Clinical Social Worker (LCSW), so that I could serve my country by helping our military members and their families cope with the many different struggles they endure.  Upon completion of my Officer Training School I was stationed at Eglin AFB, FL for my internship.  After being there for about a month I was sitting in the dental clinic of a base that serves over 9000 active duty members and I hear behind me "DeAnna????"  To my shock and disbelief it was Burt!!!!  He then addressed me properly by my rank and last name (as we were both in uniform and it is required for those of you that don't know military life) and we chatted a bit to catch up on things.  He told me he was happily married and was doing well.  We said our goodbye's and said we needed to keep in touch and went on our way.   


Picture November 30, 2009 (DeAnna in DC for class)

Burt and I attempted to stay in contact with each other, but as with most people, life just got in the way and we stopped communicating with each other.  Over the next 5 years I would be stationed at Keesler AFB, MS, deploy to the desert to an undisclosed location in South West Asia, get stationed at Incirlik AB, Turkey and then finally wind up where it all started Eglin AFB, FL.  I dated several men, was engaged twice to the same one and then would eventually get married to a different one. After less than 2 years of marriage, I would be filing for divorce due to severe emotional abuse.  Needless to say, my man picker was broken or I just wasn't with the right one. 

It was also during this time that I was initially diagnosed with unexplained infertility due to suffering 2 miscarriages early into the pregnancies.  The doctor's only explanation was that it could be from the childhood trauma I had experienced until I was 14, or the several incidents of trauma I experienced as an adult, or the Pelvic Inflammatory Disease (PID) I was diagnosed with at 19, so forth and so on...but the bottom line is they couldn't give me an answer.   

By 2012 I had already had 4 miscarriages and I was being told that I was lucky to have my daughter and I wouldn't be able to get pregnant again unless I went through fertility treatments and they weren't sure if I would be able to carry the baby to full-term.  Obviously I was devastated by this news, then out of no where I am pregnant with my son who is now 5 years old who was born a healthy 6 lbs 4 oz baby on May 26, 2013.  No fertility treatments, no planning, just God's will.  The pregnancy didn't come without complications though.  I was put on bedrest the last 3 months of the pregnancy and when he was born the Dr. had to assist as only his head and shoulder came out first so to keep from having his older shoulder break, the Dr. reached in and guided him out.  This situation left me with nerve damage and what was later diagnosed as Mild sclerosis of the pubis symphysis, which causes me to suffer from chronic pelvic pain.


Picture May 26, 2013 (DeAnnas son at birth)


Picture September 28, 2018 (DeAnna's son now)

On August 8, 2014 Burt reached out to me needing to talk to someone.  Obviously, given my position/title in the Air Force I asked him if he was looking for a therapist or a friend, he replied "friend".  So listen is what I did.  He went on to explain he was deployed and found out his wife of 8.5 years had been cheating on him and had gone so far as to move the guy into his house.  I gave him some advise as a friend and explained I was going through a similar situation, and in that moment our friendship rekindled.  He returned home from his deployment and was able to have a simple divorce as they had no kids.  I wouldn't be so lucky.  I separated from the Air Force after 6.5 years of services and was eventually determined by the Veteran's Affairs (VA) to have service connected disabilities for depression, anxiety, insomnia, migraines and chronic pelvic pain.   After a 4 year divorce/custody battle, and about $160,000 dollars later (all my savings and Burt's as well), everything with my ex was finalized and I could move on with my life.  

Other than when my children where born, the happiest day of my life was July 10, 2016 (12 years to the date of when we met) Burt and I got married by our new friend Wendy Wortham.  Life had gone full circle and brought us back together.  We were finally with who we were placed on this Earth to be with!!!


Picture July 10, 2016 (DeAnna & Burt are finally Happily Married)

Burt has been an amazing father figure to my son since we moved to TX in December 2014.  He loves him as his own, and I couldn't be more blessed to have such an amazing man to call my husband, best friend and my son's step-father.  


Picture August 20, 2018 (First day of Kindergarten)

And yet something was missing.  We wanted to grow our family.  We started almost immediately, but I couldn't help but think maybe something was wrong with Burt as he had no biological children of his own.  We even had names picked out,  DeLilah Evelyn if it was a girl and Dane Edward if it was a boy.  After 2 years of trying to get pregnant with no positive outcomes, I was referred to a local fertility clinic.  I was put on several cycles of Clomid (a medication that causes the ovaries to produce more than 1 egg per cycle) but never was successful at getting pregnant.  Lots of blood was drawn, ultrasounds were done, more test and then we got the devastating news that there was no chance for me to get pregnant "IVF wasn't even an option", and it was 100% all because of me (that unexplained infertility popping it's ugly head up again!), Burt was very capable of producing a child.  I cried for days, I felt like I was letting my husband down and that I as a woman was defeated.  Burt, being the amazing man he is, assured me that he was happy and content with his little family that he had, but I couldn't accept that.

That is when I started looking into adoption, something I had always wanted to do, given my own personal background.  Adoption was always in the back of my mind and it is something we will do, but we have been hesitant to start the process given Burt is Active Duty and we can be made to move at any point in the process and then we would have to start all over again.  One day I was sitting down just scrolling through FB and a photo popped up of a sibling group of 3 ages 10-13, 2 girls and 1 boy, that were available for adoption, and my heart skipped a beat.  "These are the ones!" I said to myself.  So I called Burt at work and explained everything to him and he said, let's do it.  We contacted the caseworker and got all the information and immediately started buying stuff to get the rooms ready for them.  It would only take about a month or 2 before we could meet them and start the visits etc, but first the home-study had to be completed.  I knew there would be no issues.  A few weeks later after we had everything set up and the day before our home-study was to be completed, I got more devastating news.  They weren't going to wait another month for us to complete the process they were splitting the kids up because a family wanted the girls but the boy was still available.  How could anyone do this????  How could they just toss him aside, what would he think about himself now???  If we adopted just him, it would be too difficult to keep him in touch with his sisters since they would be in FL, so I told them no, we wouldn't be proceeding and I stopped even looking.  Again, my heart was broken.  

Then one day, November 7, 2017, to be exact, I was joking around with a friend/colleague at work about doing a pregnancy test because I was 3 days late.  My exact response was "I'm not going to waste any more money on those dang things, we know it's impossible!"  Well, when I got home I remembered I had bought several pregnancy test on clearance and said what the heck...why not.  I took it and threw it in a drawer.  Later that evening I remembered it and went and looked at it.  Low and behold there were the words...."YES+"!  I instantly wanted to scream for excitement, but then it immediately went to, there must be something wrong with the test, that's why they were on clearance.  I didn't say anything to Burt because I didn't want to get his hopes up.  I barely got any sleep that night.


Picture November 7, 2017 (Positive Pregnancy Test #1)

When I woke up the next morning I took a second at home pregnancy test and anxiously waited, knowing it was going to say not pregnant.  WRONG!!!!  The second test showed "Yes+" as well, so I did a third just to make sure before I called the Dr. and of course it said "Yes+".  I was so excited I could barely stand to hold the news in, but were they both wrong?  So I called my PCP and asked if I could come in that day for a pregnancy test.  The response was "Why in the world do you need to?" and I replied "I am 4 days late and 3 home test have said I am pregnant!"  The receptionist said come in right now!!!  And on November 8, 2018 it was confirmed that I was in fact pregnant with our "miracle baby".    I told the neighbors so they could help me film the reveal to Burt, because this would be a moment neither one of us would ever want to forget and we wanted to be able to share it with our son or daughter in the future.


Picture November 8, 2018 (Positive Pregnancy Test #2 & #3)

So I had a onesie made and got everyone into position.  Now Burt is thinking what the heck is going on because everyone is over and here I am handing him a pink heart container to open.  I tell him it's because I love him and hand him the box.  In the box was the onesie, the 3 home pregnancy test and the pregnancy strip from the Dr's office.


Picture November 9, 2017 (Announcing to Burt.  How I able to keep it a secret for 2 days I'll never understand)

We were both so very happy and so were our friends/neighbors who were videoing the reveal!!!


November 9, 2017 (Video of the pregnancy reveal to Burt)

Almost immediately we began shopping and preparing for our new little one.  My Dr. started me on progesterone (which helps reduce risk of early miscarriage) and sent me to her recommended OBGYN.  We decided to wait until I made it through my 1st Trimester to tell anyone else, given my history.  Each appointment we went to the Dr. listened to the heartbeat and did and ultrasound and everything looked wonderful.  We kept buying and planning.  Since we didn't know if it was a boy or a girl, we were getting the furniture and unisex items.

I made it through the 1st Trimester and it just so happened that my daughter was coming down for Thanksgiving, so I planned a special reveal for her and then we would tell the family, since we would all be together, over Thanksgiving.  We picked her up from the airport and went to grab some food.  In her box were 2 onesies and under them was an ultrasound picture.


Picture November 22, 2017 (Announcing to my daughter)

November 22, 2017 (Video of the pregnancy reveal to Sissy)

And just like you have already seen, everyone was super excited and supportive as this was something we both wanted more than anything in the world!  Like I said previously, Burt is active duty Air Force and we got notified that we would be moving to NM by the end of March.  Given that I was high risk and to be honest, didn't want to risk the stress of moving, we started the paperwork to get the move delayed until I delivered.  To do that I needed some paperwork filled out by my OBGYN, who was more than willing.  So on January 3, 2018 I went to his office to pick up the completed paperwork and he asked me to come into the observation room because he wanted to discuss some stuff with me.  I knew that he should have our genetic screening results back (test for different genetic issues given my age, but also can tell the sex of the baby), so I just assumed he was going to give me the envelope with the sex in it (as this pregnancy I wanted to go all out and do a gender reveal party!).  Well, I was partially correct.  There I sat, all alone and he says "Your screening came back positive for Trisomy 18."  My reply (as I had never heard of it), "What is that?"  His reply, "It's a fatal chromosomal disorder and the baby will not survive if it has it.  Do you still want me to write down the sex and put it in an envelope?"  Shocked, crying, and in a daze I replied softly, "Yes, please."  They immediately called the specialist and had me on the phone with them scheduling an appointment as soon as possible, which was that Friday.  As I sit here today October 1, 2018 (the start of Pregnancy, Infant, and Child Loss Awareness Month) I have tears streaming down my face.  I don't remember the 20 minute drive home.  I called my husband hysterical once I got in the car and I cried the entire way home.  My husband, who rushed home from work, and met me at the house assuring me everything would be ok, it was just a screening and was probable wrong.  I turned to google (BIG MISTAKE) and spent the next 2 days reading about if the results were true, our miracle baby was going to die either before being born or very soon after. 

This is what I found, "WHAT IS TRISOMY 18?  Trisomy 18, also known as Edwards syndrome, is a condition which is caused by a error in cell division, known as meiotic disjunction.  When this happens, instead of the normal pair, an extra chromosome 18 results (a triple) in the developing baby and disrupts the normal pattern of development in significant ways that can be life-threatening, even before birth.  A Trisomy 18 error occurs in about 1 out of every 2500 pregnancies in the United States and 1 in 6000 live births.  The numbers of total births is much higher because it includes significant numbers of stillbirths that occur in the 2nd and 3rd trimesters of pregnancy.

Unlike Down syndrome, which also is caused by an extra chromosome, the developmental issues caused by Trisomy 18 are associated with more medical complications that are more potentially life-threatening in the early months and years of life.  Studies have shown that only 50% of babies who are carried to term will be born alive, and baby girls will have higher rates of live birth than baby boys.

At birth, intensive care admissions in Neonatal Intensive Care Units (NICU's) are routine for infants with Trisomy 18.  Again, baby boys will experience higher mortality rates in this neonatal period than baby girls, although those with higher birth weights do better across all categories.

Some infants will be able to survive to be discharged from the hospital with home nursing support to assist with care by the parents. And although 10 percent or more may survive to their first birthdays, there are children with Trisomy 18 that can enjoy many years of life with their families, reaching milestones and being involved with their community.  A small number of adults (usually girls) with Trisomy 18 have and are living into their twenties and thirties, although with significant developmental delays that do not allow them to live independently without full time caregiving."

I cried and Burt just held me.  About 10:30 pm the night of January 3, 2018, I told him, I need to know who I should be praying for God to heal.  We went into the kitchen and opened up the envelope with the gender and in small cursive in the right corner of the paper it said "female".  We, both just hugged each other and cried.  We both wanted a girl!  I squeezed Burt so tight and said "She needs to be ok!  The test must be wrong!"  It was official, I was carrying DeLilah Eveleyn Villarreal in my tummy.


Picture January 5, 2018 (Our FB announcement)

We met with the specialist on January 5, 2018 and got to see how big our baby girl was getting.  She was measuring right on time and her heartbeat was strong.  The Dr. said she couldn't see any markers, but that she wanted to have us come back in a month for another ultrasound and possibly an amnio if we decide to do one.  She also thought is was strange that I was the 3rd patient she saw that day that had a positive screening for Trisomy 18 since "it was rare", and that maybe a batch of test were sending false positives.  Boy did that give Burt and I a sense of relief and hope.  When we walked out of the Dr's office and into the hallway to wait for the elevator, Burt broke down crying.  This was the first time, as he had been staying strong for me, but he just new everything was going to be ok now.

On February 1, 2018 we went to our follow-up appointment.  At this ultrasound the Dr. say several things of concern, "markers" as they refer to abnormalities consistent with Trisomy 18.  Both Burt & I were crushed.  Is she reading the ultrasound wrong.  But if she isn't, there is always a spectrum right.  Maybe, our little girl will be one of the lucky ones.  We opted for an amnio test for confirmation on how to proceed and got the extra test that would give us the preliminary results within 3 days.  The Dr. then ask "If the results are positive, are you going to terminate?"  I was horrified!  I couldn't even speak.  My husband had to reply, No!  It was at that moment I knew I wanted a different Dr. and to never see her again....which is exactly what happened.

On February 5, 2018, just moments after Burt got home from work the phone rang.  I didn't want to answer it as I saw on my caller ID it was from the specialty clinic.  I put it on speaker and answered, and they confirmed that the preliminary amnio results do show that our sweet miracle baby girl DeLilah Eveleyn was positive for Trisomy 18 (T18).  I thanked the genetic counselor, hung up the phone, dropped to my knees and cried a cry I have never cried before.  Why?  Why us?  Why our baby?  These were all questions I could ask, but not get an answer to.  


Picture February 5, 2018 (DeLilah's genetic map showing T18)

Although we believed in the power of prayer and God's healing, we wanted to be prepared for the worst.  So instead of planning a baby shower, we started planning for a funeral.  I know that sounds horrible, but if it ended that way, we wanted to be able to devote every second we had with loving on DeLilah and our other 2 children during our time of loss and not have to be planning a funeral.  On March 14, 2018, we met with the funeral home and planned everything out.  It was a horrible experience, but the funeral home was so compassionate and amazing.  I sent off my wedding dress to get made into Angel Gowns, so that our princess would go to heaven in white like the Angel's.  Not knowing how big she would be, they made 2 sizes.  The dresses surpassed all our expectation and were absolutely stunning.


Picture (Handmade from my wedding gown by NICU Helping Hands)

We continued to pray for healing and were surrounded by such an amazing group of family and friends who lifted us up in prayer and gave us emotional support.  I can honestly say I had so much hope that things were going to be ok, that I bought everything we would need for our little princess DeLilah until she was in 3rd grade.  Now mind you I was thrift shopping and couponing so we saved a lot of money.

On March 26, 2018 at our normal check-up we picked our tentative delivery date of June 11, 2018.  This was one month before my due date of July 12, 2018 (also my birthday), as our goal was for her to be born alive and depending on how well she was doing, we would decide at that time what kind of interventions would be done.  We already new she had hypoplastic left heart syndrome which meant the left side of her heart didn't develop and there has never been a successful surgery on a T18 baby.  The only "success" allowed the little girl to live 3 more months, but she stayed in NICU the entire time and went through several major operations to live that long.  DeLilah would have to be born and stay strong enough to even be a canidate for the surgery, so only time would tell.  The other issues that were complicating the pregnancy, I tested positive for gestational diabetes and I had a single artery umbilical cord.

On April 2, 2018, Burt had to go TDY (military term for a temporary duty station) to Hawaii for 3 weeks.  He tried to get out of it, given our situation, but there was no one else that was qualified to do his job, so off he went.  I was very worried and my gut told me that things were going to happen while he was gone and I was so afraid he wouldn't be by my side.  You know how we were always taught to follow our gut/intuition....well, this time proved to be true as well. 


Picture April 9, 2018 (waiting for my check-up)

I went to my regularly scheduled check-up and asked my close friend to go with me, as I knew we were going to get some kind of news, be it good or bad, I wanted support with me.  The Dr. came in and did an ultrasound and looked at me and said, "Your goal is to have her born alive?  Well, we need to deliver in the next day or two, because your umbilical cord is acting up."  I instantly started crying because I didn't know if Burt would be able to get back in time.  I immediately called him as we were on our way to the hospital. 


Picture April 9, 2018 (Getting ready to put on the hospital gown and wait)

I got checked into the hospital and Burt started working the process of getting home in time.  My dear friend stepped up and started working on getting things in order like getting my daughter here from college in NY and getting my son from school.  When the Dr. came in I asked if we could wait for everyone to get here and if it meant needing to deliver before that so she could be born alive then that is what we would do.  My best-friend drove in from LA and family & friends came in from Plano, TX.  Burt's work was able to get him on the next flight out by the grace of God.  Had I made the call 1 hour later, he wouldn't have made it as the next flight was 13 hours later.  After everyone had arrived which was 1:30 pm on April 10, 2018, the Dr. scheduled the c-section for 5:30 pm that night.  At that point I called our dear friend Wendy Wortham and told her so she could be at the hospital to baptize our sweet angel DeLilah.  In a room full of family and friends, we laughed and cried in preparation of DeLilah's arrival.  In the middle of her own family crisis, Wendy showed up prepared, but unfortunately the delivery time got pushed back to 7:30 pm.  She had to run and take care of her stuff, but promised to come back, which of course she upheld.


Picture April 10, 2018 @ 7:49 pm (DeLilah was delivered via c-section)


Picture April 10, 2018 (Daddy looking at & loving his miracle baby girl)

I can't even put into words the feelings we felt holding our beautiful baby girl, hearing her coo, and feeling and seeing her breathing.  We both just cried tears of pure love and happiness.  On the way to the room the nurse asked me, do you want us to ask anyone to leave and I said, "No, I want everyone to be there so share this special time with us and so DeLilah can feel how loved she is."


April 10, 2018 (My daughter and Burt right after the delivery)


April 10, 2018 (Big brother giving DeLilah kisses)


April 10, 2018 (Family photo with our precious DeLilah)


April 10, 2018 (Wendy Wortham baptizing DeLilah)


April 10, 2018 (DeLiLah with her beautiful Angel Wings)


April 10, 2018 (DeLilah in Daddy's hands.  She weighed 14 oz & was 9.75 in)


April 10, 2018 (The Dr. checking for DeLilahs heartbeat) 


April 10, 2018 (DeLilah gained her angel wings at 10:10 pm)


April 11, 2018 (DeLilah wearing her beautiful outfit Mommy special ordered for her in micro preemie size)


April 11, 2018 (DeLilah looking a sweet and snuggled in the blanket Samantha made for her)


April 11, 2018 @ 6:30 pm (Daddy saying goodbye)

It was around 6:30 pm on April 11, 2018 that DeLilah started showing signs that it was time to say goodbye.  It was the hardest thing to call the nurse and tell them it was time.  What was even harder was listening Burt whisper to DeLilah "I would've been a great Daddy."  I assured him he is a great father and all DeLilah new was love from all of us.


April 13, 2018 (DeLilah all dressed up in her beautiful gown and the rosary that Wendy gave her)


April 13, 2018 (DeLilah's funeral was beautiful.  Thank you to Stacy for the flowers and Wendy for doing the ceremony.)

Losing DeLilah was my breaking point in life.  It changed me forever.  I had already started therapy in preparation of it and wanting to try and ensure that my marriage didn't suffer as well from our loss as most marriages don't survive the loss of a child.  It was during this time that I was diagnosed with complex PTSD and I realized that I would not be able to continue my profession as a counselor as our Code of Ethics prohibits practicing in the frame of mind I was in.  Knowing it would take an extensive amount of time to even start healing from the loss, I retired my license, which then was another loss, the loss of my career. 

It has been almost 6 months since our sweet DeLilah passed and I have gone back and forth on what do I do next.  Our family is not complete and I need to exhaust all efforts so that I can look back and say I did.  After looking at our options and knowing I had to try everything possible, we decided to try IVF with a surrogate.  Our dear friend has volunteered to be the surrogate, which is a gift I could never repay her for.  


Picture May 12, 2018 (My surrogate, myself, my dear friend at the Now I Lay Me Down To Sleep Walk)

The process of IVF starts with me being put on medication and injections that I will take to stimulate my ovary (one no longer has eggs) to produce multiple follicles. Once my follicles are at a certain size I will have a surgery to extract my eggs. Our fertility doctor will then do testing on all the eggs that they got to weed out the bad ones. After that is complete, they will inject all the good eggs with sperm.  They will watch the embryos grow, and they will do testing on them to make sure only the best are left.  A month following the egg extraction they will implant our surrogate with one to two embryos (depending on how many survived and are healthy), and she will be placed on bed rest to help maximize our chances of it taking. After those days of bed rest,  she will be able to regain her normal activities within reason. They will then put her on limited activity to give the embryo a chance to fully implant.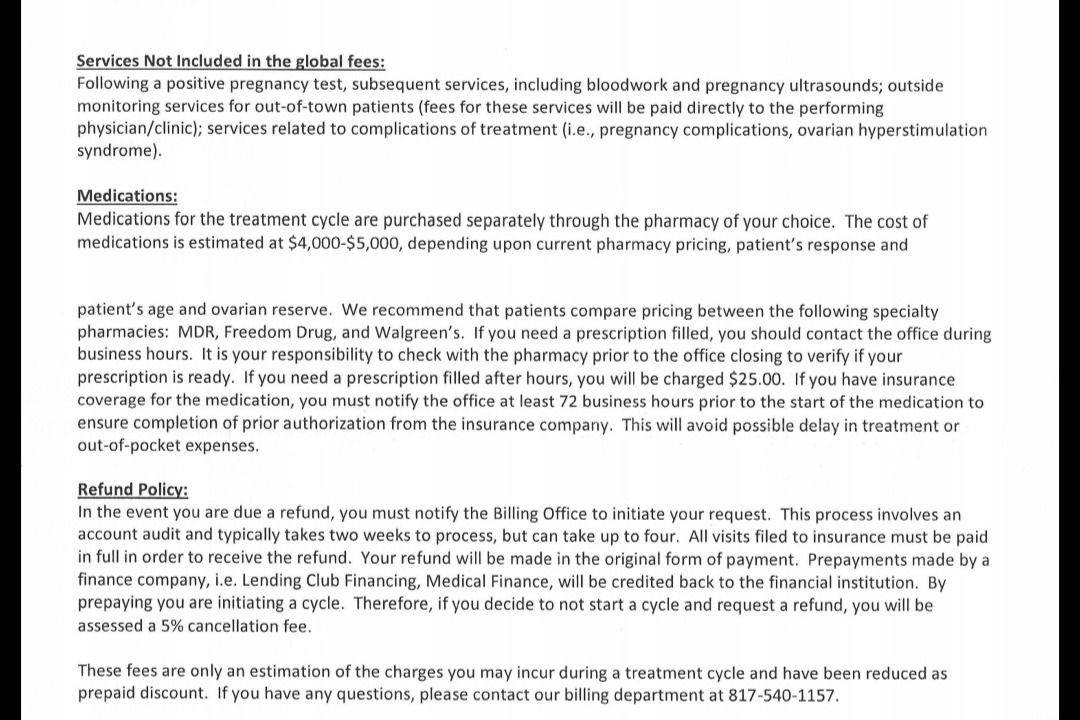 September 25, 2018 (Pricing sheet from my appointment at the fertility clinic for IVF with a surrogate)

Unfortunately I do not meet the qualifications for our insurance to cover IVF and they don't cover IVF with surrogacy and given my medical history, the Dr. recommended against me trying to carry another baby, so our only option is to pay out of pocket.  Given I am no longer working and am on a fixed income other than what Burt makes, paying for this by ourselves would be almost impossible unless we had time to save.  Time is something we absolutely don't have.

I was diagnosed with unexplained infertility 7 years ago which makes this journey even more difficult .  I am going to be 42, so this is very urgent due to my "advance maternal age".  Right now, things look reasonable, but every month that passes I am losing eggs and the possibility of having my husbands second and only still living biological child.  Age is definitely a factor; that's why we need to move along with this new course of treatment sooner rather than later. 

Anything donated would mean everything to us.   We are so ready to complete this portion of our family. We promise to keep you posted along this journey as you are a part of making this prayer our reality.

We fully understand that many people have problems of their own and may not be able to give anything.  That is completely okay, and all we ask that you share our story with the people you know.  We debated this process and are still feeling a bit of uneasy at the idea, but we decided that it couldn't hurt to ask. 

Please note that although this is written from my POV (DeAnna),  Burt is clearly going to be involved in monitoring the GoFundMe.  Any funds that we receive will go to paying for the medical expenses directly related to the IVF with surrogate process.  If any funds remain or if we are unsuccessful, all funds with be donated to SOFT (The Support Organization for Trisomy 18, 13 and Related Disorders) via www.trisomy.org in honor of DeLilah Evelyn Villarreal.
+ Read More