PHOENIX RISING
$6,402
of $7,500 goal
Raised by
39
people in 27 months
"Cindy has dedicated her entire life to helping others. A string of unforeseeable, devastating circumstances has forced her to reach out. Now is the time to "pay it forward" to help someone who has devoted her entire life's work to helping others." -Connie Strong
Freelance Writer/Editor
Brenham, Texas



"Cindy Pickard came into our lives during my family's darkest of times. I was only 22 years old, when my husband and I learned...



 of our entire family's stunning diagnoses of HIV/AIDS.....


I am proud to have contributed in such a small way through her life's work and feel that together we not only broke the stereotypical image of a person with HIV but also humanized the disease and allowed others to be educated in our daily struggles"


-Gerri Briggs  *Gerri lost her husband, brother and 2 year old son to AIDS

~~~~~~~~~~~~~~~~~~~~~~~~~~~~~~~~~~~~~~~~
WHERE I'M AT NOW/THE PHOENIX IS STRUGGLING TO RISE

Below is my story about the work I did for nearly 30 years. People I worked with during those years wrote  stories and letters and so it's a record of some of the work seen through the eyes of others. It's a little bit long but I tried to make it inspiring using photos and video clips.

"Your best friend can be your worst enemy" ~Bob Marley

Because of one friend's betrayl, a friend in whom I had absolute trust and who was also my assistant for nearly 30 years....I lost nearly everything and so in these last 2 years I have been trying to find the inner strength to pull myself out of a very dark hole and tremendous debt.

*Briefly, RITES OF PASSAGE aca/AIDS Care & Assistance, the non profit which I founded in 1988 abrubtly lost all its funding in April 2015. Though this funding was guaranteed to come back, it never did. Since I believed it was coming back, I tried to hold on. This combined with my 'friend's' betrayalcaused me to lose everything....all my savings, my salary..everything.



This had been my life and my life's work so really It's the same as suddenly losing the job you had for 30 years.....with no benefits.

*For a long time, I didn't acknowledge the betrayl but I finally wrote about it here: HERE

So many friends have helped me in these last couple years and their help has kept me from completely giving up. Most recently because of contributons I have gotten,

I was able to get enough solar batteries [I live off the grid] which will ensure that I will have electricity this winter

I am VERY THANKFUL to all those who have helped me as I try to climb out of  this very dark hole....I still have a ways to go.

Currently I live on about $600 a month as I try to pay off a lot of debts.  It is very difficul and humiliating sometimes  but I am making progress and fortunately I don't have all the expenses most people do: I don't have a mortgage, I live off the grid so I don't have utilities...and I have a greenhouse which provides a little food.


My greatest wishes now are
1-
to be able to fix up my FJ Cruiser which is old and needs new tires and breaks...badly and a new windshield
2-to afford a small cell phone for emergencies
~~~~~~~~~~~~~~~~~~~~~~~~~~~~~~~~~~~
RITES OF PASSAGE aca/AIDS Care and Assistance
I founded RITES OF PASSAGEaca/AIDS Care and Assistance in 1988 with a mission to provide hospice type home care for terminally ill people as well as to offer education on death and dying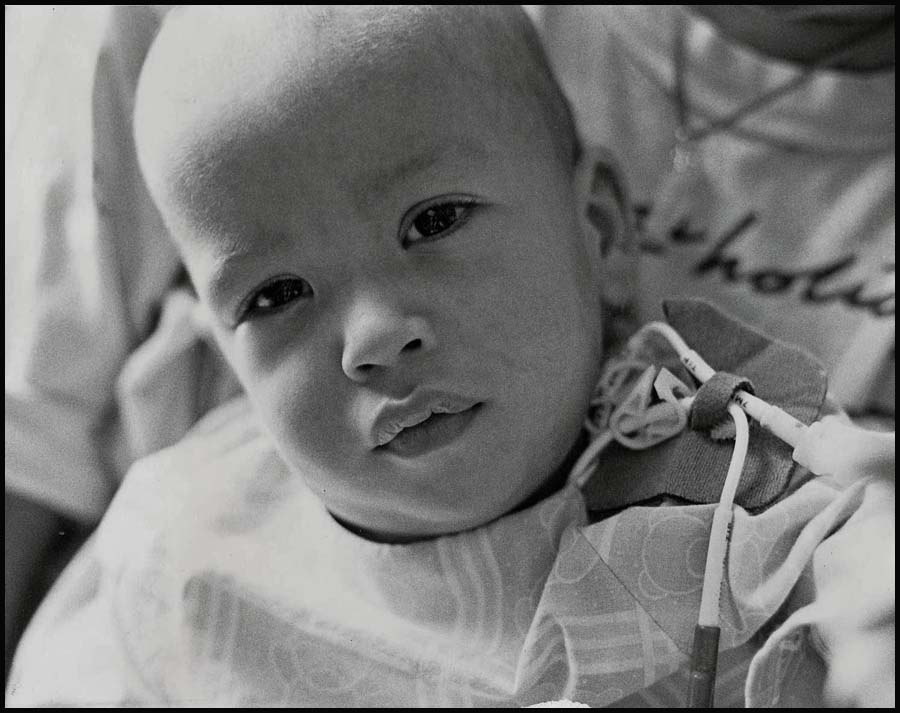 Jason Matthew Briggs/baby with AIDS
As time went on, we became more involved in offering education on loss, grief, death and dying and later Native American teachings and most recently prison reform.
We made close to 20 educational documentaries, several of which are used by nursing schools, hospices, universities etc throughout the US and Canada.
And I gave numerous presentations at National Hospice and Palliative care conferences and created 3 traveling photo/oral history exhibits.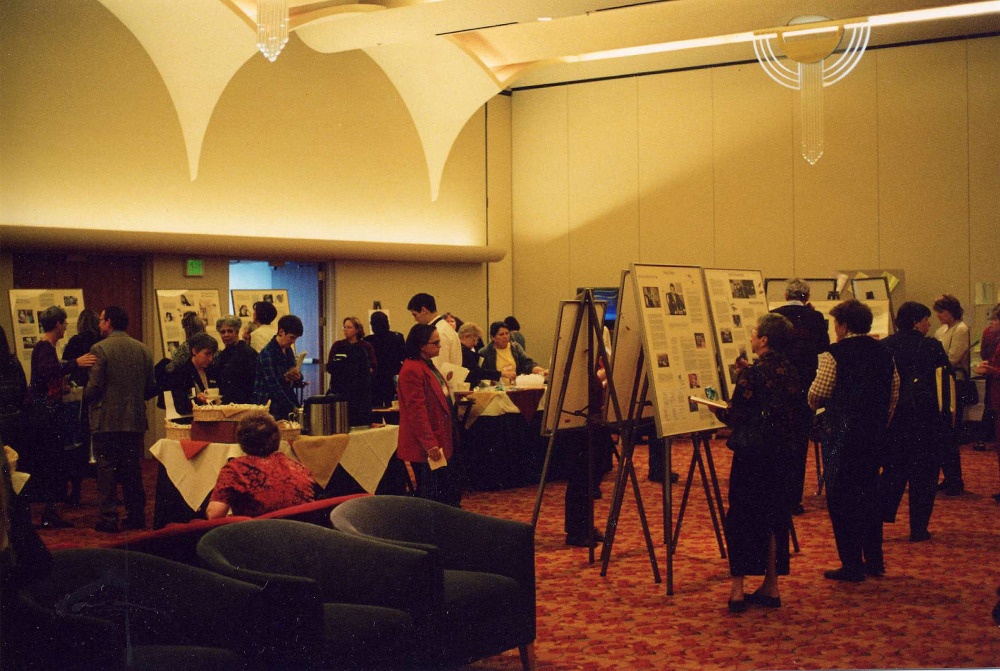 "Between Now & Forever" Exhibit/Turning Toward the Morning Presentation  U of Wisconsin-Madison
Multimedia presentation  in Little Rock, Arkansas
1988- HOME HOSPICE CARE"Cindy Pickard came into our lives during my family's darkest of times.  I was only 22 years old, when my husband and I learned of our entire family's stunning diagnoses of HIV/AIDS.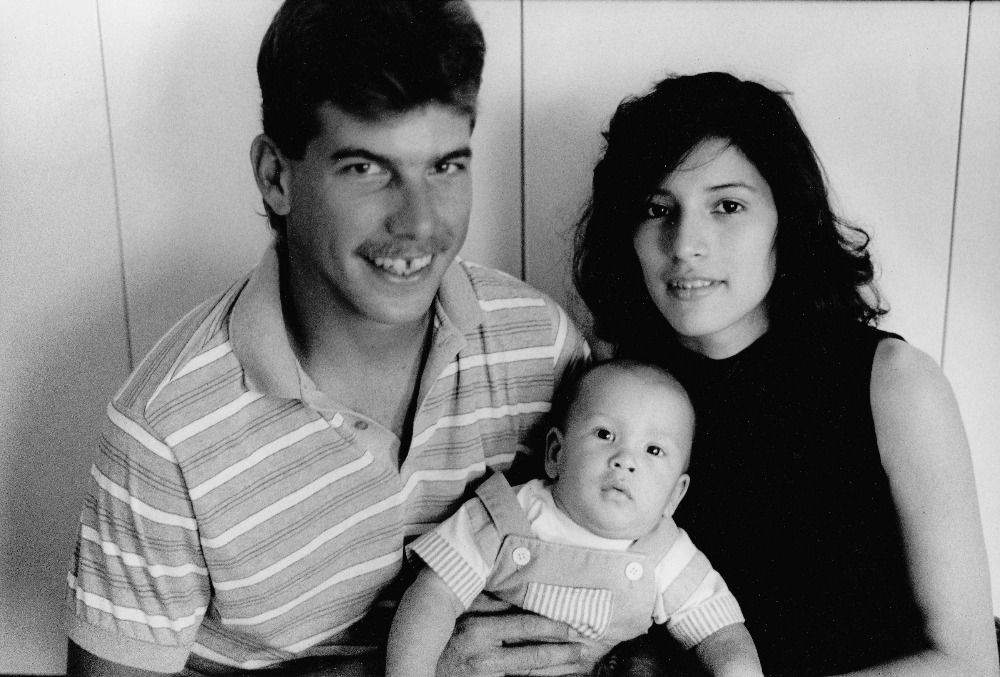 Jim, Gerri and Jason Briggs/Family with AIDS
Cindy orchestrated caregivers who provided weekday respite care for our three month old son, Jason....
Jason Briggs with his Rites of Passage caregiver

She and her organization helped many other families too, dealing with difficult situations like ours.  Later, her vision encompassed  making educational videos that would reach a global audience touching on many important but uncomfortable subject matters such as death and dying and bereavement......
Some of these videos included the daily struggles that my family and I were experiencing while others dealt with the pain of the aftermath.  I am proud to have contributed in such a small way through her life's work and feel that together we not only broke the stereotypical image of a person with HIV but also humanized the disease and allowed others to be educated in our daily struggles
~Gerri Briggs

1988-THE AIDS EMPIDEMIC - AUSTIN, TX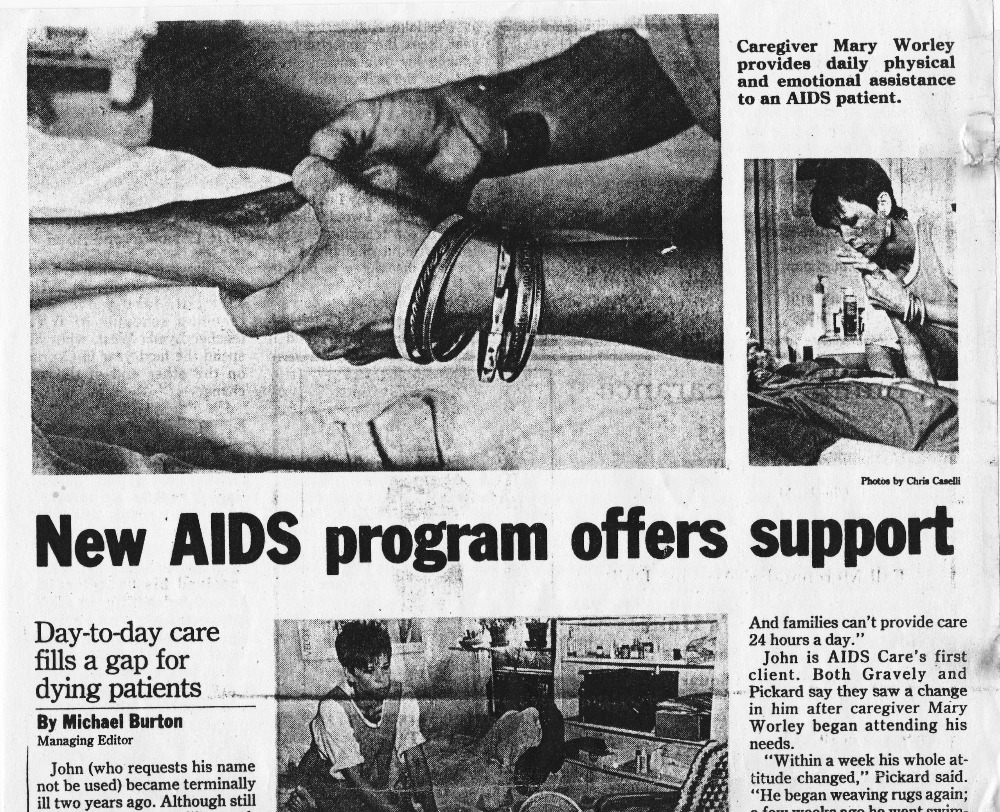 "I had the honor to work with Rites of Passage as a caregiver in the late 1980's. This was a time when AIDS was not understood by the medical community, nor by the general public. Many people died during this time, and Rites of Passage was there through it all to offer hope and love and healing in ways that were truly authentic and life-affirming." -Ralph Lopez, MAHS Executive Director, Poster Boyz  Santa Fe, NM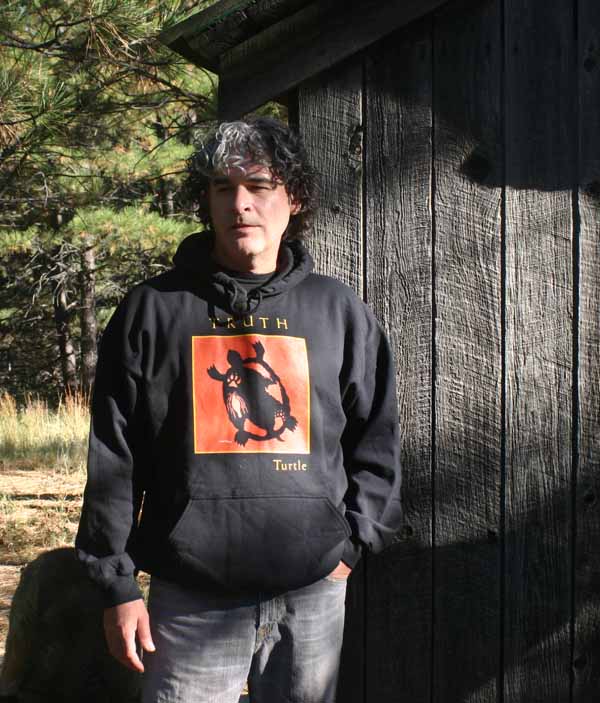 Ralph Lopez  

1990-ART CLASSES FOR OUR PATIENTS
" Cindy also recruited volunteers and gathered a few supplies to create an art class....The men, and one woman, attended the weekly classes with enthusiasm, earnestness, and open hearts in order to create something to express themselves....
...make gifts to say good-bye to their loved ones, and find community with each other, as by this point, they were often destitute and alienated from families and sometimes friends. It was Cindy's vision, courage, and fortitude that created an oasis for those who had nothing left.-Jill Brasch, OTR author of "The Last Gifts"
2002- BETWEEN NOW & FOREVER a traveling photo/oral history exhibit on loss/grief
"A celebration of the beauty and resilience of the human spirit"

" I first met Cindy when she brought her exhibit, Between Now and Forever to Grand Rapids in 2002 for several days.
Some local hospice, hospital, education, and service organizations worked together to bring in Cindy and the exhibit. The impact was phenomenal.
Not only were hundreds of people touched, inspired, and educated by Cindy's work on loss, grief, healing, and the resilience of the human spirit,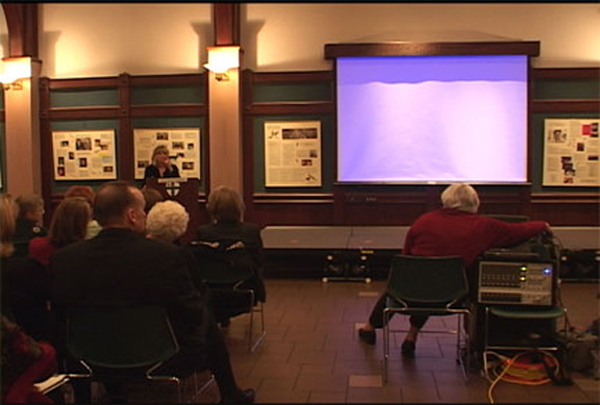 but that experience....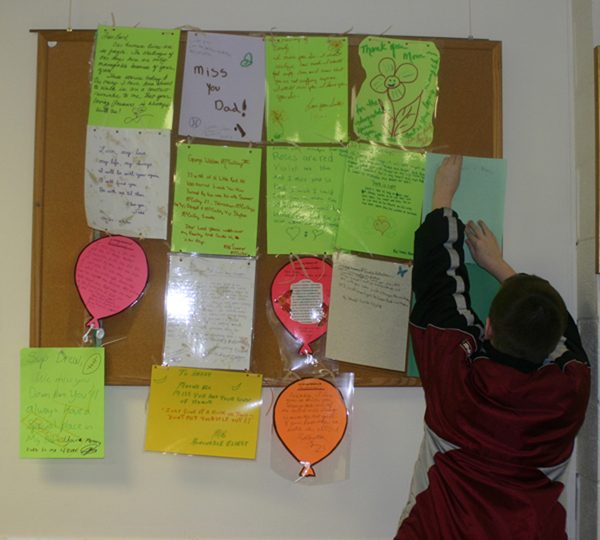 ...led to the creation of the Greater Grand Rapids End of Life Coalition in 2003 which is a vibrant coalition of hospice, hospital, higher education, and service organizations dedicated to increasing awareness and improving end of life care within the greater Grand Rapids area. The Coalition has since offered annual conferences for professionals in the community on end of life care"-Robert J Bos, MDivChaplain at Spectrum Health Hospice and Palliative CareGrand Rapids, Michigan
BOB BOS
"A CHILD'S GRIEF- SEPTEMBER 11TH STORY" [Matthew Rogan, age 16 with his exhibit piece when Between Now & Forever came to Long Island]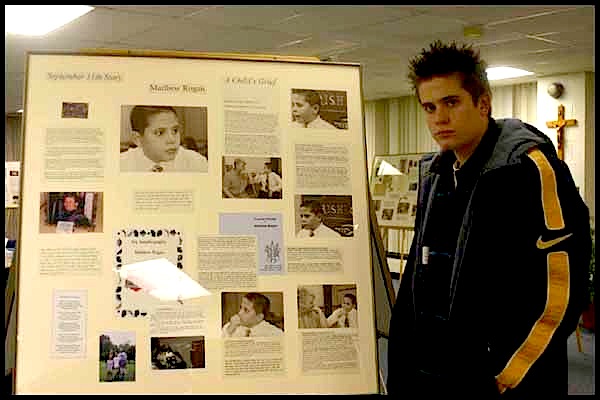 " Cindy donated a piece from her Between Now and Forever exhibit to the Houston Fire Department in my husband's (a career firefighter) honor. 'A Child's Grief' contains photos and a letter from Matthew Rogan to his father, New York fire captain Matt Rogan who was tragically lost when the World Trade Center towers fell." -Connie StrongFreelance Writer/EditorBrenham, Texas
"We would go clamming together and it was just like a bond of our hands grabbing each other and staying together and every time we'd go clamming, we'd talk about everything, everything in the world and we'd take my dog, Sam for a walk..... and every day he waits for my dad to come home.."
Matthew Rogan age 10    9/28/2001
From "A Child's Grief"  The Between Now & Forever' Exhibit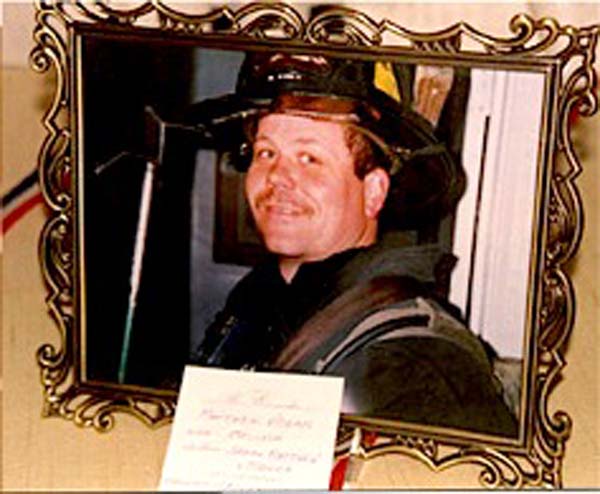 NYFD Captain Matt Rogan
2004-present
NATIVE AMERICAN/FIRST NATIONS WORK
"Cindy's faithful support with the sharing of our ancient Indigenous knowledge through her films has been so critical to our work in bringing a message of our relationship to the Earth, one that supports peace."
-Dave Courchene (Nii Gaani Aki Inini - Leading Earth Man)
Anishinabe Nation, Eagle Clan
Sagkeeng First Nation,  Ontario, Canada
-Dave Courchene (Nii Gaani Aki Inini - Leading Earth Man)

2014- ON THE LAND~Together with the Earth
a documentary on sustainable living, the wisdom of the elders and the music and the art of northern New Mexico



ON THE LAND is dedicated to  Flamenco Guitarist Ricardo Anglada who suffered a severe stroke at age 29 Hi Cindy,
I want to take this time, to thank you, wholeheartedly for dedicating your film, On the Land, to my son Ricardo. Thank you for inviting him to share the stage and play his fabulous guitar. That night, was actually his first public performance since suffering his stroke, 11 months prior.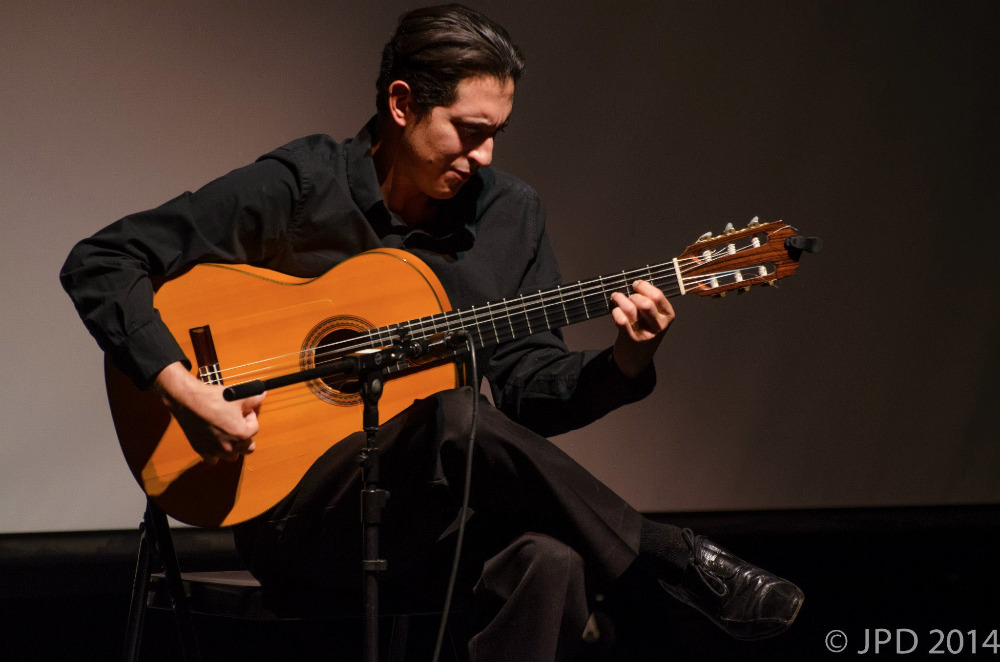 Ricardo Anglda   photo credit: joan david

It was so heartwarming to see his return to the stage, expecially in our hometown. It was the beginning of a long road of building his confidence and endurance to perform live again. Thank you Cindy.

I also loved the film and the other local musicians. Keep up the work. It is educational, informative and entertaining. I wish you much success.

Sincerely,

Rick Anglada
Chief Taos Police (Retired]
former New Mexico State Police Lt.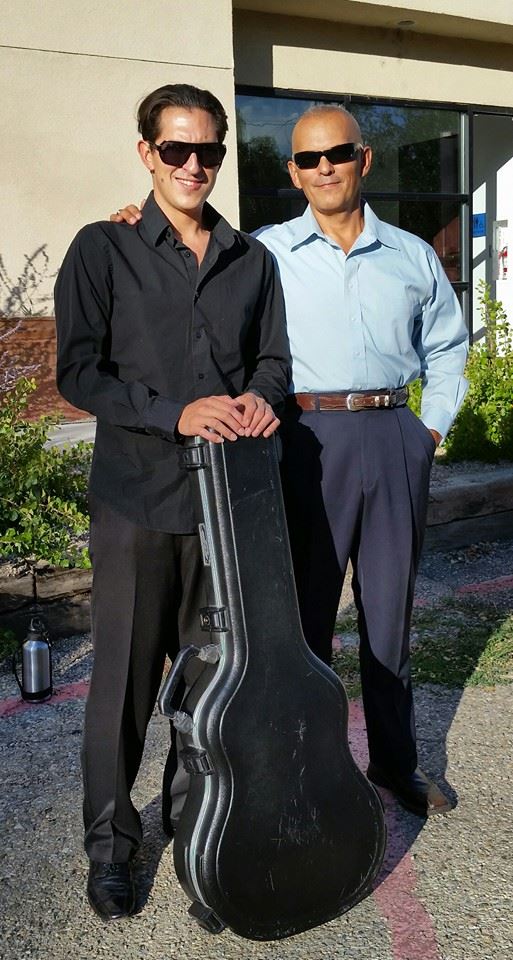 Ricardo and Rick Anglada


Photo from Santa Fe Penitentiary photo credit: Michelle Line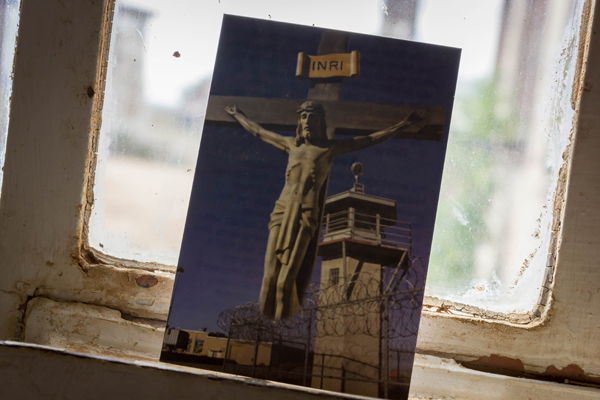 "Cindy consistently exposes the hypocrisies and dangerous paths mankind is on and yet manages to explore positive solutions to deliver humanity from its self-destructive path. She continues to show us that there is always hope, even when obstacles seem too great to overcome. Pickard's keen skills as a documentarian combine the beauty of her medium with her passion for the belief that film has the power to help transform the world."
-Distinguished Painter, Sherri McGraw
Santa Fe, NM


Sherrie McGraw
  THE LIGHT IN THE SHADOW- 2015a documentary on prison reform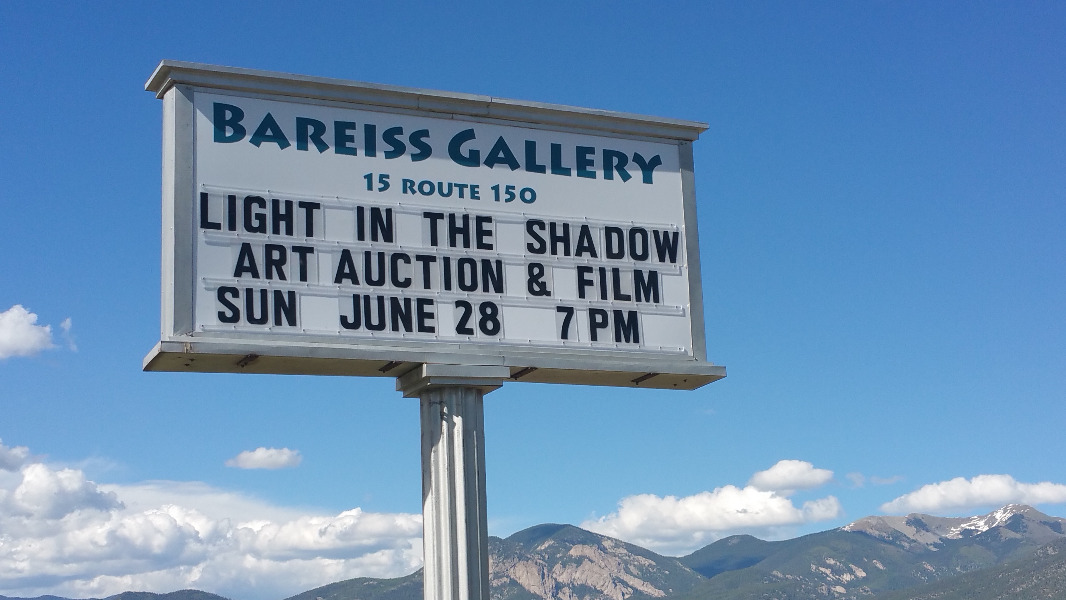 THE LIGHT IN THE SHADOW PREVIEW

"In her powerful film on prison life, The Light in the Shadow, Cindy shows the redemptive quality art can have on these discarded souls. Knowing my experience with the prison population as an invited art teacher to San Quentin Prison, Cindy asked me to lend my insights to her project. Through this life-changing film, she gave me a chance to share the meaningful relationships that were formed with art students who had obviously undergone complete transformations since their criminal youths. If it weren't for Cindy's desire to capture this lost demographic in her film, no one would know the profound effect art can have on these men. For those who watch her films, the dedication to looking at those issues society tends to avoid is the strength and power of her work and what makes her films relevant for all time."
-Legendary Painter, David A Leffel http://davidleffel.com/
Legendary Painter, David A Leffel 
Mural at Santa Fe Penitentiary photo credit: Michelle Line
"I have followed Cindy and her remarkable and compassionate work through the years, ... She is now offering me help as I am heading up a group who will open a Transformational House for Women who suffer from abuse, addiction, sex trafficking, and incarceration.  Cindy will, once again, contribute to others as she has done most of her life.

She
is an example of compassion and healing spirit that is missing in so many areas of our world today. She has cared for those who are the least fortunate, and has given of herself to serve others, no matter what the cost. I am very honored to call her both colleague, but most of all FRIEND.-Kathy KaczmarickChaplain at Presbyterian Village Retirement Center Little Rock, ArkansasFormer Chaplain/Bereavement Coordinator at Arkansas HospiceFormer Chaplain Resident at UAMS - University of Arkansas for Medical Sciences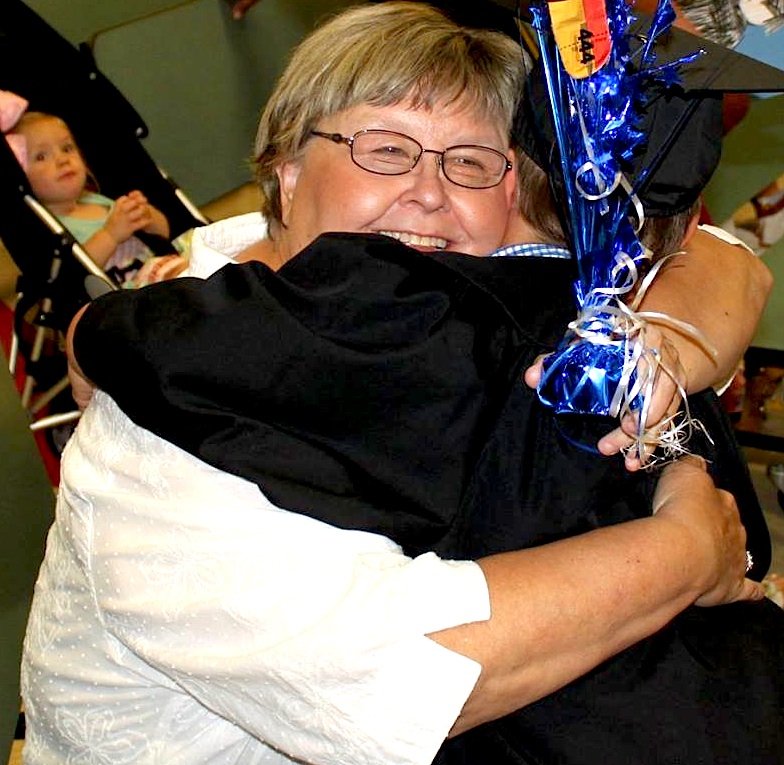 Kathy Kaczmarik


Jody Armijo's Story from ON THE LAND ~Together with the Earth"Cindy has continued to follow her heart and focused on making transformative documentaries that tell the stories of remarkable people who have faced adversity and found more meaning in life.  Since the beginning, Cindy poured her heart, soul, and resources into RITES OF PASSAGE to help others and enlighten us all.  She is one of the most selfless and visionary people that I know.  At this difficult time, she needs help to continue making her impactful documentaries and providing educational outreach.  I urge you to help her in any way that you can."- Laura Heald, former Assistant Director, U.S. Government Accountability OfficeAlexandria, VA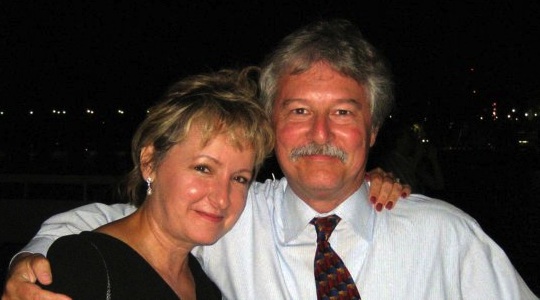 Laura Heald and husband, singer/songwriter Jim Heald

*Gerri Briggs, whose story is above, gave me the title, "The Rainbow After the Storm" She wrote this to me:
"Never lose hope in the human spirit; we all go through things in life not knowing if we are capable of getting through them. But those who choose to face their fears and walk through the storms will see the rainbows on the other side."
As I have already said, I have been living through the most difficult period of my life so far...it has been terrifying, painful, depressing  andconfusing with one loss after another. I have felt forgotten and forsaken....it has been like a storm that never seems to end and in the midst of this storm I have found out who my friends are and who they are not. If I can get some support, financial support, I KNOW that I can make a comeback.
Financial support doesn't just mean money, it means someone believes in you, cares and understands. It's a kind of humility that says as I'm helping you now, I understand that a time may well come when I will need to ask for help.I live off the grid so I don't have any of the usual expenses that plague so many people: mortgages, utilities, high taxes, car payments etc but I have gotten into debt paying expenses for ROP as well as my ownWith a little help, I will  pay off the debts and the phoenix will rise from the ashes...ready to create again.
This film clip below, a song written by Bob Dylan and performed by the Pines, is very meaningful to me.
WHAT GOOD AM I/Bob DylanWhat good am I some like all the rest
If I just turn away when I see how you're dressed
If I shut myself off so I can't hear you cry
What good am I ?
What good am I if I know and don't do
If I see and don't say if I look right through you
If I turn a deaf ear to the thunderin' sky
What good am I ?
What good am I while you softly weep
And I hear in my head what you say in your sleep
And I freeze in the moment like the rest who don't try
What good am I ?
What good am I then to others and me
If I had every chance and yet still fail to see
If my hands are tied must I not wonder within
Who tied them and why and where must I have been.
What good am I if I say foolish things
And I laugh in the face of what sorrow brings
And I just turn my back while you silently die
What good am I ?
+ Read More
Be the first to leave a comment on this campaign.