403
4
Police Officer Fighting Brain Tumor - Randy C.
$27,725
of $25,000 goal
Raised by
375
people in 2 months
Click here to listen to Randy's radio interview on 99KG
Click here to listen to Randy talk on 99KG about the upcoming surgery
On April 12, 2019, the Salina Police Department was hit with the news that one of our own, Randy Constantino (Badge #879), has a very large, and life threatening, brain tumor.
Doctors believe it is one of two kinds; either Astrocytoma or Acoustic Neuroma. Our understanding is they will not know which until they do surgery, which will need to take place as soon as possible.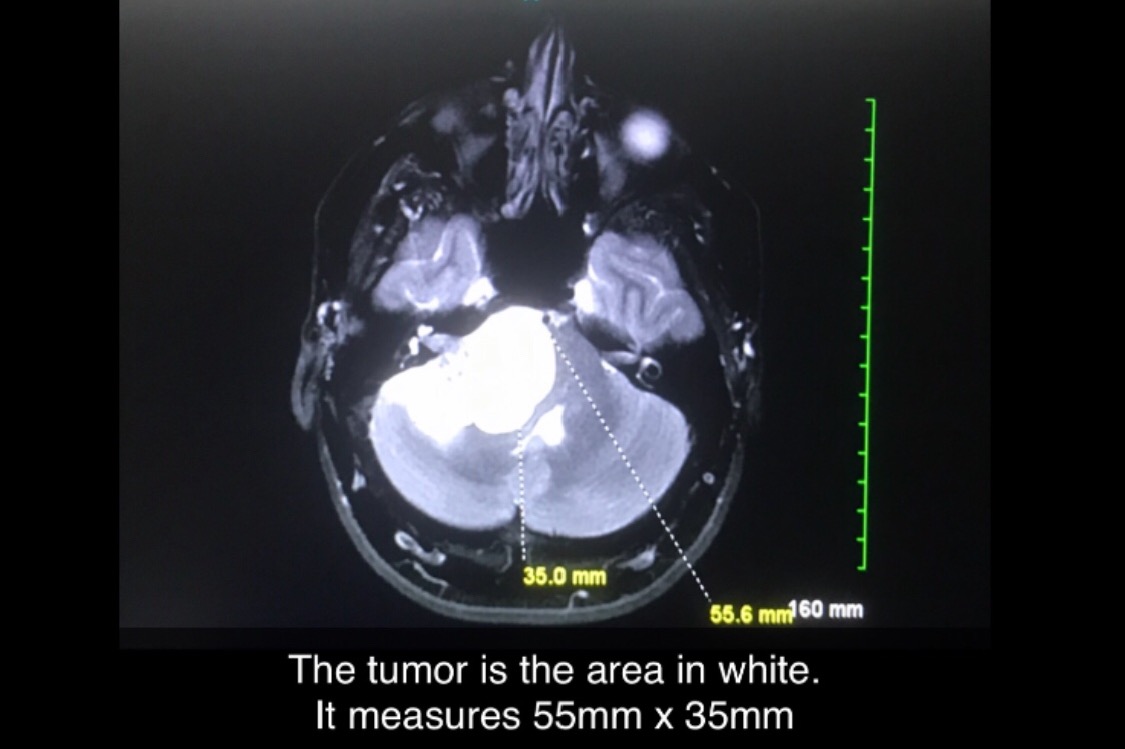 If the surgery is successful, Randy is looking at a long road to recovery. He has been told the absolute soonest that he will be able to return to work is 2020. 
Randy is an 8 year veteran of the department, currently working in patrol as a Field Training Officer. He is also a SWAT Negotiator and part of the specialized Bike Patrol.  He is one of the best people I know and was one person who continually checked on me and offered assistance to me in my own personal time of crisis. 
Please join me in helping relieve some of the financial stress that comes along with receiving terrible news such as this. Contributions will be used to cover medical and travel expenses for Randy and his family as they anticipate making many trips to Mayo Clinic in Rochester, Minnesota over the next several days, weeks, and months to get the best medical care possible. 
Randy and Rachel would like everyone to know that their faith in God is helping them and their family get through this difficult time, and any prayers are appreciated.
Thank you in advance.
Update 04/15/19:
We've had good and bad news today. The good news is the doctors at KU think it's benign and is an acoustic neuroma based on location, characteristics, and size, however they still will not know until surgery. Because it's so large they will have to do two surgeries. The bad news is that they do not think he has a chance of hearing and will have facial paralysis on one side. The doctor said there is a 5-10 percent chance of a stroke during surgery or brain fluid leak. They are in good spirits and are currently on their way to Mayo Clinic to meet with four additional doctors. They would like to thank everyone for the overwhelming support and prayers.
+ Read More
Update 2
1 month ago
Share
Update from Randy 4/27/19:

I am home now. Two weeks ago on Friday 4/12/2019, I left Salina Regional Health Center after receiving an MRI and was asked to head over to Dr. Trent Davis MD's office for an immediate consultation. This is when he advised me of the news of having a large tumor on my cerebellum/ brain stem. It was so weird to feel so calm. It might be the years of having a cop mindset of just fixing problems, or it was feeling so close to Jesus since my grandparents first introduced me to the Lord at a young age. Either way, I had my wife Rachel Hinde-Constantino by my side and I had no fear.

I was told a tumor this size should have been affecting me, and it would definitely affect me once it's taken out. I was told they would not know for sure if it was cancerous or benign until it was removed. We were set up to see doctors at KU Med, and Rachel also made an appointment with Mayo Clinic in Minnesota as they are ranked # 1 for neurology and neurosurgery. After meeting with several surgeons, doctors, and specialists Monday through Wednesday, I was told by the Mayo neurosurgeon I could have my surgery Thursday.

That was such a tough decision...I prayed and asked for direction. I never heard a voice or received some miraculous sign, but what I did receive was clarity. God had given me clarity to think about all the possibilities that come with making such a monumental decision. As I got up from sitting in the middle of downtown, sprinkling, cold, Rochester, Minnesota, I knew what I had to do.

Rachel and I made the surgery official and had to check in at 5:45 the next morning. I was not fearful that I would never see her face or my family's again, I just kept feeling blessed. There's so many people out there who never get to say good bye to loved ones, who are never given this chance. That saddens me beyond belief and made me so glad to have this opportunity.

When I woke up in ICU, I had never had as much pain in my left hip, left eye, neck and head, but I was alive. I was a little out of it, but I was alive. I spent some extra days in ICU as I could barely move. They drained some extra spinal fluid from my head, which was a little scary. As the days progressed, I became stronger and pushed myself more and more until they let me go. They removed the two balance nerves on my right side and my hearing nerve on my right side, so it has taken some adjusting to, but I promised myself there will be no way to tell that I've had this surgery!

The outpouring of support from from all over is truly amazing, and is such a testament to the human spirit. It's unbelievable. To hear from people through calls, texts, Facebook messages, from family and friends from the UP in Michigan (where I'm from), from high school and college friends, from my time in Oklahoma, my blue family in Kansas, across the country, and in Salina, has made me emotional. To see how freely people offered not only their financial support, but their thoughts and their prayers to me. To me. I can't even put into words the amount of love a single person can feel.

What part of our lives is really under our control? We build clocks to keep track of time, predict the weather, avoid situations that may bring us pain or even embarrassment, but there is really nothing we control except how we feel, how we feel about EACH other. We live in a sinful world with bad things happening all the time mixed with disease and illness, but we have God and we have EACH other.

From family, friends, strangers... the support is absolutely amazing, and nothing on this planet can ever contend with the amount of love that people have shown me.

My dad, mom, brothers, aunts, uncles, cousins... the stuff they dropped to come see me. Wow. Rachel's family poured out support through prayers and encouragement and made me a welcome home sign, cookies and took care of our pets while gone. Just wow.

All of the coworkers who felt the need to send me words of encouragement, sell wrist bands, t-shirts and car window decals, the officer's wives group to think of Rachel in her time of need, the local radio station 99 KG, the creation of the Go Fund Me account and bank account, and endless cards... it's just surreal, it's unbelievable.

God is blessing me with strength because of all of you. I can't say thank you enough.
+ Read More
Update 1
2 months ago
Share
From Randy:

Brain tumor. That's a scary word when you're first told the news. Confusion of what exactly that means for me, my family, my career, my life enters the mind. Especially when you're first told it could be cancerous or benign. You would think there would be some crazy realization about life or some spiritual awakening I would share with you, but I can tell you I've not felt absolute devastation or hopelessness, and I attribute that to one thing, God. My faith in the Lord has truly helped me feel a calmness through this that cannot be explained. I was prepared to hear news ranging from the absolute worst to the best. Knowing that Jesus died to forgive our sins and that the worst outcome would be in heaven praising God is not a bad outcome at all. "For to me, to live is CHRIST and to die is GAIN." Phillipans 1:21. Of course I was sad thinking of my wife and family not having me in their life, but I knew I would be taken care of. By truly believing this and feeling this has allowed me to stay in good spirits through it all. I also believe all the prayer and well wishes have kept me lifted both spiritually and mentally by seeing all of the outpouring of support.

When Kevin R. approached me about a GoFundMe account, I had not even thought about the financial repercussions of such a diagnosis. The more I thought about living off of one income once my sick time runs out, and the long stays at Rochester, Minnesota visiting Mayo Clinic, it made sense. I felt very vulnerable to open myself up to accepting financial help from family, friends, and strangers. Seeing what was done both financially and along with prayer is so amazing it's indescribable.

That leads me to the diagnosis. We have seen an array of doctors, specialists and surgeons both at KU Med and Mayo. They have all agreed to some certainty or another that the tumor is an Acoustic Neuroma. That means that it is benign and survivable, but we won't know for sure until it's studied after being removed. They are all impressed at its size and are amazed I can hear and walk due to balance complications this location of tumor causes. They believe the tumor started in the brain and could have been there for years, but there is no way of knowing. They state removing the tumor will permanently damage/ destroy the right ear, and I will lose hearing for the rest of my life along with some facial control on the right side. This is a small price to pay to remain on this planet. Surgery will be all day tomorrow, and if I make it through,I promise to keep this good and positive attitude to make it through rehab. We hope that I can be back to operating in my full capacity in 4, 5, 6 months rather than 8+. The money raised will be used for the best care, and if that results in a quick recovery, my wife and I plan on finding a cause or two, or three, to donate the remainder of the funds to. My wife Rachel and I are so grateful for this gift. We are filled with hope for the future as there is one less burden to think of.

As a side note, I've had a few people text me and say they don't normally pray, but they were going to start or try on my behalf. This brings me joy beyond belief. If someone can become closer with God because of what I've gone through, then it's easy to see the reason of why I had to go through having a brain tumor. That is a very small price to pay to possibly save a soul. Jesus loves, and so have all of you.

Randy
+ Read More
Read a Previous Update