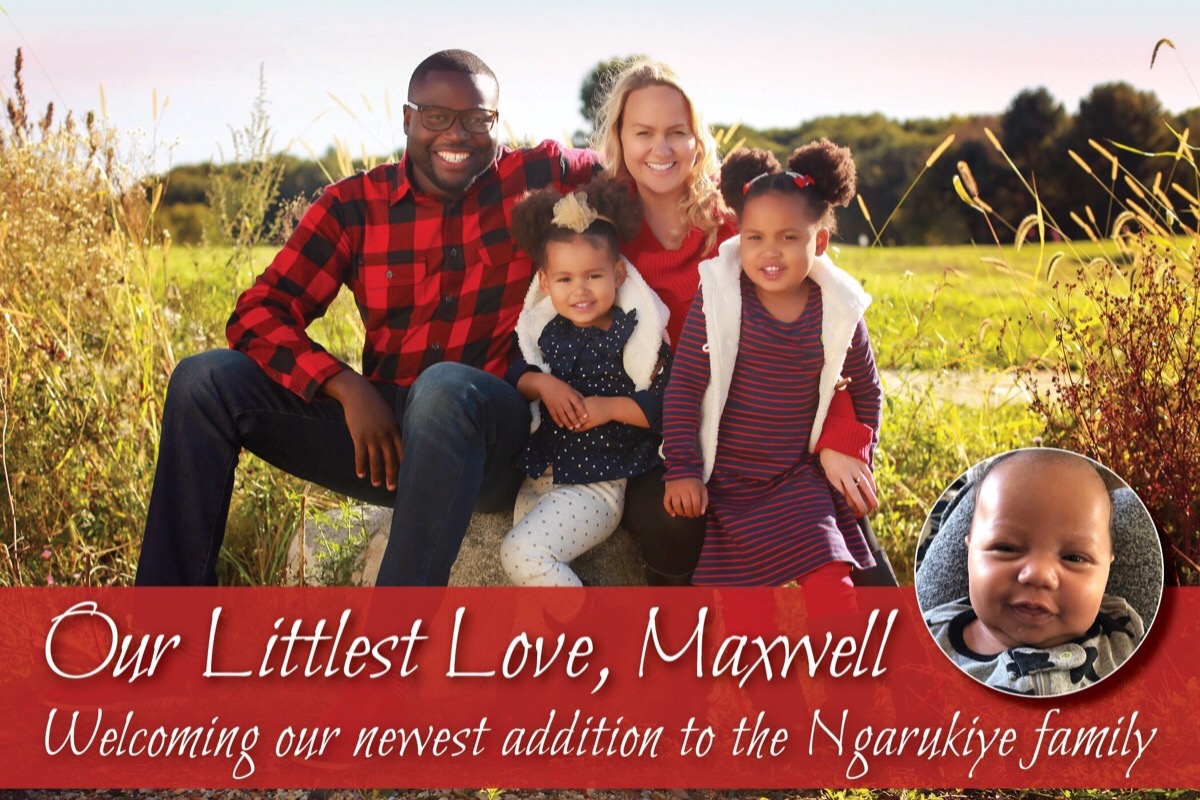 438
13
Gave birth then diagnosed w/ Stage 4 Colon Cancer
$47,060
of $47,000 goal
Raised by
432
people in 3 months
It was the day after Christmas that my beautiful baby sister Charlotte Ngarukiye finally felt relief. She was not relieved of the pain, but she finally had validation from a doctor that the pain was actually real! After months of pain and years of seeing doctors for what she was told were minor issues, she was finally diagnosed.  This came just shy of three weeks after the birth of her third child, Maxwell. While recovering from her C-section surgery, taking care of her beautiful 3 and 4 year old daughters (Isabella and Alexandra) as well as her new baby boy, she was told the pain that was supposed to "go away after the baby was born" was Colorectal Cancer!  Sadly, although this was an extreme shock to our entire family, she told us that she wasn't actually surprised, but thankful that not another person would tell her to live with the pain she had been enduring. Deep down, Charlotte had known something was wrong, she just needed a doctor to see it for themselves to figure out what was actually wrong.
From December 26th, her world began to spin into that of CT scans, biopsies, MRI's and meetings after meetings with doctors and surgeons for second and third opinions.  Finally, after multiple tests had been completed and Charlotte had traveled across New England to meet with several doctors, Charlotte was diagnosed with Stage 4 Colorectal Cancer.  As many of you may know, Stage 4 Cancer means the cancer has spread from it's primary origin to another organ, or multiple organs, in the body. In Charlotte's case, the cancer has spread from her Colon, to her liver and also her lungs.  
As a family, we have been completely overwhelmed and more than touched by the outpour of people who want to help and support Charlotte.  So many of you have asked how you can help and support and although it's a VERY tough thing for Charlotte to accept or ask for, she now needs your help.
Charlotte has always been the angel in our family. She lives in this world touching so many people with her desire and love of giving.  She has always sacrificed herself for the betterment of the people around her. She is a silent giver, never wanting or needing recognition or even a thank you.  We want to be able to give her back what she has so seamlessly and willingly given to others.
Charlotte and her wonderful and supportive husband Gaston, have all of a sudden found themselves in need of a significant amount of additional child care as she has started her journey, that will become even more necessary as she continues her Chemotherapy. They both have needed transportation care for her daughters and infant care both day and night for Maxwell which is adding a huge cost to their already increasing expenses.  We would love to help them defer these costs, and are asking for your help.
We would also love to help not only with the care of Charlotte's family, but to also help fund enjoyable family experiences as they embark on this Cancer journey.  Cancer has entered their life and is taking so much of their energy and resources. We want them to be able to enjoy every beautiful moment they have 'in between the Cancer' and would appreciate any help in funding that would enable her family to share special times together "away" from Cancer.
As many of you know, if you are unable to support Charlotte and her family monetarily, there is a meal train to help provide meals during Charlotte's treatment.  This has and will continue to be a massive help for Charlotte that she will continue to update as her diet needs change. She and her family very much appreciate the delicious meals that have been delivered the last few weeks.  Here is the Meal Train link below:
https://www.TakeThemAMeal.com/KVTY2385
Lastly, and most importantly, Charlotte would love that you join her in prayer. As many of you know Charlotte is a passionate member of the Baha'i Faith and Baha'i community in Portsmouth. Baha'u'llah, the founder of the Baha'i Faith has revealed special prayers for both spiritual and material healing and considers it our duty to use such prayers (in addition to medical treatment) and to put our trust in the all-sustaining and all-healing power of God.
"Thy name is my healing, O my God, and remembrance of Thee is my remedy. Nearness to Thee is my hope, and love for Thee is my companion. Thy mercy to me is my healing and my succor in both this world and the world to come. Thou, verily, art the All-Bountiful, the All-Knowing, the All-Wise."  ~Baha'u'llah~
Charlotte began her first Chemotherapy treatment this week as a clinical trial patient with a skilled team at Dana Farber Cancer Institute in Boston, Massachusetts.  We are so fortunate to be working with this wonderful and skilled team of professionals, and we are all positive and extremely hopeful for Charlotte as she starts this journey.
We all thank you so much for your love, support and prayers.  We could not be on this journey without you. Please spread the word and keep the love strong.
Love to you all,
Charlotte's Sisters (Nikki, Dominique, Hannah)
https://www.caringbridge.org/visit/charlottengarukiye/journal
#4sistersstrong
#chazstrong
+ Read More
Update 2
19 days ago
Share
Hi Everyone,
Sorry for the late update, but a HUGE THANK YOU to everyone who came or helped donate to Charlottes benefit celebration, you all helped raise over $5000 for much needed ongoing child care costs etc. There are too many people to thank personally, but a big thank you to Jen G and Erica for collecting and organizing the raffle which was a huge success, another big thank you to the band 'Earth to Rooney' for entertaining us all evening, to The Elks in Portsmouth for donating their space..... and all the many contributions, we cannot thank you enough:) Charlotte had a lot of fun that night and it was nice to see her enjoy herself .
If you missed it we hope to do this again!
Please spread the word to all who helped:)
+ Read More
Update 1
1 month ago
Share
Hi,
Charlotte Ngarukiye, our beautiful and AMAZING Sister, Daughter, Mom, Wife and Friend is officially three months into her battle with Stage 4 Colorectal Cancer! She is overwhelmed and deeply thankful for the love and support of her friends, family and community. We have planned a night to to celebrate her strength and remind her we continue to support her every step of the way!! Details and tickets are available in the link below...password to secure your ticket is CharlotteLOVE
PLEAST do not buy your tickets, you have all done so much.......... send us a line if you can come so we can keep a count for the numbers:)
https://www.eventbrite.com/e/celebrating-charlotte-colon-cancer-awareness-night-out-live-band-tickets-59293511489?aff=affiliate1
image.png
Charlotte is excited for a fun night out of live music, dancing, raising Colon Cancer awareness and celebrating locally with the amazing community of people supporting her.
Local Band, EARTH 2 ROONEY have generously donated their time and talents to support Charlotte so get ready to enjoy a fun night of classic Rock and Roll! Dancing a must!...:).
Cash Bar and Appetizers served.
THE PORTSMOUTH ELKS DOES HAVE A MAXIMUM CAPACITY SO IF YOU CAN MAKE IT DON'T DELAY IN GETTING YOUR TICKETS.
Lastly, don't worry if you can't make this event. We will continue to celebrate as we support Charlotte on her journey and we WILL have plenty of opportunities to get together to love and celebrate her.
Love and hugs to you all!
xxxxxxxx
+ Read More
Read a Previous Update