pHirstBite Food Truck/ Promo Launch
$996
of $20k goal
Raised by
22
people in 2 months
Chase Bank Building Event Catering 2014 Baton Rouge
"Please support my sister as she seeks to progress/expand her plant based company by purchasing a food truck!!! Any amount will be greatly appreciated! If you haven't had the opportunity to taste her delicious and healthy food, you are truly missing out!!!! Meagan Simone is a singer, artist, jewelry designer, culinary artist, and so much more!!! She lost over 80lbs. by incorporating a healthy diet, and even got our dad off hypertension medication which he was projected to need for the remainder of his life, and it was all done by educating him about his diet and how to take back his health!!! She is also a certified herbalist, so she is trained to educate you about your body and the things you consume!!!"
-My Big Sis SHAVONN REEZALE
"...I am a 26- year-old female from Baton Rouge, Louisiana, where food is the culture and no one really counts calories. I currently own "pHirstBite", where I create healthier and innovative food alternatives, in order to expose my community to the truths of the fast food industry, childhood obesity, and the power of food as medicine. I also support and shop locally, because I know that a community is only as strong as the members who actively support it.
pHirstBite Culinary Edibles, Fruit and Veggie Bites.
I am Meagan Simone, a "Plant-Based Personality."
The power of plants changed my life
, revealed my passions, and gave me a new confidence, but it wasn't always this way. I grew up overweight, insecure, bigger and taller than everyone in my class. I was often teased for the way I looked, so I never wanted to eat in public. I figured if I didn't eat, I wouldn't gain weight, but boy, was I wrong. I remember being in middle school, and having my physician recommend diet pills. I entered all types of weight loss clinical studies, and I worked out harder than everyone else on the school sports teams. However, for some reason, I couldn't lose the weight. Years went by, and I became interested in living more naturally, and eating cleaner.
80 POUNDS HEAVIER????????
I initially removed beef and pork from my diet. Then I let go of poultry, becoming a pescatarian. By 2009 I was a full fledge vegetarian. However, It wasn't until I went vegan in the Spring of 2010, that
I lost lost 80 pounds
, and transformed my entire life. During this time, I realized that
the foods we consume daily, contain many harmful ingredients and chemicals
. This catapulted my decision to
take control of the quality of my food; it's source, and it's preparation
.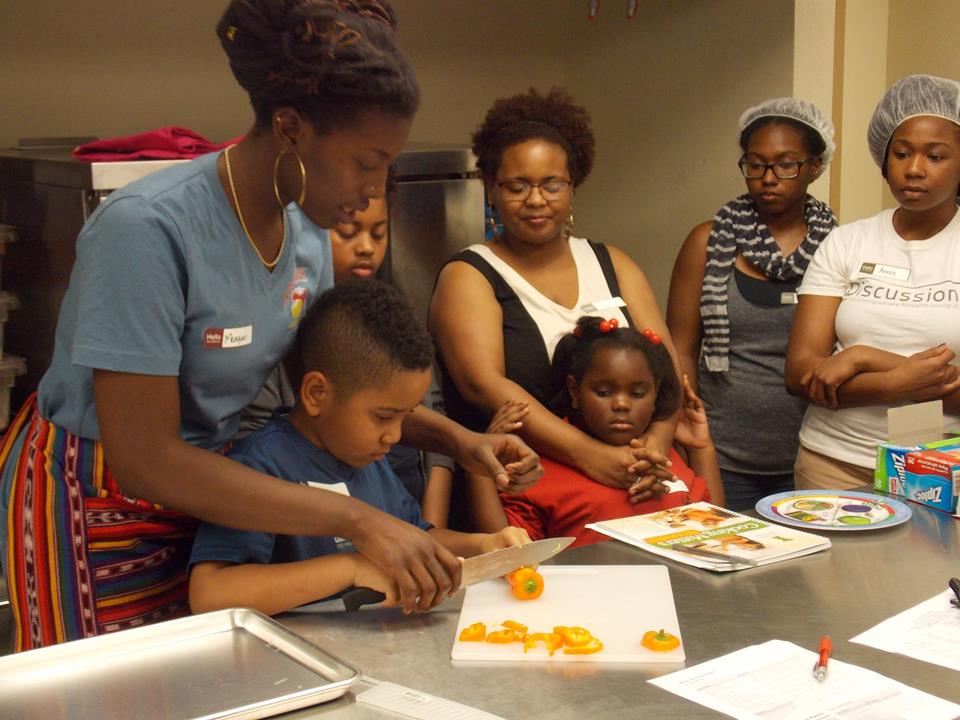 Teaching "Cooking Matters" classes for Second Harvest.
I need your assistance to reach as many young people as I can (On the "Bite-Mobile"Food Truck), to spread the good news about healthy eating and living habits. It is my hope to inspire young people to grow their own gardens, prepare their own foods, and eat what nature has created, without any artificial preservatives, gmos, dyes, hormones, or additives. I want to coach that young girl going through the struggle I went through. I want to empower her now, so that she doesn't grow up trying to figure out who she is or how to love her self. My goal and commitment is to break the cycle of obesity, to rid the community of ignorance and neglect and save lives by exposing our youth to healthy eating and lifestyle choices that will free their minds. I want to empower youth to create art with and through food, and to discover their passions by providing them with some of natures best kept secrets."
Community Lunch Prep at Grow Dat Youth Farm NOLA.
In Living Food, Love, and Gratitude,
Meagan
**Why Are We Raising Money? How will it be used?**
1. To purchase a FOOD TRUCK!
2. To support the purchase of a forclosed property for commercial kitchen use.  We will need somewhere to store things and distribute food, (ya know like a licensed facility). Licensed kitchens require: Liability insurance, a business license, certified commercial equipment, and they must pass inspections for permits, etc. 
3. To rebuild our small garden and replace tools and equipment that were lost during the 2016 Baton Rouge, Louisiana Flood.
4. To support youth entreprenuership and purpose (culinary art) through the meaning work of cultivating food, from the garden to the table. Youth will be able to do so much more in the community to help others, as a result of the stewarship. We plan to grow extrememly passionate young people, who can be proud of creating something that so many others can enjoy...FOOD!!!!!
5. To support  Promo for "Cookin' It Up" my newest single about plant based healthy living.
Listen To The Song Here:
https://soundcloud.com/meagan-simone/cookin-it-up-meagan-simone-meagomorphisismusic
Watch the Video Here:
https://www.youtube.com/watch?v=x0IH_70bJI0
+ Read More
Update 2
Posted by Meagan Simone
1 month ago
Share
Thanks so much for your continued support and donations! I have been happy, sad, confused, defeated, and strong all at the same time! I did not realize how much work I had cut out when I ventured onto this journey, but I am grateful for it all! Again, your support is so humbling and I will be sending out all your goodies in return for your in-kind, and much appreciated donations! With love and Light! And GREAT FOOD,
Meagan!
+ Read More
Update 1
Posted by Meagan Simone
2 months ago
Share
You ALL!!!!! Thank you so much! It's Meagan here checking in to say I am so grateful for the shares and donations. ONLY TWO DAYS in, and we raised nearly $200! Humbled.....KEEP SPREADING THE WORD and LET'S MAKE THIS VISION A REALITY! Keep the hashtag moving around the social sites....LIVING, LOVING, and EATING... #phirstbitefoodtruck #phbitemobile
-Meago
+ Read More
Read a Previous Update